Satellite pay-TV has proven to be a strong business for satellite operators in recent years Distribution of satellite pay-TV channels (which account for around 60 percent of all satellite channels) is the leading revenue driver for satellite operators involved in video broadcasting. In fact, for those operators, satellite pay-TV represents more than 40 percent of total satellite capacity demand.
Pay-TV offerings and satellite free-to-air combined led to an average 10 percent per annual growth in capacity demand over the past five years. Furthermore, broadcasters have signed long-term contracts, sometimes for the lifetime of the satellite. This has ensured predictable revenues for the satellite operators and provides them with visibility and stability over time.
The success of satellite pay-TV offerings, including growing demand for satellite TV in emerging digital markets, has in turn fuelled the launch of more than 1,800 new TV channels in 2009 according to Euroconsult. At the heart of this are the inherent advantages of satellite: the ability to broadcast instantaneously to tens of millions of households and cost effectiveness compared to terrestrial networks.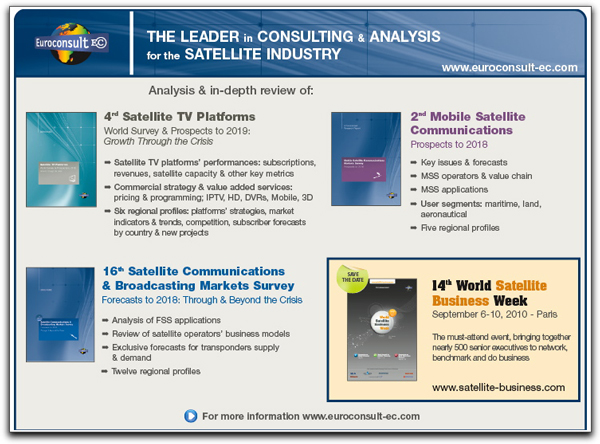 In addition, the drop in price for digital set-top boxes in recent years has driven the launch of several new direct-to-home platforms in the last few years. According to Euroconsult's recently released Satellite TV Platforms, World Survey & Prospects to 2019, 55 new platforms entered the market since 2006, leading to 114 satellite pay-TV platforms served by 28 satellite operators by year's end.
However, the fragmentation of satellite video distribution and the launch of new platforms in previously unserved markets have resulted in two main developments so far. First, it created the conditions that enabled the emergence of regional operators, such as Insat in India and RSCC in Russia, which host three and four satellite TV platforms, respectively.
Second, it led to the opening of new orbital positions such as the 74.0 degrees East and 60.0 degrees East. The most strategic positions remain largely in the hands of global operators which have built prime orbital slots such as the Hotbird position at 13.0 degrees East, SES Astra's 19.0 degrees East, and Nilesat's 7.0 degrees West.
Emerging Digital Market Growth
As a business to consumer (BtoC) industry, satellite pay-TV platforms are widely exposed to the current economic crisis. While the free-to-air market has been heavily impacted by a drop in advertising revenues, the satellite pay-TV market has generally fared better with growth still reported in all markets, save Western Europe. Nevertheless, growth expectations must be regarded with caution in light of the unexpected financial difficulties (GTV in Africa, for instance) and moves to consolidation (acquisition of Portuguese TV Tel by Zon TV Cabo) recently observed, in addition to the drop in the consumer purchasing.
Development of emerging digital markets, such as Central and Eastern Europe and South Asia, has somewhat offset the effects of the global economic environment. In the past two years, 25 platforms were launched worldwide, nine in Central and Eastern Europe and seven in Asia Pacific. In addition, some markets saw their first dedicated satellite pay-TV platforms, including North Africa, Venezuela, and Bolivia. Other markets witnessed the introduction of several platforms simultaneously, such as the Ukraine (with the introduction of three new platforms), as well as Indonesia and Philippines, where two platforms emerged, respectively.
According to
Euroconsult
's
Satellite TV Platforms
report, growth in subscriptions was particularly strong in the past two years with close to 20 million new subscribers each year, despite the tough global economic conditions. While a slowdown was observed in North America and Western Europe, partly due to the maturity of the markets and unfavorable economic conditions, growth in emerging digital markets was strong. The BRIC countries including Brazil, Russia, and India, accounted for most of this growth. Satellite pay-TV platforms' ability to offer a wide range of digital services at very competitive prices made satellite pay-TV affordable to even low-income households.
A powerful example: roughly 40 percent of new subscribers to satellite pay-TV worldwide were to one of the six Indian platforms. Looking forward, outlook for the global satellite video broadcasting market is expected to remain upbeat, according to Euroconsult's forecast of roughly 235 million subscribers worldwide by 2019.
That said, growth in subscriptions has not necessarily resulted in a significant increase in revenues. The more aggressive pricing strategies, both due to the crisis and to more intense competition, weighed down the average revenue per subscriber (ARPU) resulting in revenues growing more modestly than subscribers. Fee increases, which are expected over time for platforms currently practicing aggressive pricing strategy, should nevertheless help assure long term revenue growth.
Satellite Pay-TV Is Attractive
In recent years, satellite pay-TV platforms have accelerated the roll-out of value-added services such as HDTV and Digital Video Recorders (DVRs) with the more mature digital TV markets leading the way and emerging digital TV markets recently jumping on the bandwagon. These services require significant initial investment but have become must-haves for platforms to differentiate themselves from competitors. At year-end 2009, 46 of the 113 satellite pay-TV platforms worldwide had already rolled-out HD services, up from 21 at the end of 2007. More than 50 platforms offer DVR services, up from only 27 in 2007. 3DTV is set to be the next area for services. In early January 2010, South Korean satellite pay-TV platform SkyLife became the first platform to distribute a 3D channel. It should be followed by Sky Digital in the U.K., DIRECTV in the U.S. and SkyPerfecTV in Japan in the second half of this year.
Further Demand For Capacity
While certain markets have reached maturity, several factors may still point to continued growth in capacity demand for TV broadcasting in the next two years. First, a number of new platforms that were recently launched and are still striving to reach critical mass may still need to add channels to their initial packages. This may be especially true where several platforms compete for the market.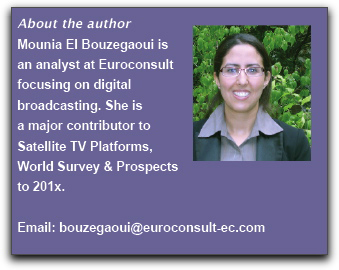 Second, a number of the newer platforms, backed by telecom operators, are eager to provide TV services on a national scale as part of their triple play strategies. Such platforms are expected to enlarge their offerings significantly over time in order to compete with established platforms. This, in turn, should result in demand for satellite capacity. Third, there are still several un- or under-served national markets and thus, a number of satellite pay-TV projects currently under development may begin operations in the coming months requiring initial satellite capacity. Finally, the development of enhanced services such as HD TV, interactive services and 3D TV will require significant additional capacity.
In 2009, a number of platforms have renewed transponder lease agreements with satellite operators and leased additional capacity, which may be seen as a sign of good prospects in the medium-term. Going forward, Euroconsult forecasts satellite video broadcasting will grow at an average annual 5 percent and by 2019 will represent half of total demand for satellite capacity.
Image credits...
Opening image courtesy of Globecomm Systems (http://www.globecommsystems.com)
Satellite antenna + hand photo by PA/David Cheskin, guardian.co.uk