---
Leaf Space's Ground Station Network Is Expanding Across The Globe
Leaf Space is adding three ground stations to the company's global Leaf Line Network — these new stations will be installed in Sri Lanka, the Azores and Scotland and will enhance Leaf Space's capability to provide Ground Stations as a Service (GSaaS) to provide Ground Stations as a Service (GS solutions to their growing list of customers.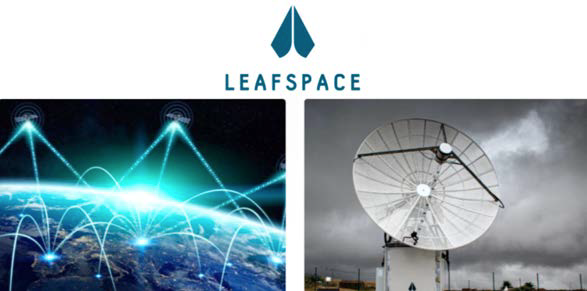 With these additional ground stations, Leaf Space now fully owns and operates 12 stations globally. The new, state of the art, 3.7 meter antenna, paired with high performance, baseband processing hardware, add important additional coverage for
Leaf Space's customers, allowing satellite operators expanded opportunity to communicate with spacecraft, sending and receiving critical data to support each mission. With these additional ground stations, Leaf Space now fully owns and operates 12 stations globally.
Leaf Space's new ground station in Sri Lanka will expand the range of missions the company can support, adding equatorial orbit to the company's list of capabilities. Further distributing Leaf Space's medium-latitude network provides customers with a strategic advantage as it helps to mitigate the risk of interference, band saturation and licensing as well as overlapping, providing customers with more capacity using fewer antennas.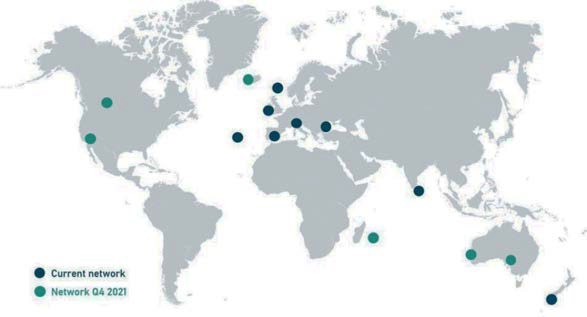 The station in Northern Scotland also adds a desirable high northern latitude location to Leaf Space's distributed ground station network, positioned on the 61st parallel.
In addition to announcing the expansion of the company's distributed ground station network this week, Leaf Space will also be supporting 14 new spacecraft from six different international customers on SpaceX's Transporter-2 dedicated Falcon 9 rideshare mission — that launch will signal an important milestone for Leaf Space, as the company will be supporting their largest number of customers in a single launch to date.
"These three stations build upon our already robust network and improve our ability to deliver industry leading GSaaS solutions to our customers," said Jonata Puglia, CEO and co-founder of Leaf Space. "Ownership of our own proprietary network offers customers complete management and flexibility to customize operations and scale quickly.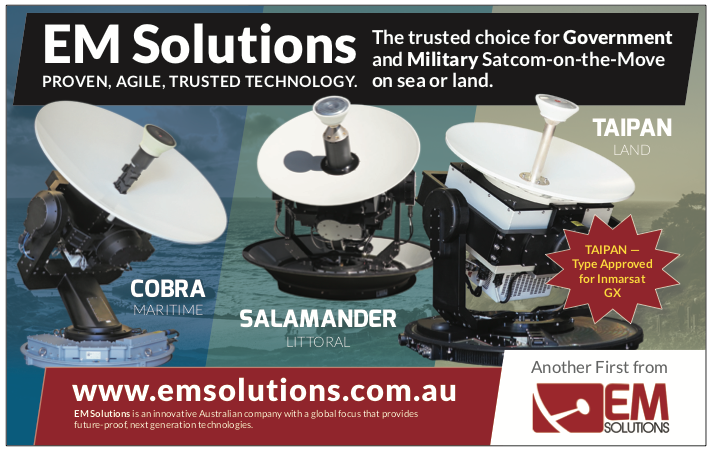 We are continuing to pursue additional expansion to support the daily increases in demand from our customers and are on schedule to activate three more stations in Q3, with the goal of doubling our global network to 19 total this year.
Our expanding ground station network is further powered by our end-to-end network orchestration and management software, the Network Cloud Engine, which optimizes automatic scheduling and data transfer for customers, guaranteeing efficiency, eliminating the risk of conflicts and leveraging at scale cloud services."
---
Hosted Payload Agreement Inked Between D-Orbit and Stellar Project
D-Orbit has signed a launch service contract with Stellar Project, an Italian satellite component developer and manufacturer, for the launch and operations of Stellar Project's LaserCube payload on D-Orbit's upcoming ION Satellite Carrier's mission.

Stellar Project's LaserCube is a patented, miniature, low power, high performance, laser communication terminal that has been specifically designed for smallsats.
With an independent pointing capability that allows throughput performance more than 10 times higher than traditional radio devices, LaserCube will enable innovative business opportunities in fields such as Earth imagery, weather forecasting, global telecommunications, and internet services.
LaserCube, as the optical telecommunication highway for smallsats, will deliver an increase in data volume, communication security and speed: another step toward accessible and affordable space technology for all.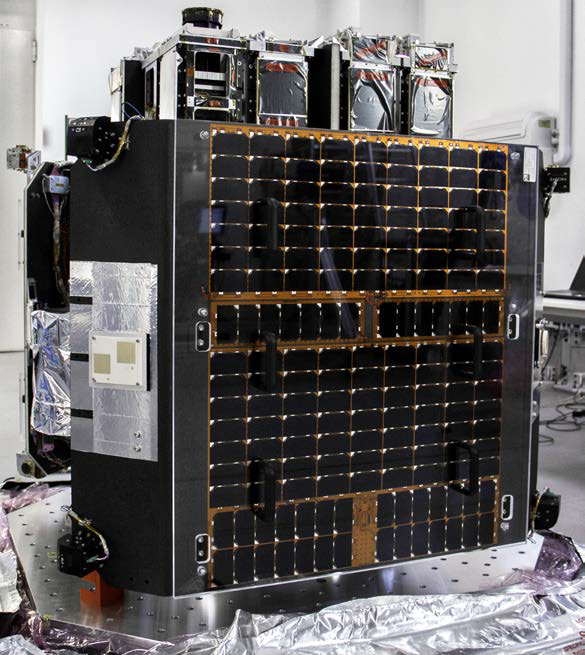 ION Satellite Carrier (at right) is an orbital transportation vehicle designed, manufactured and operated by D-Orbit that is capable of precisely deploying smallsats into their operational orbital slot and of operating multiple third-party payloads during the same mission.
"We are excited to test Stellar Project's innovative technology," said Matteo Andreas Lorenzoni, D-Orbit's Launch Strategy Manager. "As a company that has begun their journey in Italy, we are proud to collaborate with an Italian startup that aims at revolutionizing the New Space industry and becoming a leader in its field."
"We are very happy of the collaboration with D-Orbit to carry out the first mission of our "LaserCube," said Alessandro Francesconi, Stellar Project's Co-founder and Managing Director. "We look forward to exploring the potential of our technology as a first step toward the enablement of optical communication in space for small satellites."
According to the agreement, D-Orbit will integrate the LaserCube payload onboard ION as well as arrange ground transportation from the integration site to the launch site at Cape Canaveral, and will overview the integration onboard the launch vehicle until launch to the target orbit. D-Orbit will then initiate the on-orbit demonstration (IOD) phase of the mission, operate the payload onboard according to a plan of operations agreed with Stellar Project, and downlink all the relevant data. The mission, named WILD RIDE, is scheduled for launch in June of 2021.
---
Astroscale UK + RUAG Space Developing The Brains Behind The Former's ELSA-M Space Debris Removal Spacecraft
Astroscale UK has been working in partnership with RUAG Space to develop the "brains" to command Astroscale's space debris removing ELSA-M Servicer spacecraft, all based on RUAG Space constellation's On Board Computer (OBC),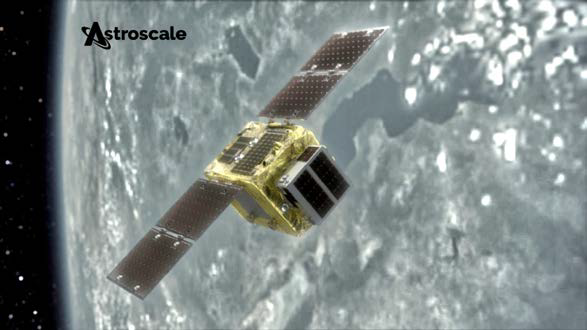 The removal of space debris is a growing concern for the space industry. Astroscale is pioneering the End-of-Life Services by Astroscale (ELSA), a spacecraft decommissioning service for satellite operators that is progressing into a new commercialization phase this year with ELSA-M.
ELSA-M will remove multiple satellites — M stands for multi-client servicer. Astroscale's ELSA-M servicer is specifically designed for the servicing of constellation satellites, such as those launched by the global satellite communications network OneWeb.
For these kinds of innovative missions, a high performing OBC is needed. The computer from RUAG Space will include a Global Navigation Satellite System (GNSS) receiver and interface unit, all in a single box.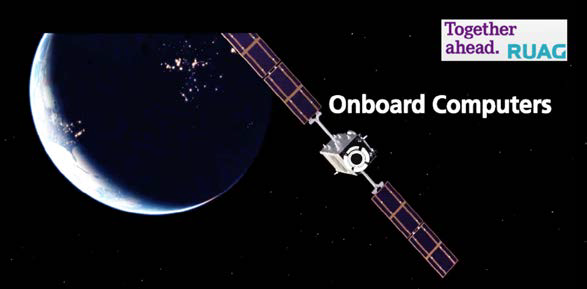 Once on-orbit, the computer controls the ELSA-M spacecraft, enabling repeated, multi-debris removal maneuvers and management of equipment, reaction wheels and magnetometers linked to it.
The OBC is designed to be a highly flexible, Off-The-Shelf computer with high integration, short lead times and enabling high volume manufacturing.
The computer system developed in partnership with RUAG Space – with the software from Astroscale and the hardware from RUAG Space – will support the rendezvous between Astroscale's servicer spacecraft and the client spacecraft, a retired or defunct satellite.
---
Virgin Orbit's 1st Operational Mission A Success
Virgin Orbit's LauncherOne was certainly ready to fly into space once again — and the company's Tubular Bells: Part One mission has successfully launched from Cosmic Girl.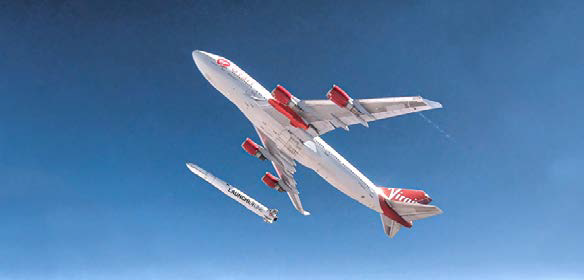 At 0950 hours, PST, the company's Cosmic Girl carrier plane — a Boeing 747 that has been modified — took off from the Mojave a Boeing 747 that has been modified — took off from the M Air and Space Port in California with the 70 foot in length. LauncherOne rocket securely affixed to the underside of the jet's left wing.
The drop point for LauncherOne was 50 miles to the south of the Channel Islands in the Pacific Ocean and this action was auspiciously concluded at an altitude of approximately 300k feet.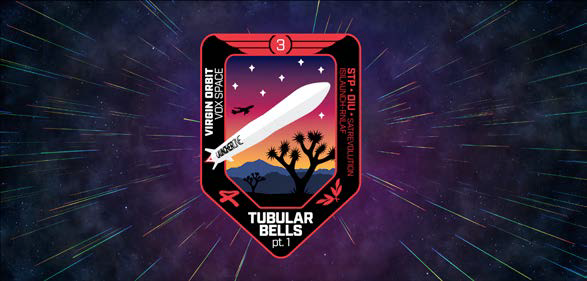 The rocket can handle payloads of approximately 1,100 pounds and deliver them to their orbits. Planned are three additional test flights.
There are three customer payloads for this seven smallsat delivery mission — the U.S. Department of Defense (DoD), SatRevolution and the Royal Netherlands Air Force. All entrusted LauncherOne to uplift their smallsat spacecraft into orbit and demonstrated the unique advantages of air launch to make space more accessible for customers from all corners of the map.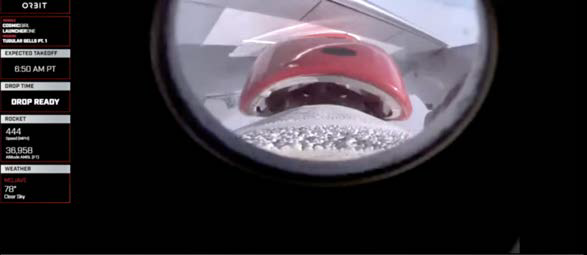 The Royal Netherlands Air Force payload is a defense satellite, the first such spacecraft for that nation.
Additionally, two EO smallsats for SatRevolution were included in this mission, with the expectation of certainly more smallsats to be driven to orbit, given that the firm intends to build out a 14 smallsat constellation. The DoD's Rapid Launch Initiative placed a cubesat with Virgin Orbit for launch as a demo to measure smallsat flexibility and the ability to launch smallsats when a short timeframe is demanded for delivery to orbit of sensitive space-based tech.
---
Northrop Grumman's Cygnus Departs ISS To Launch Five Smallsats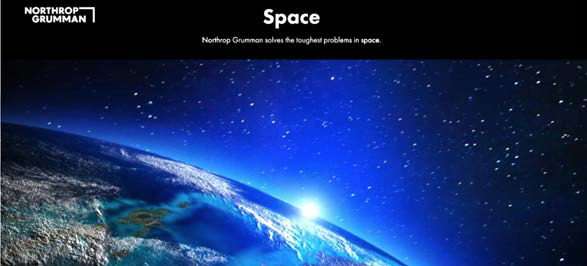 The Northrop Grumman Corporation (NYSE: NOC) Cygnus spacecraft has departed from the International Space Station to start the next phase of the NG-15 mission.

Cygnus was released by the station's robotic arm at 12:32 p.m. ET, carrying more than 8,000 pounds of disposable cargo. Cygnus will remain in orbit for approximately three days to carry out the secondary phase of the mission.
The S.S. Katherine Johnson will now deploy five cubesats via two separate cubesat deployers, Slingshot and Nanoracks. This cubesat deployment includes Dhabisat, the second cubesat developed by Khalifa University in Abu Dhabi, United Arab Emirates.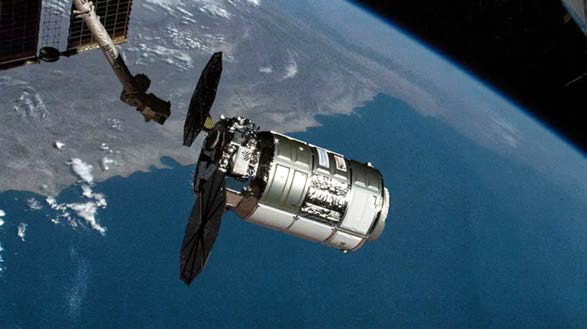 The S.S. Katherine Johnson starts the second
phase of its mission after leaving the International
Space Station. Image is courtesy of NASA.
The NG-15 Cygnus spacecraft was launched on February 20 aboard Northrop Grumman's Antares rocket (photo below), carrying nearly 8,000 pounds of scientific research, supplies and equipment to the astronauts living on the station.
The vehicle has been berthed with the orbiting laboratory since February 22.
"Our Cygnus cargo resupply missions to the International Space Station help enable humans to live and work in space," said Frank DeMauro, vice president and general manager, tactical space systems, Northrop Grumman. "With each mission, we grow our capabilities beyond cargo resupply as we operate a high performing science laboratory for both civil and commercial companies during the secondary phase of our flight."
---
LeoLabs' Next Space Radar Site Will Be In The Azores
LeoLabs, Inc. has revealed that the Azores is the location selected for the company's next space radar. As a strategic addition to LeoLabs expanding global constellation of LEO sensors, the Azores Space Radar will go operational in the first half of 2022.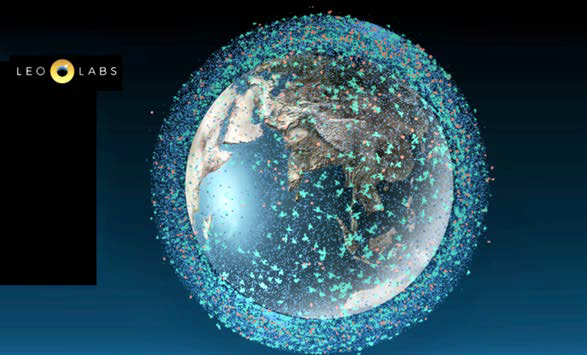 LeoLabs' Azores Space Radar investment also reflects alignment with Portugal's goals at the national and regional levels. The company's investment in Portugal represents an important addition to LeoLabs' global radar constellation, and a key element of infrastructure to inform satellite operators, defense, space and regulatory agencies,
"We are very excited about our decision to locate in the Azores," said Dan Ceperley, CEO and LeoLabs co-Founder. "This is a multi-decade investment on the part of LeoLabs, and a great opportunity for us to support the space sustainability goals of Portugal as they grow their presence in the global space community. It also signals LeoLabs commitment to a long-term presence in Europe. The mission of LeoLabs remains clear: serve the growth of the LEO economy, and ensure the long-term survivability of LEO for future generations. Today we are the only end-to-end supplier of radar infrastructure and services that can execute on this mission. Our global network already produces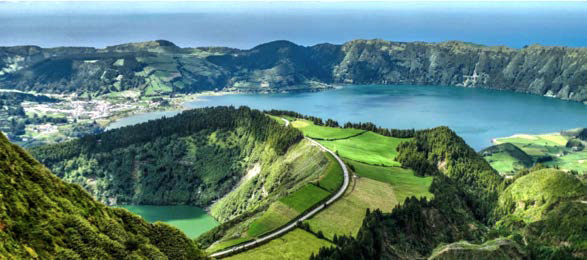 the world's largest number of LEO observations, and the Azores Space Radar will build on that and expand our tracking of LEO objects by an additional 25%. This opens our ability to grow our LEO catalogue from tracking 15,000 objects today to a massive 250,000 objects. The Azores Space Radar also adds more timely updates on critical events in LEO, including collisions, breakups, maneuvers, new launches, and re-entries."
"We welcome LeoLabs to Portugal with the installation of a new space radar in the Azores," said Ricardo Conde, President of Portugal Space. "LEO has rapidly emerged as a sphere of commercial opportunity for innovators like LeoLabs, and it is important to build infrastructure that allows us to mitigate the risks of increased space debris. The radar will improve mapping and cataloguing services that identify the positioning and dynamics of these objects in LEO and inform our ability to set policies that address risks."
"We are pleased to welcome this ground-breaking investment by LeoLabs in the Azores," said Dr. Susete Amaro, Azores Regional Secretary for Culture, Science and Digital Transition. "The Azores Space Radar represents an important contribution to the development of Santa Maria's space ecosystem. It further validates our Santa Maria Teleport as an innovative model capable of attracting international investment from the space sector. We look forward to a long-term engagement with LeoLabs, and for the Azores to become a bridge to space just as we are a bridge across the Atlantic."
---