JAXA's Hayabusa-2 upcoming asteroid meeting + Moog is on board
The initial Hayabusa mission launched in 2003 and returned to Earth in 2010 with a sample from a small asteroid near Earth named "25143 Itokawa."
Moog Inc. Space and Defense Group provided critical hardware to the Hayabusa-2 satellite and H-IIA rocket that launched on December 3 at 1:22:04 p.m. (JST) from Tanegashima, Japan.
The launch vehicle and spacecraft RCS Thrusters were built by Mitsubishi Heavy Industries, Ltd. (MHI). The Electric Propulsion (EP) System was built by MHI and NEC Corporation (NEC), and the spacecraft was built by NEC in Japan.
The Hayabusa-2 mission is JAXA's follow-on to Hayabusa to acquire a sample from an asteroid and then return that element to Earth.
MHI's H-IIA rocket includes the first stage gimbal actuator assembly with servovalves, built in Moog's Hiratsuka, Japan, facility. This facility also provides roll control thruster valves for the Epsilon rocket that is based upon the solid rocket technology found on the H-IIA.

NEC's Hayabusa-2 bus includes both chemical and electric propulsion. Moog supplies 24 thruster valves to control the flow of propellant to each of the 12 MHI rocket engines and two bipropellant torque-motor latch valves to provide isolation of bipropellants.
For the spacecraft's electric propulsion, two solenoid latching valves maintain isolation of xenon and six electronic pressure regulation valves contribute pressure and flow regulation of xenon to the electric thrusters.
In addition to propulsion components, Moog also provided spacecraft mechanisms to the satellite bus. A thruster gimbal assembly enables ion thruster vector pointing and attitude control for four ion engines.
The Asteroid Multi-band Imaging Camera (AMICA) on Hayabusa 2 contains a Moog filter wheel with eight positions mounted at the end of the telescope to cover different bands, seven of which are compatible with the Eight Color Asteroid Survey (ECAS).
Two types of high gain antenna pointing assemblies allow for the gimbaling of the antenna for communication from the spacecraft back to Earth.
The Hayabusa-2 mission will build upon the legacy of the original Hayabusa spacecraft. Moog provided the same components and subsystems to MHI for the original Hayabusa mission. The proven performance of Moog's contribution to the mission will assist in JAXA's goal to strengthen Hayabusa-2.
Hayabusa-2 is expected to arrive at the target asteroid "(162173) 1999 JU3" in July of 2018 and perform a survey for a year and a half before returning to Earth in December of 2020.
The Moog infosite: http://www.moog.com/
The JAXA infosite: http://global.jaxa.jp/
---
ITAR regulatory environment has been altered—businesses should remain aware of the changes
The U.S. Commerce Department's Bureau of Industry and Security ("BIS") and the U.S. State Department's Directorate of Defense Trade Controls ("DDTC) recently published final rules to move most civil and commercial satellites and components from the U.S. Munitions List ("USML") to the Commerce Control List ("CCL").
These final rules represent important progress in ongoing efforts to reform export controls and remove unnecessarily restricted items from International Traffic in Arms Regulations ("ITAR") control. These changes were advocated by the satellite industry for years and were authorized by Congress and the President in late 2012 and early 2013.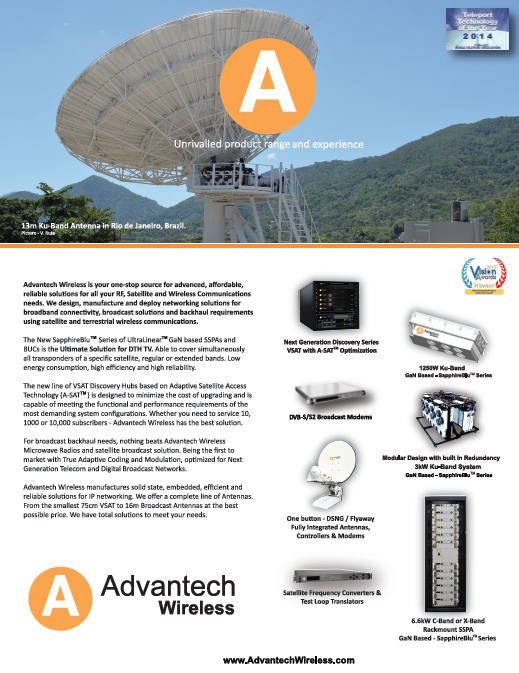 According to Under Secretary for Industry and Security for the United States Department of Commerce, Eric L. Hirschhorn, in a speech given in 2013 in Colorado Springs, Colorado, the changes will affect four items, "Items transferred include, certain commercial communication satellites and lower performing remote sensing satellites; ground control systems and training simulators "specially designed" for telemetry, tracking and control of spacecraft controlled in 9A515; radiation hardened microelectronics formerly controlled in Category XV of the ITAR; and parts and components of satellite bus and payloads not listed on the USML."
Prior to this statutory shift, all satellites were controlled under the ITAR including those for commercial, research, and communications purposes. Moving these items to the CCL makes them eligible for less restrictive licensing including some license exceptions under the Export Administration Regulations ("EAR"). However, some items will be subject to more restrictions, including special rules for exports to China and foreign-made items that incorporate US-origin components.
The final rules went into effect on November 10, 2014.
Story by Shih-Kuei Chen, LLM, Blakely & Justice, Longmont, Colorado
---
We can see more clearly now—SPOT 7 becomes Azersky
Azercosmos" OJC, the national satellite operator of Azerbaijan, has signed a strategic cooperation agreement with Airbus Defence and Space to take over the rights to operate and commercialize the SPOT 7 high resolution (1.5m imagery products) optical Earth Observation satellite, which was successfully launched on June 30, 2014—the satellite is to be renamed as Azersky.
The agreement, which is an important step in the development of relations between Azerbaijan and France, was signed at Bakutel 2014 Telecommunications and Information Technologies Exhibition in the presence of His Excellency President Ilham Aliyev. Mr. President commenced commercial operation of Azersky by acquiring the first symbolic image from the satellite.
The long term strategic cooperation between the two parties also includes joint operations of Azersky of Azercosmos and the SPOT 6 high resolution (1.5m imagery products) optical Earth observation satellite of Airbus Defence and Space in a constellation to provide superior service.
Moreover, the ground segment to be constructed will allow Azercosmos to access images acquired from Pléiades 1A and 1B, very high resolution (0.5m imagery products) optical Earth observation satellites commercialized by Airbus Defence and Space.
This satellite constellation opens up opportunities for many applications, providing the latest images within an unprecedented time frame. The combined acquisition capacity of Azersky and SPOT 6 is equal to six million square kilometres per day—an area ten times the size of France. This means that every day, every point on the globe can be viewed in high-resolution by the Azersky and SPOT 6 satellites.
Azersky was successfully launched on June 30, 2014, on a PSLV Indian launcher and has a projected service life of at least 12 years.
During the next 1.5 years, more than 25 Azerbaijani professionals will be trained in France on optical satellite operations, product development, sales, and marketing of Geo-Information services.
This agreement also marks Azercosmos' entry into the commercial business of Earth observation services, including Geo-Information services. This will strengthen Azerbaijan's position among the limited number of countries rendering satellite services.
Rashad Nabiyev, Azercosmos CEO, said, "This agreement is an important step taken by Azercosmos to diversify our satellite services and bring additional value into the economy of Azerbaijan; and we are glad that Airbus Defence and Space is with us for this challenging journey."
Another partnership agreement for Azerspace-1, the telecommunication satellite operated by Azercosmos, has
been cemented into place with Gilat Satellite Networks.
The contract is for the use of Gilat's SkyEdge II-c network for multi-application satellite managed services for Azercosmos' customers.
"Our Azerspace-1 satellite reaches a customer base spanning Europe, Africa, the Middle East, Central Asia and the Caucasus," pointed out Rashad Nabiyev, CEO of Azercosmos. "We appreciate the multi-application nature of Gilat's SkyEdge II-c platform, which enables us to target a diverse set of markets including broadband, mobility and cellular backhauling."
Erez Antebi, Gilat's CEO, said, "We are proud to be working together with Azercosmos to bring advanced communication services to the Consumer, Enterprise and Government sectors."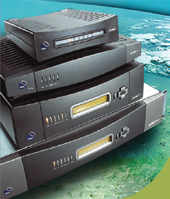 Azerspace-1 provides broadband and broadcast solutions to customers in Europe, Africa, Middle East, the Caucasus, and Central Asia. The satellite, to operate in orbit for at least 15 years, was launched in February of 2013 and is equipped with 36 transponders: 24 in C-band and 12 in Ku-band at 46 degrees East longitude.
Strategic development plans for Azercosmos include planning for the launch of their second telecommunications satellite and the establishment of Earth Observation (EO) commercial business services during the upcoming years.
Gilat Satellite Networks Ltd. provides products and services for satellite-based broadband communications. Gilat develops and markets a wide range of high-performance satellite ground segment equipment and VSATs, with an increasing focus on the consumer and Ka-band market.
For further Azercosmos information, please visit http://www.azercosmos.az/
For more information, please visit Gilat at http://www.gilat.com/
---
Innovative Apps for EO behind the ESA App Camp program
The ESA App Camp is inviting developers to Barcelona from February 25 to March 3, 2015, for an event set to culminate in an awards ceremony at the Mobile World Congress—the participants will be selected at six simultaneous Appathons across Europe from January 24 through 25, 2015.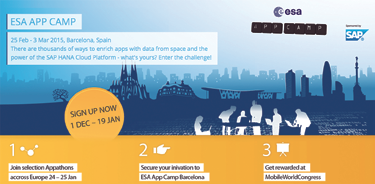 From space, our planet's atmosphere, land, and water can be monitored for multiple application fields. This is where the ESA App Camp comes in: The App Camp challenges developers to create innovative applications that will make Earth Observation (EO) data accessible to a broad audience and create value in the process.
Participants in Barcelona will have access to the SAP HANA Cloud Platform that enables developers to build, extend, and run applications on SAP HANA in the cloud. With its unmatched capability to process big data in high speed and its built-in geospatial functionality, it is the natural choice for running EO applications.
Experience in integrating such data or using the SAP HANA Cloud Platform is not required to participate in the preceding Appathons.
Step one—Join Appathons across Europe
Anyone who is up for the challenge and wants to win an invitation to the ESA App Camp Barcelona is welcome to attend one of the six Appathons.
These events, which will be held at ESA Business Incubation Centers (ESA BICs) and partner locations, will offer developers the chance to meet with like-minded people and tackle some of the world's greatest challenges.
In short workshops, participants will gain insights into the SAP HANA Cloud Platform, the Earth observation program Copernicus, and a dedicated map API. They will also have the opportunity to obtain business support from the ESA BICs and the SAP Startup Focus Program.
Meanwhile, five challenges will inspire the participants to create the solutions of tomorrow. They will be organized into teams tasked with devising innovative application ideas and viable business cases in one of the following topic areas: Big Geo Data, Crowdsourcing Solutions, Environmental Protection, Food Security, or the Internet of Things.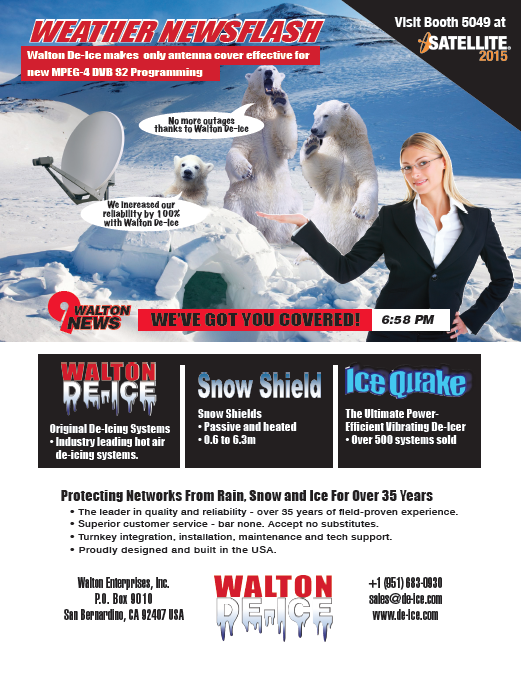 A welcome package, food, and beverages will be provided. From students and professionals to company founders and freelancers, people of all skill levels are invited to participate. All developers need to bring along is a laptop and their next big idea.
The Appathons are free to attend, but participants must register on a first come, first served basis at http://www.app-camp.eu.
Step two—Work hard and impress the jury
After spending two days on development, each team will pitch its own innovative concept to a jury of experts.
The winning team of each Appathon will then be invited to the ESA App Camp Barcelona (with all costs covered) to compete for the grand prize, which will be awarded at the Mobile World Congress 2015.
Step three—Get invited to the ESA App Camp Barcelona—In vying against one another for five days in the Catalan capital, the Appathon-winning teams are sure to have plenty of fun while learning a lot.
Two cash prizes worth 5,000 euros each are waiting to be presented directly at the Mobile World Congress, which all ESA App Camp participants will receive tickets to attend.
The Appathons are being hosted by the excellent partners from the ESA Space Solutions network.
The ESA App Camp Barcelona is being organized by Anwendungszentrum GmbH Oberpfaffenhofen (AZO) on behalf of the European Space Agency and sponsored by SAP University Alliances.
---
Agencies + schools to benefit from Hughes' Helping Plans
Hughes Network Systems, LLC, (HUGHES) has launched new upgraded broadband satellite Internet access plans for government agencies and rural K-12 schools.
Operating over the nationwide HughesNet Gen4 service, and employing affordable customer premise equipment, the new Business Internet (BI) Select and Access Plans feature download speeds from 5Mbps up to15Mbps and are available now.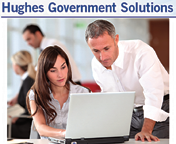 Ensuring that local, state and federal governments have the latest commercial technology available, Hughes is offering 1- and 2-year plans for the public sector.
These plans are available for departments and agencies to purchase through the Hughes GSA Schedule and available state contracts.
All plans offer Express Repair Premium and ZoneAlarm free for six months. Additional maintenance package options are available, as well as equipment purchase or lease.
"Government agencies need greater capacity for access to their applications and to better serve constituents," said Tony Bardo, assistant vice president for Hughes Government Solutions. "And K-12 schools in rural America need high-speed Internet access to better equip their students for the realities of digital learning and on-line testing. Our new service plans and greater allocations during school and business hours are ideal for students, teachers, and all public servants."
For more information regarding the new Business Internet Access and Select plans for government and K-12, please visit http://government.hughes.com/.
---