If you want to make air traffic management more efficient, more reliable, and more environmentally sound, look up.

That's the conclusion of the latest white paper from the Space Foundation
,
Solutions from Space: Faster, Safer, Greener Commercial Aviation
, which details how space technology is dramatically improving air traffic management.
According to the paper, the advanced positioning, navigation, and timing capabilities offered by satellite systems can:
Reduce air traffic congestion


Lower fuel consumption


Reduce noise pollution


Lessen environmental impact


Provide clearer, more accurate, real-time understanding of where aircraft are within the airspace — even in remote areas


Prevent on-the-ground collisions and near-misses


Reduce weather-related risks and delays
And, because these improvements are satellite-based rather than cockpit-based, they can be extended to a much broader class of aircraft, including small private airplanes that do not have sophisticated monitoring equipment, and unmanned aerial vehicles (UAVs) that do not have pilots onboard.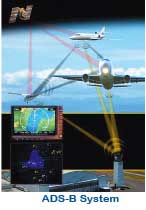 "As the economy improves, we can expect air travel — and air traffic — to rebound and then to grow," said Space Foundation Vice President — Research and Analysis, Washington Operations,
Marty Hauser
. "We have an extraordinary opportunity to use space technology to make the global air industry better as well as bigger. And, now is the perfect time to make that happen."
Aviation focuses on the
Nexgen Air Transportation System
being developed by the Federal Aviation Administration (
FAA
),
NASA
, the
Department of Defense
, other government agencies, and industry partners.
The cornerstone of
NextGen
, which is being introduced throughout the U.S. over the next decade, is a satellite-based technology named
Automatic Dependent Surveillance-Broadcast
(
ADS-B
) that:
Is always on, requiring no operator intervention (Automatic)


Depends on an accurate global navigation satellite system signal or a flight management system for positional data (Dependent)


Provides radar-like surveillance services to determine aircraft position (Surveillance)


Continuously broadcasts aircraft position and other data to any properly equipped aircraft and ground station (Broadcast)
The system uses positioning and timing signals sent from space by the
Air Force
's
Global Positioning System
(
GPS
) satellites, further enhanced within the U.S. by the
Wide Area Augmentation System (WAAS)
, which calculates and corrects GPS errors caused by atmospheric conditions and other factors. ADS-B will give air traffic controllers unprecedented monitoring accuracy and clarity, enabling more planes to safely share airspace. The ultimate goal is to transform each control tower and aircraft into a self-aware node in a network capable of tracking all nearby nodes.
In addition, ground controllers will use NextGen's precision to move aircraft in and out of airports in a steady stream, making it possible for pilots to land in a relatively straight path, thus spending less time at inefficient cruising altitudes. This will alleviate congestion, reduce noise, and, potentially, allow the FAA to designate narrower aircraft-only corridors for direct approach routes to the airport, freeing up airspace for other uses.
The safety benefits of NextGen are many:
Pilots in the air and on the ground will be able to see and avoid potential collisions with other aircraft


Air traffic controllers can safely direct more aircraft in areas with no ground-based radar installations, such as central Australia or the Gulf of Mexico


Instead of using voice communications via radio, air traffic controllers will be able to send flight path information directly to cockpit computers


Computer-aided calculations will improve routing, particularly in the busiest airports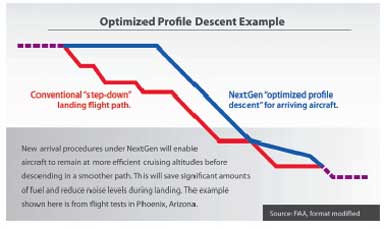 Drawing on experience with complex flight systems and automated navigation software, NASA is developing software assistants for the cockpit and the ground, including a system that interprets ADS-B data and flags important details for busy pilots and software that extrapolates future aircraft positions to more smoothly direct landings.
The networked nature of NextGen will improve airlines' and airports' ability to mitigate the effects of weather, one of the major causes of aviation delays. It can also assist with search and rescue efforts in the event of an accident by giving earlier and more accurate indications of problems.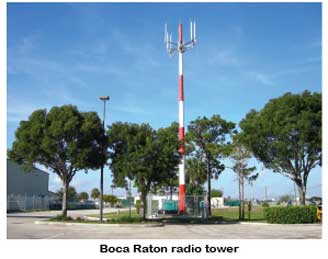 Plus, NextGen can significantly reduce environmental impact by facilitating more direct routes and more efficient take-offs and landings, and by using weather satellite data to select the most efficient flying altitudes.
Initial ADS-B testing has been extremely promising and rollout to additional sites has been approved. Although the deadline is 2020 for providing situational awareness to pilots and ground controllers, airlines should be able to use the system earlier on airplanes with ADS-B equipment at any airport that has the required ground infrastructure and control systems. Major airports are at the top of the list for equipment installation, but new software applications and flight rules must be established before the information provided by ADS-B can be used to bring about improvements in air traffic management. By the end of fiscal year 2010, the FAA expects to have 340 of the 794 ADS-B ground stations installed, with the remainder scheduled for completion by 2013.
The NextGen program is an ambitious undertaking to modernize air transportation, and it will ultimately bring about improvements in the way we fly.
Aviation makes recommendations to government on how to even better use and more rapidly deploy these technologies:
Accelerate ground infrastructure and software deployment so that the benefits can be experienced sooner


Set technical standards so that airlines can buy equipment with assurance that it will meet standards


Establish NextGen traffic control procedures as early as possible so that airlines can begin to realize a return on their investments


Cooperate internationally on environmental legislation that affects the aviation industry


Structure regulations so that airplanes traveling from one country to another do not incur multiple costs under multiple systems


Use advanced capabilities offered by space technology to better track distances traveled and time spent in the air; offer incentives for airlines that operate on more efficient flight trajectories


Use funds from environmental fees paid by the aviation industry to speed deployment of energy-saving systems such as NextGen and to support other research on environmentally friendly aviation technology


Set standards for UAVs operating in domestic airspace to include basic transponders that would show up on the NextGen displays for both traffic controllers and pilots
Aviation also makes recommendations for industry, including:
Install or update equipment and procedures for satellite-based tracking and communication on all long-haul aircraft so that search and rescue teams know the precise location of an aircraft in distress

Prioritize investment in NextGen equipment for aircraft flying into airports that are the most congested or most likely to receive noise complaints
Enhance the passenger travel experience with satellite-based in-flight entertainment systems.
To read
Solutions from Space: Faster, Safer, Greener Commercial Aviation
or to download a copy, go to
www.SpaceFoundation.org/research.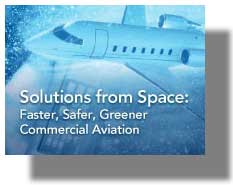 About the Space Foundation
The Space Foundation is an international, nonprofit organization and the foremost advocate for all sectors of the space industry civil, commercial, military and intelligence. Founded in 1983, the Space Foundation is a leader in space awareness activities, educational programs that bring space into the classroom, and major industry events, all in support of its mission "to advance space-related endeavors to inspire, enable, and propel humanity." The Space Foundation annually hosts the National Space Symposium, the premier gathering of the global space community, at The Broadmoor Hotel in Colorado Springs. An expert in all aspects of the global space industry, the Space Foundation publishes The Space Report: The Authoritative Guide to Global Space Activity and provides three indices that track daily performance of the space industry. Through its Space Certification and Space Technology Hall of Fame® programs, the Space Foundation recognizes space-based technologies and innovations that have been adapted to improve life on Earth. Headquartered in Colorado Springs, the Space Foundation conducts research and analysis and government affairs activities from its Washington, D.C., office and has field representatives in Houston, Texas, and Cape Canaveral, Fla. For more information, www.SpaceFoundation.org.