Boeing Broadband Satellite Constellation Now Authorized By The FCC
The Federal Communications Commission has approved an application from The Boeing Company for a license to construct, deploy and operate a satellite constellation.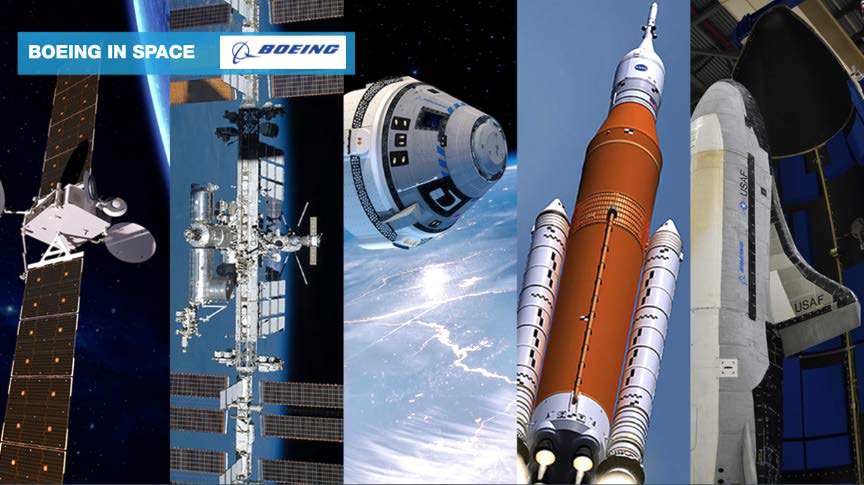 As detailed in its FCC application, Boeing plans to provide broadband and communications services for residential, commercial, institutional, governmental, and professional users in the United States and globally.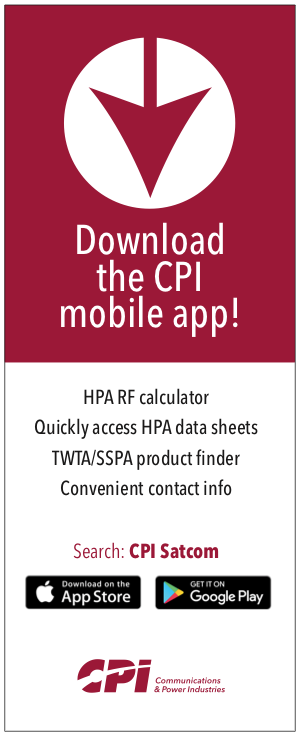 This order approves Boeing's application for non-geostationary orbit fixed-satellite service system using frequencies in portions of the V-band (the 37.5-40, 40-42, 47.2-50.2 and 50.4-51.4 GHz bands), and to operate inter-satellite links (ISLs) using frequencies in portions of the V-band (65- 71 GHz band).
The order also dismisses Boeing's request to operate ISLs in certain frequency bands that are not allocated internationally for operations of the FSS in the space-to-space direction in the ITU Radio Regulations.
"Advanced satellite broadband services have an important role to play in connecting hard-to-serve communities," said FCC Chairwoman Jessica Rosenworcel. "We are committed to a careful and detailed review of all such applications and I thank the International Bureau team for their work completing this first round of NGSO applications."
---
OHB Sweden To Use ANYWAVES' Antennas In The Arctic
When weather conditions are decidedly cold, accuracy in weather predictions must be observed.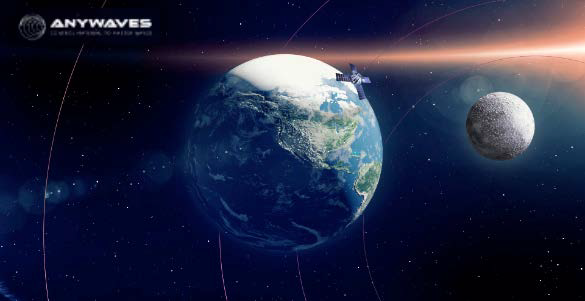 OHB Sweden has been appointed as the prime contractor for the development of this a European Space Agency Arctic satellite program and will use ANYWAVES antennas for satellite telemetry, telecommand, geolocation and also for the data downlink.
By providing global measurements of atmospheric temperature and humidity with frequent revisit times, the polar-orbiting Arctic Weather Satellite (AWS) mission will complement the European MetOp and its U.S. counterpart, the NOAA Joint Polar Satellite System. This satellite's launch is scheduled for 2024 and a constellation may follow this prototype mission, aiming to allow very short-range weather forecasting, or 'nowcasting', in the Arctic.
The AWS will have onboard three different types of antennas to be delivered by ANYWAVES no later than December 2022.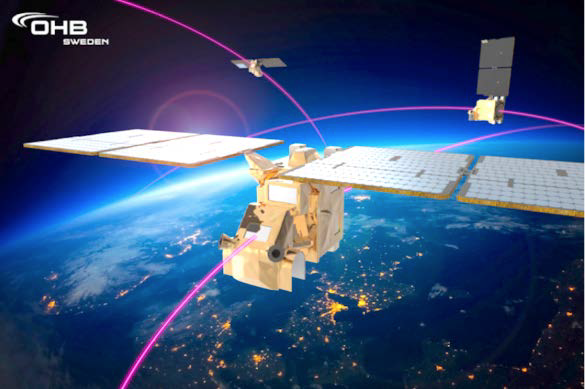 Regarding the telemetry and telecommand, S-Band TT&C antennas will be supplied. Orbiting at a 600 km altitude, AWS' geolocation will be possible as a result of an L1/E1 band antenna designed via ANYWAVES' secrete sauce based on additive manufacturing.
Lastly, the payload antenna will ensure that the real-time data downlink will be accomplished using an L-Band antenna; a key equipment for the mission success. The antennas will determine the success of this mission.
So far, this first order from OHB Sweden, amounts to tens of thousands of euros for the French antennas manufacturer. It could reach several hundreds of thousands of euros should the decision be made to continue to build out this constellation.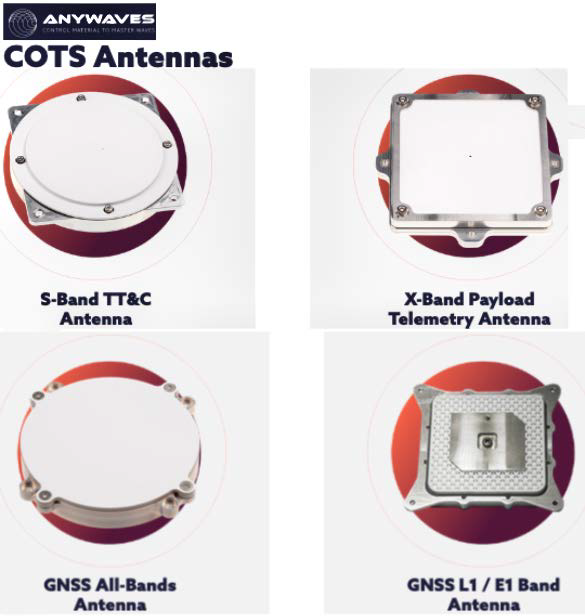 When ESA launched the Arctic Weather Satellite project, its objective was to embrace a New Space approach by proving new concepts in a cost- effective and timely manner.
By 2024, OHB Sweden, as well as ANYWAVES as the payload antennas provider, will both try to demo the usefulness of radiometric measurements in improving weather predictions. Their teams are already working to achieve their mission and to pave the way to a new European satellite constellation.
According to Nicolas Capet, ANYWAVES' CEO, "This order from OHB Sweden is very significant. First, because being once again selected by an historical European satellites manufacturer is the recognition of OHB's expertise. Then, because Arctic Weather Satellite's mission perfectly pictures what space can bring to humanity: and a better understanding of Earth as well as a major benefit for citizens thanks to better weather forecasting."
---
Leanspace Emerges From Stealth Mode
Leanspace has announced the company's launch out of stealth mode and has already signed several, major customers. A Seraphim Space backed start-up, the firm has already raised over two million euros in seed funding from institutions and angel networks.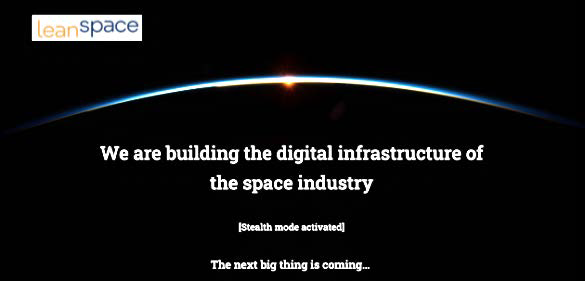 The company's first offering is the Leanspace Cloud, a technology enabling space organizations designed to easily build integrated, software ecosystems to run space missions. It will be launched at the SpaceTechExpo in Bremen, Germany, via a public demonstration event in partnership with ClearSpace, the International Astronautical Federation (IAF) and the International Space University (ISU). The commercialization of the space industry is bringing a myriad of new and innovative space programs, ranging from smallsat constellations, to launchers, to on-orbit services. As every use case is unique, they all require establishing new, custom, ground software infrastructures to manage their operations.
"I've spent the last decade building and selling ground segment software, from bespoke solutions to off-the-shelf products. The truth is: 80% is always the same," said Guillaume Tanier, co-founder and CEO of Leanspace. "What is specific for each space mission is the use case, the 20%. But, for example, people rebuild their ground segment from scratch each time. In the era of commercialization of space, it does not make sense anymore."
The Leanspace cloud provides the common building blocks of space software, accessible in a Platform-as-a-Service model. Engineers will find a large collection of standardized, generic web services that they can use through simple APIs. With them, they can build bespoke software systems, such as monitoring and control, mission planning, satellite testing, or configuration management. They can do this work themselves; 5x faster, 2x cheaper, easily and in a scalable way.
Every space player leverages the benefits of digital transformation: scalability of the cloud, digital engineering, and modular, iterative developments. However, the missing piece is the ability to link together tools, data and third party services, in a seamless, integrated ecosystem.
Leveraging the Leanspace Cloud makes it possible to create collaborative systems that operate as a Single source of Truth, across assets, teams and business phases. It enables digital processes and more business agility than ever before.
---
Inmarsat Selects Mitsubishi Heavy Industries To Launch The I-6 F1 Satellite
Inmarsat has announced the Mitsubishi Heavy Industries, Ltd. (MHI) will launch Inmarsat's first satellite in their Inmarsat-6 fleet (I-6 F1) via MHI's H-IIA Launch Vehicle No. 45 (HIIA F45).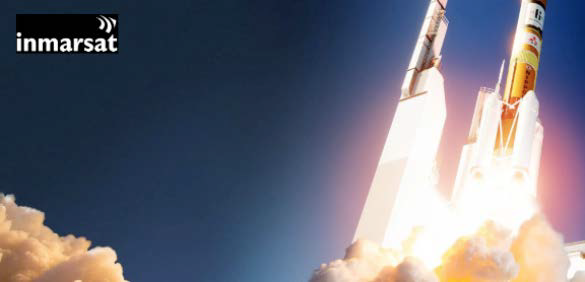 Inmarsat's sixth-generation (I-6) fleet will be its first to feature dual- payload satellites. The I-6s will support L-band (ELERA) and Ka-band (Global Xpress) services as part of the company's unique, global, multi- dimensional, dynamic mesh network — ORCHESTRA.
Photo of the Inmarsat-6 F1 satellite getting set for thermal vacuum tests. Image is courtesy of Inmarsat / and Airbus Defence and Space. MHI Launch Services enjoys an extremely high success rate of 98.1% and has provided 47 successful consecutive launches, delivered on-time and to the customer's satisfaction. MHI provides a dedicated launch service for the I-6 F1 launch with the H-IIA Launch Vehicle, configured as H2A204/4S, with 4 Solid Rocket boosters (SRB-As) and 4m diameter payload fairing.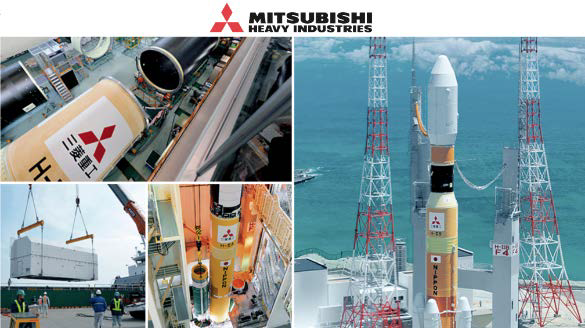 The core stages of the H2A launch vehicle are undergoing final checks at MHI's factory in Nagoya, Aichi Prefecture, ahead of their shipment to the launch site on Tanegashima island, Kagoshima Prefecture, which is located in the southwest of Japan.
"Our first Inmarsat 6 satellite, I-6F1, is the largest and most advanced commercial communications satellite ever launched and we look forward to the event in Japan with our trusted partner, MHI," said Rajeev Suri, Inmarsat CEO. "The I-6s are Inmarsat's first ever hybrid L- and Ka-band satellites, incorporating increased capacity and new technological advances for ELERA's transformational L-band services alongside additional Global Xpress high-speed broadband capacity. They demonstrate Inmarsat's ongoing investment and commitment as a global leader for the benefit of mobility customers worldwide, delivering an enhanced platform for world-changing technologies that ELERA enables, including the Industrial Internet of Things, by providing dramatically increased network capacity and resilience. I-6 F1 also plays an integral role in the reliable geostationary earth orbit infrastructure that underpins Inmarsat ORCHESTRA - the world's first network that will combine geostationary, low earth orbit and terrestrial 5G into one harmonious solution."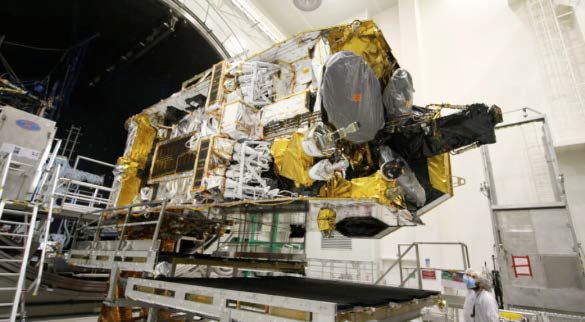 Photo of the Inmarsat-6 F1 satellite getting set
for thermal vacuum tests. Image is courtesy of
Inmarsat / and Airbus Defence and Space.
"We are honored to have been selected by Inmarsat, a leader in the global mobile satellite communication industry, to provide launch services for their first satellite in the Inmarsat-6 series," said Tomoe Nishigaya, Vice President & Senior General Manager for Space Systems in MHI. "We strongly believe and expect that Inmarsat's L-band services, ELERA, and Global Xpress high-speed broadband capacity delivered by their I-6 fleet of satellites will trigger further growth of demands in the global mobile satellite communication market. Again, we are excited and sincerely appreciate the opportunity to be part of such an innovative mission as a launch services provider. We are committed to providing highly reliable launch services for this 45th mission of H-IIA, following the success of previous missions.
We intend to support Inmarsat and its partners with best efforts and great teamwork through the final preparation for the successful launch."
---
RadioWaves Introduces New GPS / GNSS Timing Antennas

RadioWaves has just released a new series of GPS/GNSS timing antennas that cover L1 and L5 GPS bands.
RadioWaves' new series of GPS/GNSS timing antennas provide top-of-the-line axial ratio and higher accuracy for the reception of satellite timing signals and reference frequencies for enhanced phase synchronization in precision network deployments.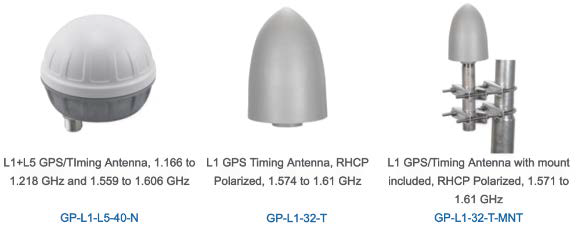 The high gain, low noise figure of 2 dB plus high, out-of-band rejection provided by these antennas allow for the use of longer and cost-effective cables for easy and flexible installs. They also feature a VSWR less than 1.8:1 and are compatible with several existing mounting brackets. In addition, these fully ruggedized, weather-sealed antennas are IP67 (Ingress Protection)compliant and perfect for use in outdoor and marine environments.
These antennas come equipped with built-in surge protection and support a wide range of GNSS including GPS, GLONASS, Beidou, Galileo and Iridium. Increased position accuracy in densely populated urban areas, flexible installation and improved system security make RadioWaves' latest antenna a critical system component.
"Our timing antennas with dual feed and dual band capability provide top-of-the-line axial ratio and higher accuracy for the reception of satellite timing signals and reference frequencies for use in advanced network applications. These rugged outdoor antennas are suitable for use in all outdoor and marine environments," said Kevin Hietpas, Antenna Product Line Manager.
---
Space Debris Tracking Mission Development Agreement Signed Between Digantara + OrbAstro
Digantara Research and Technologies Pvt. Ltd., (Digantara) has signed a contract with Orbital Astronautics Ltd. (OrbAstro) to fly the SCOT (Space–based space Climate and Object Tracker) payload onboard an ORB-6 satellite platform launching toward the end of 2022.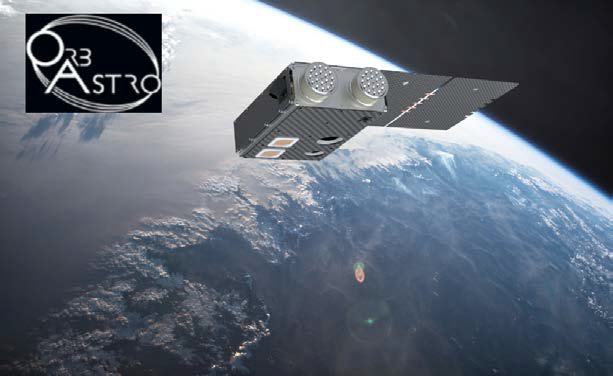 The mission will focus on demonstration of a novel LiDAR-based technology developed by Digantara, and will serve as the pilot for their LEO constellation providing a space situational awareness service.
Anirudh Sharma, CEO of Digantara, said, "Digantara's mission is to build a sustainable near-Earth environment and access to space by providing actionable insights through meaningful collaborations with industry stakeholders. Cooperation with companies such as OrbAstro play an important role in accelerating Digantara's objectives."

Dr. Ash Dove-Jay, CEO of OrbAstro, said, "Over the coming years, to enable the space traffic management aspect of our Guardian Network service, we are going to become reliant on partnerships with companies like Digantara."
OrbAstro is building an infrastructure to better service customer satellites, the Guardian Network provides low-latency access to customer satellites through an on-orbit data relay network, and it provides a high level of operations automation at the level of the satellite, mission, constellation, and space traffic management.
Digantara is a space situational awareness company building the world's first, in-situ, orbital surveillance platform, SCOT. Digantara's end to end platform, S-MAP (Space – Mission Assurance Platform) will change the way Mission design and operations are carried out in the industry today. Once deployed, Digantara's satellite constellation will provide high fidelity data at 10x higher resolution than the current industry standards, effectively elevating space governance.
---