Photo of a 3D printed AlbaPod 2.0 on a vibration table going through preflight certification. Image is courtesy of of Alba Orbital.
---
As tiny and reliable emerging satellites, PocketQubes are "an exemplar of New Space research and innovation."
The original idea came from Professor Robert J. Twiggs from Morehead State University (MSU) who proposed the standard of "a satellite that fits in your pocket." Indeed, a PocketQube is a type of miniaturized satellite for space research that usually has a size of 5 cm cubed (one eighth the volume of a cubesat), has a mass of no more than 250 grams and typically uses Commercial-Off-The-Shelf (COTS) components for its electronics.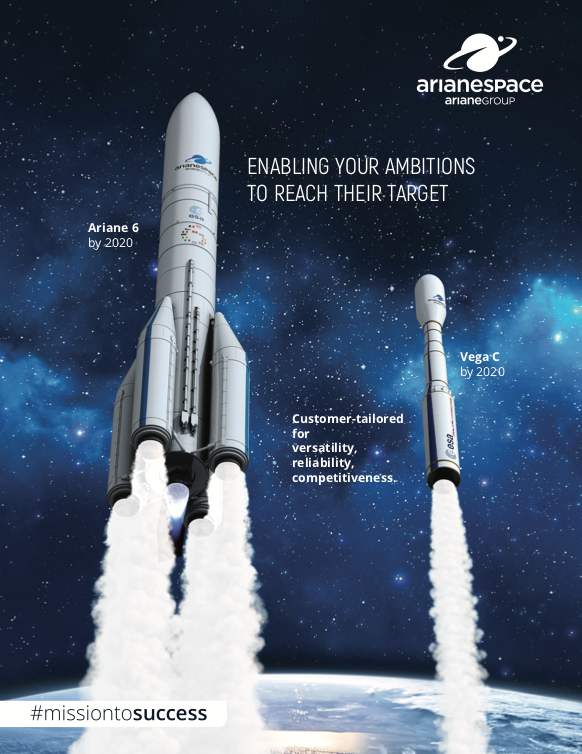 This type of satellite is quite young — started in 2009 — but their importance is increasing at warp speed as a solution to the rising costs of cubesat launches to Low Earth Orbit (LEO). Since their debut, interest for PocketQubes has increased within the space industry.
The first PocketQube Standard was issued in June of 2018 and provided a shared platform to the PocketQubes community; one of the contributors (along with GAUSS Srl, TU Delft) is Alba Orbital, a fast growing, high-tech, SME based in Glasgow, Scotland.
Alba Orbital provided a hub of support for the class of PocketQube satellites by building their own platforms as well as providing parts and launches to companies, universities and space agencies around the world.
Challenge
Recently, Alba Orbital needed to build an updated version of their PocketQube satellite deployer, AlbaPod 2.0. The aims of the project were to improve on previous designs in terms of weight, manufacturability, access and the incorporation of a number of safety features.
Alba Orbital turned to CRP Technology for the manufacturing of the deployer, as the Italian-based, 3D printing company already had considerable experience supplying cutting-edge solutions for key industry leaders using their patented Windform® TOP-LINE composite
materials. In fact ,most of Windform® TOP-LINE composite materials are suitable for space applications and have passed outgassing tests at NASA and ESA.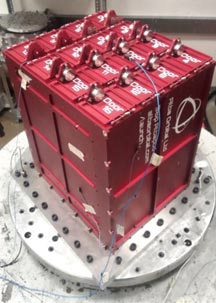 AlbaPod 2.0.
As with any aerospace part, minimizing weight is a fundamental design goal, plus it is essential that the material be approved for flight due to the tight rules regarding degassing once a unit is in space. From the Alba Orbital point of view, it was clear from the start that using a material already approved by the major launch providers would ease the adoption of the new launcher by all interested parties.
Solution
The assignment was tough; however, thanks to the long-term experience gained in the field of Additive Manufacturing service, CRP Technology accepted the challenge. The activity of CRP Technology's 3D printing department has been focused from the beginning on maximizing and achieving the targets required, providing full collaboration to the Alba Orbital team.
The work began with an accurate analysis of the 3D and 2D files. Through the know-how earned in more than 25 years of activity serving the most demanding and high-performance industrial sectors, CRP Technology was able to assist Alba Orbital in selecting the most appropriate technology and material to guarantee the success of the project:
The Alba Orbital team said, "As the product needed to withstand a launch to space while containing several satellites, the pod needed to withstand high vibrations and, in the worst scenario, contain any satellite that breaks free internally. Windform® XT 2.0's toughness and strength make it a perfect candidate for this use case."
In the composite materials for Additive Manufacturing scenario, Windform® XT 2.0 replaces the previous formula of Windform® XT. Windform® XT 2.0 features improvements in mechanical properties including an +8 percent increase in tensile strength, +22 percent in tensile modulus and a +46 percent increase in elongation at break.
---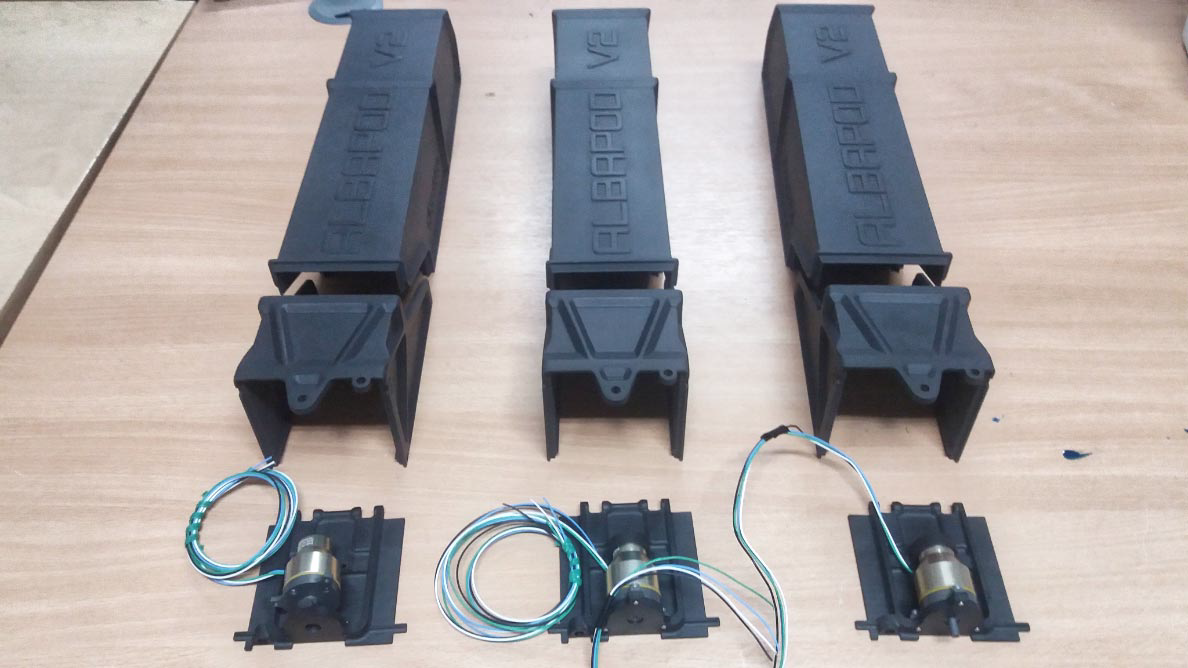 Photo of 3D printed AlbaPods 2.0 in CRP Technology's Windform® XT 2.0.
Image is courtesy of Alba Orbital.
---
Result
Once the final .STP file from Alba Orbital was received by CRP Technology, they created — in a short period of time — AlbaPod v2, an extremely, light weight, flight proven, 6P (as many as 6 satellites) 3D printed deployer for PocketQube compatible satellites with a mass of <500g (60 percent less than AlbaPod v1).
Professional 3D printing, combined with Windform® XT 2.0 Carbon-composite material, proved to be the best choice, as the 3D printed deployer has successfully passed all control criteria and has fully complied with the requests and standards of Alba Orbital.
The Alba Orbital team added, "Windform® XT 2.0 is a non-outgassing, lightweight fiber reinforced polyamide plastic very similar to Nylon. The material combined with the manufacturing technique allowed us the option to design parts that can not be manufactured with traditional techniques, with thin sections and extremely complex geometry's, and these parts can be manufactured and delivered in a fraction of the time for a traditional supply chain."
---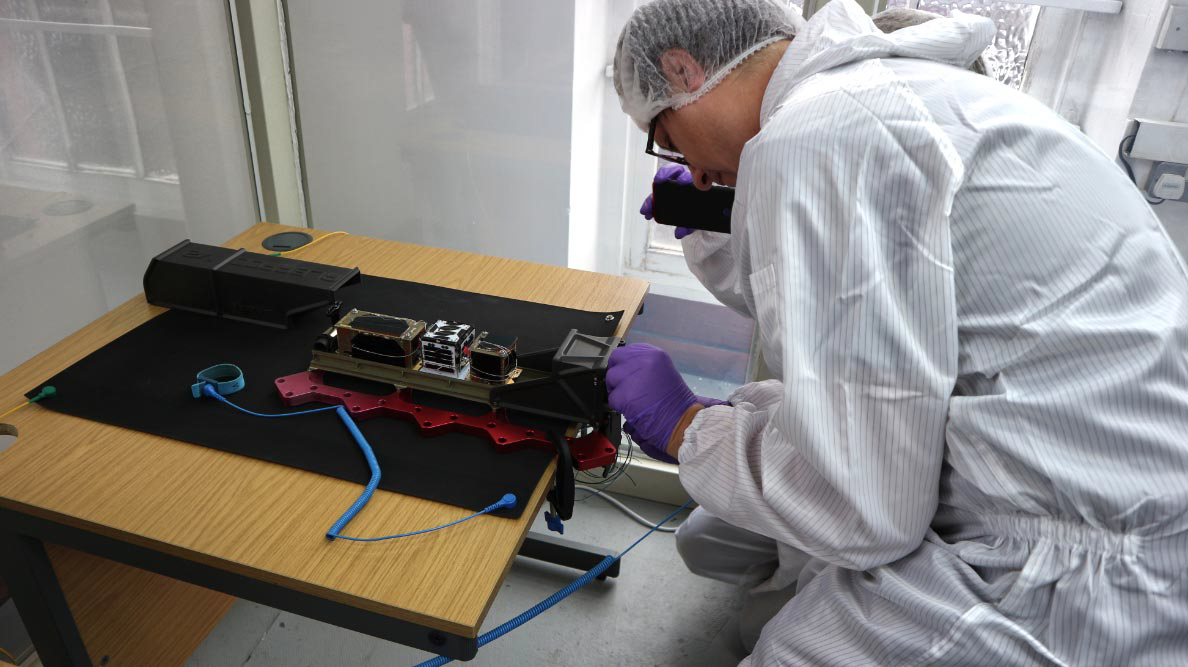 Fully loaded 3D printed AlbaPod 2.0 for flight — rear cover removed for inspection. Photo is courtesy of Alba Orbital Orbital.
---
The Alba Orbital team noted some of the technical details of the advantages gained by using Additive Manufacturing and Windform® XT 2.0 material by noting, "The most innovative aspect of the project – Alba Orbital comments - was the sheer number of components we switched over to Windform® XT 2.0, not only was the shell redesigned in the material, but also the moving ejection mechanism and door assembly. Additionally some parts are critically structural to the assembly as a whole."
Regarding the mechanical performance of this part, the Alba Orbital team stated, "This is critical. Not only does the full assembly need to function correctly to facilitate the deployment of the satellites inside, but the assembly must also contain the satellites in the event of catastrophic failure of a payload during the launch, as anything breaking free could fatally damage other payloads or the launch vehicle itself". This aspect of the completed pod was tested thoroughly with free masses on vibration tables with extremely high loading and the pod shell held up extremely well.
Additionally, weight is always a major cost concern for anything heading into space — using Windform® XT 2.0, the company was able to reduce the mass of a number of major components. The Alba Orbital team added, "3D printing allows us to rapidly improve design and customize/create bespoke launchers in the future for demanding payloads which may fall outside the PocketQube standards or require special considerations. It will also allow the fast integration of new release mechanisms allowing us to switch manufacturers comparatively quickly and easily if problems with supply chain arise."
---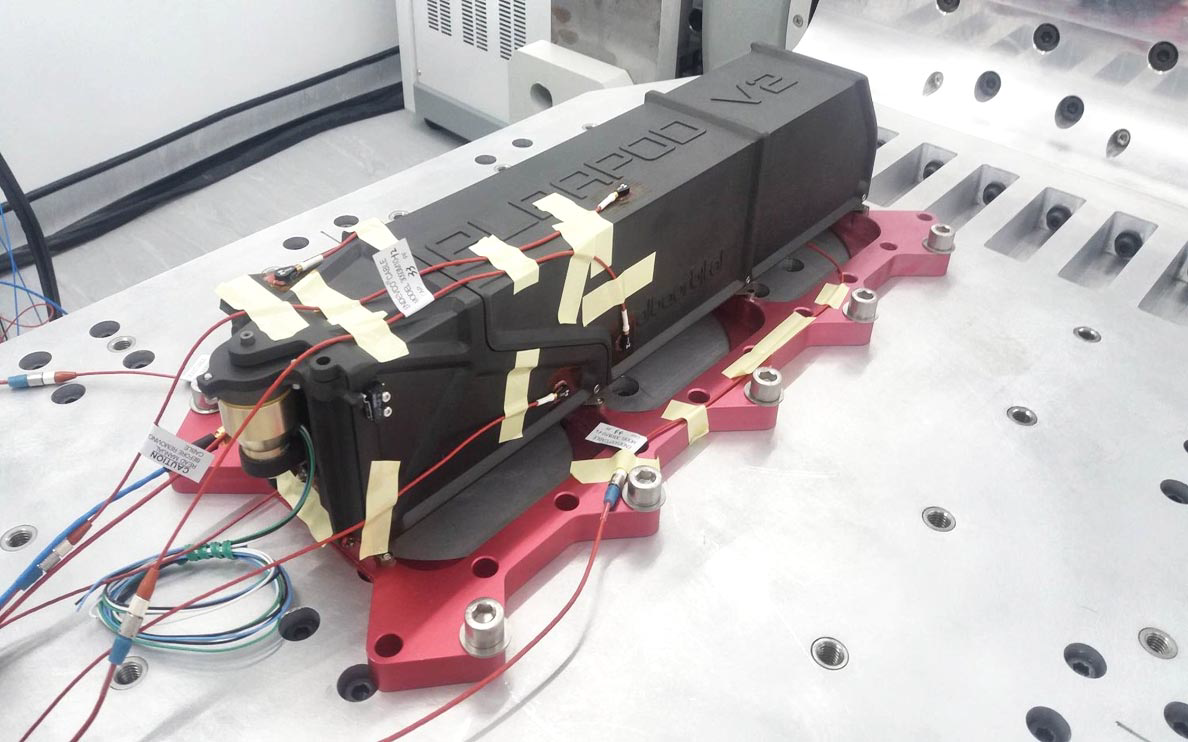 Photo of a 3D printed AlbaPod 2.0 undegoing vibration testing. Photo is courtesy of Alba Orbital Orbital.
---
Many additional tests were completed on the 3D printed AlbaPod v2. On September 9, 2019, the first integration occurred. In December of 2019, Alba Orbital launched 6 PocketQube satellites into orbit via the 3D printed AlbaPod v2 (Mission: Alba Cluster 2). As of this writing, Alba Cluster 2 has been on-orbit for 100 days. A new launch with AlbaPod v2 (Alba Cluster 3) is scheduled for later in 2020.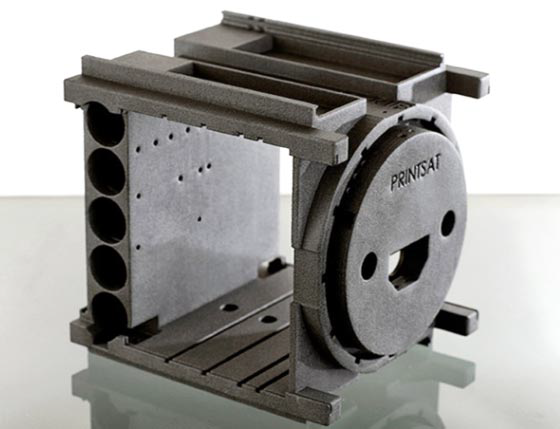 This image shows the building of a
cubesat with Additive Manufacturing
with the WINDFORM XT.
Photo is courtesy of CRT Technology.
According to a recent press release, Alba Orbital and Momentus, the first, in-space, transportation company, will work together to deploy as many as 10 Alba Orbital PocketQubes using the CRP Technology manufactured AlbaPod. Alba Orbital and Momentus announced a contract for three Alba AlbaPods to ride on the plaza deck of the SpaceX Falcon 9 vehicle from Kennedy Space Center, Cape Canaveral, Florida.
The PocketQube satellites will be integrated into the AlbaPod deployers and mounted within the Momentus Vigoride onto the ESPA Grande ring interface that is provided by SpaceX on their dedicated rideshare missions. Momentus is enabling Alba Orbital to engage in a regular launch cadence in the future with full mission flexibility to ensure drop off orbital altitudes where required by customers.
The experience in the manufacturing of AlbaPod v2 was presented at the 4th Annual PocketQube Workshop 2020 that occurred (virtually) in the Glasgow University Union on the 8th and 9th of October, 2020. This was an excellent opportunity for attendees to explore PocketQube technology, as the two day workshop brought together world leading innovators from within the PocketQube community and covered all of the significant areas for PocketQube developers.
www.crptechnology.com
www.albaorbital.com
Author Matteo Levoni Bemposti, Engineer, is the Head of Reverse Engineering for CRP Technology
---