Global mobile connections have passed the seven billion mark—a figure akin to the global population.

Multi-screen consumption of content has thrown control to the hands of the consumer like never before—enterprise mobility has become ingrained in consumers' lives and transformed the workplace where employees not only have choice in devices, but applications, as well.
Once thought to be a thing of the future, driverless cars are to become a reality in everyday lives. The manifestations of megatrends such as IoT, mobility, cloud, social, and big data will be brought to life at CommunicAsia2015, EntepriseIT2015 and BroadcastAsia2015 from June 2nd through 5th, 2015, at the Marina Bay Sands in Singapore.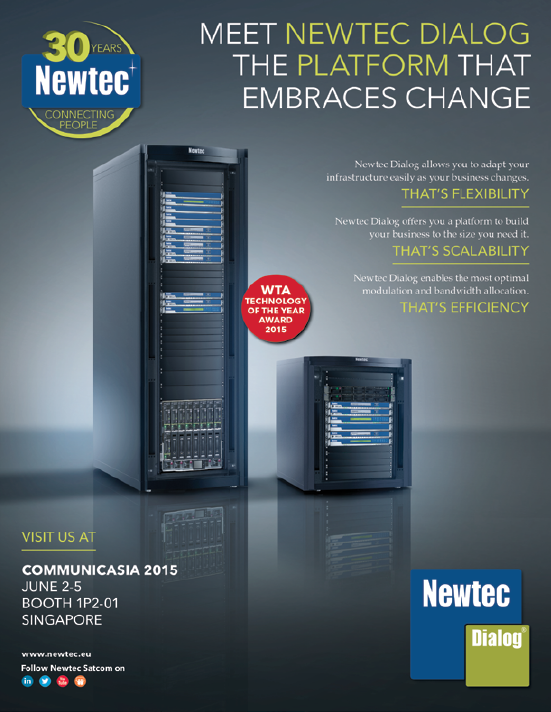 Mobile explosion has given rise to dramatic changes in the consumption of technology, data and applications evidenced in the hyper-connected consumer and workforce, and ease of connectivity proliferated possibilities and realities of Internet of Things (IoT). Forecasted to reach US$59 billion by 2020, Asia Pacific's (APAC) total IoT spending points to the opportunities in the areas of digitized landscape monetization, the capability of wearable technology, big data and analytics and even the IT infrastructures in place for greater agility, flexibility and scalability required for business and national growth.
"The trend of IoT continues to impact ways of life on both consumer and business fronts, bringing about opportunities and challenges for businesses in the areas of mobility management, big data analytics, media consumption and more. Aligned with the global phenomenon, 2015's CommunicAsia, EnterpriseIT and BroadcastAsia will provide international audiences access to insights, latest technologies and solutions ranging from connected devices, smart living, reality of TV-everywhere, satellite applications, enterprise mobility and more," said Mr. Victor Wong, Project Director, from the event's organizer Singapore Exhibition Services.
At CommunicAsia, EnterpriseIT and BroadcastAsia, visitors will experience the latest technologies, obtain insights from business leaders and subject-matter experts, and network with major and emerging industry players from around the world.
CommunicAsia2015 + EnterpriseIT2015
The events provide a deeper look into the entire info-communications ecosystem, with a strong spotlight on state-of-the-art technologies and solutions that can empower a "connected" city, government, enterprise and consumer.
Showcase highlights:
Technicolor's IZE (1st in Asia), the 1st Smart Home platform that brings together one's digital lifestyle on TV and other screens
• PCCW Global world-class integrated global fiber and satellite network offers solutions such as a global TV network transporting high quality feeds, and cloud-based transcoding for superior multiscreen content
• Temasek Polytechnic Singapore, in collaboration with Toyota Tsusho, will display an Electric Car fitted with Smart Telemetry Solutions GPS and GPS-enabled devices, and a Smart Battery Management System, as well as a compact and lightweight Fuel Cell Bike that runs on hydrogen
• Other prominent exhibitors such as Akamai, Dell, CDNetworks, FiberHome, Kaltura, Irdeto, Soliton Systems and many more will also be at the event to display capabilities that are specially designed enable greater connectivity and mobility.
• As part of CommunicAsia2015, SatComm2015, the strategic platform for the satellite communication industry, will see the gathering of more than 160 satellite-based companies to address key issues within Asia-Pacific's mobile ecosystem. Specifically, SatComm offers the broadcast, enterprise, government, maritime, military and oil & gas sectors with the necessary network agility and mobility services required for reliable and secure connectivity.
Showcase highlights:
• The Thuraya IP Voyager is a high quality vehicular satellite terminal designed for a wide range of mission-critical operations such as border patrol, defense, and disaster response. The terminal enables users to collaborate reliably and efficiently through video, data, and VoIP
• iDirect's SatHaul solution enables mobile operators to cost effectively connect remote and rural locations. SatHaul combines the latest in satellite infrastructure with advanced transmission techniques, including mobile specific optimization of signaling, voice and data content.
KORE Wireless's M2M hybrid satellite and cellular solutions in partnership with ATrack provides a complete coverage solution ideal for wide-area fleet tracking, disaster response, compliance monitoring and mission critical applications.
• Other participants include Chengdu Global-way Communication Technology, China Satcomm, Intelsat, Inmarsat, SKY Perfect JSAT, MEASAT, SES, Siemens, ST Electronics, Thaicom, and more from over 20 countries and regions around the world.
CommunicAsia2015 Summit
World business leaders from top tech conglomerates and specialized experts will parcel out valuable insights at this year's CommunicAsia2015 Summit. Defining content that is shaping the future of today's global ICT landscape, more than 200 industry experts including C-level speakers will be sharing the value IoT brings, digitization of the media landscape and how they can bring enterprise mobility to the next level.
Program highlights:
• Hari Krishnan, LinkedIn's Managing Director for Asia Pacific and Japan, will deliver a visionary address at CommunicAsia2015 Summit and BroadcastAsia2015 International Conference on "How Social Media is Changing the Way People Work and Play".
• Bill Chang, CEO, Enterprise, SingTel, and Barry Lerner PE, Regional Chief Information Officer, Huawei Solutions Marketing South Pacific Region will join a panel discussion on "What Role do We Play in the Age of 'The Internet of Everything' "

Key speakers:
• Steve Leonard, Executive Deputy Chairman, Infocomm Development Authority of Singapore
• Peter Moore, Head – Global Public Sector (APAC), Amazon Web Services
• Jeremy Kung, Executive Vice President – New Media and Chief Executive Officer, Telekom Malaysia
• Barry Lerner PE, Regional Chief Information Officer, Huawei Solutions Marketing South Pacific Region
• Magnus Ewerbring, Chief Technology Officer – APAC, Ericsson ...and many more
What Can Be Expected @ BroadcastAsia2015?
On-demand consumption of media has become the modus operandi for consumers today, bringing about the trend of 'TV Everywhere.' The broadcasting landscape has changed significantly with the advent of social media and increased mobility of consumers brought about by IoT trends today. More than just the delivery of content, with high-definition and 3D now made readily available in the comfort of consumers' homes, the TV experience has become critical for the broadcasting industry.
Highlights:
TV Everywhere! Zone (NEW)
From smartphones, tablets or Smart TVs, media and TV consumption are now everywhere. This year's new TV Everywhere! Zone promises an experiential showcase of solutions from authentication, monetization, network and device management, OTT, security, storage and more.
ProfessionalAudioTechnology2015
The ProfessionalAudioTechnology zone will showcase latest technologies and expertise on pro audio.
The Cinematography/Film/Production Zone
The thrill of a movie can be determined by techniques employed by production teams and houses. To stay ahead and provide audiences with a visual feast and unforgettable experience, latest trends, developments and innovative technologies will be shared.
Production Hub
Well-known and award winning directors, colorists, visual effects experts and more will be sharing their experience and insights on the different equipment and solutions that they are using in the course of their work.
BroadcastAsia2015 International Conference
Recognizing that non-linear viewing options are eclipsing traditional TV viewing habits, broadcasters, channels and networks need to innovate their services in order to secure their foothold in the new broadcasting environment.
With this in mind, BroadcastAsia2015 International Conference is specially designed to tackle the commercial and technical challenges stakeholders have to overcome to achieve a profitable TV everywhere service. Conference topics include OTT expansion into new territories, innovating TV service with intelligent analytics tools, immersive TV technologies, cloud distribution and network virtualization, and digital broadcasting standards and technologies.
The Creative Content Production Conference will host some of industry's most creative minds and emerging content developers. Together they will examine the evolving market landscape and discuss effective strategies to succeed in Asia's film and TV arena. Conference topics include fostering collaborations and co-productions, monetizing a successful transmedia strategy, financing and distribution best practices, and alternative financing options among others.
CommunicAsia2015 / EnterpriseIT2015 Exhibition
Incorporating: SatComm2015
Date: 2-5 June 2015, Tuesday - Friday
Venue: Marina Bay Sands, Singapore, Levels B2, 1 & 3
Opening Hours: June 2-4, 2015: 10:30 a.m. - 6:00 p.m. | June 5, 2015:
10:30 a.m. - 4:00 p.m.
Admission: Business and trade professionals only
Infosite: www.communicasia.com | www.goto-enterpriseit.com
CommunicAsia2015 Summit
Date: June 2-5, 2015, Tuesday - Friday
Venue: Marina Bay Sands, Singapore, Level 3
Admission: Registered delegates only
Infosite: www.communicasia.com/conference/conference-highlights/
BroadcastAsia2015 Exhibition
Incorporating: ProfessionalAudioTechnology2015
Date: June 2-5, 2015, Tuesday - Friday
Venue: Marina Bay Sands, Singapore, Levels 4 & 5
Opening Hours: June 2-4, 2015: 10:30 a.m - 6:00 p.m. | June 5, 2015:
10:30 a.m. - 4:00 p.m.
Admission: Business and trade professionals only
Infosite: www.broadcast-asia.com/
BroadcastAsia2015 International Conference & Creative Content Production Conference
Venue: Marina Bay Sands, Singapore, Level 3
Date: June 2-5, 2015, Tuesday - Friday
Admission: Registered delegates only
Infosite: www.broadcast-asia.com/conference/conference-highlights/
---