April 1, 1960 — a Thor rocket engine developed by what is now Pratt & Whitney Rocketdyne powered the first successful spacecraft into orbit to take pictures of Earth's clouds Images from the Television Infrared Observation Satellite (TIROS-1) which were dark and grainy, but they proved — for the first time — a satellite could be used to survey global weather conditions from space. Pratt & Whitney Rocketdyne went on to boost increasingly sophisticated weather satellites over the years that produced clear, crisp images in startling detail. Most recently, the company's RS-68 engine helped launch the latest Geostationary Operational Environmental Satellite, designated GOES-O, enabling scientists to monitor weather that leads to tornadoes, flash floods and hurricanes.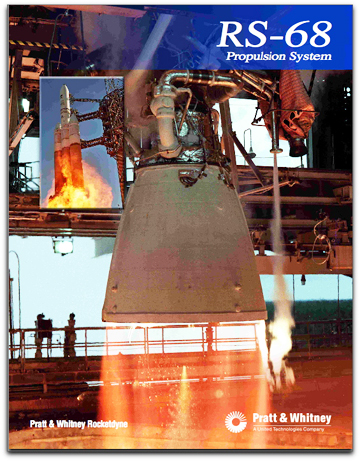 Over the history of U.S. satellites,
Pratt & Whitney Rocketdyne
has provided the dependable thrust to place them into orbit. The
RS-68
is one of the newest advances in large engine propulsion that makes it possible to place some of the heaviest satellites into space. However, such wouldn't be possible without the talented people who actually design, develop and test the launch engine .
"An early warning system is absolutely critical when dealing with unpredictable weather that can impact so many people," said
Craig Stoker
, RS-68 program manager, Pratt & Whitney Rocketdyne. "It's a great feeling knowing we're involved with such an effort."< br />
The RS-68 is unique because it is the world's largest hydrogen-fueled engine, generating 17 million horsepower — the equivalent of 11 Hoover Dams. Standing 17 feet tall with an eight-foot diameter, the RS-68 consumes a ton of fuel per second, with a thrust of 656,500 pounds.
The RS-68 has boosted satellites that assist the military in intelligence applications and monitor the environment for elements such as deforestation in the Amazon basin or the effect of climate change on glaciers in the Arctic. The
Delta IV
also launches satellites that supply communications, global positioning, and navigational systems to help even the most wayward motorists find their way.
The RS-68 has proven so successful that, in 2006,
NASA
announced six of the engines would be used on
Ares V
, the large cargo launch vehicle scheduled to deliver hardware to the moon. The
United Launch Alliance
(
ULA
) also recently commissioned a modified RS-68, known as
RS-68A
, to power heavier payloads than currently possible with its predecessor.
"The RS-68 engine's reliability is the key to powering the Delta IV first-stage booster that has deployed a variety of spacecraft into orbit including weather satellites," said
Jerry Jamison
, ULA vice president, Launch Operations. "The RS-68 powered two separate Delta IV medium vehicles that launched NASA and National Oceanic & Atmospheric Administration's GOES-N and GOES-P satellites that will improve weather forecasting for decades to come. Pratt & Whitney Rocketdyne's RS-68 engines have served as the crucial first step in powering 11 successful Delta IV missions, including three Delta IV Heavy missions, since 2002."
Pratt & Whitney Rocketdyne engineer
Kurt Coffman
became fascinated with space exploration as a child growing up in California's San Fernando Valley, where rocket engines were built and tested — including the massive
F-1
engine, which lifted
Apollo 11
on its maiden voyage to the moon 40 years ago. As a boy, he remembers ice skating at a local shopping mall and seeing a real F-1 engine on display across the street at Pratt & Whitney Rocketdyne's headquarters in Canoga Park. He wondered what people did at the building, and what that engine was. Then Apollo 11 landed on the moon and he learned Pratt & Whitney Rocketdyne manufactured the engines that helped make that mission possible.
"I was proud and fascinated to know this was all happening down the road in my hometown," he said.
Coffman
went on to get a mechanical engineering degree from
Cal State Northridge
, just seven miles from the Canoga Park building. He landed a job at Pratt & Whitney Rocketdyne, where he worked hands-on with technicians putting all the parts together on the RS-68.
To help accommodate the new engine for its first hot fire test, Coffman helped configure the test stands, first at
Edwards Air Force Base Research Laboratory
in California, and later,
Stennis Space Center
in Mississippi. But the real thrill comes when he experiences launches in person.
"Watching as the very first Delta IV lifted gloriously toward the heavens was one of the highlights of my life," said
Coffman
, who now leads the Pratt & Whitney Rocketdyne team that monitors data and engine health systems prior to flight to make sure the rockets are ready for lift-off. "It was very emotional and spectacular, shaking Cape Canaveral Air Force Base with all its power. It's very rewarding to know we help put satellites into orbit so they can do their important jobs."
Nacer Thomas
, a senior engineer working in the systems analysis group for the RS-68, was fascinated with exploration while growing up in Haiti. He would often be found drawing rocket boosters in his school notebooks while sitting in class. Thomas remembers being glued to the TV, overcome with sadness when Space Shuttle
Challenger
broke apart, killing all seven of its crew members and stunning the world.
Thomas
immigrated to the United States, earning a mechanical engineering degree from
Purdue University
. Pratt & Whitney Rocketdyne hired him as an entry-level engineer on the
X-33
, the prototype for a reusable launch vehicle for NASA. Thomas later transferred to the RS-68 program, where he evaluates the rocket's engine performance to ensure it satisfies the customer's performance requirements. This requires constant review of the data to ensure the engine's components are performing perfectly.

To this day, Thomas is overwhelmed when he sees the smoke and fire that signals a successful engine test at Stennis Space Center. "It's always a special feeling to see and feel the RS-68 engine roar into action," said
Thomas
. "That experience never gets old. Every time is as exciting as the first."
Jeffery Hagel
, a mechanical staff engineer who has worked at Pratt & Whitney Rocketdyne for 27 years, still remembers standing at the test stand's perimeter fence during his first experience at a hot-fire test.
"The immensity of this rocket's engine becomes immediately obvious when it lights off," said
Hagel
. "The sound is an ear-piercing roar with intense flames that give way to white cracking clouds of steam."
A retired Pratt & Whitney Rocketdyne employee who was working as a professor in mechanical engineering at the
University of Oklahoma
inspired
Tammi Covarrubias
to join the company. Pratt & Whitney Rocketdyne hired her directly from college, and she currently works as a systems' hardware engineer on the RS-68. Her responsibilities include ensuring the engine hardware is acceptable for flight and resolving concerns that could arise during engine assembly to lift-off.
"It is sometimes easy to get caught up in the smaller picture and be too focused on some small piece of hardware that you are responsible for, forgetting that we as a team are responsible for so much more," said
Covarrubias
. "The engines we work on supply the power that gets satellites where they need to be. From weather satellites to national defense satellites, we can and do make a difference."
All of the engine parts are delivered to Stennis Space Center, where Pratt & Whitney Rocketdyne has set up shop to assemble the RS-68s and conduct test firings. After the engines pass all of their tests, they are installed on the Delta IV rockets in preparation for final countdown.
"I have had the pleasure of being at events and speeches where the Air Force has described the benefits of our work, recognizing that the satellites we help put into space save lives and provide data to preclude another 9-11," said
Stoker
. "When you watch a weather report that provides early warning to help people avoid another Katrina-type disaster, you realize Pratt & Whitney Rocketdyne makes that warning and information possible by launching many of the satellites that provide the weather data we take for granted. We are incredibly proud to be a part of such important missions."