---
Arianespace Propels 34 OneWeb Constellation Satellites To Orbit
Performed by Arianespace on Sunday, August 22, 2021, at precisely 3:13 a.m. local time at Russia's Baikonur Cosmodrome (10:13 p.m. UTC on August 21), Soyuz Flight ST34 lifted-off, with 34 OneWeb satellites onboard. After the successful deployment if the smallsats, the size of the fleet on-orbit has now increased to 288 in number.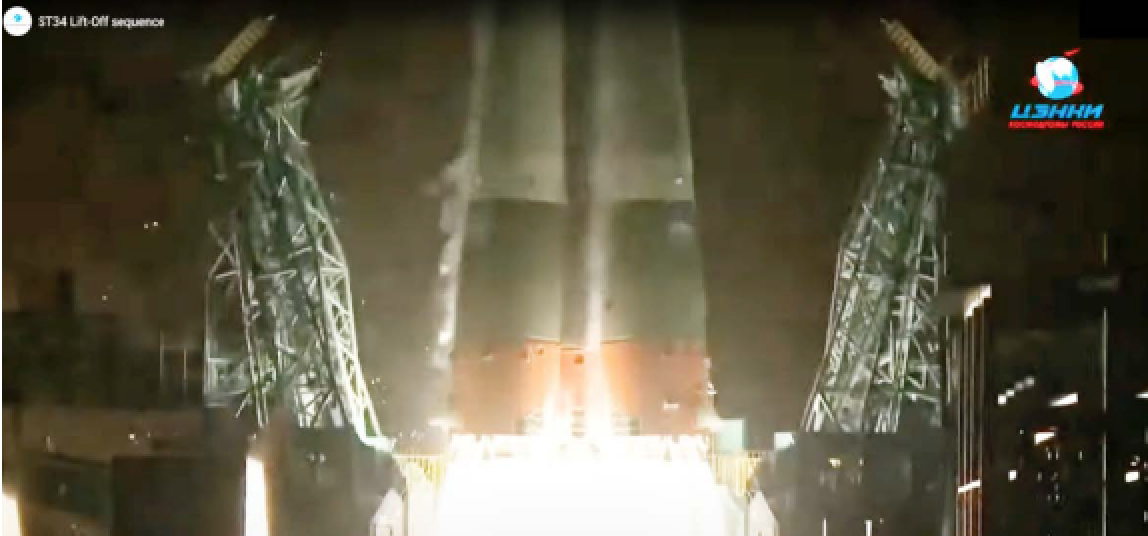 Flight ST34 was the 59th Soyuz mission carried out by Arianespace and their Starsem affiliate. The mission lasted three hours and 45 minutes.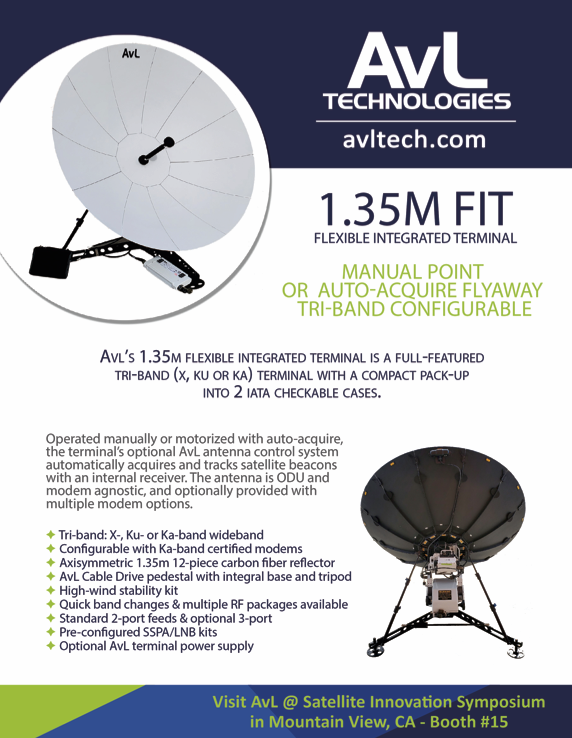 The 34 satellites have been separated, during nine separation sequences, at an altitude of 450 km. This was also the third successful launch operated by Arianespace's teams in less than one month.
To date, Arianespace has launched 288 OneWeb satellites with nine Soyuz launches. Arianespace will perform 10 more Soyuz launches for OneWeb through 2021 and 2022. These launches will enable OneWeb to complete the deployment of their full global constellation of LEO satellites before the end of 2022.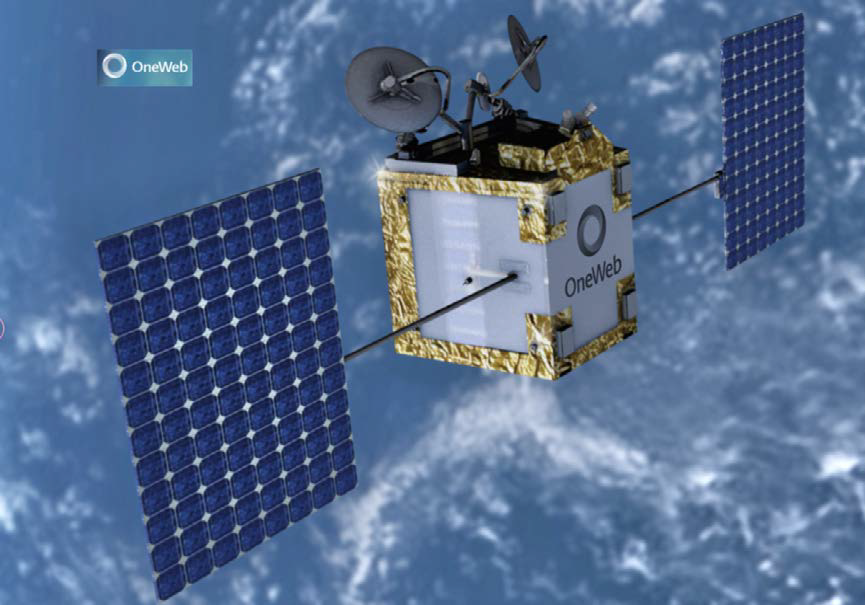 OneWeb's mission is to create a global connectivity platform through a next-generation satellite constellation in LEO. This constellation will deliver high-speed, constellation will deliver high-spee low-latency connectivity to a wide range of customer sectors, including aviation, maritime, enterprise and government. Central to its purpose, OneWeb seeks to bring connectivity to the hardest to reach places, where fiber cannot reach, and thereby bridge the digital divide.
The satellite prime contractor is OneWeb Satellites, a joint venture of OneWeb and Airbus Defence and Space. The satellites were produced in Florida, USA, in the company's satellite manufacturing facilities that can build as many as two satellites per day on a series production line that is dedicated to spacecraft assembly, integration and testing.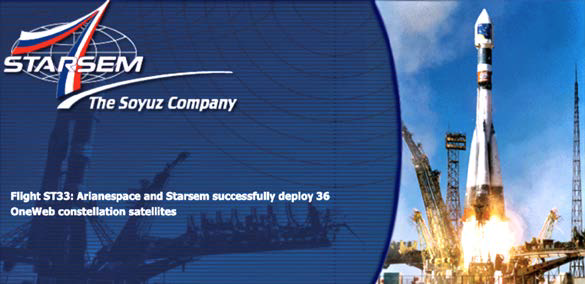 The launch of the satellites was operated by Arianespace and its Euro- Russian affiliate Starsem under contract with Glavkosmos, a subsidiary of Roscosmos, the Russian space agency. Arianespace is responsible for the overall mission and flight-worthiness, with the support of Starsem for launch campaign activities, including management of their own launch facilities at the Baikonur Cosmodrome.
RKTs-Progress (the Samara Space Center) is responsible for the design, development, manufacture and integration of the Soyuz launch vehicle as well as for the 3-stage Soyuz flight. NPO Lavotchkin is responsible for the launch preparation operations and flight of the Fregat orbital vehicle.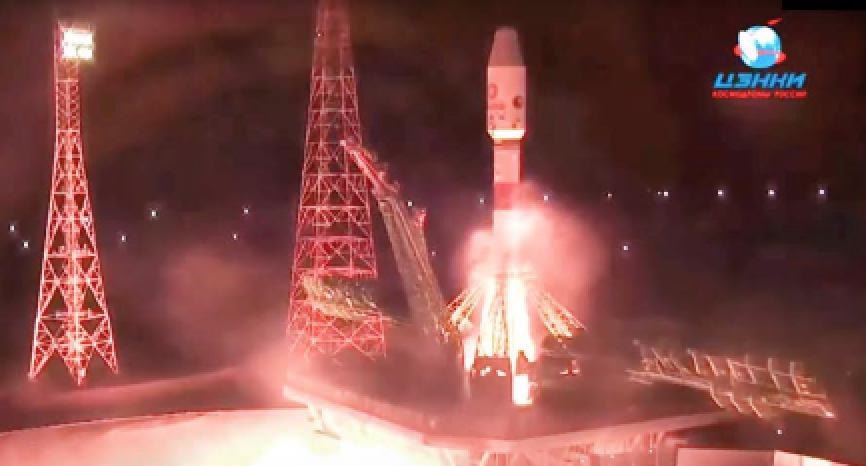 "Congratulations to all the teams who made this ninth launch dedicated to OneWeb's satellites a success," said Stéphane Israël, CEO of Arianespace. "Every single mission is special, but ST34 is the demonstration of our ability, no matter when or where, to deliver the best possible service! We operated three successful launches from two continents in precisely 23 days -less than one month-, with three different launchers, Ariane 5, Vega and Soyuz. Any time, any mass, any orbit: this is once again what we achieved to the benefit of our customers."
---
Thuraya Selects Airbus To Build Their Thuraya 4-NGS Satellite
Airbus has been selected by Al Yah Satellite Communications Company (Yahsat) to build Thuraya 4-NGS, the next generation, mobile telecommunications system that will drive the continued advancement of Thuraya's L-band business. Based on the all- electric, Airbus Eurostar Neo Platform, Thuraya 4-NGS will incorporate a large 12-meter L-band antenna and a payload, with on-board processing providing advanced routing flexibility of up to 3200 channels with dynamic power allocation over a large number of spot beams. The satellite is scheduled for operation in 2024.

Thuraya 4-NGS will deliver higher capabilities and flexibility while increasing capacity and coverage across Europe, Africa, Central Asia and the Middle East, enabling next generation mobility solutions for all customer segments, including defense, government and enterprise.
This is a major milestone in Yahsat's move toward transforming Thuraya and rolling out their next-generation system, which entails a complete overhaul of the company's space and ground platforms, enabling a new set of services, products and solutions across a greater coverage area.
The new capabilities will drive leadership across many strategic product lines, such as maritime, IoT, and data solutions offering a wide spectrum of throughput capabilities and the highest speeds available in the market, while reinforcing Thuraya's strengths in the MSS voice market.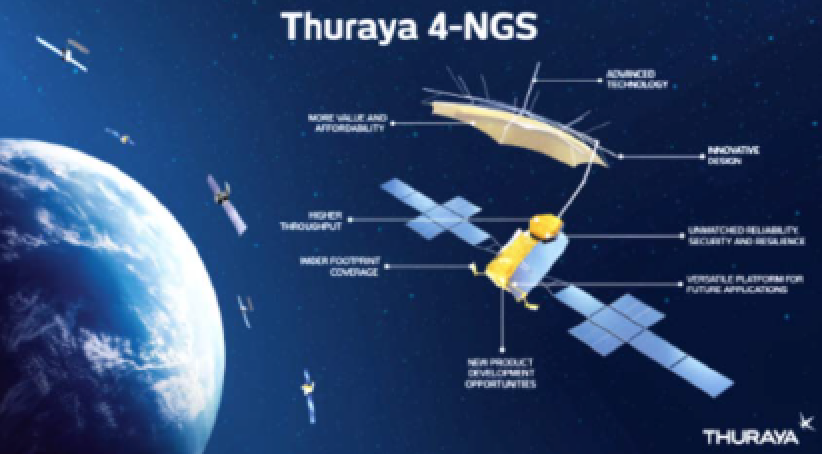 This latest commitment from Yahsat takes its total committed investment to date to well over $500 million, and more is anticipated in the coming years, including an option with Airbus to build Thuraya 5-NGS (an additional satellite identical to Thuraya 4-NGS), strengthening the firm's coverage and capabilities across the Asia Pacific region. Khaled Al Qubaisi, Chairman of Yahsat's Board of Directors and CEO of Mubadala's Aerospace, Renewables & ICT platform, said, "The half a billion US dollar commitment underscores our position as a market leader, pioneer and disruptor.
We are creating a multipurpose and flexible satellite ecosystem that is attuned for growth and future diversification, and Thuraya 4-NGS is a key milestone in our ongoing mission to provide advanced yet affordable satellite solutions with levels of performance, reliability and security at the leading edge of today's technology."
Ali Al Hashemi, CEO of Thuraya and General Manager of Yahsat Government Solutions (YGS), said, "Thuraya 4-NGS represents a significant evolution of our L-band capabilities, enabling a wider range of interoperable FSS/MSS solutions for Thuraya and YGS customers. This will be critical in delivering superior defense solutions, such as battlefield communications, to our government users, while offering a complete MSS portfolio to all of our current and future customers and partners to drive the next phase of innovation and growth."
Jean-Marc Nasr, Head of Airbus Space Systems, said, "Building on a relationship with Yahsat that dates back more than 10 years, our selection is testament to the innovation and engineering excellence of Airbus' geostationary satellites. Thuraya 4-NGS, as well as being electric, will also benefit from our latest processed payload technology giving increased flexibility and adaptability over the course of its life in orbit. Yahsat's new project reinforces Airbus Defence and Space's position as the new project reinforces Airbus Defence and Space's p world's number one in electric propulsion satellites."
---
Definitive Merger Agreement Entered Into By Virgin Orbit + NextGen Acquisition Corp.
Virgin Orbit, through its parent company Vieco USA, Inc. ("Virgin Orbit" or the "Company") and NextGen Acquisition Corp. II ("NextGen") (NASDAQ: NGCA), a special purpose acquisition company (SPAC), have announced they have entered into a definitive merger agreement (the "Merger Agreement") under which Virgin Orbit will become a publicly-traded company.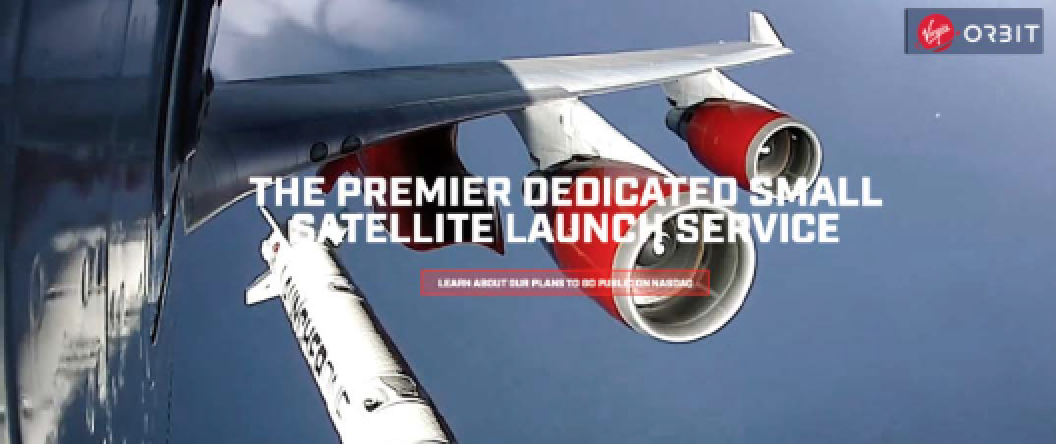 Upon closing, the transaction is expected to provide the combined company up to $483 million in cash proceeds, including up to $383 million of cash held in the trust account of NextGen (assuming no redemptions) and a $100 million fully committed PIPE; the combined company will retain the Virgin Orbit name and is expected to be listed on Nasdaq under the ticker symbol "VORB."
The transaction values Virgin Orbit at an implied pro forma enterprise value of approximately $3.2 billion and is expected to close in Q4 2021, subject to, among other things, approval by NextGen's shareholders and the satisfaction or waiver of other customary closing conditions.
Virgin Orbit's existing shareholder base is comprised of Virgin Group, ("Virgin"), Mubadala Investment Company ("Mubadala"), and management and employees. Existing Virgin Orbit shareholders will roll 100% of their equity into the combined company.
Assuming no redemptions by NextGen's shareholders, existing Virgin Orbit shareholders are expected to retain ownership of approximately 85% of the combined company.
NextGen's public shareholders are expected to own approximately 10% of the combined company, with PIPE investors and the SPAC sponsor expected to own approximately 3% and 2%, respectively, in each case, immediately following closing.
Virgin Orbit has developed a proprietary air-launch technology, coupled with world-class manufacturing infrastructure and a proven team to transform space access for a diverse and global customer base. Since its founding in 2017, Virgin Orbit has developed the world's first air- launched, liquid-fueled launch system.
The Company's most recent successful launch — conducted on June 30, 2021 – precisely delivered satellites for commercial and national security customers from the US and abroad directly into their target orbits. In January 2021, the Company successfully launched satellites for NASA.
Virgin Orbit uses a customized 747 aircraft as a mobile launch site, a flying mission control, and a fully-reusable first stage vehicle. By beginning each mission at approximately 35,000 feet above sea level and already traveling at a high speed, the simple and reliable LauncherOne rocket achieves a significant performance advantage over grounded launch sites while reducing local carbon emissions and acoustic impacts at the launch site when compared to a traditional acoustic impact ground launch.
The mobility of the system also allows Virgin Orbit to bring launch capabilities to dozens of nations that currently have space agencies and satellite industries but no domestic launch capability. The Company has been selected by the United Kingdom and Brazil to bring launch to those nations' shores, in addition to Virgin Orbit's announced launch site in Japan and multiple locations in the United States.
Having already successfully delivered satellites into precisely targeted orbit for the US Department of Defense and other national security customers, Virgin Orbit's proven technology can also be leveraged to serve a diverse portfolio of defense and national security applications. Virgin Orbit's ability to launch responsively from any location around the world delivers a valuable deterrent in ensuring the resiliency and replaceability of critical satellite infrastructure assets.
Virgin Orbit is selectively investing with constellation partners to provide end-to-end, value-added services for Earth Observation and the Internet of Things (IoT) applications, using the "Satellites as a Service" model. Virgin Orbit's IoT offering will focus on connectivity applications for ship management, aircraft, pipeline monitoring, and intelligent agriculture, which has the potential to help improve efficiency across some of the world's biggest industries.
Sir Richard Branson, the Founder of Virgin Orbit, said, "The Virgin Orbit team has proven its ability to create new ideas, new approaches, and new capabilities. They are building on the incredible foundation of their rapid transition into successful commercial launch operations to find new ways to solve big problems that uplift our customers' amazing ideas, again and again. I'm very excited we are taking Virgin Orbit public, with the support of our partners at NextGen and our other wonderful investors. It's another milestone for empowering all of those working today to build space technology that will positively change the world."
Dan Hart, the CEO of Virgin Orbit, said, "We've built Virgin Orbit in order to change the business of satellite launch and to open space for everyone, globally. Our success in launch has driven the business forward, and now we expect this investment will enable us to build on our R&D efforts and our incredible team."
George Mattson and Greg Summe, the Co-Founders of NextGen, said, "We are delighted that our search for a great company, with strong organic growth in a large and growing market, disruptive technology and a world class management team has led to our partnership with Virgin Orbit. The space economy is developing rapidly and Virgin Orbit is well positioned to benefit through its ability to competitively launch at any time, from any place on Earth, to any orbit and inclination. This is a truly unique and differentiating capability."
Abdulla Shadid, Executive Director, Growth & M&A at Mubadala, said, "Virgin Orbit is a game changer for the small satellite launch and space solutions industry and its listing is expected to be yet another milestone in its continuing success story. Our investment in Virgin Orbit since its inception is a reflection of our confidence in the company's ability to carve out a leading role in this sector. It also complements the broad objectives of the UAE's national space strategy, as reflected in the recent successful "Hope" satellite mission to Mars."
---
Rocket Lab's Space Systems Division Expands Their Manufacturing Footprint
Rocket Lab USA, Inc. (Nasdaq: RKLB) is now constructing a new production facility that is capable of supplying as many as 2,000 reaction wheels per year to fulfill the growing demand from satellite constellation customers.
The new production facility, which joins Rocket Lab's existing 380,000 sq/ft manufacturing footprint, comes as Rocket Lab signs deals to supply reaction wheels for a number of undisclosed satellite constellations.
The production line incorporates advanced metal machining centers optimized for unattended operation, automated production tools, and automated environmental testing workstations. More than 16 new roles are expected to support the new production facility and the growing Space Systems operations at Rocket Lab by the end of the year.
The new production facility is the latest expansion of Rocket Lab's Space Systems business, which was strengthened in 2020 by the acquisition of Toronto-based Sinclair Interplanetary, a provider of high-quality, flight- proven satellite hardware including reaction wheels and star trackers. Sinclair Interplanetary pioneered high-reliability reaction wheels for smallsats and there are close to 200 wheels currently operating on-orbit.
Rocket Lab satellite components, including reaction wheels and star trackers, are now used in more than 200 satellites globally including BlackSky and Kepler Communications constellations. Since acquiring Sinclair Interplanetary, Rocket Lab has added 2,700 sq/ft of production facilities to the Sinclair Interplanetary facilities in Toronto, Canada, and has expanded the team to support higher production volume and enable R&D for new satellite hardware and products.
Rocket Lab founder and Chief Executive Officer, Peter Beck, said the new production facility leverages Sinclair Interplanetary's heritage and marries it with Rocket Lab's extensive experience with high-rate manufacture of aerospace components for the Electron launch vehicle to make what the Company considers best-in-class satellite hardware available to customers at scale.
He said, "For the longest time, spacecraft and satellite components have been built individually by highly specialized engineers with a high price tag and long wait times to match. With the rise in constellations, the demand for high-quality components and spacecraft produced at scale continues to grow and we're addressing the bottleneck head on. Halfway through 2021, we had already surpassed the total number of satellite components produced by Sinclair annually and we're continuing to accelerate production to meet the needs of our customers."
---
Euroconsult's In-Flight Entertainment & Connectivity (IFEC) Report Now Available
After an unprecedented year for the aviation industry, given the global impacts of the COVID-19 pandemic, leading international consulting and market intelligence firm Euroconsult have released the ninth edition of their report that analyses in-flight connectivity in commercial and business aviation.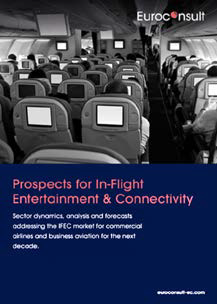 The report, entitled Prospects for In- Flight Entertainment & Connectivity (IFEC) 2021 provides a comprehensive analysis of the market's global trends and forecasts for the next decade, in terms of connectivity provided to onboard passengers. The report also presents an analysis of the impact on the market over the past year from factors relating to the pandemic, such as nationwide lockdowns, grounded flights and inaccessibility for new installations due to closed borders, estimating that in-flight connectivity service revenues dropped by almost one-third, totaling $970 million.
Euroconsult anticipate that the recovery of the IFEC market will depend on the recovery of the aviation industry, and the long-term impacts of the COVID-19 crisis. Based on two scenarios, high case and low case, the analysis forecasts that the total number of connected aircraft will reach between 16,000 and 20,000 by the end of this decade. This number is lower in relation to previous forecasts, as a further result of the pandemic.
The IFEC report assesses multiple other effects that the pandemic introduced to the market, such as Chapter 11 procedures that have led to a reorganization of the landscape.
Examples of such activity specific to this market include Gogo Commercial Aviation's acquisition by Intelsat and broadband and entertainment service provider Anuvu, previously Global Eagle, which, having filed for Chapter 11 in July 2020, has since exited with the aid of private funding. Broadband satellite operator OneWeb has also undergone a similar funding procedure.
The 2021 edition shows that around 9,000 aircraft across 115 airlines are currently equipped with in-flight connectivity (IFC) terminals — a reduction of 2.5% compared to the previous year. Over 80% of these aircraft were connected through satellite connectivity, with the remainder connected through Air-To-Ground. The rate of new installations was much lower this year as a result of regional lockdowns, leading to difficulty in accessing aircraft.
Unlike previous reports, this new edition considers regional aircraft and turboprops in the connectivity analysis, as well mobile-satellite service (MSS) solutions. An update on the introduction of Non-Geostationary Orbit Satellite (NGSO) systems is also provided, covering the likes of the SpaceX operated Starlink constellation, as well as Telesat and OneWeb, as well as the capacity availability for aviation first at Ku- band and then Ka-band.
The 9th edition of Euroconsult's Prospects for In-flight Entertainment & Connectivity is available for purchase now on their online Digital Platform and includes, but is not limited to, satellite operators and service providers, as well as system integrators, equipment manufacturers and airlines.
---
ST Engineering iDirect + Gilat Telecom Connect DRC Communities With Remote Cellular Backhaul Network Installation
Teams from ST Engineering iDirect and Gilat Telecom have achieved the successful remote installation and commissioning of two Newtec Dialog® hubs to power cellular backhaul services for mobile network operator, Vodacom, in the Democratic Republic of Congo (DRC), the largest country in Sub-Saharan Africa.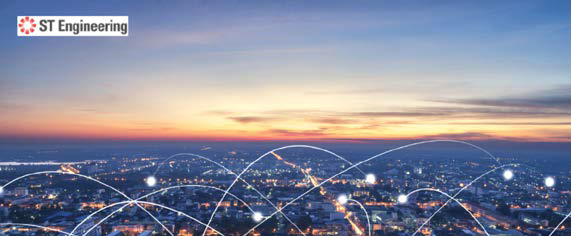 These new hubs enabled Vodacom to migrate its VSAT-based 2G network to 3G across 150 Base Transceiver Station (BTS)sites with the Base Station Controller located in Kinshasa. The new deployment replaces traditional SCPC links and increases efficiency in facilitating 3G data traffic.
The Mx-DMA return technology was a key consideration in Vodacom's selection, as the technology allows the network to automatically adjust, in real time, with the daily fluctuations in bandwidth demand. That saves bandwidth and cost and offers enhanced optimization of cellular traffic. Dialog also enables effective management of a variety of different modems, all on the same platform, thereby simplifying and streamlining an otherwise complex operation.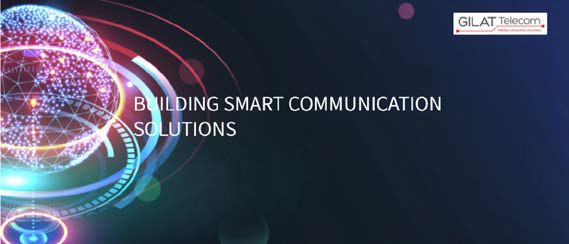 The deployment, which commenced in April 2020, was impacted by the onset of the COVID-19 pandemic which has delayed the progress of satellite network installations across the world. To allow the project to progress, the teams, which were based in Belgium and Kinshasa, turned to remote installation of the hubs.
"This is a fantastic example of how collaboration among teams can overcome challenges and make a project happen. I am incredibly proud of what has been achieved with Gilat Telecom under such adverse circumstances," said Pieter-Paul Mooijman, Regional Vice President, Africa at ST Engineering iDirect. "We are always prepared to give our best to support our partners and customers in their to give our best to support our partner endeavors and enable their success."
---