MEASAT—Push Off For Their Newest Satellite
All isn't going as planned, as MEASAT Global Berhad ("MEASAT") launch of their MEASAT-3b satellite, which was re-scheduled for June 6, 2014, has been postponed once again, just as this issue of SatMagazine goes to press.
The delay was issued by Arianespace, as the manufacturer of the MEASAT-3b co-passenger, the OPTUS 10 satellite, requested additional time for repairs to their spacecraft.
"We are clearly disappointed with the delay and are currently in coordination with Arianespace (the launch service provider) on the rescheduling of the launch" said Paul Brown-Kenyon, Chief Executive Officer. "We will provide an update when we receive further information on the revised launch date."
MEASAT-3b is designed to provide an additional 48 high powered Ku-band transponders at the 91.5 degrees East orbital slot to expand Direct-To-Home (DTH) and VSAT services across Malaysia, India, Indonesia
and Australia.
Co-located with MEASAT-3 and MEASAT-3a, the satellite will more than double MEASAT's Ku-band capacity at the aforementioned orbital slot, creating one of the region's most powerful and robust orbital locations.
The MEASAT fleet includes the state-of-the-art MEASAT-3 and MEASAT-3a satellites that support Asia's premium DTH and video distribution neighborhood; MEASAT-2 at 148.0 degrees East; and, MEASAT-5 at 119.5 degrees East.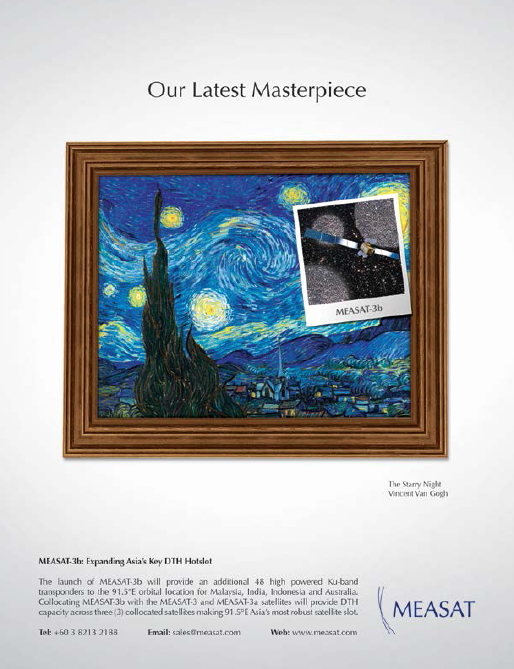 In Africa, the AFRICASAT-1a satellite at 46.0 degrees East provides satellite capacity across the African continent with connectivity to Europe, the Middle East and South East Asia.
The MEASAT fleet will be further strengthened with the addition of the MEASAT-3c in H2 2015.
For further information regarding MEASAT, please visit http://www.measat.com/
* * * * * * * * * * *
---
Mitsubishi + JAXA—DIACHI-2 Departs For Orbit
On May 23rd, Mitsubishi Electric Corporation completed its development of the ALOS-2:DAICHI-2 advanced land-observation satellite, based on a contract awarded to the company by the Japan Aerospace Exploration Agency (JAXA) in 2009.

Then, on May 24th, the company and JAXA launched the H-IIA Launch Vehicle No. 24 (H-IIA F24) with the satellite onboard at 12:05:14 p.m. (Japan Standard Time, JST) from the Tanegashima Space Center.
The launch vehicle flew smoothly, and, at about 15 minutes and 47 seconds after liftoff, the separation of the DAICHI-2 was confirmed.
Mitsubishi Electric is providing the spacecraft, sensor and ground systems, including data processing, and has confirmed operation of the ALOS-2 satellite system.
This is a follow-on mission of its predecessor ALOS satellite and is equipped with the world's most advanced L-band Synthetic Aperture Radar (SAR) for improved resolution and wider observation range than ALOS.
The satellite is expected to contribute significantly to Earth Observations (EO) in terms of disaster monitoring, environmental protection, resource exploration and forest monitoring.
Mitsubishi Electric has participated in more than 450 domestic and international satellite projects as either the prime contractor or a major subcontractor.
The company has developed and delivered numerous EO satellite systems and observation sensors to JAXA and other space-related governmental institutions and agencies.
Recently, Mitsubishi Electric was selected as the contractor to supply JAXA with the Greenhouse Gases Observing SATellite-2 (GOSAT-2) satellite system, which the company is now developing. Going forward, Mitsubishi Electric will continue to contribute to Japanese earth-observation satellite systems as a leading manufacturer in fields ranging from security to the environment.
For more info, please visit http://www.mitsubishielectric.com/
* * * * * * * * * * *
---
Thales Alenia Space + KT Sat—Two On The Build Docket
Thales Alenia Space has signed a contract with the Korean satellite service operator KT Sat, subsidiary of KT Corporation, to build two telecommunications satellites, Koreasat-7 and Koreasat-5A—the two satellites will provide Internet access, multimedia, broadcasting and fixed communications services.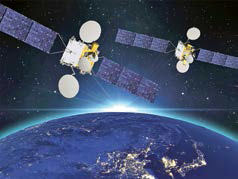 As program prime contractor, Thales Alenia Space is in charge of the design, production, testing and On Ground Delivery (OGD) of the satellites and will also take charge of the launch campaigns, the launch and early operations phase (LEOP) as well as in-orbit tests (IOT).
Built on the Upgraded Spacebus 4000B2 platform from Thales Alenia Space, Koreasat-7 will be fitted with Ku- and Ka-band transponders. Koreasat-5A will carry Ku-band transponders.
Koreasat-7's coverage zone encompasses Korea, the Philippines, Indonesia and India, while Koreasat-5A will cover Korea, Japan, Indochina and the Middle East.
Each satellite will weigh about 3,500kg at launch and will offer payload power of about 7kW. Koreasat-7 will be positioned at 116 degrees East and Koreasat-5A at 113 degrees East.
"I would like to express my warm thanks to KT Sat for choosing us to build these two new telecommunications satellites," said Jean-Loïc Galle, President and CEO of Thales Alenia Space.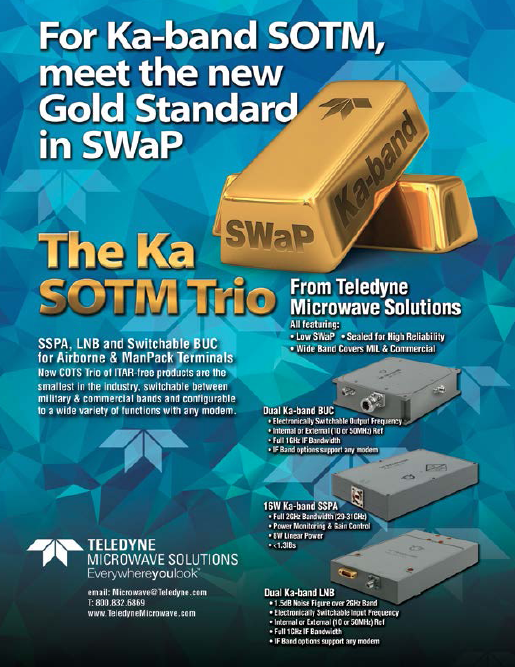 "KT Sat is a long-standing customer, for whom we already built the Koreasat-5 and Koreasat-6 satellites. Through this new contract, we are delighted to support the development of large-scale space programs in South Korea, and Asia in general."
The Thales Alenia Space infosite is located at https://www.thalesgroup.com/en/worldwide/space
The KT Sat infosite may be accessed at http://www.ktsat.net/
* * * * * * * * * * *
---
AsiaSat + PT.Digital—DTH Delivery To Indonesia
Asia Satellite Telecommunications Company Limited (AsiaSat) and PT.Digital Media Asia have launched VIVA+, a brand new, prepaid, Direct-To-Home (DTH) satellite service using multiple Ku-band transponders on AsiaSat 5, slotted at 100.5 degrees East, to serve the fast-growing Indonesian payTV market.
The new DTH offering will initially consist of 2 HD and 35 SD channels, including the "9 Ultimate World Cup Channels" dedicated to broadcast the upcoming FIFA World Cup in Brazil, which runs from June 12th to July 13th, 2014. The package includes a wide range of Indonesian and international television channels, from entertainment, news, sports, to children and religious programs. VIVA+ intends to offer additional channels to enhance viewers' viewing experience and to meet the diverse needs of potential subscribers for high quality content .
"AsiaSat has provided the high quality and country wide coverage we need to deliver our premium DTH offering to every corner of Indonesia. With AsiaSat's support, we are able to move swiftly to introduce our unique World Cup package to all soccer fans in Indonesia," said David Khim, Chief Technology Officer & Chief Operating Officer of VIVA+.
"Indonesia has one of Asia's fastest growing payTV markets and we look forward to supporting VIVA+ 's service expansion in the near future to capture the enormous potential of this lucrative DTH market," said William Wade, President and Chief Executive Officer of AsiaSat.
* * * * * * * * * * *
---
Rohde & Schwarz Japan—UHDTV Trial Obtains Mastering In 4K
Rohde & Schwarz Japan and its local distributor, Photron Ltd., have delivered an R&S CLIPSTER® to SKY Perfect JSAT corporation as part of their UHDTV trial, which was initiated by NexTV Forum.
Objectives of NexTV Forum are to realize nexgen broadcasting services and to set the related standards and specifications. As the member of NexTV Forum in charge of the UHDTV workflow verification from content acquisition and production to transmission, SKY Perfect JSAT established the test environment at its Tokyo Media Center.
Sky Perfect JSAT was looking for a system capable of playing out a 4K XAVC file via baseband (4x 3G SDI) in 60p realtime. As there also was the need for a 4K editing system, the company decided to introduce two R&S CLIPSTER® mastering stations.
R&S CLIPSTER® has been a pioneer in the 4K market for many years and has an excellent reputation in 4K production facilities. The mastering station enables realtime processing of material up to 4K for editing, and also supports RAW formats of numerous digital cinema cameras, including Sony F55 and Canon C500.
As XAVC was qualified and selected as the final production codec by SKY Perfect JSAT, R&S CLIPSTER® additionally allows bit rates of 600Mbit/s and 960Mbit/s to be played in 60p baseband and also offers transcoding capabilities into 4K XAVC, based on any other source file format.
More info is available at http://www.rohde-schwarz.co.jp/
* * * * * * * * * * *
---
AsiaSat + Space Systems/Loral—A Timely Threesome
Coming soon to 120 degrees East and 105.5 degrees East will be AsiaSat 6 and AsiaSat 8, respectively.
AsiaSat 6 has been designed to provide power and wide C-band coverage over Asia, Australasia, Central Asia and the Pacific Islands.
Scheduled to launch during the first half of 2014, this new satellite will carry 28 high-powered C-band transponders, with a design life of 15 years.
AsiaSat 6 will be positioned at the 120 degrees East orbital slot, with a global beam and a regional beam to offer enhanced power and look angles for video distribution and broadband network services in the region.
The satellite was built on the 1300 bus from Space Systems/Loral (SS/L).
AsiaSat 8 will be co-located with AsiaSat 7 and is also based on the SS/L 1300 platform. The satellite will be equipped with 14 Ku-band transponders as well as a Ka-band payload.
AsiaSat 8 will offer Ku-beam coverage with inter-beam switching technology for a variety of services, including DTH, private networks and broadband services.

AsiaSat 8 's coverage will include Middle Eastern, European, Asian and international programming. Additionally, SS/L and AsiaSat have signed a construction agreement for a high power, multi-mission satellite, AsiaSat 9.
This satellite will be used for television broadcast, private networks and broadband services across the Asia Pacific. The satellite is expected to be launched in 2016.
"SSL and AsiaSat have developed a successful working relationship based on our mutual focus on quality, reliability and value," said John Celli, President of SSL. "This is our fifth satellite contract award from AsiaSat since 2006, and we feel there is no better endorsement of our success than this repeat business."
Designed to operate in C-, Ku-, and Ka-band, AsiaSat 9 will be located at 122 degrees East, where it will replace AsiaSat 4.
AsiaSat 9 will provide service to multiple markets with more active transponders and higher power performance than the current satellite.
As is the case with the aforementioned satellites, AsiaSat 9 is based on the SSL 1300 platform, which has a long history of reliability and provides the power and flexibility to support a broad range of applications and technology advances.
The AsiaSat 9 spacecraft is designed with the flexibility to include a weather sensor at a future date.
For additional information regarding AsiaSat, access: http://www.asiasat.com/
For additional information regarding SS/L, head over to: http://sslmda.com/
* * * * * * * * * * *
---
RRsat, EETV America + DISH—POP-in'

RRsat Global Communications Network Ltd. (NASDAQ: RRST) has expanded their broadcast solutions for ETTV America, the subsidiary of leading Taiwanese cable TV network, Eastern Broadcasting Company (also known as ETTV)—the three-year contract is a continuation of the initial solution that began in 2012.
RRsat's initial contract delivers six ETTV channels plus three affiliate channels from RRsat's Los Angeles Point-of-Presence
(POP) to Dish Network's media hubs in the U.S. via dedicated fiber connectivity.
The second phase of the contract began in February 2014 and expands broadcast distribution by adding three additional ETTV channels delivered from the RRsat Hawley broadcast and teleport facility. Distribution of these channels will be through uplink to the Galaxy 23 satellite to major cable headends including Comcast, AT&T, Cablevision and others.
The company's services offer a robust global distribution platform, all the while providing customers with significant opportunities to monetize their content.
The RRsat infosite is accessible via: http://www.rrsat.com/
* * * * * * * * * * *
---
Sea Launch—A Successful Sea Launch For EUTELSAT 3B
Sea Launch SA has successfully launched the EUTELSAT 3B satellite on May 26th from its ocean-based Launch Platform, Odyssey. This marks the completion of Sea Launch's first mission for 2014 and its third mission for Eutelsat, a major international satellite operator, and the company's 36th launch, overall.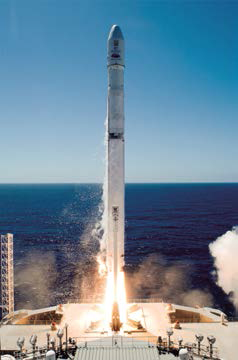 The Zenit-3SL rocket carrying the spacecraft lifted off at 14:09:59 Pacific Daylight Time (PDT) on Monday, May 26th, (21:09:59 UTC, 23:09:59 CEST) from the launch platform, positioned at 154 degrees West longitude in the Pacific Ocean.
One hour later, the Block DM-SL upper stage inserted the satellite, weighing 5,967 kilograms (13,155 lbs.) into geosynchronous transfer
orbit, on its way to a final orbital position at 3 degrees East longitude.
Eutelsat acquired the spacecraft's first signals from orbit shortly after spacecraft separation. All systems performed nominally throughout the launch mission.
Following acquisition of the spacecraft's signal, Sergey Gugkaev, CEO of Sea Launch, congratulated Eutelsat and the satellite's prime contractor, Airbus Defence and Space. "I am very pleased to once again announce the successful launch for our valued Eutelsat customer, our third in a row for them." Gugkaev continued, "I wish to express my gratitude to all of our colleagues at the launch site, Home Port and production and maintenance facilities for their hard work and dedication to Sea Launch program."
Michel de Rosen, Eutelsat Chairman and CEO, added "We are delighted to see EUTELSAT 3B on its way to 3 degrees East and thank Sea Launch and Energia for this flawless launch. EUTELSAT 3B will be a powerful asset to our in-orbit resources, enabling us to increase the operational flexibility and reach we provide customers in a vast service area spanning Brazil, Europe, Africa, the Middle East and Central Asia."
Based on Airbus Defence and Space's Eurostar E3000 platform, the EUTELSAT 3B satellite has been designed to operate three commercial payloads in the C-, Ku- and Ka-bands. This tri-band configuration will deliver exceptional levels of in-orbit flexibility and coverage from Eutelsat's expanding 3 degrees East neighborhood.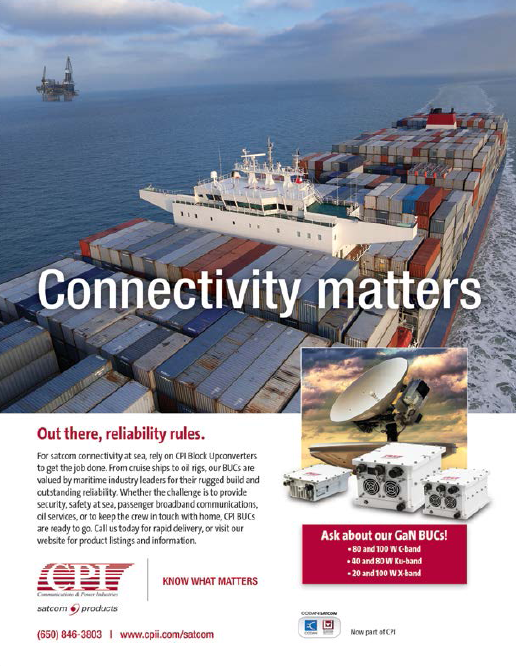 The satellite will enable Eutelsat to diversify its commercial response for Internet Service Providers, telcos, government agencies and broadcasters operating in Latin America, Europe, Africa, the Middle East and Central Asia. EUTELSAT 3B has a designed in-orbit lifetime exceeding 15 years.
Sea Launch SA provides launch solutions to the industry's satellite operator community based on the Zenit launch system. These services include the provision of all–inclusive launch services incorporating schedule assurance, financing, risk management; insurance and creative contracting solutions to meet the changing demands of the commercial launch market.
Sea Launch owns or manages through affiliate agreements the primary technology, patent and other intellectual property and tangible assets required to perform its launch services business. These include the highly specialized vessels Odyssey Launch Platform and the Sea Launch Commander each located in the Home Port facility in Long Beach, California, as well as the unique know-how associated with launching satellites from an ocean-based launch platform located directly on the equator.
The Sea Launch system offers the most direct and cost-effective route to geostationary orbit for commercial communications satellites, providing diversity of supply, affordability and flexibility for the industry's satellite operators.
For more information, please visit the Sea Launch website at http://www.sea-launch.com
* * * * * * * * * * *
---
C-COM + ViaSat—Low + On-The-Move
C-COM Satellite Systems Inc., and ViaSat Inc., have signed an agreement to develop a low profile, Ka-band mobile antenna system for the emerging commercial Ka-band services market.
C-COM will manufacture, sell and support this new on-the-move antenna product under ViaSat license.
C-COM currently sells its Comm-On-The Pause auto-deploy iNetVu antennas worldwide and plans to use its existing distribution channel to commercialize the newest Comm-On-The-Move mobile antenna.
"We want to bring affordable high speed broadband connectivity over satellite to our land-based customers, much the same way commercial airlines are rolling it out for inflight broadband connection." said Bilal Awada, Chief Technology Officer of C-COM Satellite Systems.
C-COM has selected ViaSat as the ideal technology partner to enter the Comm-On-The-Move market as a result of their extensive experience with Ka-band technology and world renowned high speed satellite services.
"We are delighted to take our existing relationship with ViaSat to the next level," said Leslie Klein, CEO of C-COM Satellite Systems Inc. "We share a common objective to leverage our strengths and experience for the benefit of our customers and strive to deliver state-of-the-art technology and service solutions that will enhance their Internet experience," Klein continued.
"We look forward to this collaboration that will combine our technology strengths and bring mutual benefits to the customers of both companies," said Stefano Vaccaro, Managing Director at ViaSat.
The first pre-production in-motion antenna system units are expected to be available by the fall of 2015.
ViaSat provides systems and services that deliver fast, secure communications, Internet, and network access to virtually any location for consumers, governments, enterprises, and the military.
ViaSat also offers communication system designs and a number of complementary products and technologies.
Based in Carlsbad, California, ViaSat has established a number of locations worldwide for customer service, network operations, and technology development.
C-COM Satellite Systems Inc. develops and deploys commercial grade mobile satellite-based technology for the delivery of two-way high-speed Internet, VoIP and video services into vehicles. C-COM has developed a proprietary mobile auto-deploying (iNetVu®) antenna that enables the delivery of high-speed satellite based Internet services into vehicles while stationary virtually anywhere where one can drive.
The iNetVu® Mobile antennas have also been adapted to carry-on airline and transportable.
The company's satellite-based products and services deliver high-quality, cost-effective solutions for both fixed and mobile applications throughout the world.
More information is available at http://www.c-comsat.com/
* * * * * * * * * * *

---
SES + CETel—Taking It To Africa
SES has announced that CETel has signed a new capacity agreement for service on SES's NSS-7 satellite, located at 20 degrees West.
The 72MHz capacity used by CETel under the new agreement will enable it to extend their global corporate and governmental VSAT networks across Africa, meeting the growing demand in the region.
Headquartered in Germany, CETel is a provider of satellite communications solutions with a focus on the Middle East, Africa and Europe, offering tailored end-to-end communication solutions and services, including GSM backhaul services, for customers around the world. The CETel Network extends to almost 2,000 remote sites in more than 50 countries across Europe, Africa, the Middle East and Asia.
Guido Neumann, Managing Director of CETel, said, "This latest capacity agreement further enables us to provide tailored solutions and seamless services to our customers in Africa."
"CETel has been one of our fastest growing European customers since they launched their first service with SES on NSS-12 back in 2008. We are particularly delighted to announce this latest agreement, as it further reinforces our long-standing partnership with them and is a testament to the reliability of NSS-7's high-powered capabilities for C-band coverage of Africa," said Simon Gatty Saunt, Vice President of Data and Mobility services at SES.
Additional information is available at http://www.ses.com/