Today, satellite broadcasters are contending with a vastly diverse and complex set of media devices and distribution options. This new and dynamic environment, called Media 3.0, demands access, reach, and the flexibility to publish premium content and establish brand equity on any consumer device.
In making the move from traditional satellite broadcasting to
Media 3.0
, even the largest of companies know one thing for certain: consumers can not get enough quality content. The success of a content platform is determined by the quality and diversity of content, the ease with which content can be found and the range of end devices on which the content can be viewed.
Can satellite broadcasters make the transition to
Media 3.0
and contend with cable and IPTV competitors? One only has to look at
Viasat
, the largest commercial-free and pay TV provider in Scandinavia and the Baltic region to know that the answer to that qustion is
yes
. With its free and pay TV platforms and channels attracting a total of 125 million viewers in 31 countries, Viasat content has huge reach and a large opportunity. By working closely with
Irdeto
, a global leader in securing and delivering premium content and digital assets, Viasat offers a case study of how satellite broadcasters can successfully deliver compelling content to consumers in a Media 3.0 world.
Adapting To Consumer Habit Shifts
Increasing demand for premium live and on-demand content for consumption on devices other than the TV meant that Viasat needed to work quickly to develop a compelling on-demand service. The need to reinforce brand equity and make it easy for consumers to find a wide range of premium content in one place was a need that Viasat was ready to address.
In line with changing consumer demand, as well as high broadband speeds and adoption across Scandinavia, Viasat wanted to offer free, pay and subscription-based video on demand (VOD) services to new as well as existing customers. This would enhance and future-proof its successful linear channels by taking the business' digital media strategy to the next phase of its evolution. Viasat needed a solution that allowed it to very quickly launch new services on more destination devices: the solution needed to maximize usage, establish brand equity across those new devices and grow strong, sustainable revenues for Viasat'Äôs VOD and live content offerings.
Entertainment At Your Command
To stay ahead of the game and remain attractive to consumers, Viasat developed its
Entertainment at Your Command
strategy to deliver content across any device at any time. A key component is to deliver live content and VOD services to PCs, Macs, and mobile devices over the open Internet.
To deliver its VOD project, Viasat turned to Irdeto's content management products to enable rapid management and publication of rich media content to consumer digital platforms. Viasat needed a solution that would simplify, and as much as possible, automate much of the management and delivery of content. Irdeto's products and services allow Viasat to manage not only its own content but also the aggregation of content from third party providers. The complex process of managing content from many sources in a centralized system is vastly simplified, thus generating operational efficiencies as well as incremental revenues.

To appeal to a wider range of consumers, Viasat and Irdeto have also made Viasat content available on mobile handsets. As a result, consumers of Viasat's VOD and TV-on-Demand services are now able to access premium content, including popular sports broadcasts, on the move.
Battling Digital Piracy
High broadband speeds and penetration in Scandinavia, as well as a hunger for premium content, means it has, in the past, been simple for end users to access illegal, pirated content. This poses a threat to any commercial broadcaster's subscription and advertising revenues as it diverts attention and spending away from the TV.
To ensure the success of its VOD offering, Viasat needed to ensure its content was protected by stringent content protection and digital rights management. To meet this need, Irdeto's media protection handles the encoding and encryption of content, offering a host of comprehensive capabilities including limiting device transfers, license revocation, and limited time spans for playback. In addition, content rights usage is enforced with defined geographic controls, release windows, multi-device and entitlement management, and end-user authentication and authorization.
A Multi-language, Multi-currency Approach
As Viasat's
OnDemand
offering is available across different European countries, it is essential the service is offered in a variety of different languages and priced in local currencies. Working with Irdeto, Viasat has ensured that language and currency settings are applied correctly to each region, ensuring content is published with the correct subtitles and menus. Additionally, local parental ratings are applied where appropriate to ensure that the cultural and regulatory requirements of multiple regions are met.
The Future Of Satellite Broadcasting
Today, Viasat's OnDemand PC service is available across Denmark, Sweden, Norway, and Finland. It provides consumers with a one-stop shop for all content as well as a choice of pay, subscription and free services. Not only does it provide Viasat's own content, including channels such as
TV3
and
TV1000
, it aggregates content from third party players and other on demand services such as
SVT Play
, the on-demand service of Sweden's national broadcaster.
The opportunities for traditional linear TV operators ' whether they are using satellite, cable or terrestrial distribution ' are huge. Broadcasters need to open up new revenue streams by offering unique and compelling services to existing and target customers and by providing new distribution opportunities for content owners. As well as attracting consumers, high quality content offered on new outlets will also attract advertisers and their revenues.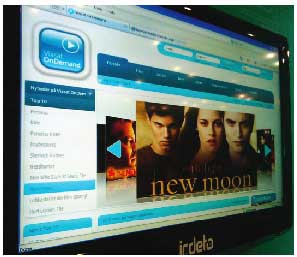 About the author
Adam Nightingale, Regional Director at Irdeto, heads up the company's Digital Media Solutions (DMS) business across Europe, Middle East and Africa. Adam is a global expert in pay media and broadcasting and works closely with pay TV platform operators and other rights owners and holders to create on-demand and live content services that simplify and automate the management of entire content workflows, from creation through security, monetization and publication to multiple consumer devices.
Additional information available at..
.
www.irdeto.com