SmallSat Symposium Sells Out... Completely...
Silvano Payne, the Publisher of Satnews, reports that the SmallSat Symposium, scheduled to convene from February 23rd through 24th, 2016, at Hogan Lovells in Menlo Park, California, is completely sold out.

"This is fabulous," said Payne. "All of the available attendee seating has been booked.
Registrations are now closed. Those in attendance at this event will gather crucial information and resources from more than 70 smallsat subject matter experts. Certainly, the SmallSat Symposium is now an event not to be missed by industry professionals... now, or in the future." With registration closed, those who are interested in attending or presenting at the 2017 SmallSat Symposium should contact Satnews Publishers for additional details, as they become available. To view the list of the symposium's dynamic speakers, please access smallsatshow.com/?page_id=140
---
DEV's ARCHIMEDES Heading To Cyprus For Gulfsat Communications

GULFSAT Communications has deployed DEV Systemtechnik's next-generation L-band RF Matrix switching solution, ARCHIMEDES, in order to upgrade GULFSAT's Teleport in Cyprus.
The capabilities and flexibility of DEVs' ARCHIMEDES switching solution define the next generation of L-band Matrix Switching Systems enabling satellite, broadcast, CATV, and other communications facilities to expand their infrastructure capacity while reducing capital expenditures—"Expansion by Reduction."

After demonstrations and tests in Kuwait, GULFSAT decided to deploy the DEV ARCHIMEDES Matrix Switch because DEV's solution requires less rack space and has significantly lower power consumption than predecessor products.
In addition, ARCHIMEDES' integrated functionalities such as LNB Powering, Redundant Controller and the easy-to-use Multi-Touch Display uniquely addressed GULFSAT's requirements.
The ARCHIMEDES Matrix can also be upgraded easily in order to meet GULFSAT's future needs for capacity growth due to its extremely flexible, modular design.
Nikesh Paul Mathew, Senior Satellite Engineer, said, "When DEV Sales Managers demonstrated their RF Matrix Switch ARCHIMEDES at our premises in Kuwait, we were impressed with its features.
"We decided to install the DEV ARCHIMEDES in our teleport in Cyprus as we can manage and control the services remotely."
dev-systemtechnik.com/
gulfsat.com/
---
EUTELSAT 65 West A Arrives In French Guiana For Arianespace Flight
The telecommunications satellite for Arianespace's second Ariane 5 flight of 2016 has arrived in French Guiana with the delivery of EUTELSAT 65 West A to the Spaceport.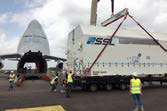 Transported aboard a chartered Antonov An-124 cargo airliner that touched down at Félix Eboué Airport near the capital city of Cayenne on Friday, the SSL-built (Space Systems Loral) satellite was then transferred via road to the Spaceport's payload preparation facilities.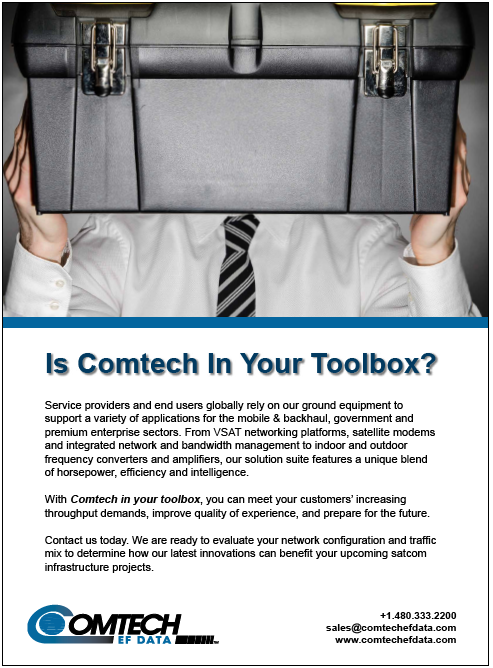 EUTELSAT 65 West A began initial pre-launch processing during the weekend, including a fit-check with the adapter that will serve as its interface with Ariane 5.
Based on the SSL 1300 satellite design, EUTELSAT 65 West A will be orbited on an Ariane 5 mission in early March from the Spaceport— designated Flight VA229 in Arianespace's numbering system.
Scheduled to be this year's second Ariane 5 mission, the launch will keep Arianespace on track for as many as eight with the workhorse vehicle in 2016.
Once orbited by Arianespace, EUTELSAT 65 West A will be added to the in-orbit fleet of Paris, France-based Eutelsat, which supplies satellite capacity and services for video, data and broadband applications.
When operational at an orbital slot of 65 deg. West, the new relay platform will serve expanding markets in Brazil and across
Latin America.
---
Moving On Up... SSL Appoints A New CTO
Space Systems Loral (SSL) announces that Dr. Matteo Genna has assumed the role of Chief Technology Officer (CTO).
Dr. Genna joined SSL nearly 20 years ago as a Systems Engineer in the Research and Development group where he contributed to advancing the design of SSL's highly successful 1300 satellite platform, which celebrated its 100th launch last year.
In this role, he was accountable for the design, performance, reliability, and quality of every SSL-built satellite. In his new role, Dr. Genna is responsible for advances that are enabling SSL to collaborate with NASA and DARPA. This is reflected in programs such as Dragonfly, for robotic satellite assembly on orbit, and Psyche, for a spacecraft to explore an asteroid.
Dr. Genna has contributed to a broad range of innovations, ranging from avionics to electric orbit raising, keeping the 1300 at the forefront of today's technology. As a Manager in the Advanced Systems Group, Dr. Genna led teams responsible for designing SSL's satellites and developing novel solutions for integrating hosted payloads. In 2014, Dr. Genna was named Vice President of Mission Assurance and
Chief Engineer.
Dr. Genna holds a Bachelor of Science degree in Physics from the University of California, San Diego, and a Ph.D. in Physics from the University of California, Berkeley.
www.sslmda.com
---
Optus Satellite + Electrotech Deliver Connectivity To Spirit Of Tasmania
Passengers on the Spirit of Tasmania ferry service will be able to stay connected while on-the-move following the introduction of satellite data streaming services, through a wholesale partnership between Optus Satellite and Electrotech Australia.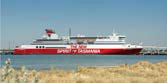 The Spirit of Tasmania connects mainland Australia with Tasmania. Consumer data services will be delivered alongside telemetry services, that provide communications visibility between the ferry and staff. Optus Satellite Vice President Paul Sheridan said the introduction of consumer data services is great news for travellers on the Spirit of Tasmania, and vessel owner TT Line.
"The two pronged technology deal will see service delivery for enterprise use—in order to keep the ferry and staff in communication, as well as additional capacity provided to allow passengers to connect to the Internet."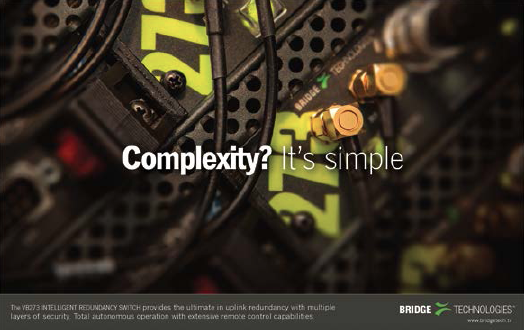 "The addition of wideband Internet via satellite to these newly refurbished vessels is an exciting development and opens up a wide range of possible commercial services TT Line are now able to offer their customers," Electrotech's Managing Director Stephen Renkert said. The solution includes SeaTel 6012—33 systems supplied, installed and commissioned by Electrotech Australia to deliver the high bandwidth Internet.
Optus Satellite has the largest fleet of satellites servicing Australia and New Zealand, with 6 satellites currently in geostationary orbit. Optus is a key provider of choice for enterprise and government organizations, with satellites utilizc ed to deliver TV, mobile telephony and broadband services across Australia and New Zealand.
---
Lockheed Martin Gets The Nod From SKYPerfect JSAT
SKY Perfect JSAT Corporation has awarded Lockheed Martin a contract for JCSAT-17, a satellite based on the A2100 common design.
JCSAT-17 is an S-band satellite that will operate well in excess of 15 years.
The satellite will include a flexible processor that will allow SJC to redirect capacity to concentrate on disaster relief efforts or other high-volume events. JCSAT-17 is the eighth satellite SJC has awarded to Lockheed Martin, beginning with NSAT-110, JCSAT-9 through JCSAT-13 and most recently JCSAT-110R.
The satellite will be manufactured in Denver, Colorado and delivered in 2019.
The modernized A2100 is built on a flight-proven bus that is the foundation for more than 40 satellites in orbit today.
Through an internally funded, multiyear modernization effort, Lockheed Martin enhanced the spacecraft's power, propulsion and electronics, while also adopting the latest advanced manufacturing techniques to decrease production costs and timelines.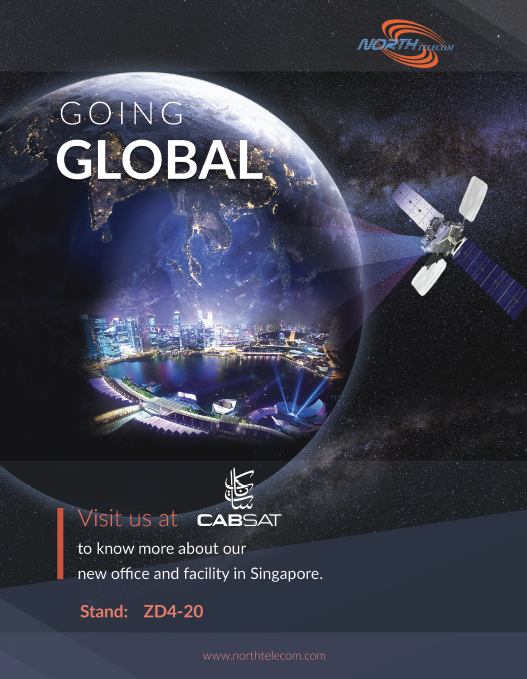 "We've built a number of satellites for SJC and we're honored that they have placed their trust in us again," said Carl Marchetto, vice president and general manager of Commercial Space at Lockheed Martin Space Systems. "And with the sale of an additional A2100, it adds yet another satellite to our healthy backlog."
---
JAXA's X-Ray ASTRO-H Satellite Is Sunny Side Up...
The Japan Aerospace Exploration Agency (JAXA) confirmed that the X-ray Astronomy Satellite (ASTRO-H) has deployed its solar array paddles (SAPs) normally through data transmitted from the satellite and received at the Uchinoura Ground Station at 7:40 p.m. on February 17, 2016.
ASTRO-H was launched by the H-IIA Launch Vehicle No. 30 from the Tahegashima Space Center at 5:45 p.m. on the same day.
H-IIA F30 with the "ASTRO-H" onboard launched at 5:45 p.m. on February 17, 2016 (JST) from the Tanegashima Space Center. The rocket flew smoothly, and, at about 14 minutes after liftoff, "ASTRO-H" was separated from the H-IIA F30.
The Japan Aerospace Exploration Agency (JAXA) confirmed on February 18, that the X-ray Astronomy Satellite "Hitomi" (ASTRO-H) was injected into the planned orbit as follows after its orbit calculation. The satellite is currently in good health.
The explanation of the name of the satellite is as follows:
• ASTRO-H is the eye to study the hot and energetic universe. Therefore we name ASTRO-H, "Hitomi". The word Hitomi generally means "eye", and specifically the pupil, or entrance window of the eye—the aperture!
There is also an ancient legend that inspires the name Hitomi.
"One day, many years ago, a painter was drawing four white dragons on a street. He finished drawing the dragons, but without 'Hitomi.' People who looked at the painting said "why don't you paint Hitomi, it is not complete! The painter hesitated, but people pressured him. The painter then drew Hitomi on two of the four dragons. Immediately, these dragons came to life and flew up into the sky. The two dragons without Hitomi remained still."
The inspiration of this story is that Hitomi is regarded as the "One last, but most important part," and so we wish ASTRO-H to be the essential mission to solve mysteries of the universe in X-rays. Hitomi refers to the aperture of the eye, the part where incoming light is absorbed. From this, Hitomi reminds us of a black hole. We will observe Hitomi in the Universe using the Hitomi satellite!

For your information, a nano-satellite "PRISM," which was developed by Professors Nakasuka and Funase laboratory, at the University of Tokyo, and is currently in operation, shares the same name of Hitomi as its nickname. The laboratory kindly accepted JAXA's request to use the same name for ASTRO-H, and the organization wishes to express their sincere appreciation for
their cooperation.
---
C-COM OK'd For Northern Canada Deployment
C-COM Satellite Systems Inc. has received approval to operate its Ka-band iNetVu® mobile antenna products on the Galaxy Broadband network.
Galaxy Broadband is a leader in enterprise grade VSAT services to remote areas across Canada and the United States.
The iNetVu® Ka-98H system was successfully deployed and tested on the Galaxy F2 Ka-band network in January, expanding C-COM's footprint for service in the most Northern parts of Canada.
This development will provide mobile customers in Canada's north the capability to deploy the C-COM manufactured iNetVu® Auto-Deployable VSAT solution over Galaxy's extensive Ka-band network that covers BC, Northern Alberta, Northern Saskatchewan, Northwest Territories, Nunavut and Eastern Alaska.
With Galaxy's service offering, mobile clients in the Canadian Arctic can now have access to a network that can deliver 5 Mbps down and 2 Mbps up, rivaling speeds available in more southern locations of the country.
"We feel this is a very good opportunity for delivering mobile solutions throughout our Ka-band beam coverage, including the Canadian Arctic," said Rick Hodgkinson, President and CEO of Galaxy Broadband.
"We see many opportunities for remote exploration, temporary sites and Government solutions using mobile antennas in combination with Galaxy`s high power Ka spot beams that deliver an Enterprise high QoS network."
c-comsat.com/
galaxybroadband.ca/
---