Recently announced by iDirect are two ground-breaking upgrades to its Evolution hardware line and operating software. Dave Bettinger, iDirect's chief technology officer took a few moments to fill in SatMagazine on the details of these next-generation enhancements.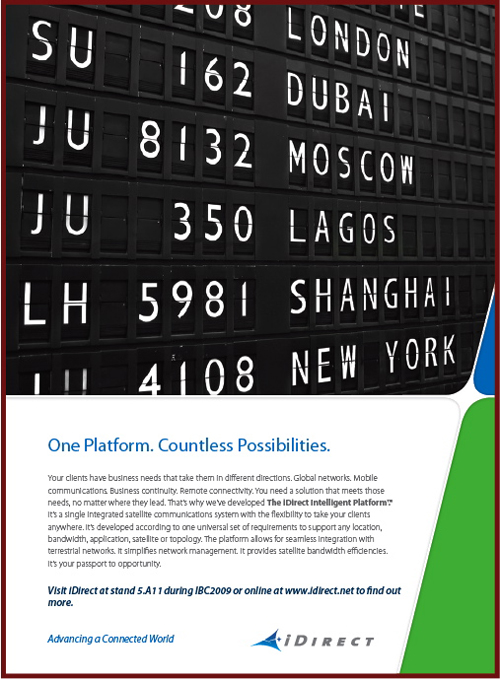 Mr.
Bettinger
joined
iDirect Technologies
as the Director of Hardware Engineering in 1996 and became responsible for all hardware and software development as the Vice President of Engineering in 2002. In his role as Chief Technology Officer, he is responsible for the oversight of all technology decisions within iDirect and serves to drive the strategic direction for product development. In addition to being the lead system architect for iDirect's flagship
NetModem
and
iNFINITI
series products, Mr. Bettinger is also active in industry standards organizations and forums and is a member of the
Telecommunications Industry Association
,
IEEE
, and the
IPv6 Forum
.
He currently serves on the Board of Directors for the
Global VSAT Forum
and has been active in the satellite networking industry for more than 15 years. Previous to
iDirect
, Mr.
Bettinger
was a senior member of the technical staff at
Hughes Network Systems
in the Satellite Networks Division. Mr. Bettinger is a graduate of
Virginia Tech
with a Masters of Science degree in Electrical Engineering.
SatMagazine (SM)
Dave, would you tell us about iDirect's latest hardware and software additions?
Dave Bettinger
iDirect has expanded its Evolution DVB-S2/ACM product line with the high-performance Evolution X5 Satellite Router and two new line cards, coupled with an upgrade to iDirect's operating software, iDX 2.0. For service providers, the suite of new features delivers greater hardware processing power to boost network capacity and performance, a breakthrough in inbound bandwidth efficiency and expanded network design flexibility to differentiate service offerings and increase end-user satisfaction.
SM
Can you explain the 'Power of 2' theme that surrounded this new product launch?
Dave Bettinger
The 'Power of 2' represents the performance and efficiency gains that iDirect has packed into this release.
With iDX 2.0, our customers gain the ability to support dual operating modes on the same hub, along with all hardware. This enables the complete integration of Evolution and iNFINITI products as well as iDirect's enhanced feature set into one platform.
iDX 2.0 also integrates two of iDirect's advanced networking technologies: Group Quality of Service (QoS) and Adaptive Coding and Modulation (ACM). By coupling these technologies, service providers can design and enforce "fair service" pricing models and create associated service level offerings at differentiated price points. They also have the ability to improve customer satisfaction in geographies commonly affected by adverse weather conditions.
Customers will also benefit from 2D 16-State, another built-in feature of iDX 2.0. 2D 16-State is the most powerful inbound coding option available today, providing a 10 to 20 percent increase in inbound IP throughput without sacrificing link performance.

SM
How does the new Evolution X5 router improve upon current product standards?
Dave Bettinger
The X5 is an extremely flexible and powerful dual-mode remote that supports high-speed, high-efficiency IP broadband connectivity. Operating at twice the processing power of iDirect's Evolution X3 router, the X5 enables service providers to support higher data rates and greater traffic volumes to meet increased customer demand across a wide range of growing vertical markets.
The Evolution X5 can operate in DVB-S2 or iNFINITI mode, making it very versatile in its deployment. The hardware supports various software enabled options such as AES encryption and spread spectrum. Unlike the X3, Global NMS and Automatic Beam Switching are standard on the X5, allowing seamless roaming as it passes through several iNFINITI or DVB-S2 networks around the world.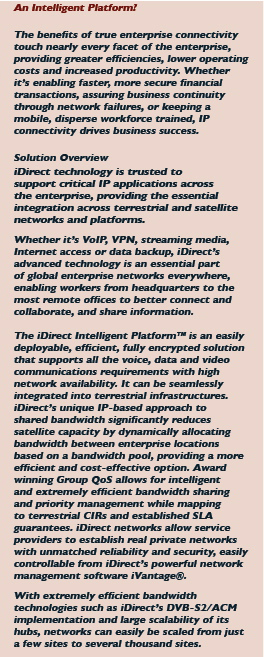 SM
Are these new features targeted towards any specific iDirect customers?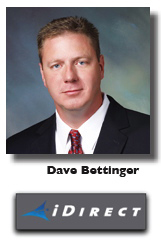 Dave Bettinger
iDX 2.0, when used with any of the Evolution products, will be geared towards commercial and government iDirect customers that want to either use DVB-S2 now or have plans to use it in the future.
When combining the X5 launch with the advanced features in iDX 2.0, service providers in verticals such as cellular backhaul, maritime, international defense, and high-end enterprises including banking and financial institutions can benefit from a newly enhanced product line.