Adding Two To The Books
International Launch Services (ILS) and Intelsat S.A. have signed a contract for two, firm ILS Protonlaunch missions.

"Intelsat enjoyed another steady year in 2012, which included five successful satellite launches and the completion of the world's first global broadband mobility platform, which will enable increased bandwidth to support our customers' growth plans. We look forward to building on our momentum, as we select ILS for two future satellite launches, enabling us to reach even further into developing regions to meet the growing demand for highly efficient and reliable connectivity," said Intelsat EVP and Chief Technology Officer Thierry Guillemin.
"ILS is honored to be selected by Intelsat for these future missions. We are pleased to have Intelsat's confidence and commitment to support their plans for growth and expansion of their business," said ILS President Phil Slack.
ILS recently conducted its successful ILS Proton return to flight mission on March 27 from the Baikonur Cosmodrome in Kazakhstan, with the Satmex 8 satellite for Satélites Mexicanos S.A. de C.V. (Satmex) of Mexico City, Mexico.
* * * * * * * * *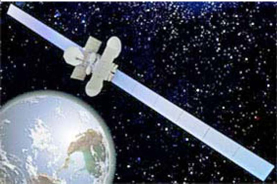 Hybrid Help
Intelsat S.A. has signed a multi-year agreement with Digital Networks, a provider of business-class satellite solutions to the energy sector. Intelsat will provide capacity via its satellite fleet and IntelsatOne terrestrial network, enabling Digital Networks to more effectively support very small aperture terminal (VSAT) communications networks in North America.
Digital Networks will leverage Intelsat's teleport services and capacity on the Galaxy 3C satellite to expand its network in the United States and Canada.
* * * * * * * * *

Satellites' Study Set Up
Space Systems/Loral (SSL) has been selected to study the feasibilityof accommodatingnext-generation U.S.military weather systemson commercial polar orbiting satellites.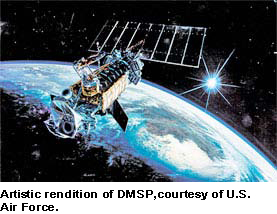 SSL will examine options for the U.S. Air Force Space and Missile Systems Center to lower its cost to replace the legacy Defense Meteorological Satellite Program, through the use of alternative architectures such as equipping commercial satellites with advanced meteorological sensors.
The six-month study contract was awarded under a broad agency announcement issued in June 2012. SSL will study the technical feasibility of hosting a third generation meteorological instrument on an SSL commercial bus platform; identify commercial business opportunities that the Air Force can leverage to achieve weather sensing from a Highly Inclined Elliptical Orbit (HIEO); and quantify the value proposition for performing the mission in this non-traditional fashion.
As a satellite manufacturer that works with most of the world's leading satellite operators, SSL is well-positioned to find suitable opportunities for placing government payloads on commercial spacecraft.
SSL also has experience building dedicated HIEO satellites, which can provide a persistent view of arctic latitudes for the next generation weather program.
The company's experience includes the first constellation of three satellites designed and built for Sirius XM Radio, which were launched into 24 hour Tundra orbits in 2000. This fleet of HIEO satellites continues to provide service today.
The company's extensive hosted payload experience includes SES-5, a commercial telecommunications satellite, which was launched in 2012 and hosts a navigation payload for the European Union. SSL also built Intelsat-14, which hosted the first commercial Internet Router in Space (IRIS) and was successfully launched in 2009.
SSL's experience with hosted payloads also includes Optus-C1, built for SingTel Optus, which was launched in 2003. Optus-C1 provides commercial communications services in Australia and also hosts several milsatcom payloads for the Australian Defence Forces.
* * * * * * * * *

R&D Courtesy Of SADI
Norsat International Inc. has been awarded a $13.3 million (CAD) repayable contribution from the Strategic Aerospace and Defence Initiative (SADI).
The contribution will enhance Norsat's strategic research and development program and enable the Company to maintain a leadership position in the development of innovative new or improved communications products, services and processes.
Norsat's research and development program is focused on communications technologies that provide militaries, governments, and commercial customers around the world with connectivity in locations or applications in which infrastructure is unreliable, damaged, insufficient or non-existent. These solutions are ideally suited for use in challenging environmental or technological conditions on a temporary, extended or permanent basis.
Overall, the contribution will enable Norsat to develop new communications technologies, expand existing lines of microwave products, satellite terminals, and antennas and filters, and maintain competitiveness in existing markets.
These development projects will also assist the Company in becoming more competitive for entry into other growing markets.
The contribution provides spin-off benefits with opportunities for Norsat to work collaboratively with university researchers and develop stronger channel relationships with the local suppliers of components used in new technologies. The contribution from SADI will further six major projects, including the development of:
» Microwave products with improved technical specifications and performance. Norsat's microwave components are used worldwide for satellite signal transmission and reception
» Fly-away satellite terminals with improved ease-of use and technical performance
» Communications-on-the-Move (COTM) technologies that provide connectivity throughout moving deployments
» Wireless communications technologies for Land Mobile Radio (LMR).
» Novel antennas that deliver high performance, reliability, and durability
» Complementary Communications solutions, providing end to end solutions for applications such as monitoring, surveillance and emergency communications
* * * * * * * * *

Spanish Digital Movie Distribution Calls For Many Talents
For the first time in Spain,leading companies from thetelecommunications sector and the movie industry havecome together with the aimof making an innovative andambitious project a truereality, in order to modernise the cinematographic contents distribution.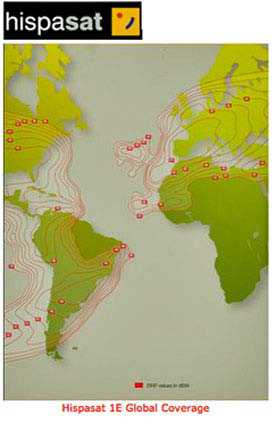 It is estimated that, at the outset, they will be able to distribute 20,000 film copies and 30,000 trailers per year to 2,000 movie theatres all over the country, using the Hispasat 1E satellite and with no need for hardware supports.
The technological advances that make up the new distribution system offer significant advantages as compared to those currently used, as they streamline the process and considerably reduce the time spent to receive the films in the theatre, by simultaneously transmitting them to cinemas in just three hours.
In addition, security and efficiency increases and logistics are simplified, avoiding the material becoming lost or damaged risks, and deliveries delayed.
The power, flexibility and functionality of the satellite makes it possible for this type of distribution to be used for all types of content, from HD and 3D to the future Ultra High Definition, that is currently being developed.
Similarly, the extensive Hispasat satellites coverage enables to extend the solution to Europe and to the American continent.
The Madrid Callao cinema, one of the oldest theatres in Spain, will be a pioneer in this new cinematographic distribution system that will revolutionise the dissemination process in cinemas, in this way combining cultural tradition and technological state-ofthe-art.
Hispasat will supply its satellite fleet's space segment; Ericsson has designed the technological platform (contents broadcasting server and digital reception equipment); Ericsson's MoMe will provide the overall system integration and its deployment (broadcasting antennas and receivers, operation and system maintenance) and it will be the service provider; Deluxe Spain, an audio visual service provider responsible for the most of the cinematographic material distribution in Spain, it will exclusively include this solution to its services, so content can reach cinemas via satellite.
Theaters are moving from celluloid to a smaller digital format, the DCP (Digital Cinema Package). There is a single film transmission from the Deluxe premises to all of the cinemas simultaneously. The Hispasat 1E satellite will transmit the signal sent out by Deluxe, amplify it and send it back to Earth, where it can be received by the antenna installed in the cinemas. The theatres will receive a digital password by electronic mail that will enable them to decode the film.
All of the cinemas will be able to download a medium-sized film—approximately 200 GBytes—in a secure way onto their projectors in three hours, and a trailer in just a few minutes.
A central server controls and transfer all of the multimedia contents (distributions) to cinemas, and a receiving server at the movie theatres receives the files and sends them to the projectors.
Ericsson CMS-D provides full control of the transfers to the cinemas from a central console located at the Deluxe facilities.
Callao City Lights is an innovative project that represents a unique communication model, capable of offering interactivity in three different scenarios at the same time: the square, the screens and Internet.
With this project, Callao City Lights maintains itself at the forefront of the technology and cinematographic industry evolution.
* * * * * * * * *

Active Within Minutes
C-COM Satellite Systems Inc. has revaled its new,rugged, lightweight, iNetVu® line of Ka- andKu-Band auto-pointing antenna systems, which canbe deployed within minutes at the touch of a button.
For the SNG market, the iNetVu® is an advanced solution as well as the most reliable and cost-effective. The iNetVu® FLY-75V Flyaway Antenna is the most recent innovation by C-COM's acclaimed antenna designers. This 75cm Flyaway product is a highly portable, self-pointing, motorized and fully auto-acquire unit, configurable with the iNetVu® 7710 Controller, and can provide fast satellite acquisition within minutes. Designed to operate on Ka-band, this antenna system can be assembled in 10 minutes by one person, and is priced very effectively for any user.
The iNetVu® Ka-75V Drive-Away Antenna is a 75cm auto-acquire satellite antenna system which can be mounted on the roof of a vehicle for direct broadband access over any configured satellite. The system works seamlessly with the iNetVu® 7024C Controller and with the world's emerging commercial VIASAT / KA-SAT satellite Surfbeam II/PRO Nomadic modems.
The iNetVu® 981 Drive-Away Antenna is a 98cm Ku-band auto-acquire satellite antenna system which can be mounted on the roof of a vehicle for direct broadband access over any configured satellite. The system works seamlessly with the iNetVu® 7024C Controller and with the world's most popular commercially available Ku modems and services. With an optional pod for added aerodynamic flair, this antenna is ideal for bigger vehicles and SNG applications. Most importantly, this system is field upgradeable to Ka-band. #
* * * * * * * * *

Spot-On Comms
On Call Communications is developing the second generation of it's QuickSPOT™ on demand satellite network.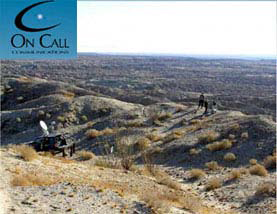 The second generation network will expand the network capabilities with higher upload speeds, dual feeds, and new flexibility in choosing between on-demand and scheduled service access while maintaining the completely automated operation it is known for.
On Call has selected the Romantis Universal Hardware Platform (UHP) for the next generation network. Romantis also has developed an advanced network management system which enables high bandwidth satellite links and precision management tools on which On Call layers a smart scheduling system.
The new network will allow broadcast news and sports organizations to access higher upload speeds than the existing QuickSPOT™ network and allow for dual HD video feeds. Additional multi-casting options will be available as well.
A unique scheduling system will let clients schedule satellite and fiber network reservations online, direct feeds to their selected destinations and then access capacity using the same convenient, fully automated functionality of the current QuickSPOT™ on demand network.
"Our mission is to provide our client's with easy and efficient satellite network access," said Jim Gilbert, On Call's CEO. On the new network it should take just moments to book satellite space online and then access it by the same non-technical operator using our auto-deploy QuickSPOT™ system.
The Romantis UHP technology really enables the next generation developments. The high upload speeds, the ability to create MESH networks and the compact design make it ideal for a mobile, automated network suited to broadcasters.
On Call has purchased two of the management systems. One for the domestic U.S. market and the second will provide service in Europe.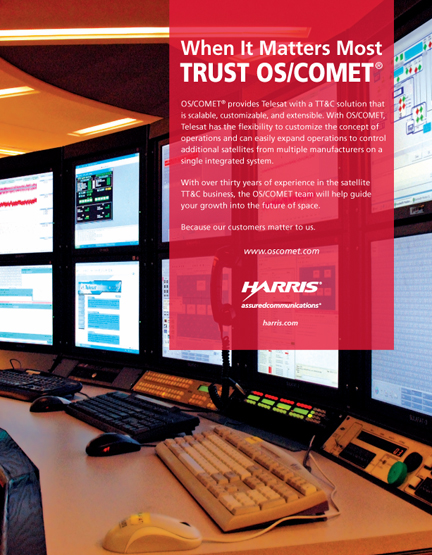 Initial trials have been successful for domestic, disaster response clients and for broadcast use on the European network last fall.
* * * * * * * * *

Second Stage In Final Stage
ATK successfully testedits newly developedCASTOR® 30XL upperstage solid rocket motorat the U.S. Air Force's Arnold Engineering Development Complex(AEDC) in Tennessee.
The test was the final qualification for the ATK commercial motor, which was jointly developed by ATK and Orbital Sciences Corporation in just 20 months from concept to completion.
The CASTOR 30XL is designed to ignite at altitudes in excess of 100,000 feet. In order to accurately test the motor performance, the static fire was conducted at AEDC using a vacuum chamber specially designed to simulate upper atmospheric conditions. Initial data indicate the motor performed as designed, and ATK will now analyze the results against its performance models.
The motor is intended for use by Orbital as an enhanced second stage of the Antares™ launch vehicle. Antares is slated to perform commercial cargo re-supply missions to the International Space Station (ISS) for NASA, to be demonstrated under the Commercial Orbital Transportation Services program for later delivery missions to the ISS under the Commercial Resupply Services contract.
The CASTOR 30XL solid rocket motor is 92 inches in diameter, 236 inches in length and weighs approximately 58,000 lbs. The nozzle is eight feet long with a submerged design with a high-performance expansion ratio (56:1) and a dual density exit cone well-suited for high altitude operation.
The CASTOR 30XL is a high-performing upper stage motor in ATK's commercial product line of solid rocket motors. The company's flight-proven rocket motors are used for military and commercial customer missions. A basic version of the CASTOR 30 motor was tested at AEDC in December 2009 and will fly the initial Antares missions. The CASTOR 30XL is an upgraded version that will fly later operational missions requiring greater payload capacity.
The CASTOR 30XL motor was tested at AEDC due to their unique capability of being able to simulate second stage flight conditions.
A key partner supporting ATK through development and production of the CASTOR 30XL motor is Moog Inc. in East Aurora, New York, which produced the Thrust Vector Control (VTC) System. This system was developed by the C30 program to have common hardware for future use on other ATK motors. #
* * * * * * * * *

Making A Messier Of Things
The NASA/ESA HubbleSpace Telescope hascaptured this vivid imageof spiral galaxy Messier77, one of the mostfamous and well-studied galaxies in the sky.
The patches of red across this image highlight pockets of star formation along the pinwheeling arms, with dark dust lanes stretching across the galaxy's energetic center. Messier 77 is a galaxy in the constellation of Cetus, some 45 million light-years away from us.
Also known as NGC 1068, it is one of the most famous and well-studied galaxies. It is a real star among galaxies, with more papers written about it than many other galaxies put together!
Despite its current fame and striking swirling appearance, the galaxy has been a victim of mistaken identity a couple of times; when it was initially discovered in 1780, the distinction between gas clouds and galaxies was not known, causing finder Pierre Méchain to miss its true nature and label it as a nebula. It was misclassified again when it was subsequently listed in the Messier Catalogue as a star cluster. Now, however, it is firmly categorized as a barred spiral galaxy, with loosely wound arms and a relatively small central bulge.
It is the closest and brightest example of a particular class of galaxies known as Seyfert galaxies— galaxies that are full of hot, highly ionised gas that glows brightly, emitting intense radiation.
Strong radiation like this is known to come from the heart of Messier 77—caused by a very active black hole that is around 15 million times the mass of our Sun.
Material is dragged towards this black hole and circles around it, heating up and glowing strongly.
This region of a galaxy alone, although comparatively small, can be tens of thousands of times brighter than a typical galaxy.
Although no competition for the intense center, Messier 77's spiral arms are also very bright regions. Dotted along each arm are knotty red clumps—a signal that new stars are forming. These baby stars shine strongly, ionizing nearby gas which then glows a deep red colour as seen in the image above.
The dust lanes stretching across this image appear as a rusty, brown-red colour due to a phenomenon known as reddening; the dust absorbs more blue light than red light, enhancing its apparent redness.
* * * * * * * * *

Helping This SapphireTo Glean
Canada has received part of the ground segment of its military's first dedicated operational militarysatellite from Denmark's Terma A/S.

Terma delivered its compact robust data processor for the Sapphire satellite system's ground station, which implements the algorithms for processing downloaded Sapphire imagery, establishes the precise attitude of stars and resident space objects in the images, and creates RSO tracking data products. The processor was produced under a subcontract from MDA Systems Ltd.
"In recent years, many states have experienced problems with space junk, as it poses a danger to commercial and military space assets in case of collision," Terma said. "In order to support avoidance of such collisions in the future, the Sapphire satellite's space-based electro-optical sensor will track man-made objects in Earth orbits between... as part of Canada's continued support of space situational awareness."
Canada's Sapphire satellite was launched into low Earth orbit last month.