As 5G bursts on to the scene, a range of new applications and services are emerging to market, such as connected cars, 8K streaming and Internet of Things (IoT) and Machine-to-Machine (M2M) communication. With 5G rollouts taking place across the globe, we are on the verge of becoming a truly connected world. According to CCS Insights, this is only going to increase, with one billion users of 5G expected by 2023.
To support these new 5G driven use cases, ubiquitous connectivity is critical. As a result, satellite is expanding with multiple constellations in Geostationary Earth Orbit (GEOs), Medium Earth Orbits (MEOs) and Low Earth Orbits (LEOs) to deliver increased capacity and high-throughput 5G demands, while also providing low-latency offerings where most relevant.
To keep pace, satellite ground technology is also evolving with more innovation, flexibility and scalability, leveraging virtualization, orchestration and network slicing. All of this is highlighting that satellite, more now than ever, is an essential component in the overall 5G connectivity map.
---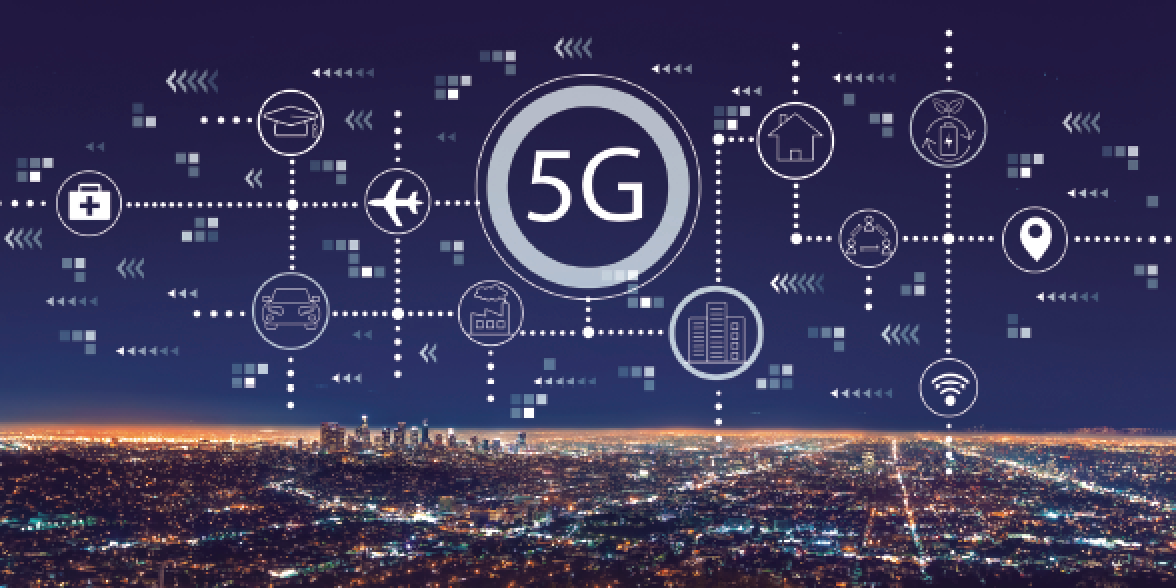 ---
Evolutions in Space
As users demands continue to evolve and grow, orbits are evolving with this. As a result, we are seeing an increasing amount of innovations in space, from digital and programmable payloads to beam forming, as well as terabit VHTS satellites. But one of the most significant innovations is the evolution of orbits.
Today, most satellite communication satellites are in geostationary orbit. However, with the introduction of LEOs, swarms of satellites are planned to be located in the lower earth orbit, where they will be better positioned to quickly receive and transmit data. LEO satellites are designed to operate at between 500 kilometers and 2,000 kilometers above the Earth's surface, opposed to typical geostationary satellites which are located around 36,000 kilometers above the Earth's surface. Whereas, an MEO satellite orbits within the range of a few thousand to a 20,000 kilometers above the Earth's surface, in between LEOs and geostationary satellite orbits.
These innovations are bringing a range of benefits for the industry, including increased capacity to serve demand areas, as well rural areas which are underserved by connectivity. Reliability and throughput of services will also be improved, delivering new and enhanced Service Level Agreements (SLA) and improved economics
Additionally, LEOs and MEOs are adding lower latency services to the connectivity mix, enabling applications and deployments where the latency has been a barrier for satellite. As the orbits are closer to Earth, this will significantly reduce round-trip data transmissions compared to GEO satellites, meaning latencies will be much closer to landline quality.
Creating a Modernized Network
5G is also leading to a huge shift how of network management and service delivery methods towards a connectivity landscape with major architectural changes accompanying this shift, essentially based on cloud infrastructure, virtualization and edge computing.
For organizations looking to manage data in the '5G like service delivery era', virtualization technologies such as Software Defined Networking (SDN) and Network Functions Virtualization (NFV) are integral. Virtualization helps reduce development costs, increase quality and accelerate the speed of deployment and time-to-market of services. Additionally, it facilitates the use of third-party components, open source and commercially available off-the-shelf hardware and software products to build and operate the end-to-end services.
This will also open the door to new, virtualized networks which can be customized to meet the needs of operators, with NFV facilitating new use cases, such as 5G network slicing.
When used together, SDN and NFV can significantly improve network flexibility, which will in turn, open the door to a new way of networking. Within this, a 'network of networks' must be formed to provide the foundations of a unified network between satellite and terrestrial networks.
To integrate terrestrial and satellite connectivity seamlessly in the 5G infrastructure, a suite of orchestrators will be needed to dynamically steer traffic to the best transport option available, depending on bandwidth, latency, network conditions and other application-specific requirements.
This will be critical to the success of 5G services and applications and as a result, the interworking of satellite and terrestrial networks is now well recognized and promoted in the 3GPP standards.
Innovation from the Ground Up
To ensure LEOs and MEOs can deliver their promises, innovations in the sky must be met by innovations on the ground. If the ground segment doesn't keep pace with fast-moving space technologies, the industry will never realize their full potential impact.
One of the biggest challenges faced by LEOs is their need to seamlessly transmit data between the ground and the fast-moving satellites, as requires fast tracking capable antenna and results into a constant hand-over of the connectivity between different satellites as they move over.
On the ground, Electronically Steered ​Flat Panel Antennas are emerging and maturing as a solution to solve the fast satellite tracking need, as these can seamlessly move from one satellite to another to enable easier tracking of satellites.
Furthermore, the panels have the potential to serve also the larger volume markets for fixed services, as well as create commercial communications-on-the-move (COTM) opportunities, including aircraft, ships, trains, shipping containers and many more.
Enabling Multi-Orbit Strategies
To ensure satellite operators worldwide can reap the benefits of the new wave of satellite communications, Newtec, a leader in the design, development and manufacture of equipment for satellite communications, is evolving its Newtec Dialog® platform to enable our customers to implement multi-orbit strategies.
---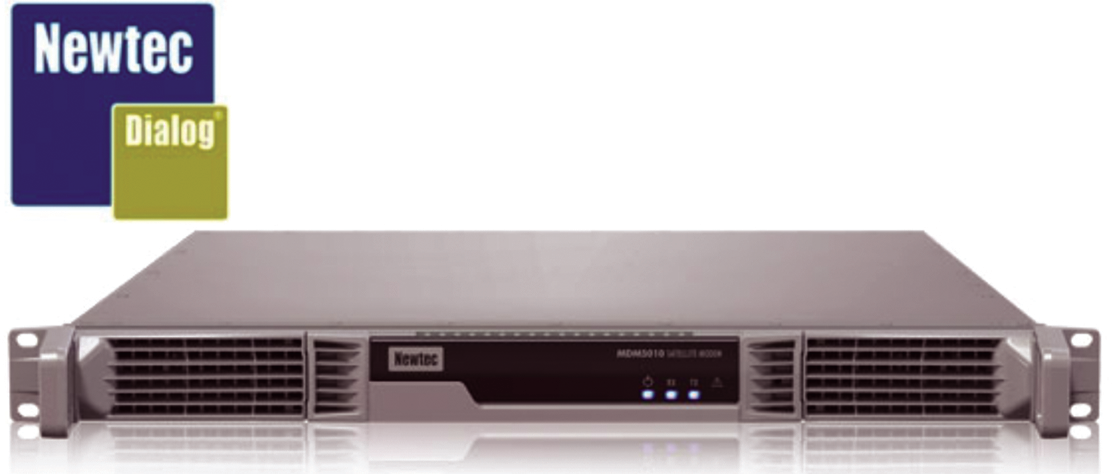 Newtec's 5010 satellite modem.
---
The platform combines the features of 5G network topologies and satellite to implement a service-based architecture leveraging network orchestration, virtualization and corresponding management functions.

Today the Newtec Dialog platform is based already on underlying cloud technologies, deployed as a dedicated private cloud infrastructure, which is forming the technology foundation to evolve towards using public cloud services where relevant in the future.

Offering a lower-cost infrastructure that is both flexible and scalable, the platform ensures users receive a seamless experience with no compromises, wherever they are in the world. With the ability to serve all satellite communication markets, including a mix of air, sea and land, operators can easily manage the whole system and deploy new services as required.

The architecture also allows operators to fully take advantage of the new capabilities such as digital and programmable payloads and beamforming. Customers can also prepare their installed base for future multi-orbit strategies as the Newtec 5000 series modems, including the MDM5010, encompassing full software defined radio capabilities, are fully forward compatible to provide seamless and high throughput service on future MEO and LEO constellations.

Solidifying its role in the 5G world, Newtec also played a key role in the world's first demonstration of 5G backhaul over a LEO satellite with global satellite operator Telesat, a tier 1 European mobile operator, and the University of Surrey. As part of this, Video chat sessions, simultaneous 8K streaming and Internet browsing were successfully tested within stringent Quality of Service (QoS) and slicing parameters. This included a 4K video, which was successfully transferred to the edge of the 5G network, representing a future 5G use cases.

Out of the technologies tested, Newtec modems demonstrated higher modulation, efficiency and throughput performances, and the ability to deliver 8K videos with superior Quality of Experience (QoE).

This not only paves the way for increasingly bandwidth-hungry applications over 5G for the maritime, aerospace, enterprise, connected car and broadband markets which have not previously been possible, but provides a guideline for future multi-orbit deployments to serve current and future needs.

Currently Jo holds the position of Vice President of Market Development at Newtec. Next to developing the HTS and enterprise markets and assisting to large project sales, he shares his expertise in broadband and VSAT within the Newtec organization.

In his previous role as Product Manager, he was responsible for the product definition and market launch of Newtec Dialog®, Newtec's scalable, flexible and bandwidth efficient multiservice platform. It gives operators the power to offer a variety of services on a single platform while assuring the most optimal modulation and bandwidth allocation.

Jo has almost 20 years of experience in the industry. He began his career at Newtec in 1996 with different assignments within the Newtec organization. In 2005 he became systems architect for Newtec's DVB-RCS system and further evolved to product manager and later Product Line Director of the Sat3Play Broadband Platform. Jo holds a bachelor degree in electronics from HTISA-Gent, Belgium.
www.newtec.eu
---