---
By Tony Radford, Vice President
From the perspective of a 35-year SATCOM veteran, 2014 has been a challenging year for the industry—all thanks to a protracted slowdown in government spending and a generally languorous commercial market.
I know that we like to coin the industry as being 'cyclic' in nature with an ebb and flow that seems to defy logic—sort of like the stock market. However; in my experience, the demand for SATCOM goods and services has always been about as linear as a TWTA. Even the degree of vitality within each of the market segments varies greatly from year to year, be it ground stations, airborne terminals, shipboard, offshore, military comms or video broadcast. Consequently, when it comes to shaping product portfolios, both situational awareness and a cognizance of trends are as important as ever.
All things considered, it's evident that aligning product roadmaps with the sentiments of the DoD, or any other singular market for that matter, can be perilous. Just look around. Some of the best known brands in our industry are reeling from the blight of sequestration—starved from an unfulfilled dependence on U.S. tax dollars for nourishment. Some have been forced to reduce their respective signatures to a fraction of what they were a year or two ago, while others have been placed on the market by appetent Boards convinced that the shortest route to salvation is divestiture.
Having a broad and diverse portfolio can iron out the rough spots as the pendulum of prosperity swings back and forth between segments with a methodical tempo biased by the dynamic influences of economics, political stability, world events and, of course, available space segment.
At Paradise Datacom, our modem and amplifier design teams have been busy developing the products that carried us through 2014 and will continue to do so for years to come—products that have been optimized with the latest technology to best support our customers on both sides of the government/commercial divide.
Speaking of technology, I think most would agree that some trends are unstoppable, despite attempts by manufacturers of archaic technology to 'flip-the-mattress' in hopes of instilling the prolongation of yesterday's news. Knowing that putting chrome bumpers on a 'Model T' won't make it faster, our designers are constantly pushing the performance/feature envelope while maintaining a forward-looking view of the needs and wants of a bandwidth-thirsty population. In the product world, innovation requires more than the mere assimilation of technological advancements. It requires a team of empowered designers with passionate dedication to the maximization of value.
On the SSPA front, "Modular," "soft-fail" and "hot-swappable" have become standard fare in RFQs for amplifiers that operate at the high end of the RF power spectrum. Our PowerMAX Solid State Amplifiers operate in S-, C-, X- and Ku-bands, at power levels as high as 10kW and are currently supporting military communications, Troposcatter, Digital TV broadcast services, flying satellites—even supporting deep space exploration.
Our adoption of Gallium Nitride (GaN) technology has enabled us to maximize the amount of output power that can be generated within a given footprint and reach efficiencies that rival those of tube-based products, but with the high MTBF and low MTTR values that only modular solid state can deliver. Our proprietary linearization technology ensures that our GaN amplifiers perform better than their Gallium Arsenide (GaAs) counterparts they're replacing.
Since we released our Q-Flex satellite modem, orders have grown exponentially. During shootouts with our major competitors' products, we've proven time and again that the IP performance of our modem is absolutely top shelf. By using a common hardware platform, our software-defined modem is by far the most versatile in its class, offering virtually unlimited scalability and upgradeability.
Software updates and feature upgrades are performed easily via keypad or the USB port on the front panel. The long list of embedded features means that Q-Flex can eliminate external boxes required by some of our competitors to perform the same tasks. Plus, everyone knows that a reduced box count means lower cost, better reliability and simplified redundancy schemes.
In addition, our new Q-Multiflex multi-channel demodulator allows Q-Flex to be fitted with eight or 16 demods in point-to-multipoint and mesh network topologies for reduced equipment footprints and lower capital costs. Our half-sized Q-Lite modem consumes a quarter to a third of the power required by a standard modem, while delivering performance values similar to those of our full-sized Q-Flex. A growing list of lightweight, mobile terminal manufacturers, both land based and airborne, have adopted our Q-Lite modem for integration into their systems.
2014 marked our latest release—Q-NET, a comprehensive 'Bandwidth-On-Demand' network management platform that allows the dynamic assignment of individual link capacities either manually or from an internal event scheduler. Q-Net, developed in conjunction with CodeMettle, is paired with Q-Flex's embedded diagnostics and statistical measurement and graphing-tools that allow operators to optimize the efficiency of their satellite networks, both in performance and cost of operation. Q-Net provides remote monitoring and control of every element in the network, regardless of brand.

As 2014 is essentially a done deal, the real question is—what does 2015 have in store for all? Events set into motion this year will likely conclude, as corporate buyers and sellers ink deals that are certain to have an impact on the industry—good or bad, depending on where you sit in the pecuniary food chain. If it's like every other year, operators around the globe will be looking to tighten up on bandwidth, increase EIRP and get their network operations under control.
Wherever operators are located, Paradise Datacom will be there with an extensive line of modem and amplifier products designed to address their most challenging needs and missions.
Tony Radford currently serves as the VP of sales and marketing for Paradise Datacom, a Teledyne Technologies company that specializes in the design and manufacture of satellite modems and solid state power amplifiers. Radford has worked in the satellite communications industry for 35 years for a number of brands that have included Scientific Atlanta, STM Wireless, TriPoint Global Communications as well as Teledyne Paradise Datacom.
---
By Nile Suwansiri, Chief Marketing Officer
In an industry that is constantly changing, 2014 has seen the satellite market shift in new directions. New vertical business opportunities have created new prospects for operators, while UHD television (UHDTV) has continued to open up new areas of growth.
With a strong pioneering history, we were among the first to launch innovative services in these new sectors, making 2014 an incredibly exciting and prosperous year for Thaicom. Our portfolio offerings have certainly broken new ground for the company, and with new satellites, new territories and new acquisitions, we are anticipating a New Year wherein we will continue to embrace new challenges and opportunities.
Perhaps our biggest achievement of 2014 was in becoming the first satellite operator in Asia-Pacific (APAC) to launch commercial In-Flight Connectivity (IFC) using Ku-band broadband. In a highly competitive industry such as the airline sector, companies are increasingly looking for value added services to distinguish themselves from their competition. Furthermore, consumers rightfully expect terrific service and there is an increasing demand to be connected to the digital universe everywhere and anywhere, whether in the home, office, car, at the beach or even at 35,000 feet. The expectation is that they will be able to visit social media sites, stay in touch with the latest news and contact family members, regardless of their location.
With more than three billion people currently traveling on airplanes each year, that is an average of 8.2 million people airborne each day—the expectations are that this number will double by 2032. That's a lot of potential surfing of the Internet while flying a mile high. It is also an important connection for airlines as those companies look to tap the resource of a captive, digital audience.
In June of 2014, we announced a partnership with NokAir to deliver our innovative service to the airline's planes. The high-capacity Ku-band service enables NokAir customers to send and receive data, which is transmitted to and from the aircraft via the satellite to the ground station and returned to the plane, providing passengers with the strongest possible signal. Thaicom's Network Operation Center (NOC) monitors each plane's usage to ensure a highly reliable broadband service experience. Scalability allows airlines to custom tailor these services to their needs. This service was launched in September..
In addition to IFC, we have also focused on the maritime market, with the launch of a low-cost maritime broadband service for vessels. Tokyo-based shipping firm Ocean Trans Company is one of the first customers to use our end-to-end service, which uses the IPSTAR broadband service to provide the company's crew with reliable and cost-effective access to email and the Internet. Consequently, crew morale and productivity is boosted while at sea, enhancing operational efficiency across fleets and supporting the growing demand for cost-effective crew welfare services.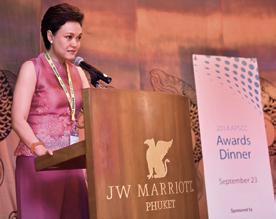 Expanding our end-to-end solutions was only the first step to better serve our customers. In January, we entered the African market with the launch of Thaicom-6/Africom-1 to provide Asia and Africa with satellite communication end-to-end services, such as video distribution, Digital TV / Digital Terrestrial TV and mobile backhaul.
Thaicom-7, our latest C-band satellite, was launched to the 120 degrees East orbital slot in September. The satellite's regional beam will provide a full range of media and data services tailored to the communication needs of the entertainment industry and telecom operators across Asia and Australasia. This satellite will help to fulfill demand for services in South Asia and Southeast Asia, as well as Australia and New Zealand, with clients also able to cross-connect to other regions.
We are already looking ahead to our next launch—Thaicom-8 in 2016. We intend to serve customers' needs for increased Ku-band capacity and also strengthen our video neighborhood at 78.5 degrees East. Thaicom-8 will have a total of 24 Ku-band transponders, covering Thailand, South Asia and Africa. Orbital Sciences Corporation will be the manufacturer and Space Exploration Technologies Corporation (SPACE X) will launch the satellite.
New partnerships have also help Thaicom growth in 2014. In particular, NBN Co selected wholly-owned subsidiary, IPSTAR Australia (IPA), for a new initiative to boost the number of broadband connections for Australians who cannot access an existing commercial broadband service. Since 2005, we have delivered satellite Internet services via the IPSTAR satellite to Australia's remote communities and IPSTAR continues to make a difference in the life of many Australian's and the country's education, farming, and health sectors.
With our new CEO, Ms. Suphajee Suthumpun, we have consistently been delivering a positive financial result each quarter since Q4 2011. Such a solid financial performance has required change and transformation in a number of areas. Thaicom rebranded to ensure the company was focused on our customers and their needs. Internally, teams were reorganized from product-based to function-based in order to better respond to the growing convergence of broadband and broadcast.
We have also achieved greater operational efficiency to ensure we have the most appropriate people with the correct skills in the right place to best serve the customer. This has improved the process within teams and ensures we are working as efficiently as possible.
Consequently, Thaicom is reaping the benefits—announcing a consolidated net profit of 1.1 billion Baht (USD$34 million) for the year 2013, an increase of 548 percent over the previous year. Thaicom's focus on developing and implementing strategic directions with the aim of profitable, sustainable growth was recognized at the Asia-Pacific Satellite Communications Council's (APSCC) tenth annual awards ceremony when Ms. Suphajee Suthumpun was presented with the 'Satellite Executive of the Year in the Asia-Pacific' award.
Moving into 2015, the satellite industry is currently marked by two major changes, which are likely to still be present in 2015. Ultra HD has witnessed 4K and even 8K coverage of the 2014 FIFA World Cup—by 2016, the estimated is that there will be 10 million Ultra HDTVs (UHDTV).
The other shift is in consumer behavior. They want anywhere, anytime connectivity and have the devices to facilitate such desires—mobility applications on land, at sea or in the air are widely available and data consumption is rising, while broadband and broadcast continue to converge.
To deal with these changes, satellite operators have to supply capacity as well as offering solutions to address customers' needs. At Thaicom, we have already established UHDTV as key for our strategic direction, even though this broadcast market is still a few years away from gaining traction, especially in Thailand and neighboring countries. We have also launched a 4K event with partners on Thaicom-6 and had positive feedback from our customers. We will continue to work with partners to promote 4K services.
I foresee that satellite will continue to play a significant role in complementing other technology platforms, due to the increasing consumption of data and the proliferation of UHD as growth drivers. Thaicom is ready for, and looking forward to, a most productive 2015.
---
By Bilal El Hamoui, Vice President of Commercial
The satellite industry has struggled this year—many players have reported declining or flat revenues, brought about by budgetary cuts, troop withdrawals with the associated reduction in requested communication services, and other factors that have led to oversupply of capacity in certain markets.

However, it's not all doom and gloom in the industry. Budget cuts and limitations have not deterred many users from seeking new satellite technologies and innovative communication capabilities. Whether funding is scarce or plentiful, users still want to adopt the latest SATCOM systems for their organizational needs.
In spite of a tough market, Thuraya has bucked this trend to report strong results across all of our verticals and product groups. In 2014, we made steady progress, reporting three years of consecutive growth. This continued success was achieved organically and without any material dependency on one-off events, price increases or margin grabs.
Our success was not achieved overnight, but came on the back of a transformation program that has seen a reinvigoration of the company on several fronts. Our approach is simple, yet effective. We deliver what users truly need; products and services that are customizable for their demands, at flexible prices and we innovate the way we work to break into new markets.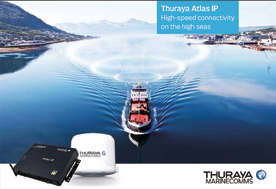 Our product innovation strategy led us to being the first in the satellite industry to address BYOD (Bring Your Own Device) with the introduction of the Thuraya SatSleeve for smartphones. We broke new ground in deepening our mobile satellite broadband portfolio with the launch for four new terminals. We strengthened our maritime offerings with two new IP terminals and price plans that offer the flexibility that ship owners and crew need.
The Atlas IP is a feature-rich broadband satellite terminal with voice, data plus additional functionality while the Orion IP, a easy-to-use broadband satellite terminal that supports crew welfare needs.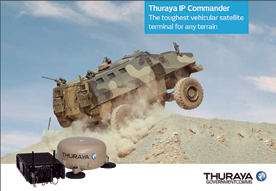 To cater to the needs of government, relief and energy users, we launched two vehicular terminals; IP Commander, our first ruggedized satellite broadband terminal designed using MIL-SPEC components, and IP Voyager, the only satellite broadband terminal capable of delivering streaming IP rates of up to 384Kbps as well as asymmetric streaming capabilities.
Partnerships and collaborations are key in driving the industry forward and we have made great strides by enhancing our product innovation strategy, business models and distribution channels. Our partnerships with Airtel Africa, Satcom Direct, Talia, TrustComm, ViaSat and Western Union enabled Thuraya to extend our reach into new markets and create new business opportunities across Europe, the Middle East, Asia, Australia and Africa.
Our partnership with Airtel Africa addresses the growing demand for communications technology in Africa. Airtel Africa is the first and only African mobile network operator to offer 100 percent coverage through terrestrial and mobile satellite connectivity as part of its portfolio of services.
Our collaboration with Western Union marks yet another world's first for a satellite telecoms operator, which allows us to offer top-up services for Thuraya prepaid SIMs for voice and data services using the Western Union® Quick PaySM service. This service is available at participating Western Union agent locations across more than 200 countries worldwide at no
extra charge.
The extension of our partnership with TrustComm through the gateway in Cyprus demonstrates Thuraya's commitment and ambitions to expand and diversify our customer base in the United States. The new gateway will further enhance our network's resiliency and provide an end-to-end, managed Thuraya service for government and commercial users.
These are exciting times as we aim to break new barriers in the MSS industry and beyond. Planning is currently underway for our next generation constellation and we are exploring several interesting opportunities. In 2015, we will be unveiling several initiatives that will enable us to push the innovation boundaries in satellite and terrestrial convergence, bringing greater choice and flexibility for users.
As we embark on 2015, we are optimistic and excited about what's to come for Thuraya as we look to break barriers across new markets and
new segments.
---
By Robert Smibert, Founder and President
This has been a year of exciting growth and market positioning for Virgin Technologies Inc. Last year, the company merged with a leading satellite manufacturer, which now allows us greater control over products and benefits customers as we can offer world class products, supported by a 24/7 network operations team.

As a result, we've seen tremendous growth, mainly because we've managed to move our business model from a regional manufacturer and services provider to a national and global supplier of auto-aiming satellite antennas.
Broadening our reach globally, we also developed and launched Virgin Technologies Inc.'s 1U DVB Antenna Controller, which is ideal for the broadcast and satellite news gathering (SNG) marketplace. This universal controller is compatible with any modem and teleport platform.
These developments were the result of listening to our customers and end-users and then developing a strategy that is customizable for individual client needs.
Our history has been predominately servicing the oil and gas markets in Western Canada—everything from drilling rig, camps, mobile data vans and pipeline. Working directly in this sector teaches a great many lessons, namely that product and service have to be extremely reliable and priced correctly all the time.
In order to be successful from a business standpoint, companies need to have highly valued products and services. What we intend to accomplish this coming year is to take all of our learned experiences and the products we have developed and build an innovative reseller ecosystem to share our expertise and products with like-minded companies across the globe.
Even though we're experiencing tremendous growth, our biggest challenge and focus for 2015 is in
building customer awareness of our products and services.
The auto-aiming satellite antenna market is a healthy one with many choices for customers. While we believe we have the best auto-aiming satellite antennas in the industry, with so many voices and messages in the marketplace gaining customer attention, we must demonstrate how we are different—a project this certainly a challenge.
To build product and company awareness, as stated earlier, we are implementing a value-added reseller network strategy. This will allow us to share our expertise and products to companies that need to provide their customers with mission critical, auto-aiming, satellite solutions.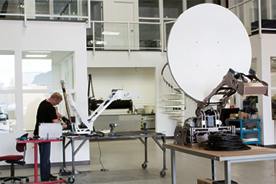 We're also looking at staffing and how we can build our brand more effectively. Through our recent merger, we gained a wealth of industry know-how and talented staff as well as our current Vice President, a true innovator and exceptional talent, Brad Adams.
We also recently hired a business development manager, Ted Naylor, who has extensive experience in private and public sector relations. His role will be to listen to the reseller market and work to build a marketing campaign to better communicate our message to the marketplace.
The goal for the company is that, by this time next year, we'll have an even stronger brand awareness, sales will grow 20 percent, and we'll have a more global clientele. In addition, we're also in the planning stages of launching an annual Reseller Network Summit, which will allow us to join our resellers, share new experiences and expertise, listen and learn about market challenges, and introduce new and innovative products designed to help our resellers succeed in their local markets.
Overall, from an industry perspective, the auto-aiming satellite antenna business offers customers an almost endless array of solutions, options and price points. We all know the market is healthy and growing rapidly and that advances come quickly—capabilities and technologies seem to change faster than ever experienced previously.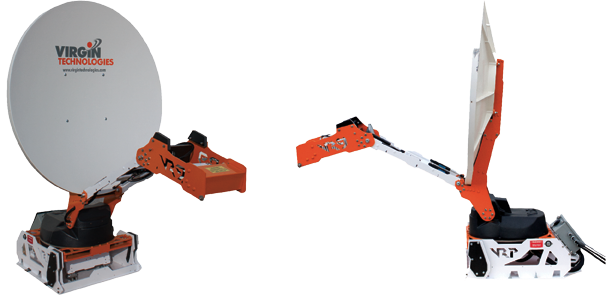 What we need to continue to remind ourselves is that the most elegant solutions for customers are the ones that make complexity simple. Global communication is becoming a standard requirement for companies as boundaries fall and markets expand—highly portable and universal antennas will need to be developed with the ability to work, no matter what the geographic region or satellite spectrum.
Virgin Technologies Inc. is confident we will be able to continue to meet that demand and move with the marketplace as solutions go global and products prove themselves to be just what the customer wanted.
Robert Smibert, with more than 25 years of experience in telecommunications and technology, founded Virgin Technologies in 2001 after serving as Director & Chief Technology Officer for Saflink Corporation (NASDAQ:SFLK). Rob lead a team of more than 40 software engineers and R&D personnel and transformed the Company's technology vision, exposing many new opportunities for the Company's biometric products.
Prior to Saflink, Rob was co-founder and Chief Technology Officer of Jotter Technologies, where he developed the Internet's first "e-Wallet" application, which PC World Magazine dubbed as better than Microsoft's Passport and Novelle's Digital Me products. Rob was instrumental in the sale of Jotter Technologies to Saflink Corporation and remained as Managing Director of Jotter Technologies, managing investor's interests and debt reconciliation.
Rob's extensive experience also includes technology innovation and management roles with RedCell, a Canadian battery startup, and Acu-Trol Canada, an aquatic automation equipment company Smibert founded in 1994.
---
By Ali Zarkesh, Product Development Director
The last 12 months have been a busy time for the broadcast sector, as well as for Vislink. A wave of consolidation has swept through the industry, with new partnerships and acquisition activity stealing countless headlines across 2014.

Vislink, for one, acquired Pebble Beach Systems, adding a new dimension to the company's growing product portfolio. A number of other
high-profile deals this year demonstrated how hardware and software sides of the broadcast industry are gradually merging together; however, this hasn't been the only prevailing theme—4K has also become a growing trend.
Even though it's widely accepted that 4K delivery to the home is still some way off, mounting competition from Over-The-Top (OTT) players means it has become essential to get the hardware in place that will make 4K transmission a reality. In recent years, and the last 12 months in particular, broadcasters have become increasingly reliant on wireless equipment. The ability to transmit footage from anywhere, be that a 200 m.p.h. race car or up close and personal at a major news event, has become the attention-grabber broadcasters seek. The move to 4K, however, presents a series of challenges.
By using new encoding technologies such as HVEC (H.265), it is possible to have up to double the data rate, while still using the same amount of bandwidth to transmit the same video quality. For broadcasters using portable satellite newsgathering equipment (SNG) for first-on-scene reporting, 4K has the added benefit of reducing expensive satellite data usage costs by up to half.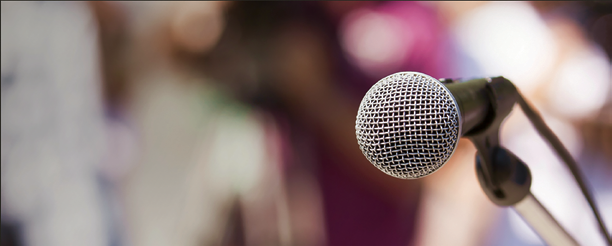 Compared to H.264, H.265 uses half the bandwidth to transmit the same amount of data at the same quality, or the same amount of bandwidth to transmit at far higher quality, making the technology ideal for 4K transmission. However, getting ready for 4K is just the latest in a long line of hurdles for broadcasters to vault over—in addition to pressure from OTT content providers, today's viewers also present their own unique challenge. They expect to feel like they're part of the action when it comes to live broadcast, which relies entirely on the correct shot being captured. Efficiency is important, granted, as there's no room for distortion and delay is not acceptable. Ultimately, broadcast success comes down to using the correct equipment to capture the most suitable imagery at the right time, then reliably transmitting that imagery.
To meet this demand, Vislink has developed a range of modular solutions in recent months that are adaptable and flexible. Smaller and lighter than previous models, Vislink's modern wireless equipment is highly customizable, and the modular design makes the equipment future-proof. This new approach to broadcast equipment is even capable of being upgraded on the fly to support new software and features, or modified to meet individual needs as the challenges faced by broadcasters change over time.
Vislink's L1700 wireless video transmitter, for example, provides the multiple inputs and mounting options necessary to be used with any camera—from pro-sumer to full broadcast level—capable of sending HD footage from any live event without compromise. The L1700 is currently one of the smallest, lightest camera-back transmitters (with low power consumption) on the market and was widely used at this year's FIFA World Cup, cementing Vislink's strong reputation in providing broadcast communications equipment for high-profile sporting events.

Vislink's momentum around providing more advanced broadcast equipment carried over into this year's IBC, as well, where Vislink showcased the new NewSwift 2.4m, motorized, vehicle-mounted system. Designed as a customizable and lightweight antenna, and available as either a single or three piece carbon fiber reflector, this latest NewSwift version builds on Vislink's goal of helping broadcasters achieve more with less and providing them with more flexible equipment. Auto-acquisition, auto-tracking and excellent wind loading capabilities are included and allow for satellite acquisition in less than five minutes from a stowed position, even in demanding environments.
Vislink's partnership with ND SatCom has also gone from strength to strength this year. The agreement led to joint development of the Vislink ADM5100, a new half rack satellite modem supporting mesh technology. The partnership may lead to further joint development later on and Vislink's technology may be integrated into ND SatCom's hardware in the future. For now, ND SatCom's 5G modem is available for use across Vislink's full range of ultra-lightweight MSAT data terminals, giving customers even greater flexibility.
This year's IBC also coincided with the first Formula E race, which Vislink was heavily involved in—gigawave on-board cameras and live video transmission systems were used to capture real-time, close up action from the race track, pit lanes and cars themselves, making Vislink instrumental to the success of the event. Formula E is the latest example of how sport broadcast continues to be a growing market for Vislink, as demand for lightweight and versatile wireless broadcast equipment grows.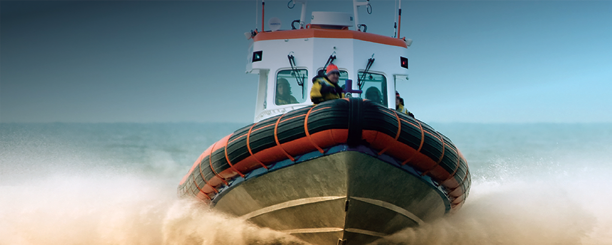 Of course, once an event has been captured and transmitted, the footage then needs to be run through a video playout platform to incorporate broadcasters' pre-program clips, including ads, adding channel logos, or adjusting audio levels. With the acquisition of Pebble Beach Systems, Vislink is now in a position to offer the full package—from video to playout, from side line to TV set, or as we like to call it, from scene to screen.
A seasoned professional of the space and satellite communication industry, Ali Zarkesh joined Vislink in 2010 and is Product Development Director. With more than 21 years of experience, 10 of which were program management, Ali has worked at leading space and IT companies throughout his career such as Inmarsat, Astrium, Eumetsat, Vega and ComDev – as well as his current position at global provider of satellite communications technologies, Vislink.
Ali's role at Vislink involves directing and overseeing the product development of the Sat-com product range and defining the strategic direction and road map for future products, as well as developing new business contacts and markets for the Vislink range of satellite communications products.
---