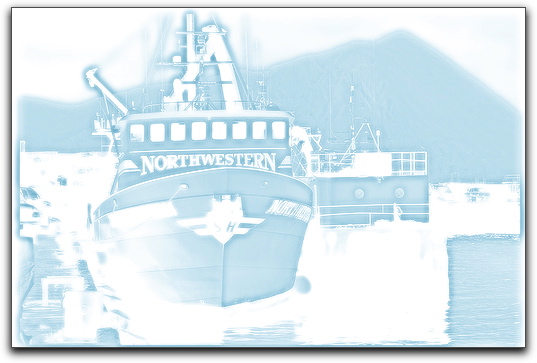 Northwestern is one of the featured boats in the Discovery Channel's smash hit show, Deadliest Catch, which documents the king crab fishing industry in the Bering Sea, and airs in over 150 countries. The show has made Skipper Sig Hansen famous, but fame doesn't make time at sea any safer, easier or more profitable.
Northwestern
has one of the best safety records of any fishing vessel in the Bering Sea and
Sig
, like many fishermen, believes that safety success is derived from experience. He also believes technology can play an important, non-direct, supporting role, helping him to make decisions and communicate with his crew and the land-based operations.
"It's all about experience but technology can make it safer. I think technology is improving, but then it's up to the people that use it to know what to do with the information at hand. Especially with weather reports," explains
Sig
.

Communications Package
In May of 2009,
Sig
had the entire communications system on Northwestern replaced with a brand new
SAILOR
SATCOM system, VHF, and GMDSS communications package, all headed-up by the flagship
SAILOR 500 FleetBroadband
, which, according to
Sig
, will be used for operational applications and the crew's personal use.
"We have had the same SAILOR VHF at the helm of Northwestern since 1987. I was thinking to myself, 'how many times have I hit those buttons?' And it's still going strong. So SAILOR is obviously high quality stuff and we'll make sure we put the gear through its paces," says
Sig
.
Extreme Conditions
Trusted and reliable communications equipment is important to
Sig
, especially when he describes 60 foot waves, terrifying gusts of wind and ice building up to more than a foot thick — all conditions the Northwestern and her crew must cope with on a regular basis. Having access to the Internet on board, delivered by the SAILOR 500 FleetBroadband system, has enabled
Sig
to have far greater control of where Northwestern should be and what she should be doing.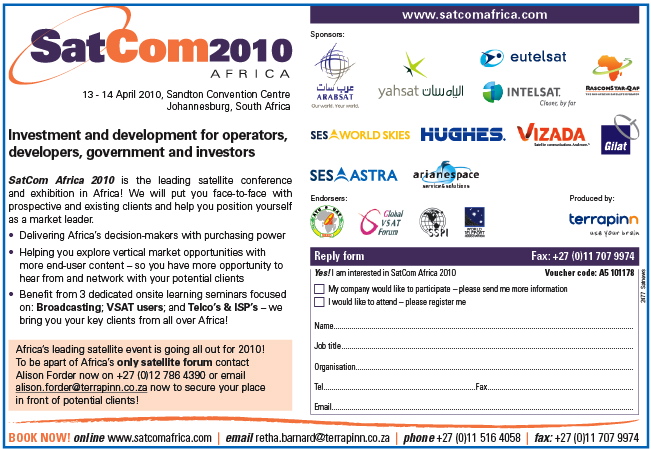 "My wife would get weather reports from the Internet for me early in the morning. The stations would get the weather but not transmit until later in the day so I was always a few hours ahead. Sometimes a three-quarter hour period is enough time for you to get the hell out of town and get to where you need to be going. So that was a big deal," according to
Sig
. "Now though, I just get online myself in the morning, which means I don't have to wake my wife up at 4 am. That's an even bigger deal."
"We still fight the weatherman though, because, let's face it, time is money. You want to stay out as long as you can, until you feel that you absolutely have to go in. Which was the case on a recent trip, when the weather was closing in on our last day of fishing. I kept pushing it and pushing it. Those 2 or 3 hours extra, then we got around the island before she really blew. Most of the other boats left several hours prior to me leaving, but I knew I had an 80 or 90 mile run, 8 or 9 hours and sometimes staying a little bit longer can really count, but you have to know that you are safe."
Crew Morale
Sig
is highly enthusiastic about the state-of-the-art SATCOMs he now has onboard as he experiences how many different ways the communication system can help to improve safety and efficiency, from regular maintenance and equipment malfunctions to accidents and emergencies. However, just as important to Sig is the fact that his crew now has a reliable link to home, which is vital for maintaining high morale.
"I really enjoy the fact that the crew can contact their loved ones. What could be more therapeutic than that? I have no problem with the guys using it. I tell them, 'hey, call home, you need to call home.' It's like therapy for them, and then they are much better,"
Sig
said.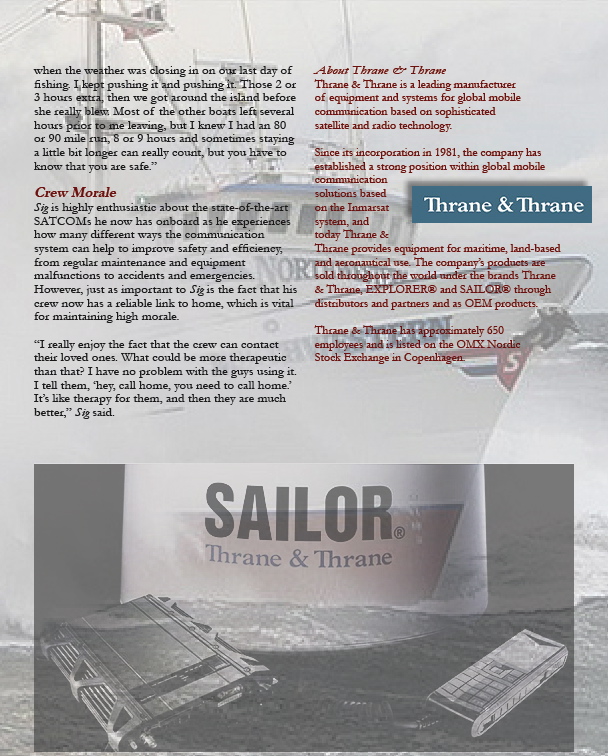 About Thrane & Thrane
Thrane & Thrane is a leading manufacturer of equipment and systems for global mobile communication based on sophisticated satellite and radio technology.

Since its incorporation in 1981, the company has established a strong position within global mobile communication solutions based on the Inmarsat system, and today Thrane & Thrane provides equipment for maritime, land-based and aeronautical use. The company's products are sold throughout the world under the brands Thrane & Thrane, EXPLORER® and SAILOR® through distributors and partners and as OEM products.

Thrane & Thrane has approximately 650 employees and is listed on the OMX Nordic Stock Exchange in Copenhagen.