STS Global Volunteers To Do The Dishes For You
STS Global is a satellite communications and telecommunications company that provides custom products, networks and services leveraging mainstream applications with wireless technology for clients worldwide.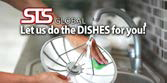 According to the company, the foundation of STS Global offers four strong pillars: Time-tested expertise, systems reliability, customer value, and exceptional integrity.
STS Global will be at Booth #852 at Satellite 2016.
• Next Generation-Networks—Design & Integration Services
• Gateways & Hub Stations—Third Party Equipment Testing
• Media & Broadcast Centers—Cyber Security Assessment
• Fly-Aways & Transportables—Certification and Training
• Lifecycle Support 24/7—Engineering Support
STS is a proud supporter of member of SSPI's Satellites Make a Better World.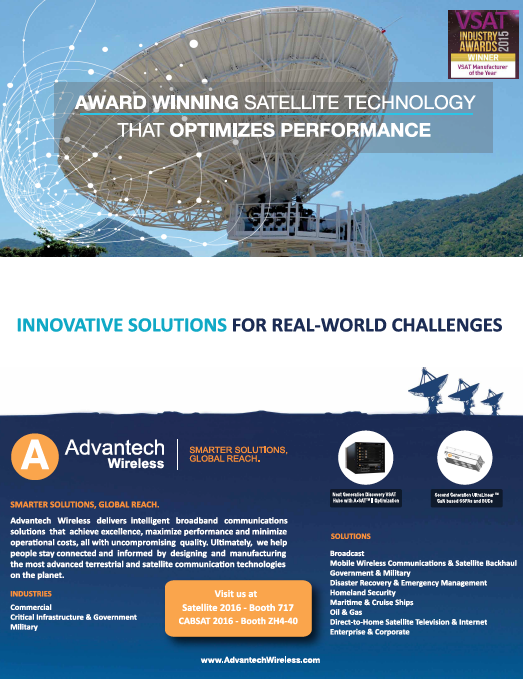 Whether the objective is to broadcast a live event to millions, create systems that provide services to remote locations, transmit crucial data to a battlefield, support a new media broadcast center, or provide secure networks for a large corporation, our complete range of best of breed technologies and satellite communication solutions are dependably a step ahead.
From better wireless connections to tighter cyber security, STS Global technologies also serve to reassure customers—in the US and overseas—that there is no communication problem that cannot be solved, and virtually no point on Earth that cannot be reached.
stsglobal.com/
---
COTM Combo Antenna Rolls Out From KNS
KNS, Inc. announces their first dual band Ka/Ku satellite COTM antenna, expanding their SuperTrack Series that requires no physical labor to change frequencies.
Frequencies are automatically changed by the satellite modem or manually through the control software. This simple to install and operate COTM broadband satellite antenna provides quality, reliable and secure voice, data and cloud applications, for multiple applications, such as trucks, airplanes, Unmanned Ariel Vehicles (UAVs), submarines, helicopters, satellite News Gathering (SNG), Cars, Tanks and much more. The elliptical reflector is low profile and is equivalent to a 0.9 meter antenna.
"Our engineering department developed a totally new type of patent-approved satellite antenna to meet the demanding needs of our customers who require fast, secure communications on the move," said Noah Chung, Director, KNS, Inc. "The key to a successful antenna is to provide as much automatic functionality as possible. We, therefore, included in our new COTM antenna automatic tracking that allowed tracking according to input parameters, automatic collection of longitude, latitude, heading, azimuth and elevation data. We even created automatic polarization switching and automatic frequency band feed switching."
One of the unique features of the automatic switching is the ability to adjust from linear 180º Ku-band to Ka-Band with a selectable Left Hand Circular Polarization or Right Hand Circular Polarization (RHCP) in any combination for roaming purposes. Other important key features include self-diagnosis and monitoring, and satellite re-acquire time of less than 5 seconds, self-diagnosis and monitoring.
The COTM antenna operates under the following frequency: KU-Band - RX: 12.25 GHz-12.75 GHz - TX: 14.0 GHz-14.5 GHz KA-Band - RX: 19.6 GHz-21.2 GHz - TX: 29.4 GHz-31.0 GHz With regards to the Antenna Gain: KU-Band - RX: 39.4 dBi @12.5 GHz - TX: 40.2 dBi @14.24 GHz KA-Band - RX: 44 dBi @20.4 GHz - TX: 47.5 dBi @ 30.2 GHz.
The COTM has been built with ruggedness and durability in mind and has an elliptical carbon fiber reflector and uses dual feed technology—plans are already in the works to migrate their maritime terminals in Q2 of this year.
kns-kr.com/main/
---
Advanced Avionics From Rockwell Collins To Enhance GoAir Airbus Aircraft
India-based GoAir will feature Rockwell Collins' advanced avionics, including MultiScan™ ThreatTrack weather radar and GLU-925 Multi-Mode Receiver (MMR), on 72 Airbus A320neo aircraft—deliveries will start later this year.
MultiScan ThreatTrack goes beyond hail and lightning prediction within a thunderstorm cell and alerts pilots to these significant threats adjacent to or above the cell.
In addition, the new radar is the first in the industry to feature two levels of turbulence detection—severe and ride quality—which more accurately informs flight crews of the type of turbulence in their path.
Unique to MultiScan ThreatTrack is its patented Predictive Overflight™ Protection, which tracks thunderstorm cells ahead and below the aircraft, measures growth rate, predicts bow-wave turbulence and indicates potential threats in the aircraft's flight path.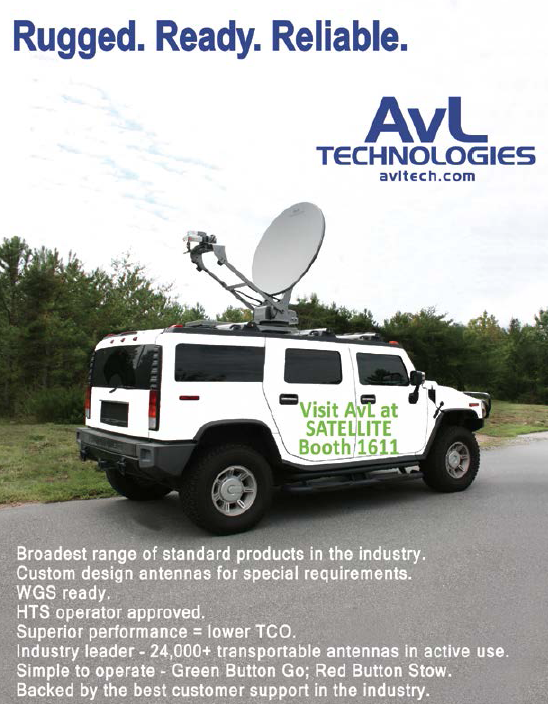 Rockwell Collins' GLU-925 MMR is the first certified GPS Landing System receiver and enables high-integrity navigation, including RNP AR, Category III ILS and Category I Global Positioning Landing System approaches.
The MMR also enables GPS position and availability requirements for ADS-B Out mandates.
In addition to ThreatTrack and MMR, GoAir selected Rockwell Collins' ADF-900 Automatic Direction Finder, DME-2100 Distance Measuring Equipment, VHF-2100 Transceiver, HFS-900D Radio, and VOR-900 Omnidirectional Radio.
"The advanced, reliable avionics systems selected by GoAir will translate into safe, smooth rides for passengers," said Jim Walker, vice president and managing director, Asia Pacific for Rockwell Collins.
"In addition, these flight deck technologies are especially important in regions without robust ground-based navigation or weather radar networks."
---
GVF Advanced SATCOM Pro Certification Awarded To Telekom Malaysia
The importance of high-quality satellite Earth station installation, maintenance and operation is being reinforced in Southeast Asian markets through recognition of Telekom Malaysia's personnel as "GVF Advanced Professionals."
The company's engineering group has achieved the designation by completing comprehensive training and Certification for operation and support of VSAT systems. GVF is the non-profit association of the satellite communications industry. The organization has been developing and providing training programs for thousands of satellite communications professionals for nearly a decade.
In order to qualify for the Certification, Telekom Malaysia's personnel completed GVF-530, 531 and 532 for Basic Technical Operator Certification and GVF-510, 520 and 521 – followed by a Hands On Skills Test (HOST)—for Advanced Satcom Professional Certification. Telekom Malaysia's personnel engaged the training through GVF's online portal at gvf.org/training.
Telekom Malaysia of Kuala Lumpur entered into the program as part of an international industry initiative to promote best practice. The on-line courses used to support the program were prepared and are being administered by SatProf, Inc. GVF VSAT Installation & Maintenance Certification is the global industry standard for training installers of bi-directional satellite Earth stations.
It was created by a consensus of volunteers serving in the GVF Education & Training Working Group (E&TWG), whose mission is to identify, formulate and share knowledge that is beneficial to the VSAT industry, its shareholders
and stakeholders.
"GVF Advanced Certification is a high bar," said David Hartshorn, GVF's Secretary General. "Telekom Malaysia's engineering and technical team has demonstrated that they have the skills necessary to install and operate satellite communications systems with the highest level of technical competency."
gvf.org/
---
Paradigm's Swarm45 Points The Way
Paradigm's new flat panel Swarm45 provides high data rates together with extreme portability and simple pointing.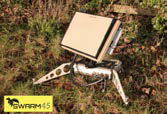 Swarm45 will operate on any high-throughput Ka-Band satellite.
The Swarm45 is ultra portable and quick to deploy and stow.
The unit has a total weight of only 14.5 kg (32lbs), so even with packaging, IATA regulations are easily met.
Designed around the PIM (Paradigm Interface Module) terminal controller, the Swarm45 provides everything you need for straightforward setup and pointing, allowing you to be operational in less than 5 minutes.
The PIM has an integrated modem and is designed for simple and intuitive setup and deployment.
The integrated audio and visual pointing aids provide an effective method of acquiring the satellite without the extra bulk of motors and controllers.
The Swarm45's ultra portability and rapid deployment capability make it ideally suited to the military, broadcast, government and disaster recovery sectors.
"With the Swarm45, we are providing the high data rates of VSAT with the same portability and simplicity of BGAN. Our initial customers have been impressed by the flexibility and ease of use that this terminal provides," said Warren Ackerley, Business Development Director at Paradigm.
---
The Robert A. Heinlein Institute For Space Entrepreneurship & Space Innovation Seeks A Home
The International Space University (ISU) is seeking applications from American institutions to establish the Robert A. Heinlein Institute for Space Entrepreneurship & Space Innovation on a campus in the United States.

Once established, the Institute will offer a range of training, conferences, seminars, short courses, public events and research related to entrepreneurship and innovation in space commerce.
From its central campus in Strasbourg, France, the ISU graduates over 200 students a year in its masters of space science and other space studies programs held on the main campus and at locations around the world.
The recent emergence of "new space" companies in the United States such as Planet Labs, Made In Space, SpaceX, Blue Origin, Virgin Galactic and others have sparked wide interest in space entrepreneurship among a new generation of engineers, technologists, and investors.
Many of those leading these new space companies are graduates of the ISU and ISU believes that the new Institute will become an intersection of disciplines for the purpose of identifying creative, innovative, and imaginative solutions to taking advantage of business opportunities in near-Earth space and beyond.
"The Institute will become a global meeting place for entrepreneurs who want to understand the challenges of building a space enterprise," said Chris Stott, a member of the ISU Board of Trustees who is leading the search for a U.S. campus to host the new institute. "It will be both an international center of study and an incubator of space entrepreneurialism and innovation."
Dr. Christian Sallaberger, Chairman of ISU, added, "The U.S. plays a leading international role in the area space entrepreneurship, and the new Robert A. Heinlein Institute for Space Entrepreneurship & Space Innovation will serve to enhance ISU's regional footprint in the U.S., as ISU continues to deliver on its mission to provide educational programs of the highest caliber to the global space community."
The ISU is seeking expressions of interest from leaders of educational institutions who want to create, develop, build, program and staff the Institute, named in honor of Robert A. Heinlein, one of the foremost science fiction writers of the 20th century and himself an entrepreneur.
The successful applicant selected to host the Institute will partner with ISU to establish the Institute's programs; hire faculty and visiting lecturers; and create programs and events that attract wide public attention and additional funding and grants.
The ISU has asked applicants to submit outlines by February 29 of how they would house and support the institute.
The field of applicants will then be narrowed, with the finalists responding with more detailed applications. The ISU expects to select the final location for the Institute in September.
isunet.edu/
---
Beam Communications Has GO! Power
Beam Communications has announced Telstra will sell the innovative Iridium GO!® nationally throughout Australia, starting immediately.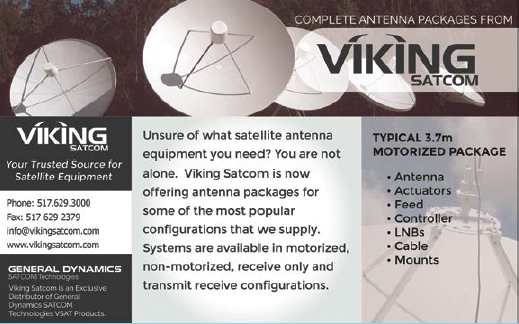 Beam Communications, a wholly own subsidiary of ASX listed World Reach Limited, designed and manufactures the product under an OEM arrangement for Iridium Communications Inc.
"Powered by the world's furthest reaching network, the Iridium GO!® is a compact, rugged and portable device that provides global voice calling and SMS solutions and enhanced messaging and email capabilities through optimized apps for any Android or iOS device," Beam Communications CEO Michael Capocchi said. "A major benefit of the Australian designed Iridium GO!® is it enables satellite connectivity to the Iridium satellite network for mobile devices where terrestrial networks do not provide coverage or when they may become unavailable. Simply flip up the integrated antenna and the battery-powered unit connects quickly and automatically to the Iridium low-Earth orbit satellite constellation to extend the functionality of the mobile devices. It's possible to connect and operate up to five devices within this area using the Iridium GO!® application on each device."
Iridium GO!® supports a range of global communications, including: voice calling, SMS, email, social networking, photo sharing and SOS Alert and Tracking capabilities. Iridium GO!® with a Telstra Mobile Satellite service package is available at Telstra retailers nationally and through the World Reach subsidiary, online satellite phone sales business, SatPhone Shop, satphoneshop.com.
beamcommunications.com/
---
Panasonic Avionics Signs On With Telesat For Capacity
Telesat and Panasonic Avionics Corporation (Panasonic) announced today that Panasonic has signed another multi-year contract for Telesat satellite capacity.
In this latest agreement, Panasonic has contracted for nearly all the high throughput satellite (HTS) Ku-band capacity covering the Mediterranean, Europe and Middle East on Telesat's new Telstar 12 VANTAGE.
Telstar 12 VANTAGE became fully operational at 15 degrees West in December 2015 and will provide Panasonic with HTS capacity over key aero routes from Western Europe to the Middle East enabling them to bring the very latest in in-flight Wi-Fi to carriers across the region.
Panasonic will also be using the HTS capacity of Telstar 12 VANTAGE to expand their mobile broadband offerings to growing maritime markets in the Mediterranean and European waterways as well as to oil and gas operators in the North Sea.
"It is always gratifying when a knowledgeable industry leader like Panasonic compares a number of satellite alternatives and decides once again that Telesat is their best choice," said Tom Eaton, Vice President, International Sales for Telesat.
"Telstar 12 VANTAGE is a powerful high throughput satellite designed to provide customers like Panasonic important operational and commercial advantages. Panasonic's multi-year commitment validates the advanced capabilities of Telesat's newest satellite and we look forward to continuing to deliver to Panasonic the superior technical performance and outstanding support they have come to expect from Telesat."
"Telesat is highly respected for their ability to design innovative satellites," said David Bruner, Vice President, Global Communications Services at Panasonic Avionics.
"Their cooperation in adjusting the position of the HTS spot beams on Telstar 12 VANTAGE to meet Panasonic's requirements was outstanding. This further optimizes the service for Panasonic and gives us an edge in winning mobile broadband business in the air and at sea.
"Panasonic now has Ku-band capacity on four Telesat satellites and, with this latest contract for nearly all the HTS Ku-band covering the Mediterranean, Europe and Middle East on Telstar 12 VANTAGE, we are well positioned to expand in maritime and energy markets across Europe. Panasonic values our close ties to the Telesat team and we are truly excited to be making use of Telstar 12 VANTAGE—he first satellite with significant HTS Ku-band over the Mediterranean and North Sea."
---
Aerojet Rocketdyne Receives Thruster System Contract From NASA
Aerojet Rocketdyne, a subsidiary of Aerojet Rocketdyne Holdings, Inc. has been awarded a contract valued at more than $2.5 million from NASA's Advanced Exploration Systems Division to develop and demonstrate a high-power electric propulsion system.
Once fully developed, the technology will help reduce trip times and the cost of human spaceflight to cislunar space and beyond to Mars.
Under the contract, the Aerojet Rocketdyne team will complete the development of a 100-kilowatt Hall Thruster System, including a 250-kilowatt thruster that uses Aerojet Rocketdyne's patented multi-channel Nested Hall Thruster technology; critical elements of a 100-kilowatt modular Power Processing Unit (PPU); and elements of the modular xenon feed system. PPUs convert the electrical power generated by a spacecraft's solar arrays into the power needed for the Hall Thruster.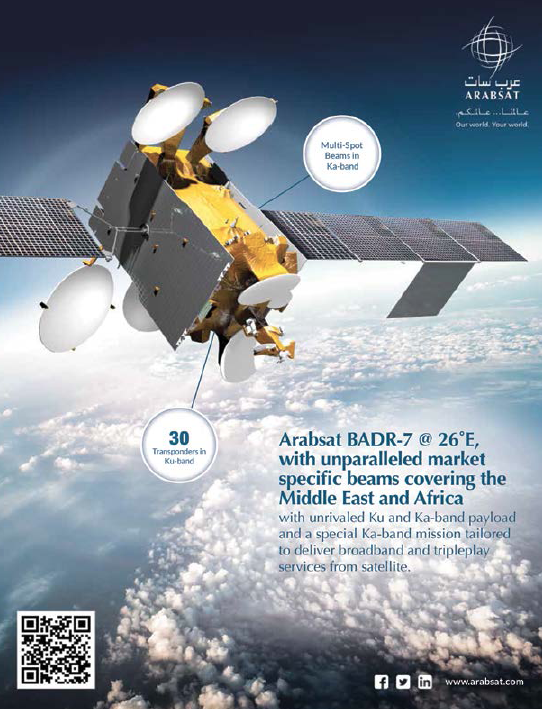 The contract includes system integration testing, and will culminate with a 100-hour test of the 100-kilowatt system at NASA Glenn Research Center in Cleveland, Ohio.
"We look forward to working with our teammates in the development of this high-power, high-efficiency propulsion technology," said Julie Van Kleeck, vice president of Advanced Space and Launch Systems at Aerojet Rocketdyne.
"Our advanced Nested Hall Thruster system will help transform the future of human spaceflight, allowing cost-effective delivery of large cargo to support human missions to Mars, and potentially transport astronauts to their destination faster, more efficiently and at a more cost-effective price."
Aerojet Rocketdyne is also working with the University of Michigan, the Jet Propulsion Laboratory, and Silicon Turnkey Solutions. The contract spans 12 months, with two more 12-month options worth an additional $4 million total.
Aerojet Rocketdyne is one of 12 industry teams that were named by NASA to help build space and human exploration capabilities for deep space destinations as part of the Next Space Technologies for Exploration Partnerships (NextSTEP) initiative.
The industry teams were selected for their technical ability to mature key technologies and their commitment to the potential applications, both for government and private sector uses, according to NASA.
As part of its commitment to a public-private partnership with NASA, the Aerojet Rocketdyne team has invested almost $12 million in the technology to be developed.
Current electric propulsion systems operate at 5 kilowatts or below, and there are plans for near-term spacecraft using between 20 to 50 kilowatts, such as NASA's Asteroid Re-direct Mission.
Much higher powers, such as the scalable 100-kilowatt systems being developed on this program, are required for transportation of the large payloads envisioned for sustained human missions to Mars.
rocket.com/
---
Location Aggrandizement For Geosync Microwave
Earlier this year, Geosync Microwave's President, Arthur Faverio, announced the purchase of a 20,000 square foot building at 320 Oser Ave in the Hauppauge Industrial Park, Hauppauge, New York, within a half mile of Geosync's current facilities.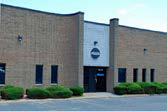 The new building significantly increases Geosync's manufacturing space which will immediately be used to increase production capacity of its RF SATCOM products and provide additional engineering labs and offices.
Please refer to the company's website—http://www.geosyncmicrowave.com—for the latest in new product announcements and specifications for their advanced SATCOM Up and Downconverters, Test Translators, SATCOM LNAs and LNBs, Precision Synthesized Frequency Converters, Switchover Assemblies, and more.
geosyncmicrowave.com/
---