Greenhouse monitoring agreement between EUMETSAT and JAXA
EUMETSAT and the Japan Aerospace Exploration Agency (JAXA) have signed an agreement which will result in the agencies working closely together to monitor greenhouse gases in the Earth's atmosphere.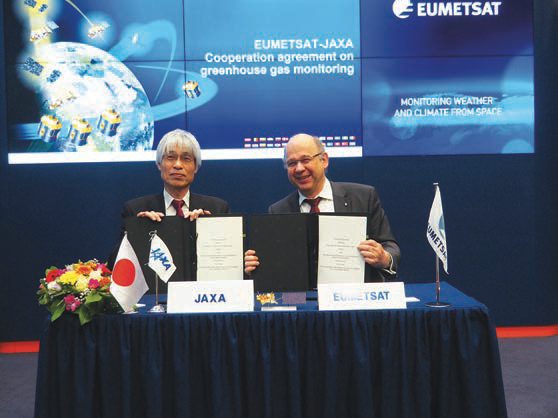 Mr. Kazuo Tachi, on behalf of the Director General of JAXA's
Space Technology Directorate and EUMETSAT Director-
General Alain Ratier signed the agreement at a ceremony
at EUMETSAT's Darmstadt headquarters.
Japan's Greenhouse Gases Observing Satellite (GOSAT) was the world's first satellite mission specifically designed for monitoring greenhouse gases.
Instruments on the LEO satellite measure carbon dioxide and methane for a decade. GOSAT-2 was launched in October as the successor to GOSAT.
Under this agreement, GOSAT and GOSAT-2 measurements will be calibrated against measurements taken by the Infrared Atmospheric Sounding Interferometer (IASI) on EUMETSAT's three Metop satellites. EUMETSAT will make the data from a series of GOSAT satellites operationally available to its users, the EU's Copernicus Atmosphere Monitoring Service (CAMS), in particular.
Mr. Kazuo Tachi, on behalf of the Director General of JAXA's Space Technology Directorate, said this cooperation with EUMETSAT is crucial to promote the satellite data to support improving national greenhouse gases inventories reports as well as precise understanding of the status of global greenhouse gases. JAXA also would like to enhance GOSAT and GOSAT-2 data use in weather forecasting operations through cooperation with EUMETSAT.
www.eumetsat.int
global.jaxa.jp
---
Maxar and team to build and demo Lunar Gateway for NASA
Maxar Technologies (NYSE:MAXR) (TSX:MAXR) has been selected by NASA to build and perform a spaceflight demonstration of the lunar Gateway's power and propulsion element spacecraft.

Blue Origin and Draper will join the Maxar-led team in designing, building and operating the spacecraft through the demonstration period. The power and propulsion element is a key component to NASA's overall plans to land American astronauts on the surface of the Moon by 2024, and will be the first segment of the Gateway tested in space.
Maxar previously conducted a four-month study to develop affordable and innovative electric-propulsion-enabled concepts for the power and propulsion element spacecraft. Building on the successful completion of the study, Maxar has been selected to proceed with development. The power and propulsion element will provide power, maneuvering, attitude control, communications systems and initial docking capabilities. Maxar is currently targeting launch of the element on a commercial rocket by late 2022.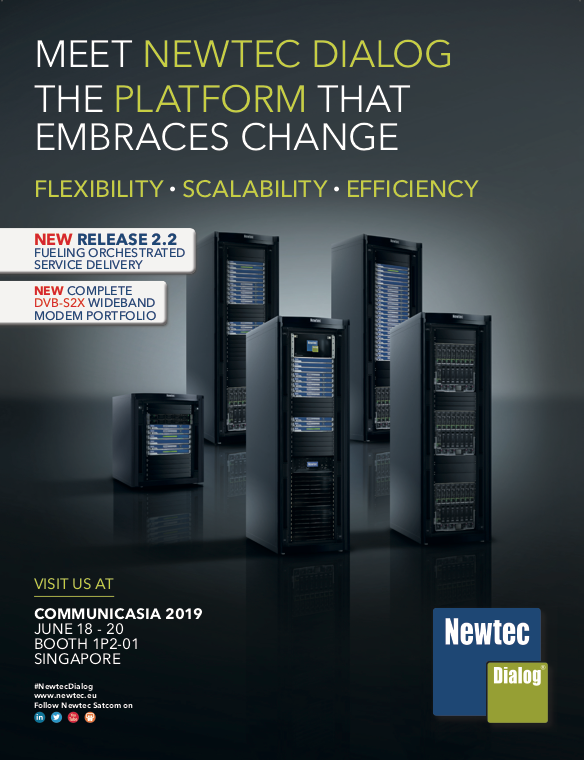 This firm-fixed price award includes an indefinite-delivery/indefinite-quantity portion and carries a maximum total value of $375 million. Following a successful demonstration period of up to one-year, NASA could acquire the spacecraft for use as the first element of the Gateway.
Maxar's power and propulsion element design is based on the powerful 1300-class platform, which provides flexibility for a broad range of applications and technological advances. There are 91 spacecraft based on the 1300 currently on orbit for commercial operators — more than any other model of communications satellite. Maxar's 1300-class spacecraft platform is also the basis for NASA's Psyche mission, which will explore an all-metal asteroid beyond Mars in 2026, and NASA's Restore-L spacecraft, which will refuel the Landsat-7 satellite in 2022.
High-power solar electric propulsion will be used to efficiently maneuver the power and propulsion element into its orbit and subsequently move the Gateway between lunar orbits over its lifetime to maximize NASA's science and exploration operations. Maxar's extensive experience with solar electric propulsion includes 36 spacecraft on-orbit today and more than 100,000 hours of firing time.
A key element of Maxar's power and propulsion element design is the Roll Out Solar Array (ROSA), a groundbreaking, compact, modular and scalable solar array system that rolls up for launch instead of folding like an accordion. ROSA is a highly mass-efficient, qualified technology that can be scaled up to 200kW and above for high-power operations. ROSA was successfully tested on the International Space Station in 2017 and is available for use on all of Maxar's spacecraft platforms.
www.maxar.com
---
Link Microtek's microwave rotary joint embodied within ADS International's SOTM antenna platform
A dual-channel, Ka-band microwave rotary joint designed and produced by Link Microtek is playing a crucial role within a new stabilized antenna platform developed by Italian firm ADS International S.r.l. for high-end SATCOM-On-The-Move (SOTM) applications.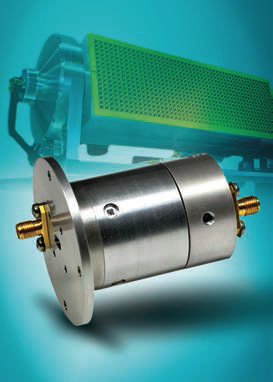 Typically mounted on vehicles for either commercial or military use, the new ADS system features a low-profile radome that houses a 4-port, wideband flat-panel waveguide-array antenna together with ancillary hardware. Operating at 19.2-21.2GHz in Rx and 29-31GHz in Tx, the dual circular polarization system covering military and commercial Ka-band is ideal for the latest high-data-rate requirements and, being fully European made, is free from any ITAR/EAR restrictions.
Key to the operation of the ADS antenna system are two of the Link Microtek rotary joints — one for azimuth and one for elevation — which enable RF signals to be fed from the static side of the system to its rotating side.
The central transmit channel of each rotary joint is implemented in WR28 waveguide and delivers up to 50W of microwave power (CW) over the frequency range 29 to 31GHz with an insertion loss of just 0.5dB and a VSWR of 1.3:1. This allows the signal from the BUC, which is connected to the system port, to be transferred through a waveguide transmission line all the way to the antenna, thus minimizing losses.
The outer receive channel, meanwhile, uses SMA coaxial connectors to cover L-band frequencies from DC to 2.15GHz with a maximum CW power of 10W, as well as providing the DC voltage needed for powering the two LNBs which are located on the rotating side of the system, right on the back of the antenna with the aim of maximizing the G/T. Isolation between the channels is greater than 35dB.
Manufactured from aluminum, the rotary joints weigh only 160 grams and measure 49 mm in length with a body diameter of 36 mm and a flange diameter of 55 mm. They have an operating temperature range of -40 to 55degC, satisfy the typical military environmental conditions of MIL-STD-810G and are tested to over 1 million rotations.
According to Steve Cranstone, MD of Link Microtek, the design and manufacture of this type of rotary joint presents a significant challenge in a number of ways. Inside each one are scores of tiny individual parts, which have to be crafted to high precision and tight tolerances.
www.linkmicrotek.com
ads-int.com
---
New IoT partnership to monitor the world's water resources
Myriota, a smallsat Internet of Things (IoT) connectivity company based in South Australia, has teamed with cloud-based environmental platform Eagle.io with the aim of preserving global water supplies.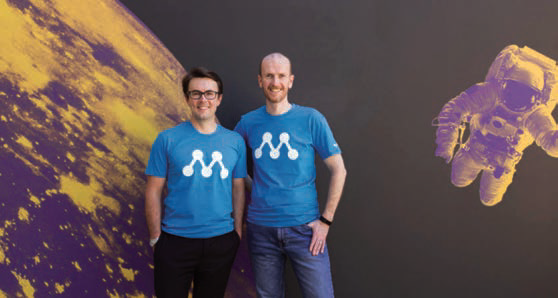 Myriota's Dr. Alex Grant and Dr. David Haley at their office in
Lot Fourteen in Adelaide, South Australia. Photo is courtesy
of Rosina Possingham.
The partnership, which was announced at the 2019 IoT World Conference in California, will provide global software and telemetry solutions for water management issues faced by agricultural players and governments worldwide.
Myriota CEO Dr. Alex Grant said the partnership would integrate Eagle.io's cloud-based IoT platform that manages alerts from more than 100,000 environmental sensors with Myriota's secure, low-cost, low-power satellite connectivity.
This will allow the agricultural sector to increase the accuracy of its water measurements through regular, automated recordings.
"We can't manage what we can't measure," he said. "So, if Australia or other countries want to effectively manage their water resources for the future, we need to be getting much better at understanding those resources and how we're using them and how they're being replenished and how we're basically interacting with our environment.

Dr. Grant continued, "And that's proven difficult and expensive to do, so it doesn't get done in a lot of cases and that's when we end up with situations like we are in Australia at the moment."
The two companies will work with third party data logger manufacturer MIoT, with Myriota integrating its module into their Captis product line and Eagle.io building a feature that will allow device configuration and management for the Captis from within their application.
Eagle.io CEO Ben Starr said at the moment water meter data is manually and infrequently collected but the partnership Myriota will improve the capability of non-urban water meters and end manual collection.
Story by Jessica Bassano, The Lead South Australia.
https://myriota.com
https://eagle.io
theleadsouthaustralia.com.au
---
Kleos Space names KSAT as the firm's ground service station provider
Kleos Space S.A. (ASX: KSS, Frankfurt: KS1) has engaged Kongsberg Satellite Services (KSAT) as a ground station service provider.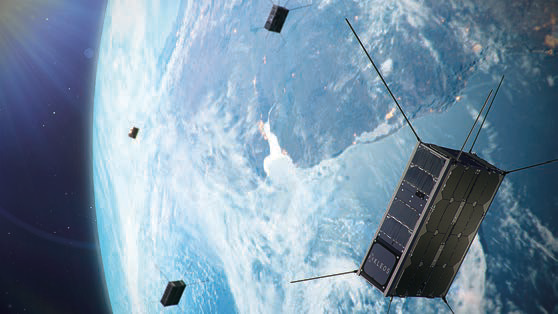 KSAT is a leading provider of communication services for spacecraft and launch vehicles with an extensive and uniquely located global ground network.
The appointment marks the next milestone toward revenue (ASX: 13/5/2019) generation, commencing post commissioning of the Kleos' Scouting Mission satellites1.
Kleos' satellites will initially transmit observation data to the KSAT downlink ground station Svalbard in Norway. Kleos will have access to additional ground stations within the KSAT network, currently consisting of 15 locations worldwide through the KSAT Lite platform, which can provide back-up facilities and enlarged flexibility for Kleos.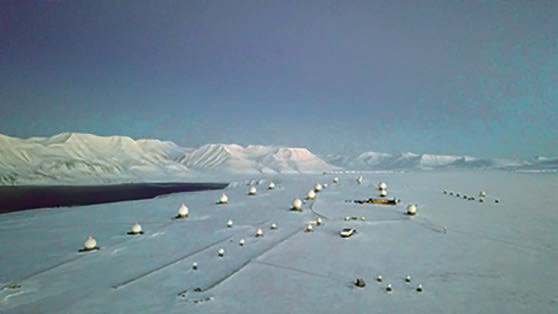 Andy Bowyer, CEO of Kleos Space said that one of the keys to the company's success lies in the choice of technological partners and the firm has appointed Kongsberg as they are one of the world leaders for data reception and near real time Earth Observation services. Kleos is proud to work with Kongsberg, with 50 years' experience in a fast growing and challenging industry and environment.
1The multi-satellite Scouting Mission system will form the foundation of a constellation that delivers a global picture of hidden maritime activity, enhancing the intelligence capability of government and commercial entities when AIS (Automatic Identification System) is defeated, imagery is unclear, or targets are out of patrol range. The first scouting mission is comprised of 4x smallsats built by GomSpace in Denmark.
kleos.space
www.kongsberg.com/ksat/
---
NSSLGlobal's FusionIP-LITE enters the market
NSSLGlobal has unveiled the latest addition to their maritime portfolio, FusionIP-LITE, which has been specifically engineered for the Asian seas.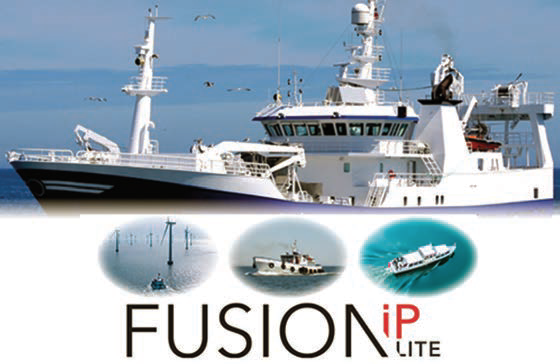 For a single monthly service fee, FusionIP-LITE allows users to benefit from seamless automatic switching between cellular and satcom networks to ensure "always-on" connectivity with speeds of up to 40 Mbps. This NSSLGlobal solution also incorporates automatic WAN switching, an email service, core firewalling, eNOAD and file management/synchronization capabilities, all at no additional cost.
FusionIP-LITE integrates two communication worlds for the Asia seas. Cellular connectivity is the primary connection and SATCOM the secondary; when vessels move out of cellular range, they are seamlessly transitioned between networks to achieve "always-on" communications while ensuring optimum data speeds.
NSSLGlobal's FusionIP-LITE service uses a single 3G/4G/LTE SIM which is capable of delivering high-speed bandwidth up to 20 km. offshore — with download speeds of up to 40 Mbps — making it ideal for leisure, fishing and commercial vessels.
FusionIP-LITE will assist busy vessel operators passing through the coastal waters of several countries to benefit from the high-speed of cellular with the service assurance and coverage of satellite, all without changing multiple SIMs or dealing with a variety of providers and bills.
FusionIP-LITE also uses the new Iridium Certus Next constellation as a failsafe guarantee of "always-on" connectivity when outside of cellular coverage providing speeds up to 704 kbps. The great benefit is that the customer pays the same price no matter what network they use.
Priya Patel, APAC Regional Sales Director, NSSLGlobal, said since its launch in late 2017, FusionIP has been a phenomenal success and firm customer favorite, but its deployment has been limited to European coastal waters. The company can now expand the FusionIP suite, as this service is based around the firm's in-house engineered products. This enables NSSLGlobal to deliver solutions that are practical and rapidly bring them to market. Now with FusionIP-LITE, vessel operators in Asia can also benefit from safer, smarter and more efficient operations thanks to the power of always-on communications.
www.nsslglobal.com/FusionIP-LITE
---
ICEYE's EO services and APSI combine forces to support South Korean New Space market
APSI (Asia Pacific Satellite Inc.) and ICEYE have signed a memorandum of understanding to work together to support the South Korean New Space market.
As a part of the agreement, APSI will supply ICEYE's SAR imagery in South Korea and also provide mutual support from both APSI and ICEYE to deliver radar imaging related satellite solutions to the greater South Korean market.
ICEYE successfully launched its second radar imaging satellite, ICEYE-X2, in early December of 2018, in the global EO market.
The satellite launch was an initial step toward creating the necessary SAR satellite constellation of ICEYE for frequent and reliable satellite-based information regarding any location on Earth, regardless of the time of day — and even through cloud cover.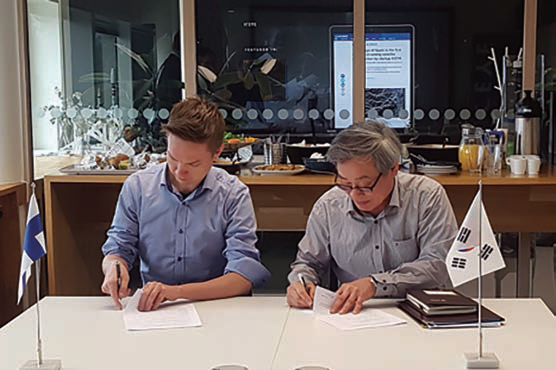 ICEYE-X2 radar satellite image of Seoul, South Korea, taken during February 2019.
ICEYE is providing commercial data services to both government and industry users.
The company is actively increasing the size of its SAR satellite constellation, with as many as five additional satellites being launched throughout 2019.
APSI is a provider of equipment and services for multiple government programs in South Korea, and with the support of ICEYE's leading technology, will grow to provide further data, hardware and radar imaging solutions to the government of South Korea.
www.iceye.com
---