As Vice President of Global Communications Services for Panasonic Avionics Corporation, David is responsible for marketing, business, network and fleet operation of the global communications suite of products and services, which includes broadband, television and mobile phone services. Prior to joining Panasonic, David was the Director of Business Development for General Dynamics Airborne Electronic Systems (now known as Astronics). Previously, David was President of Inflightonline — a web media company focused on the in-flight market and Senior Vice President of AT&T Aviation. In total, David has more than 22 years in the aerospace industry, including five years at American Airline's SABRE group.

Panasonic Avionics Corporation has developed a next-generation solution for in-flight broadband connectivity — Panasonic eXConnect. The offering, which relies on satellite technology from iDirect, is being embraced by major airlines worldwide. We spoke to Panasonic's David Bruner to find out how airlines and their passengers are benefitting from the new service and what Panasonic has in store for the future.
SatMagazine (SM)
Mr. Bruner, how has your in-flight broadband offering been received in the marketplace?
David Bruner
We're very pleased with the reception. As I'm sure you've seen, both Lufthansa and Turkish Airlines have already announced their implementations of the Panasonic system. Other major airlines are scheduled to go online in 2010 as we introduce it in key regions around the world.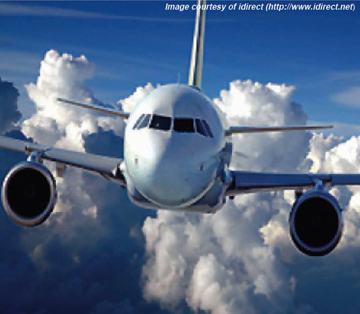 Panasonic's
eXConnect
provides an efficient and cost-effective means to provide internet network access and capacity for a growing public demand for airline connectivity. It's especially pleasing to see that the airlines are recognizing a major advance in marketplace need and demand for connectivity and are coming to Panasonic, with our long legacy of innovation.
In the case of Turkish Airlines, for example, with the latest Panasonic eX2 and Global Communications Suite technology, passengers will have a full complement of entertainment options at their fingertips. They can choose from a large selection of movies, television programs, and music, as well advanced applications. Passengers will be able to watch TV programs and live soccer matches in real time. More, they will have access to the Internet via WiFi; and there will be no need to turn off mobile phones. This year, Panasonic will begin equipping Turkish Airlines' fleet of 12 Boeing 777-300ERs and 10 Airbus A330-300 aircraft, with the first aircraft due to enter service in the fourth quarter of 2010.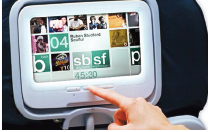 SM
How does eXConnect integrate with Panasonic's other in-flight services?
David Bruner
The eXConnect system integrates with Panasonic in-flight entertainment systems as an available data channel from the start. eXConnect also integrates connectivity-enabled passenger and crew applications eXConnect can be accessed via any in-flight entertainment system or as a stand-alone option. However, most people will likely access via a WiFi device through seat back display or a laptop or phone.
Airlines don't have to have an in-flight entertainment system for their customers to use eXConnect. In addition, eXConnect can also be used for operational purposes. The system can be used for the low cost, two way transmission of non-safety services operation data, such as FOQA and MOQA.
SM
How do you see the broader scope of in-flight entertainment and Internet access services developing? What's possible?
David Bruner
It seems like a long time ago that staying entertained on an airplane meant reading a magazine while staying productive meant writing with a pad and pencil. The online revolution has changed entertainment, journalism, advertising, business and much more. So far, most of these changes were available only on the ground, but now they're also changing air travel.
With the sophistication of equipment on board planes and the satellites they are linked to, it will not be long before anything that's done on the ground will also be possible at 35,000 feet.
Laptops and notebooks continue to get cheaper and more and more people are flying with them. Passengers are so used to being connected that, even in the air, they want to use the Internet — whether for work, entertainment, or shopping. As people know that their flight has an Internet service, you'll be seeing more laptops onboard – especially on longer flights.
SM
Will these developments make a difference?
David Bruner
We believe in-flight broadband is taking off. We have a next-generation satellite solution which airlines can leverage to improve the in-flight experience for their customers and grow their revenues smartly and run their operations more efficiently.
In a highly competitive marketplace, airlines have to continue to create the best passenger experience they can. Having the latest, state-of-the-art technology available to the flying public gives an airline the ability to tailor passengers' experiences with live broadcast TV, WiFi access for laptops and PDAs, as well as the use of mobile phones.
Lufthansa is our eXConnect launch customer. The re-launch of their FlyNet system makes Lufthansa the first overseas leader in in-flight connectivity. When installed, its intercontinental fleet will be the largest Internet-enabled fleet in the world with about 30,000 users per month. Their CEO, Wolfgang Mayrhuber, says he wants to offer business travelers, in particular, a range of communications options on a par with those available at powerful hotspots or up-market hotels.
Our partnership completes a seamless, standardized communications system for Lufthansa passengers throughout the entire travel chain.