When it comes to smartphones and tablets, we only have to sit down in a café or in an airport departure lounge to realize how indispensable these devices have become in our everyday lives.

Many column inches have been devoted to the unbridled rise of these consumer tech devices, not the least through the current dual between Apple and Samsung for global domination in this highly lucrative market.
Five years ago, consumers' access and use of the latest hardware and software were driven by the PCs and laptops provided by their companies. Users made the most of their hardware primarily in a corporate context, using the same or similar hardware at home.
However the relentless quest by consumers for alwayson connectivity and mobility, and the ability of innovators to cater for these needs in well-marketed and user-friendly devices, has led to a significant shift in terms of user behavior and expectations.
The phenomenon known as "consumerization of IT" has since emerged as a direct result, essentially denoting the increasing use by consumers of personal technology and communications devices in a professional environment.
These changes are happening quickly and are set to continue. According to market analysts
Frost & Sullivan
1
, the
iPhone
became mainstream within 80 percent of Fortune 500 companies in only three years following the product's launch—
Android
devices reached three million business users in less than two years.
Analysts
IDC
2
also conducted research into people who use a mobile device for professional reasons and found that,in Western Europe, the population of mobile workers is due to reach 129.5 million in 2013. The most significant increase in mobile workers is due to occur in Asia-Pacific, where 838.7 million people are expected to use a mobile device by 2015.
Unsurprisingly, this has had a significant effect on the way in which companies manage their IT systems. Such introduces a number of additional challenges for IT departments in terms of security, confidentiality, cost, infrastructure access, and so on.
The shipping industry is certainly no exception. Crew members are, after all, consumers themselves. They have the same desire to stay in contact with friends and familyand keep abreast of the latest news as non-maritime users. Being on board a vessel for several weeks or months, the demand for private communications becomes even higher. Crew increasingly demand access to the tools which will enable them to do satisfy their needs. Their thirst for data is expected to become a competitive differentiator for many shipping companies, conscious that qualified crew members will be attracted by easy access to personal communications (Skype, instant messaging, chat functions, Facebook, etc.).
In the shipping community, it is estimated that 60 to 70 percent of crew use their own personal laptops while away at sea, and 30 percent have smartphones
3
, with growth set to continue. Current trends show that crew are likely to keep their laptops to store personal files, films and music, as well as use a smartphone or a tablet for phone calls, social media,games and multimedia, mirroring the trends among 'land based consumers'.
While there are similarities between maritime and land-based consumers in the nature of adoption, the major difference is how IT managers deal with the issues linked to the use of consumer devices on board ship.
Clearly, when it comes to communications at sea, a satellite link is never far from the equation, and this has a fundamental impact on the way that an IT manager provides access to those devices.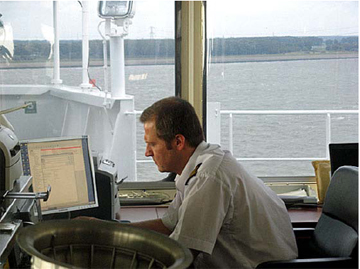 What is currently being seen, through the phenomenon of consumerization of IT, is an even stronger emphasis on the issues which have always existed when providing crew with access to private communications, notably budget, potentially disrupted business functions, and network security.
For example, an important factor for IT managers is keeping crew comms completely separate from business functions to ensure avoiding congestion of lines and potential 'corruption' of business-critical data through malware. Certain satellite comms providers have developed systems which enable IT managers to dedicate a local area network (LAN) to the crew members, and install a Wi-Fi connection to which they can establish an Internet connection from their smartphones and tablets.
Crew members' behavior with personal devices also hasa major impact, in the sense that these encourage bandwidth-hungry activities such as downloading and streaming, andto a lesser extent, browsing. The burning question for IT managers is how to avoid overrunning the comms budget, bearing in mind that crew are capable of generating ten times more traffic than corporate functions if their access to data apps is unrestricted. A major factor is the choice of satellite service. For example, flat-rate VSAT packages starting around $2,000 per month cover many ships' corporate and crew needs. Such services from Astrium typically provide a connection up to1.5Mbps, with the possibility to upgrade to 2 or 3Mbps at ahigher cost, but with guaranteed throughput speeds.

Shipping companies who invest in VSAT for corporate or business purposes are now understanding the benefits of supplying crew communications with the same equipment, with priority on the ship's business. Ku systems currentlyavailable are ideal for this type of package. The launch of a Ka services in 2013 will provide even more scope, with higher data speeds and all-in-one, flat rate packaging.
Contrary to VSAT, Mobile Satellite Services (MSS) offer a pricing scheme based on the amount of data consumed,so it is most important that IT managers set limits and alerts for business and crew in order to avoid receiving unexpected high data costs. Again, a number of solutions running over MSS systems enable IT managers to do this.Another major issue for IT managers when it comes to crew is additional, time-consuming administration. Given the increasing use of personal devices at sea, the trendsetting satellite communications providers have developed software and solutions to enable crew to administrate private comms themselves, directly from their tablet computer or their smartphone. Once the separate LAN has been set up, crew are free to create their own account and configure settings linked to the amount of data they wish to consume and the subsequent cost.
What is clear from these examples is that the phenomenon that is the consumerization of IT, or the increasing use of personal devices by crew on board, need not present such a challenge for IT managers. Clearly it requires them to deal with a host of dramatically different cost, security and technical issues which previously were not part of their remit. However, recent developments have shown that the forward-thinking SATCOM providers are stepping up to the challenge and working on solutions to help them tackle these head-on.
The thirst for data and related apps and platforms will continue to grow among shipping company staff as it will onland among the rest of the consumer population. With this as a backdrop, the best ships systems will be run by IT managers who simplify the management of satellite communications and, even better, place the responsibility for crew comms with the crew themselves.
For further information...
http://astriumservices.com/business-communications-maritime/
References
1
Source: Separating Fact from Fiction: Which Enterprise Mobility Solutions Offer Real Value?, Frost & Sullivan, August 2011
2
Source: Worldwide Mobile Worker Population 2009-2013 Forecast, IDC, 2010
3
Source: Astrium Services Business Communications
About the authors
Reinhold Lüppen is Director Solutions, Astrium Services Business Communications. He defines the strategy and is responsible for the development of the company's value-added IT & communications tools and applications. Reinhold has more than 10 years experience in the mobile satellite sector, beginning his career with DeTeSat, the former satellite arm of German national operator Deutsche Telecom.

Patrick Decool is Director New Products, Astrium Services Business Communications, responsible for the strategy and development of new innovations. Patrick has thirteen years' experience in the GSM and satcom communications industry, specifically managing innovation projects.