Mr. Israel Adan joined Orbit in April 2009, bringing with him more than 25 years of global telecommunications experience. Prior to joining Orbit, Mr. Adan served as President and CEO of Orbit/FR, Inc., a U.S. public company and producer of sophisticated, automated microwave test and measurement systems for the aerospace, defense, wireless communication, automotive and satellite industries.

Prior to joining Orbit/FR, Mr. Adan co-founded and served as a Senior Vice President, Business Development, at SigmaOne Communications Corp., where he was responsible for the worldwide development of wireless location technologies and services. Mr. Adan also served as President of Tadiran Inc. (USA), a public (NYSE) US$1 billion telecommunications equipment and systems company. In addition, Mr. Adan served as Chairman and Director of several Tadiran USA subsidiaries. Previously, he held the rank of Lt. Colonel in the Israeli Signal Corps and was Head of R&D in the fields of advanced telecommunications and signal processing.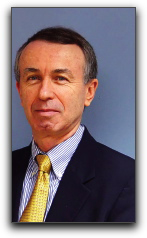 SatMagazine (SM)
2010 is here — Mr. Adan, please tell our readers about Orbit Technology Group's plans for this year with respect to the SATCOM market, especially in respect to the marine market.
Israel Adan
Orbit continues to strive for improved performance in 2010. In particular, we will focus on significant improvements to our customer service and user experience. We intend to make meaningful changes that include sustainable profitable growth through improved customer experience. At Orbit, we are fully aware that our customers are our major asset. We believe the ability to sustain and expand our client base depends, to a great degree, on our customer's overall "experience". With this in mind, our major thrust for 2010 is to focus on substantial enhancement of our customer service.
This year, particular attention will be paid to every stage of the customer experience; from initial contact, to the pre-sale cycle, delivery, installation, commissioning and follow up of multiyear service, right through to the day that the customer decides to decommission the solution due to system age and/or the firm's changing needs.
Enhancement of worldwide service centers via the establishment of
ASC
's (Advanced Service Centers). Orbit's ASC's are designed to raise overall customer satisfaction and the general Orbit customer experience. The ASC's will draw on the company's existing strong relationships with both partner and dealer companies strategically located in Europe, the US and Singapore. Orbit's ASC's will also provide a wide range of improved services including: expanded service and support, extensive employee training, 24/7 service, improved spare parts availability as well as the deployment of additional technicians.
Continued improvement of existing products is another key focus. We plan to expand our existing marine antenna system product range in the Ku-, X- and C-band frequencies. We will focus on the global need for Orbit antennas as well as their superior performance.
Orbit plans to continue its penetration of the US market in 2010 through closer cooperation with our local dealers and expansion of our distributor network throughout the world into key arenas including: Offshore Drilling and Support, Commercial Shipping and the Fishing Industry.
We plan to expand into the Latin American, Asian and African markets. Latin America presents an enormous opportunity for Orbit as we witness continued growth of the Oil and Gas Industry and commercial shipping throughout the region.
SM
Orbit is known for its strict adherence to regulations. Could you please tell us more about the process that Orbit has undergone in the US and why the company attributes such great importance to it?
Israel Adan
In the Mobile SATCOM world, there is a clear "conflict of interest" between market demand for broadband communication using reduced size antennas and regulation requirements to avoid adjacent satellite interferences. The ability to meet satellite regulations while keeping the dimension of the systems as small as possible is the main differentiator between today's existing mobile SATCOM solutions and manufacturers. With a growing amount of marine vessels becoming equipped with VSAT communication equipment daily and the demand for broadband services at sea continuing to increase, more and more satellites are being placed in orbit. As a result, those same satellites are becoming closer in proximity to each other in space within the same geostationary orbit.
The result will be the need for enforcement of Mobile SATCOM Regulations to prevent RF transmissions from compromising the reception quality of neighboring satellites. Soon, no Mobile SATCOM System will be allowed to operate without clear approval from local and regional authorities. Most equipment vendors are already taking regulation requirements into their design considerations.
Orbit leads the market with its type approved 1.15m Ku-band solution; the
OrSat-G
system, which is now approved by
Eutelsat, Intelsat, ST-1
and
Anatel
. In addition, the company proactively cooperates and supports its US customers in both their application and obtainment of FCC approvals for VSAT solutions based on the OrSat-G system.
SM
At the close of 2009, Orbit announced that it is strengthening its position in the US. How is this expressed in the company's marketing strategy?
Israel Adan
Orbit believes in the potential of the American Mobile SATCOM market. Our 2010 marketing plan includes major expansion into the US market. With an existing presence in the US via our fully owned subsidiary Orbit Communication Systems located in both California and Florida, we will enhance our Florida office by strengthening its service and maintenance center and turning it into an activity hub for the Americas.
The Florida office will become the company's main spare parts center in the US for marine SATCOM antenna systems, dramatically improving the availability of spare parts for both North and Latin America. We also plan to invest heavily in training courses for employees and technicians in our US centers, so as to provide the highest level of service possible.
Further supporting our plan to strengthen our US presence in 2010, Orbit has recently recruited Mr.
Bill Thompson
as Director of Sales Marine SATCOM to the Americas. Mr.
Thompson
brings with him over 20 years of experience in the wireless maritime communications industry. He is responsible for the promotion of Orbit's marine satellite communication solutions for commercial shipping, oil and gas industries, and government maritime operations.
In order to better address the US Naval and other governmental market opportunities, Orbit has formed a cooperative agreement with a strong US company specializing in this marketplace. This cooperation will further enhance our US presence and the ability to provide our US customers with relevant solutions, quickly and effectively
SM
Is the US market very different from the ones in Europe and Asia on which Orbit has focused until now? If so, how is this difference manifested?
Israel Adan
In recent years, Orbit has focused its efforts on the European and Asian markets. With the establishment of
Orbit GV
in Europe, the company has watched its European sales grow steadily to reach over 70 percent of our overall worldwide SATCOM sales. Following this achievement, we now turn our attention to North and Latin America, with the aim of applying the same tried and tested model there.
Orbit believes the US market is larger than the European market experience and most certainly larger than the Asian market, which is still nascent. With North America widely recognized as an early adaptor to new technologies, we expect that the rate of adoption of broadband communication at sea, both for business applications and private use by crews, will be the highest in the North American and Western European markets.
With respect to Asian markets, some Asian shipping companies are adopting modern VSAT technologies, but the vast majority is still only in the investigation phase as eastern companies wait to see how solutions are developed, both technologically as well as economically. The Chinese market is also still in the "examination" phase and continues to suffer from various 'price barriers', where customers expect both equipment and services to be lower in price.
SM
How do you see the development of the Marine Satellite Communications field and Orbit's place in it?
Israel Adan
Marine SATCOM is a growing market. Orbit expects to see a gradual return to the previous growth rate of 30 percent per year in 2010. The need for marine broadband will only grow as the number of applications requiring broadband increase and customers continue to realize the benefits and revenues that broadband communication brings.
Orbit estimates that the high price of Inmarsat Service will slowly shift many narrowband Inmarsat users to VSAT, who can then enjoy all the benefits of a broadband link via a fixed monthly rate. We believe that in the near future, the combination of price, speed and bandwidth will favor faster Ku and C Band VSAT services.
SM
Mr. Adan, you have committed a career of more than 25 years to the telecommunications industry. What changes have you experienced that you feel have had the most impact on the industry?
Israel Adan
The most prominent change was the massive migration from wire to wireless communications with respect to cellular and satellite communications. This, in addition to the IP and broadband enabling technologies (smart modems, spread spectrum techniques) has facilitated 'communication on the move' applications. Orbit, with its core technologies such as; tracking stabilized antennas, benefited from those developments.
SM
Where do you see the satellite industry in the U.S. heading in the future? And where, globally speaking?
Israel Adan
We believe that the Marine SATCOM market in the USA is growing and we feel that the most promising sector is the commercial ship market. The American market is a leader in early adoption of new technologies and we expect its adoption of the new broadband technologies offered by Orbit.
SM
Given your experience as an officer in the Israeli Signal Corps., what areas of MILSATCOM do you feel need improvement and how can such be accomplished? Where do you believe growth in the MILSATCOM environs will occur?
Israel Adan
The Military SATCOM market uses mostly Ku- and X-bands for Mobile SATCOM applications; however, these frequencies are suffering from limited geographical coverage and limited bandwidth and thus, it seems natural that in the future we will see more and more Ka band systems used by the military. This will not happen tomorrow but over time, the Military Mobile SATCOM market will evolve there.
As for applications, we note that the required flight range for the UAVs is continuously growing, reaching distances that are well beyond the horizon and thus, will require SATCOM Communication. More and more large UAVs are being designed and deployed, requiring SATCOM Communication for command, control and the relay of critical information and video. Global Military missions also require mission aircraft that use SATCOM Communication for linking back to their home base.
SM
Can you discuss Orbit's technology improvement plan and product innovations? What should we expect to see from your Company during 2010?
You can expect to see continuous efforts to develop products with improved performance which are also lighter, smaller and more cost efficient. These products will have enhanced RF and superior tracking technologies to achieve higher accuracy and better stability. This will allow our products to deliver increased efficiency and higher capacity for broadband applications, leading to the most in demand, high performance products available in the market place.
Israel Adan