Helping Pléiades 1B To Find Its Way
The maturity of Arianespace's Soyuz launch system at French Guiana, and its confirmed role as a full-fledged member of the company's launcher family, were demonstrated once again by the successful orbiting of the Pléiades 1B satellite from the Spaceport.
During a flight lasting 55 minutes, the Soyuz vehicle deployed its 970kg. passenger into a targeted circular orbit of 695km., inclined 98.2 degrees, marking the medium-lift vehicle's fourth mission from French Guiana since its introduction at this near-equatorial launch site in October 2011.
Pléiades 1B is a very-high-resolution dual-use satellite designed to provide optical imaging coverage for French and European defense ministries, institutions and civil users. It joins the twin Pléiades 1A spacecraft that was launched in December 2011 on Arianespace's second Soyuz mission from the Spaceport.
Arianespace Chairman & CEO Jean-Yves Le Gall noted that this launch was the ninth at French Guiana in 2012 for the company's launcher family; following the lightweight Vega's maiden flight in February; medium-lift missions with Soyuz in October and December; along with heavy-lift Ariane 5 flights in March, May, July, August, September and November. Le Gall thanked all involved in these successes, including the teams who work at the Spaceport for such an "impressive" year—during which a total of 23 primary and secondary payloads were placed into orbit from French Guiana.
The Pléiades 1A and 1B satellites launched by Arianespace create an optical observation system with great agility, a quick-response ground segment and daily revisit capability—offering a new generation of "real-world" satellite Earth imagery at a resolution of 70cm.
Both Pléiades spacecraft are based on smaller, less expensive and more agile platforms than their predecessors—the highly-successful Spot satellite series that was lofted by Arianespace on its Ariane family launchers beginning in 1986.
France's CNES space agency is prime contractor and architect for the Pléiades system, which is organized as part of a joint effort with Italy – whose Cosmo-Skymed satellite series delivers radar imaging coverage of the Earth.
Pléiades program participants are the space agencies of France, Austria, Belgium, Spain and Sweden; along with the defense ministries of France, Italy and Spain. The Pléiades 1A and 1B spacecraft were built by EADS' Astrium division. Arianespace will wrap-up its 2012 launch activity at the Spaceport with a year-ending Ariane 5 mission on December 19 to orbit the Mexsat Bicentenario and Skynet 5D satellites.
* * * * * * * * *
Grace In Space + A Major Melding
Astrium has been commissioned to build two new research satellites for NASA's Jet Propulsion Laboratory, Pasadena, California.
The agreement was signed in Friedrichshafen, Germany. For a minimum of five years from August 2017, the Gravity Recovery and Climate Experiment Follow-On (Grace FO) mission will continue the extremely accurate measurement data collection of the first twin Grace satellites, which have been in orbit since March 17, 2002. Astrium's Grace satellites have been making a hugely important contribution to global climate research since 2002.
Based on their observations of changes in the Earth's gravity field over time, geoscientists are gaining new insights into the dynamic processes in the planet's interior, into deep and surface currents in the oceans, and into variations in the extent of ice coverage at the poles, in Greenland and over mountain ranges.
The original Grace mission allowed scientists for the first time to identify which masses of water, ice and solid material are moving; Grace is even able to provide long-term observation of water table levels around the world.
Each of the Grace FO satellites measures approximately 3 x 2 x 0.8 metres and weighs around 580kg. Like their predecessors, they will be placed in a polar orbit at an altitude of some 500 kilometres and follow each other 220km apart.
As they fly, the two satellites constantly and extremely precisely determine the distance between them, which varies under the influence of the Earth's gravity; this fluctuating distance provides the data for continued measurement of our planet's gravity field.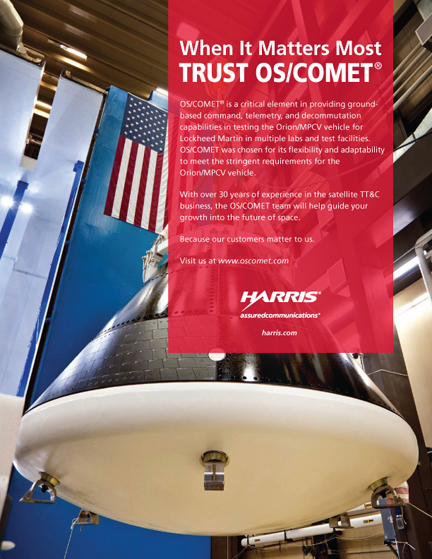 The measurements taken by the Grace FO satellites will be exceptionally accurate as their positions will be minutely ascertained using on-board GPS (Global Positioning System) receivers, while a satellite-to-satellite microwave link will enable the exact distance between them to be calculated to within a few thousandths of a millimetre.
In contrast to the original Grace mission, the distance between the new satellites will also be measured using lasers—a technological experiment in preparation for future generations of gravity-research satellites.
Throughout the five-year mission, these measurements will be used to generate an updated model of the Earth's gravitational field every 30 days. In addition, every day each satellite will create up to 200 profiles of temperature distribution and water vapour content in the atmosphere and ionosphere.
With this new two-satellite contract, Astrium in Friedrichshafen is building on the success of its unique series of small satellites. Numerous important scientific missions, such as Champ, GOCE and Swarm, have been based on Astrium's satellite platform.
The Grace satellites, launched in 2002, have now been successfully carrying out their mission for double their nominal five-year service lifetime. Moreover, they were delivered to NASA on time and on budget.
Astrium Americas, an EADS North America company, has also announced a new subsidiary, Astrium Services Government, Inc.
The new subsidiary will serve the U.S. government's growing need for innovative, new fixed and mobile commercial satellite solutions.
Astrium Services Government, Inc. combines the teams and assets from the former Vizada Americas group and the U.S. satellite services provided by Astrium Services (formally Paradigm Solutions).
"This is a new chapter in our more than 50 year history here in the U.S. of working with the government providing leading edge satellite services wherever they are needed," said Bob Baker, CEO of Astrium Services Government, Inc.. "Today, our mission includes both the mobile satellite service (MSS) offerings for which we are well known, along with the customized fixed satellite services (FSS) upon which we are building our future. We have the market expertise, the innovative service offerings, the contract vehicles and the ability to create customized solutions making us a strong partner for addressing today's U.S. Government needs."
In addition to offering L-band services from providers such as Inmarsat, Iridium and Thuraya, Astrium Services Government, Inc. will provide services from Astrium's SKYNET MilSATCOM X-band and UHF satellites plus C-, Ku- and Ka-Band (commercial and military) from industry leading fixed satellite service providers.
Astrium Services Government, Inc. will also provide supplemental services key to the U.S. government and DoD customers including: Secure Network Operations Center (SNOC), Multiprotocol Label Switching (MPLS) network, Virtual Network Operator (VNO) platforms, remote field support, host nation agreement (HNA) services and The Source
®
, our proprietary web based portal for government end-users and service providers.
Continuing its commitment to providing services through its own world-class network, Astrium Services Government, Inc. owns and operates assets that provide MAC1 capabilities on a global basis.
The company will also continue to offer its standard systems of business support including training, technical support, and integrated billing services and to work closely with our Service Provider Partners to service the needs of this market.
U.S. government customers can procure Astrium Services Government, Inc. services from a range FCSA contract vehicles, listed under Vizada, Inc. including one to provide the U.S. Government with custom satellite communication solutions.
* * * * * * * * *
No Power Cord Needed
SES S.A. announced its participation in the upcoming Artes-33 program "ELECTRA" of the European Space Agency (ESA).
Under the ELECTRA program, SES and ESA will establish a public-private partnership aimed at developing a full-electric propulsion small/medium sized satellite platform manufactured in Europe.
Specifically, the project aims to develop, implement, launch and commercially operate an innovative geostationary satellite platform that utilizes electric propulsion (instead of conventional chemical propulsion) for transfer into geostationary orbit as well as on orbit station keeping.
Thus, the satellite platform can take advantage of smaller launch vehicles or dual launch capabilities, while carrying payload capabilities equivalent to current mid-sized satellites in terms of power consumption and number of active transponders.
ELECTRA is one of the main ESA programs to which the Grand Duchy of Luxembourg has significantly subscribed at the recent ESA Ministerial Conference in Naples.
SES will lead the ELECTRA project and in particular the satellite design definition phase. To this end, SES will work in close cooperation with OHB System AG of Bremen, who will act as the prime contractor to SES.
"ELECTRA perfectly fits into the innovation priorities of SES. Decreasing the total cost of putting a payload into orbit is a key strategic element for the satellite operator community. Electric propulsion is poised to inject increased competitiveness into the satellite industry, an essential element for the sustained development of the satellite-based commercial telecommunications market. SES is pleased to trigger this ELECTRA initiative and to establish a strong relationship with ESA," said Martin Halliwell, SES Chief Technology Officer.
Through the Advanced Research in Telecommunications Systems (ARTES) program, ESA has been supporting the European SATCOM industry since 1975. The term ARTES may not be familiar to the end user of SATCOM; however, industry has called ARTES the key source in Europe for innovation in satellite communications.
ARTES offers different levels of financial aid allowing European industry to take bigger risks in developing new technologies. This secures Europe's place in the worldwide SATCOM market.
But ARTES is more than a funding structure. It also includes the assistance of an experienced team of engineers offering guidance and invaluable advice, ensuring the best product possible will be created on time, and on budget.
This new section of telecom.esa.int will showcase the achievements the European SATCOM industry has experienced with the assistance of the ARTES program. From improvements to the devices used on the satellite itself, to ways signals can be improved and received on the ground, ARTES has played a large part in European SATCOM innovations.
* * * * * * * * *
Retired? Don't Count On It
An experimental GPS receiver, built by Surrey Satellite Technology Limited (SSTL), has successfully achieved a GPS position fix at 23,300km altitude—the first position fix above the GPS constellation on a civilian satellite.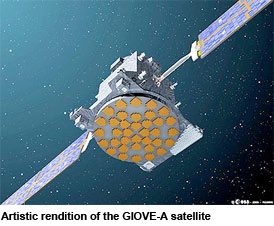 The SGR-GEO receiver is collecting data that could help SSTL to develop a receiver to navigate spacecraft in Geostationary orbit (GEO) or even in deep space. GPS is routinely used on Low Earth Orbit (LEO) satellites to provide the orbital position and offer a source of time to the satellite.
Spacecraft in orbits higher than the 20,000km of the GPS constellation, however, can only receive a few of the signals that "spill over" from the far side of the Earth, meaning that the signals are much weaker and a position fix cannot always be secured.
With the support of the European Space Agency (ESA) and the ARTES 4 program, SSTL included the SGR-GEO receiver on the GIOVE-A satellite to prove that a receiver could achieve a position fix from a higher orbit.
The SGR-GEO is adapted from SSTL's SGR range of receivers and incorporates a high-gain antenna and a precise oven-controlled clock. It will demonstrate special algorithms to allow reception of weak signals and an orbit estimator intended to allow a near continuous position fix throughout orbit.
The experimental GPS receiver onboard GIOVE-A has been inactive for 6 years while the satellite has been used for its primary purpose of transmitting prototype Galileo signals. GIOVE-A's retirement in June 2012 has allowed the commissioning of the experiment and is now providing valuable data to SSTL and ESA in support of the future use of spaceborne GNSS receivers at GEO altitudes.
Engineers at SSTL will continue operations, testing out, tuning and improving the receiver software onboard GIOVE-A to achieve the best possible performance.
* * * * * * * * *
Gaining Even More For Services
Globecomm Systems Inc. has been awarded option year two of a five year contract from a U.S. Government agency that is valued at $6.8 million.
This contract is a combined effort between Globecomm's wholly-owned subsidiaries, Globecomm Services Maryland, Globecomm Europe and Cachendo. Globecomm previously announced approximately $6.0 million in contracts from this US Government agency, bringing the combined contract value to approximately $12.8 million.
Under the terms of the contract, Globecomm will provide In-Country Field Engineers, IT services via its teleport facility, Voice over IP, Satellite television, WAN optimization, program management, operations and maintenance, storage, distribution, and network connectivity.
* * * * * * * * *
Stunning Satellite Views
A broad array of images of our home planet, taken by Earth-observing science satellites, are featured in a new NASA publication.
The book, Earth as Art, is available in hardcover, electronically, and as a free iPad application. The 158-page book celebrates the aesthetic beauty of Earth in the patterns, shapes, colors and textures of the land, oceans, ice and atmosphere.
Images include snow-capped mountain peaks in the Himalayas, Arizona's Painted Desert, the Mississippi River Delta spreading into the Gulf of Mexico, a Saharan dune sea in Algeria, and Byrd Glacier in Antarctica.
Earth as Art features images from the Landsat 5 and 7, Terra, Aqua, and Earth Observing-1 (EO-1) satellites. All are among a fleet of U.S. environmental satellites used for scientific research and applied purposes.
Instruments on these satellites measure light outside of the visible range. The images produced from these data reveal features and patterns not always visible to the naked eye.
The Terra, Aqua, and EO-1 satellites are managed by NASA. Landsat satellites are managed by the U.S. Geological Survey.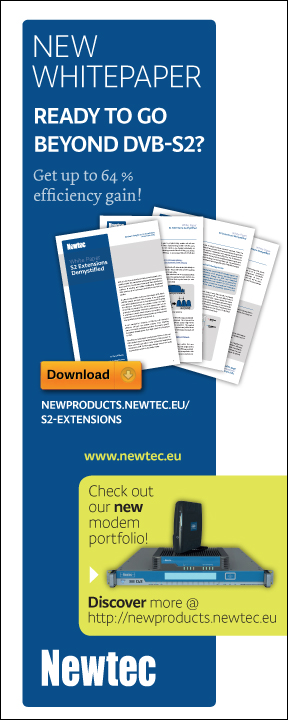 The iPad version of Earth as Art allows users to zoom into the book's 75 satellite images and access additional information on selected features and the satellites used. The app can be downloaded by visiting:
http://www. nasa.gov/apps
.
Earth as Art is available for purchase from the U.S. Government Printing Office online at:
http://bookstore. gpo.gov
.
A free ebook version of Earth as Art in PDF format may be downloaded by visiting:
http:// www.nasa.gov/connect/ebooks/ earth_art_detail.html
.
* * * * * * * * *
Celebrating Capacity Cumulation
KVH Industries, Inc. has just completed a major upgrade to the mini-VSAT Broadband network that will provide customers in Europe, the Middle East, and northern Africa (EMEA) with a 60 percent increase in satellite capacity.
The added capacity was provided by consolidating bandwidth covering two separate regions into one powerful unified beam, and by implementing Variable Coding, Spreading, and Modulation (VCSM) technology provided by ViaSat, Inc., KVH's partner in the mini-VSAT Broadband network.
"We actively monitor and manage our mini-VSAT Broadband network to ensure we are delivering the speeds and quality of service our customers expect," said Marc Edwards, KVH's director of network operations. "Rapid growth of our customer base, which now includes well over 2,500 systems in the field, resulted in increased utilization of the network during peak periods in the EMEA region. We reconfigured our satellite coverage to more effectively serve this region with a single beam."
VCSM will be introduced throughout the remainder of the mini-VSAT Broadband network in coming months. The KVH mini-VSAT Broadband network uses both C- and Ku-band satellite capacity provided by leading commercial satellite operators including Intelsat, Eutelsat, SES, and SKY Perfect JSAT.
Currently, 14 powerful satellite transponders deliver KVH's Ku-band capacity, which provides one of the broadest coverage areas of any Ku-band network. This year, KVH added three global C-band beams to the mini-VSAT Broadband network, making it the first and currently the only modern maritime VSAT service using a 1m antenna to provide full global coverage outside of the polar regions.
KVH manufactures three onboard antennas for the mini-VSAT Broadband network—the new enterprise-grade TracPhone® V7-IP, the compact TracPhone V3, which is the world's smallest maritime VSAT antenna measuring only 37cm diameter, and the new dual-mode TracPhone V11, which provides coverage of 95 percent of the Earth thanks to its ability to receive C- and Ku-band satellite signals.
The mini-VSAT Broadband service equips vessels with the highest data rates available today, with downloads as fast as 4Mbps and uploads as fast as Mbps, as well as Voice over IP (VoIP) telephone lines with optimized service and prioritization of applications. #
* * * * * * * * *
Works Better Than A Trail Of Breadcrumbs
How can technology that does so much be so small, and receive signals from 24 satellites orbiting Earth?
Tracksticks are tiny GPS location recorders capable of continuously logging their own location histories for extended periods of time.
The Trackstick records its own location, time, date, speed, heading and altitude at preset intervals.
Traveled routes can be viewed directly in Google Earth™ , and includes GPX photo stamping feature for adding favorite photos to maps. Trackstick is a division of Telespial Systems. With more than 1MB of memory, this device can store months of travel information.
The Trackstick is a perfect tool for individuals looking for a way to track anything that moves. and can be used for recording the exact routes taken when hiking, biking or vacationing; record the location of every location traveled; import pictures and other information into Google™ Earth to offer an entirely new perspective of the journey.
How it works: The Trackstick II receives signals from 24 satellites orbiting Earth. With this information, the Trackstick II can precisely calculate its own position anywhere on the planet to within 15 meters.
Where it works: The Trackstick II will work anywhere on Earth. Your exact location and the route traveled can be viewed and played back directly within Google™ Earth. Everything is included and there are no monthly fees. The Trackstick II's applications and features include...
• Seamless integration into Google™ Earth
• GPS tracking / location history recording
• Weatherproof design
• Employee & vehicle monitoring
• Mileage recording & verification
• Public Safety
• Law Enforcement
• Homeland Security
• Jogging, Hiking and Biking
• Photo Tours
• Child / Family Safety
* * * * * * * * *
Just The Ticket For South Sudan
Yahsat, the Abu Dhabi, UAE-based satellite operator, is gearing up to launch its innovative YahClick "broadband everyone" satellite service in South Sudan over the coming months.

The hotly anticipated service is set to provide wide reaching, high performance, satellite broadband Internet to unserved and underserved locations and communities across the country.
Yahsat selected local based Internet Service Provider RCS-Communication as their Service Partner for South Sudan based on RCS-Communication's in-country experience, proven track record of delivering new and innovative services and a common focus to bring faster and more affordable Internet connectivity to a wide range of users.
Commenting on the upcoming launch, Tareq Abdul Raheem Al Hosani, Yahsat CEO, said, "As the world's youngest country, South Sudan is facing multiple infrastructure building priorities. YahClick brings Internet connectivity instantly to the population, irrespective of the state of the local telecommunications infrastructure that is within their reach. Providing much needed Internet connectivity to a new nation presents YahClick with tremendous opportunity as well as pride in helping address at least one of the many requirements of this young country."
Flippie Odendal, RCS-Communication, Republic of South Sudan, Managing Director stated, "YahClick is the first Ka-band satellite Internet service in Africa that offers true broadband speeds at affordable prices. We are proud to bring the service to South Sudan and anticipate a wide interest across the country."
"Based on anticipated growth we will be adding and training VSAT technicians and support staff (with a focus on South Sudanese candidates) to our existing team. Parallel to this process we will be running extensive tests of the new service and processes over the next months to ensure all aspects are working well before the service is made available to clients."
Yahsat believes in providing individuals with a platform to access information no matter their geographical location, thus enabling them, through the power of information to enhance and help change their world in order for them to have a positive economic and societal impact on the world around them.
Al Hosani added, "Our YahClick service aims to bring broadband to everyone and deliver the power of Internet collaboration to individuals and global communities across three continents. We believe it is the right of every individual to have high speed and reliable Internet. Our team is excited about the prospect of helping connect a portion of the world's un-served communities in the Republic of South Sudan and providing them with the tools to aid their own success."