Senior Columnist Chris Forrester examines the problems surrounding OneWeb, not the least of which is the September 10th lawsuit filed against OneWeb and that firm's financial backer, SoftBank, and he examines OneWeb's prospects.
September was a good month/bad month for LEO operator OneWeb. The good news was the firm's technical link up with Iridium. Announced on September 17, the pair signed a Memorandum of Understanding (MoU) at Iridium's client conference at Coronado, California. Iridium and OneWeb are likely to see a bundled/twin-frequency service offering.

The two have yet to determine how the 'partnership' will work; however, combined terminal equipment is one probability. They each use different transmission frequencies (Iridium uses L-band, OneWeb is Ku-band based).
But as good as this relationship is, the September 19 news that Intelsat was suing OneWeb (and its financial backer media giant, SoftBank) for "breach of contract, fraud and conspiracy" — and with Intelsat seeking court-ordered compensation damages, punitive damages as well as demanding an end to OneWeb and SoftBank's "willful breach" of their commercial relationship with Intelsat certainly is not a positive business environment.
The jury will, in time, determine the merits of Intelsat's case — and remember, there has been no counter-argument filed yet — but it is now reasonable to suggest that any attempt by OneWeb to secure significant injections of cash must now be put on hold until this case wraps up and that may take time to adjudicate.
Within the Court filing, Intelsat alleges that SoftBank has been trying to sell its OneWeb stake and had changed its mind as to OneWeb's prospects. The writ also provides details that OneWeb had also changed its mind as to how it would build its business.
The writ specifically alleges that the OneWeb and SoftBank conspired together in stealing confidential information, because — the writ states — SoftBank no longer believed in the OneWeb project and was seeking to protect its previous investment in OneWeb.
The writ — issued via the New York Supreme Court — from Intelsat alleges a "breach of contract, fraud and misrepresentation" and continues to argue "tortuous interference with prospective economic advantage, conversion, trade secret misappropriation and unfair competition action. It arises from an Amended and Restated Strategic Cooperation Agreement, entered into as of October 27, 2016 (the "Amended SCA"), by and between the Plaintiff on the one hand and the two Defendants on the other hand," states the action.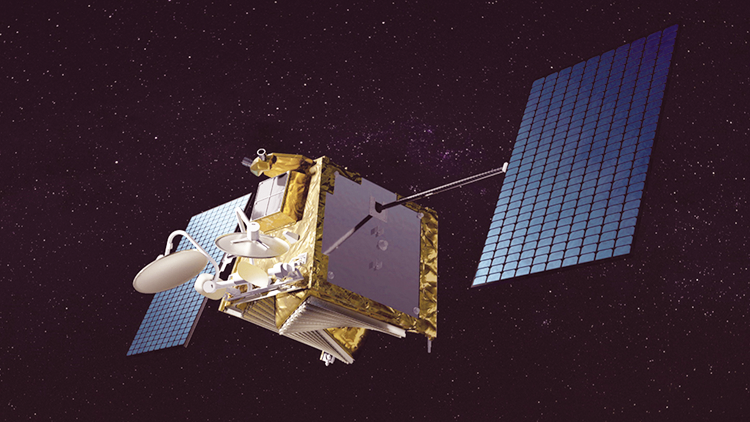 The 33 page writ explained to the Court that by 2015 Intelsat had decided to "augment" its geostationary and terrestrial existing services to include LEO capacity. Intelsat said the company focused its efforts on exploring an agreement with OneWeb.
OneWeb's first funding round raised $500 million from Virgin, Qualcomm, Airbus, Coca Cola, Intelsat, Echostar, Grupo Salinas, Bharti and Hughes — Intelsat invested $25 million. However, Intelsat's investment was contingent on achieving a commercial agreement that reflected access to OneWeb capacity deigned to serve Intelsat's core market verticals. Other OneWeb investors also executed commercial arrangements with OneWeb that were mutually beneficial.
A Strategic Cooperation Agreement (SCA) was signed on December 14, 2015, between Intelsat and OneWeb, and which saw Intelsat agree to buy $100 million of OneWeb services.
The SCA stated "Intelsat shall be the sole and exclusive worldwide and regional distributor of OneWeb Services (including Hybrid Services) to customers in the following four market verticals: [1] all aero mobility services, including without limitation, commercial, business and general aviation services; [2] all maritime mobility services; [3] oil and gas customer services with respect to sales to Harris CapRock, Rignet, Speedcast, Datasat, EMC/MTN, Hermes, Geolink, Panasonic, BT, Telenor and Orange (and any of their respective Affiliates); and [4] all U.S. government capacity sales."
The writ alleges that OneWeb obtained "instant access" to solution providers and an existing sales force and helped to generate capital funding from would-be investors.
In the fall of 2016, OneWeb entered into an investment agreement with SoftBank to acquire about a 40 percent ownership interest in OneWeb. SoftBank invested nearly $1 billion in this equity investment.
"At the same time and in willful breach and derogation of the Initial SCA and the exclusive distribution rights conferred on Intelsat therein, OneWeb entered into a commercial agreement with SoftBank, pursuant to which SoftBank agreed to purchase 100% of OneWeb's satellite capacity (the "SoftBank Capacity Purchase Agreement" or "CPA") through a $4 billion "take or pay" arrangement between SoftBank and OneWeb. OneWeb and SoftBank agreed to the CPA without discussing or clearing it with Intelsat," said the writ.
OneWeb appointed SoftBank as the firm's exclusive global distributor and Intelsat alleges that this was a clear violation of the company's agreement with OneWeb — Intelsat sent a notice of breach to OneWeb on October 26, 2016.
This prompted the former partners to amend the distribution agreements and which gave Intelsat priorities in certain key markets. "Intelsat was permitted to distribute, market and resell such OneWeb services, directly or indirectly, throughout the world, to Intelsat's customers in the Intelsat Exclusive Markets."
This fresh agreement also freed up Intelsat's $100 million commitment to OneWeb and it continued to provide "financial, technical and other support to OneWeb. Intelsat also disclosed, at OneWeb's and SoftBank's behest, proprietary, confidential technical and customer information, including information regarding the four exclusive submarkets," stated the writ.
In February of 2017, the parties were the best of friends and started discussing a merge. They entered into a series of contingent agreements whereby SoftBank would invest up to $1.5 billion in Intelsat and would thereafter combine Intelsat and OneWeb into one satellite provider. However, this proposal fell foul of Intelsat's debt holders and the idea was terminated.
Further discussions continued in late 2017 and early 2018, and during these talks a hybrid suggestion was proposed and term sheets exchanged. "During the course of such negotiations, SoftBank and OneWeb elicited from Intelsat confidential, proprietary and competitively-sensitive information," alleges Intelsat. "Such confidential information included forecasts, business cases, marketing strategies, pricing and capacity requirements."
At no point during these negotiations did SoftBank or OneWeb state that they intended to "go it alone" and these negotiations and discussions continued beyond a March 3,1 2018, 'deadline,' during which Intelsat continued its extensive support of OneWeb. "During the second and third quarter of 2018, SoftBank was actively seeking to sell its investment in OneWeb to other satellite providers and had changed its view of the future business prospects for OneWeb."
By the close of 2018, OneWeb was in financial difficulties, stated Intelsat. "SoftBank no longer desired its global distribution rights and was no longer willing to abide by its $4 Billion Take-or-Pay Commitment with respect to OneWeb's satellite capacity. Intelsat expressed a willingness to invest another $20 million in OneWeb," states the writ.
By mid-February of 2019, Intelsat learned that further discussions about a broader commercial arrangement would no longer be fruitful. "[OneWeb] had decided to abandon its business plan of focusing on consumer broadband, land-based connectivity and underserved geographic markets because OneWeb and/or SoftBank concluded such plan would not yield sufficient revenues and was not viable in the long term."
On July 11 of 2019, OneWeb sent a 'cease and desist' letter to Intelsat demanding that Intelsat refrain from representing to distributors it had any exclusive rights to OneWeb's satellite capacity.
Intelsat alleges that for many months ahead of this July date, OneWeb had deliberately held discussions with several distributors and customers in the Intelsat Exclusive Markets. "As a result, OneWeb has deprived Intelsat of the exclusive distribution rights it is entitled to."
Intelsat alleges that OneWeb and SoftBank conspired to use Intelsat's confidential and proprietary information. Intelsat adds that the defendants intentionally and knowingly participated in the covert conspiratorial plan to deprive Plaintiff of its confidential, proprietary, competitively-sensitive information.
Intelsat alleges that OneWeb and SoftBank intentionally mounted a willful breach of contract, committed fraud and misrepresentation as well as misappropriation of trade secrets, and that SoftBank has aided and abetted OneWeb. Intelsat is demanding a jury trial, as well as compensatory damages, punitive damages, and so on. OneWeb/SoftBank has 20 days to respond from Sept 10 — there has been no response from OneWeb at the time of writing.
A note from investment bank Exane/BNPP, issued on September 20 states, "While these are the allegations of a Plaintiff and have hence to be taken with a pinch of salt, Intelsat's claims underpin our view that OneWeb's business case is highly debatable. With this law suit in the public domain, securing additional funding required to complete the OneWeb constellation is likely to become even more difficult. One man's loss is another man's gain. GEO incumbents future may brighten up a bit."
Senior Columnist Chris Forrester is a well-known broadcasting journalist and industry consultant. He reports on all aspects of broadcasting with special emphasis on content, the business of television and emerging applications. He founded Rapid TV News and has edited Interspace and its successor Inside Satellite TV since 1996. He also files for Advanced-Television.com.
---