Harris Imager Captures First Himawari-9 Satellite Image
The Japan Meteorological Agency (JMA) has released the first images captured by Harris Corporation's Advanced Himawari Imager (AHI) onboard Himawari-9, Japan's newest weather satellite—the imager captured detailed clouds over Japan and the Pacific Ocean.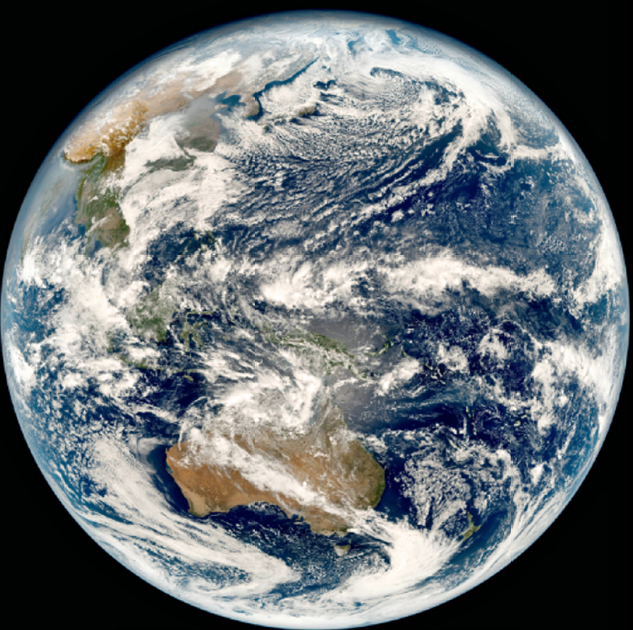 The Harris-built AHI significantly improves the quality, speed and accuracy of information provided to meteorologists with its higher resolution, 11 additional spectral bands and more rapid scans than older imagers.
The AHI captures images of Japan 12 times faster and the full Earth three times faster than older systems. These features generate many more weather products and much improved video capability compared with older imagers.
Himawari-9 was built by Mitsubishi Electric Corporation and launched November 2, 2016.
The AHI leverages similar technology used for the Harris-built Advanced Baseline Imager onboard the Geostationary Operational Environmental Satellite-16 (GOES-16) weather satellite, launched November 19, 2016, by NASA and the US National Oceanic and Atmospheric Administration.
According to Eric Webster, the Vice President and General Manager, Harris Environmental Solutions, Himawari-8 has been very helpful in providing greater detail and predicting the paths of several typhoons in the Pacific Ocean.
These innovative Harris imagers also benefit airlines by distinguishing between smoke, sand/dust and volcanic ash, which can interfere with flight operations.
harris.com
---
SES Makes Waves, Goals and Designs on HDTV
SES S.A. is supporting Luxembourg's initiatives in the domain of maritime business by participating in the Salon Euromaritime, as part of the Luxembourg Maritime Cluster.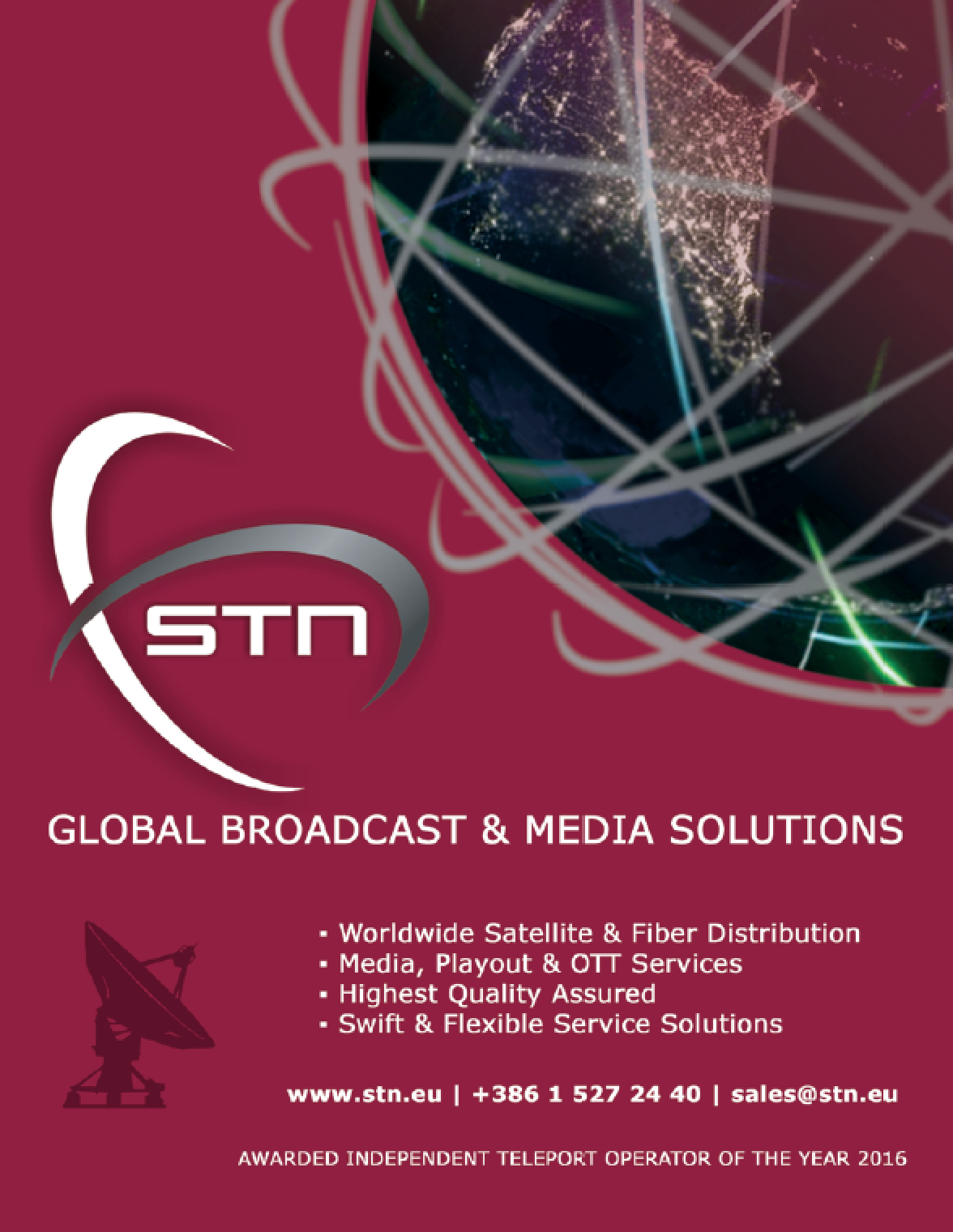 Luxembourg's pavilion — organized by the Luxembourg Maritime Administration and the Luxembourg Maritime Cluster, with assistance of the Luxembourg Chamber of Commerce and the Ministry for Sustainable Development and Infrastructure — includes 11 participant companies from the Grand Duchy, all serving the maritime sector. SES will present its maritime connectivity solutions at Luxembourg's pavilion.
Through the leveraging of SES's global satellite fleet, upcoming High Throughput Satellite (HTS) capacity and extensive ground infrastructure, SES helps to meet the growing demand for maritime connectivity across a wide range of sectors, enabling the company's customers to provide access to entertainment for crew welfare and enhance operational efficiencies. SES also recently introduced their new Maritime+ offering.
Designed for service providers, Maritime+ is a fast and simple way to bring connectivity to any vessel, anywhere, in a truly customizable way, and technology advancements adopted by SES allow these satellite connectivity solutions to be cost-effective.
SES also announced that MXI, the firm's wholly-owned subsidiary, is providing the Israel Premier Football League (IPFL) with its end-to-end MX1 360 service for the live editing of sports content.
MX1 360 is providing the IPFL with a sophisticated, yet simple-to-use, cloud-based media asset management solution, with fast turnaround for live highlights production of multiple weekend games.
All content, highlights and metadata are archived and can be repurposed at a later point to enable additional monetization opportunities. This makes it easy for the IPFL to deliver high-level highlights of its football matches with data and statistical information, which increases viewer engagement.
Gil Halevi, Head of Digital at IPFL, stated that MX1 360 gives the company full control over sports content, in real time, allowing the firm to manage our broadcast partners and their access to the different content that MX1 produces quickly and effortlessly.
According to Elad Manishviz, the CMO and CBO of sports and events at MX1, with MX1 360, the IPFL is well-equipped to provide highlights of multiple games, on-the-go, for delivery over traditional broadcast or OTT networks.
mx1.com
---
Gilat's VSATs to Provide Internet to Tricolor TV and Eutelsat Nets
A two-way Internet access service has been launched as the result of Tricolor TV, a Russian Direct-to-Home (DTH) satellite TV provider and Eutelsat Networks satellite Internet operator.
This two-way Internet access service has been launched with broadband consumer VSATs from Gilat Satellite Networks Ltd. whose residential terminal kits are sold and serviced by NoLimit Electronics (NLE) a distributors of electronic and related products in Russia.
The two-way "satellite Internet" service was launched in September 2016, and provides consumer and professional subscribers Internet access with speeds of up to 40 Mbps downstream and 12 Mbps upstream.
In order to connect to the service, it requires the installation of receiving equipment, Gilat's Gemini broadband VSAT terminal, which can be self-installed and supports automatic service activation.
Later this year, NLE is planning to offer Gilat's Scorpio VSAT, an innovative VSAT-in-a-Box, all outdoor solution, which further simplifies self-install, maintenance and easy roof mounting.
Satellite capacity is provided by Eutelsat's Express AMU1/EUTELSAT 36C high throughput satellite, which delivers continuous coverage throughout Western Russia. The Eutelsat service is enabled by Gilat's scalable multi-application X-Architecture for SkyEdge II-c.
Alexey Karpov, Director of Sales and Subscriber Service at Tricolor TV said, "Satellite Internet' services is a modern, technological product that provides subscribers with access to high speed Internet even in regions where the use of alternative access methods to the network are difficult. By working together with Eutelsat Networks, and with Gilat's broadband consumer VSATs, we can offer Russian customers high-quality and affordable broadband access to the Internet."
Alexander Klimov, General Manager Russia at Gilat, added, "We commend Tricolor TV on the commercial launch of their groundbreaking two-way broadband service for the consumer market. We are proud to be part of this endeavor and look forward to continued close cooperation with our partners at Eutelsat and NLE in the growing Russian communications market."
gilat.com/
---
Intelsat EpicNG To Improve B'band for Europe and Africa
Intelsat S.A. and Quantis Global have signed an agreement to enhance and expand the Quantis network using services provided by Intelsat EpicNG HTS and IntelsatOne Flex services, bringing higher performing broadband services across Europe and North Africa.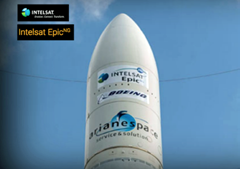 Quantis, part of Eurona Wireless Telecom SA (MAB: EWT), will incorporate services from two Intelsat EpicNG satellites—Intelsat 33e and Intelsat 37e—and use Intelsat's managed services offering, IntelsatOne Flex for Enterprise, which delivers high-quality, global, enterprise-grade, wholesale Mbps service.
The network leverages Intelsat teleports and will serve NGOs, enterprise, embassies, the O&G sector, and maritime customers in Europe, the Middle East and Africa.
Intelsat launched the first two satellites in the Intelsat EpicNG platform in 2016.
Intelsat 29e serves the Americas, and Intelsat 33e began operations over Europe, the Middle East, Africa and Asia on January 29th. Intelsat 37e is scheduled to begin service in 2018.
The flexibility of Intelsat EpicNG's open architecture and backward-compatible design enables service providers like Quantis to seamlessly transition to Intelsat EpicNG and
immediately realize efficiency improvements, a signature of this high-throughput platform.
Aquilino Antuña, CEO of Quantis, affirmed that his firm added high-throughput services in order to meet the growing needs of their existing customers, as well as to position the company for new, revenue-generating services that require higher throughput HTS.
After reviewing many options, it was clear that Intelsat EpicNG and IntelsatOne Flex for Enterprise offered the best path to immediately deliver more bandwidth and cost-efficient commercial solutions to Quantis' blue-chip corporate, NGO and maritime customers.

The global footprint of the Intelsat solution also means the company will be able to support their growth strategies in the countries where they currently operate as well as quickly respond to new market opportunities anywhere in the world.
Jean-Philippe Gillet, Intelsat's Vice President, Europe, Middle East and Africa, added that this managed service accelerates time to market and allows service providers to be more responsive to end users all the while expanding their network with a robust and easily scalable broadband infrastructure.
Additional Intelsat EpicNG: intelsat.com/global-network/satellites/epicng/
Additional information regarding IntelsatOne Flex for Enterprise: intelsat.com/intelsatone-flex/enterprise/
quantis-global.com/
---
NASA's New Horizon Getting its Burn On
NASA's New Horizons spacecraft completed a short propulsive maneuver to refine its track toward a New Year's Day 2019 flyby of 2014 MU69, a Kuiper Belt object (KBO) some four billion miles (6.4 billion kilometers) from Earth.
Telemetry confirming that the engine burn went as planned reached the New Horizons mission operations center at the Johns Hopkins Applied Physics Laboratory (APL) in Laurel, Maryland, via NASA's Deep Space Network stations in Goldstone, California and Canberra, Australia.
The radio signals carrying the data traveled over 3.5 billion miles (5.6 billion kilometers) and took more than five hours to reach Earth at the speed of light.
Operating by timed commands stored on its computer, New Horizons fired its thrusters for just 44 seconds, adjusting its velocity by about 44 centimeters per second, or a little less than one mile per hour.
It was the first trajectory maneuver since the team conducted a set of four maneuvers in the fall of 2015 that put the spacecraft on a course for its rendezvous with MU69 on January 1, 2019.
"One mile per hour may not sound like much," said mission Principal Investigator Alan Stern, of the Southwest Research Institute in Boulder, Colorado, "but over the next 23 months, as we approach MU69, that maneuver will add up to an aim point refinement of almost six thousand miles (10,000 kilometers)."
New Horizons Mission Design Lead Yanping Guo, of APL, said Wednesday's burn adjusts for what the team has learned since 2015 from new Hubble Space Telescope measurements of MU69's orbit, as well as the spacecraft's own location.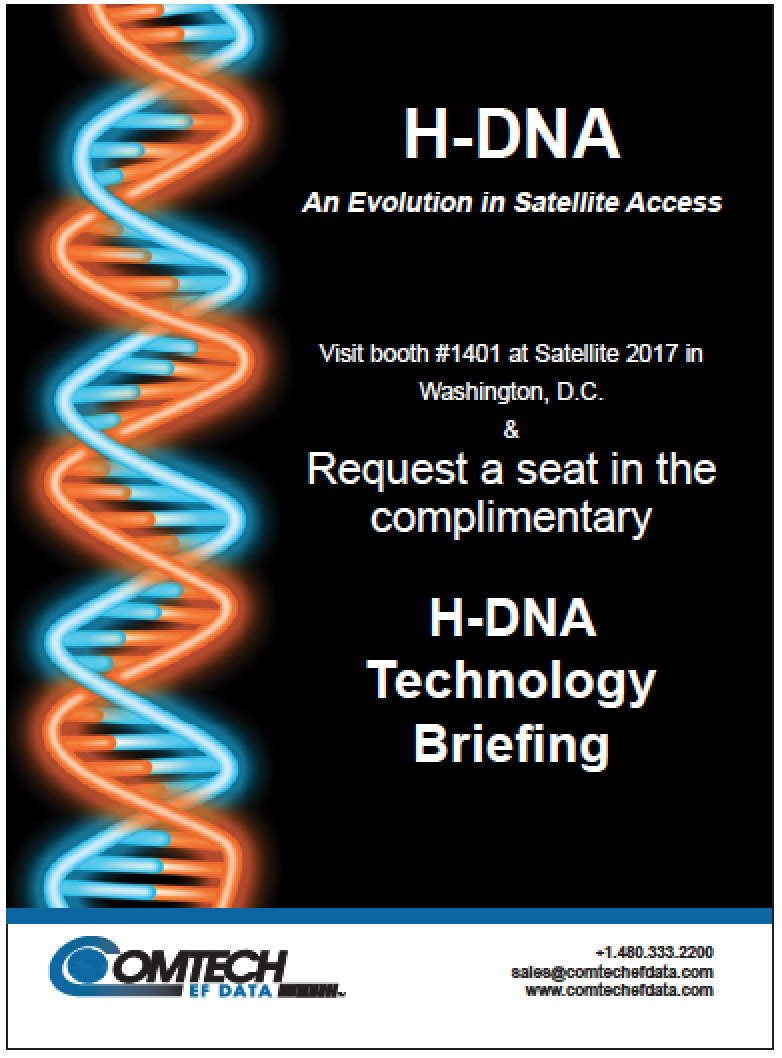 After the burn the spacecraft transitioned out of a so-called "three-axis stabilized mode," the operating mode that allowed New Horizons to make new telescopic observations of six KBOs over the following week.
These science observations will reveal new information on the shapes, surface properties and satellite systems of these objects, in ways that can't be done from Earth. Images from these studies will be transmitted to Earth in the coming weeks.
nasa.gov/mission_pages/newhorizons/main/index.html
---
Record for Live Event Telecasts
Global Eagle Entertainment Inc. set a record in 2016 for the number of hours of live event telecasts to cruise ship passengers around the world on its MTN-TV Special Events Channel.
Exceeding its prior record by more than 400 hours, MTN-TV delivered nearly 700 events and 2,627 hours of live televised sports, entertainment and specials in 2016. MTN-TV is currently available on 27 cruise lines and more than 135 ships.
The expanded special events coverage is part of an overall strategy to increase program offerings on MTN-TV.
In addition to increasing the number of programs on the Special Events Channel, Global Eagle is launching up to 20 new MTN-TV channels this year, including emerging market content from China and Australia.
It also has acquired rights to more than 10,000 hours of international sporting events, including live telecasts from the International Cricket Council, Lagardère Sports and Premiership Rugby.
In addition to special event programming, cruise lines have used the Special Events Channel for their own projects, such as broadcasting live a christening ceremony of a new ship to other vessels in their fleet.
MTN-TV general manager Bill Witiak indicated that as the international demographics of cruise line guests have changed over the past few years, so has his firm's programming.
The MTN-TV Special Events Channel now offers a bigger, more globally diverse mix of live entertainment award shows, international sporting events and even live opera—when on a cruise, passengers don't want to miss your favorite sports team or other events coverage and should expect the same quality of experience at sea that you get in their homes.
geemedia.com
---
On-Demand LEO Constellation
Until now communications with Low Earth Orbit (LEO) satellites has only been available when the satellite is within sight of an Earth station, making this limited connectivity available only on a rigid time schedule based on the particular LEO satellite's orbit, and the geographic placement of the Earth stations.
Addvalue Innovation Pte Ltd ("Addvalue") and Inmarsat have signed a Memorandum of Understanding (MoU) to offer a data relay service to meet the communications needs of the Low Earth Orbit (LEO) satellite market.
The new service is designed to address this issue, and will be based on Addvalue's Inter-Satellite Data Relay System ("IDRS") terminal and Inmarsat's Geosynchronous Earth Orbit (GEO) I-4 satellite-based Broadband Global Area Network (BGAN) network.
The agreement will be finalized soon, as the real-time links will enhance the operational efficiency of LEO satellites. Under the proposed agreement, Addvalue and Inmarsat will take the IDRS service to market, providing commercial, on-demand, 24/7 two-way IP-based data services for in-orbit LEO satellite missions. Addvalue's IDRS is an innovative new service that addresses a long standing constraint confronting the operation of LEO satellites.
Currently there are 12 satellites in geosynchonous orbit, which means their position appears to be fixed when viewed from the Earth. Satellites are positioned to transmit radio beams in two global configurations, covering the oceans and the major landmasses providing seamless worldwide communications coverage, except in the extreme polar regions.
Dr. Colin Chan Kum Lok, Chairman and CEO of Addvalue, remarked, "Basing this service on Inmarsat's I-4 GEO satellite constellation, which is already in orbit and fully operational, significantly reduces the cost and time to market for IDRS. We are pleased to note that the commercial model we are working on will grant Addvalue exclusive air time distribution rights for the Addvalue IDRS service."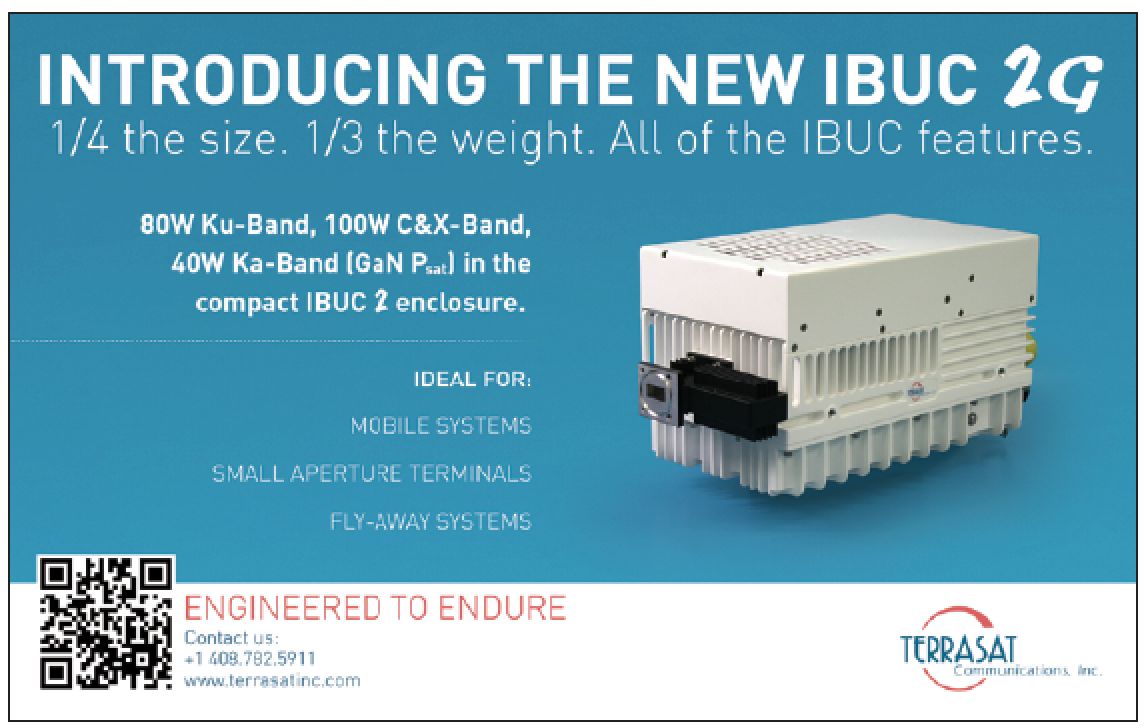 Andy Start, President, Inmarsat Global Government, welcomes the opportunity that this IDRS solution provides for Inmarsat's GEO satellites to help solve a problem that has plagued the LEO satellite industry. "It is very exciting that Addvalue and Inmarsat are able to offer a solution that will enable real-time command and control and data transfer for LEO satellites via our trusted GEO constellation. The successful in-orbit testing has been a ringing endorsement of both the Addvalue IDRS terminal and our satellite constellation. We look forward to working together with our technology partner Addvalue to promote this solution to LEO operators across the globe."
Andy further noted that Inmarsat's US Government unit is similarly looking forward to working with Addvalue on agreements to bring this service to that market.
addvaluetech.com
inmarsat.com
---
WorldView-4 is Up and Capturing
The WorldView-4 satellite, operated by Earth imagery company DigitalGlobe, Inc., has successfully completed on orbit testing and calibration.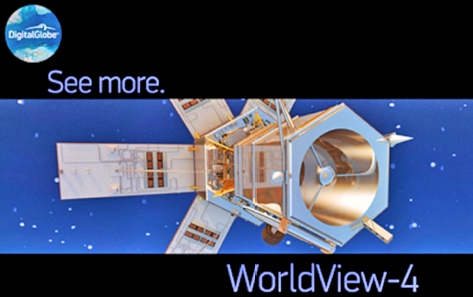 The stellite started to serve the company's first direct access customer on February 1—additional direct access customers will be added to WorldView-4 service throughout 2017.
WorldView-4, launched on November 11, 2016, becomes the fifth active satellite in DigitalGlobe's constellation.
The satellite's performance meets the industry-leading quality standards of the WorldView fleet and joins WorldView-3 as the world's only commercial satellites capable of achieving 30 cm native resolution.
Imagery with this level of detail enables users to reliably read street markings, distinguish between cars, trucks, and vans, and confidently understand activities of significance, as demonstrated by a recent SkyTruth analysis that used WorldView-3 imagery to document the likely transshipment of fish by Southeast Asian vessels in the Indian Ocean.
WorldView-4 tasking and archive orders are expected to be made available to all DigitalGlobe customers in the second half of 2017.
The satellite more than doubles DigitalGlobe's capacity to collect 30 cm imagery, enhancing the company's ability to meet the most demanding commercial use cases, such as complementing aerial imagery collection strategies, and enabling the creation of high-quality, imagery-derived products, such as high-resolution 3D models and near-seamless, country-scale basemaps.
"Meeting our commitment to delivering WorldView-4 access on time for our customers is a tremendous achievement," said Tim Hascall, DigitalGlobe EVP and Chief Operations Officer.
worldview4.digitalglobe.com/
---
Cloud Free Mosaics from MDA Information Systems
MDA Information Systems LLC (MDA), a firm that provides geospatial and advanced information solutions to government and commercial customers, has released their NATURALVUEï½® 2.0 which, according to the company, is the only global, commercially available, cloud-free, seamless mosaic using current imagery.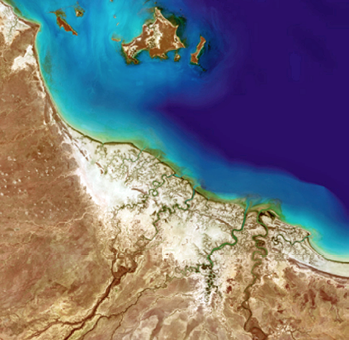 All the land masses of the Earth, except for portions of Antarctica, were acquired with new Landsat 8 imagery, making this the only commercially available up-to-date global mosaic.
NATURALVUEï½® 2.0 is 99.99 percent cloud free, with improved positional accuracy, color fidelity and enhanced spatial resolution.
NATURALVUEï½® 2.0 global coverage provides a seamless basemap for geospatial and web-based mapping applications, military/defense logistics, GIS backdrops, flight simulation, cartographic mapping and 3-D visualization, and GPS tracking.
mdaus.com/products/naturalvue%C2%AE-2002e0
---
Angola's First Satellite Could Launch this Year
José Carvalho da Rocha, the Minister of Telecommunications and Information Technologies for Angola, has stated that his nation's first satellite — Angosat1 — will be launched into orbit during the third quarter of this year.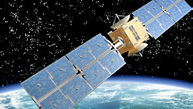 During a visit to the Centre for Satellite Control, located in the municipality of Cacuaco in Luanda, Angola, the minister said that both the satellite and the control center are ready for this first mission, "but the technicians who will receive and decode the signals that Angosat1 will emit are currently in training."
The Director of the Satellite Control Centre, Mário João, said 45 technicians who will take control of Angosat1 satellite are undergoing training, particularly in the areas of planning, analysis and supervisory shifts.
With Angosat1 in orbit, said Rocha, rather than acquiring bandwidth from regional satellites, his nation will be able to do so from the Angolan satellite, "with payment in local currency."
Cited by the Angolan news agency Angop, the minister recalled that the lifetime of a satellite is about 15 years.
However, prior to the demise of Angosat1, another new satellite will be commissioned.
Angosat1 will be Angola's first communications satellite and the spacecraft was ordered from a Russian consortium that includes RSC (Rocket Space Corporation) Energia, Telecom-Projecto 5 and Rosoboronexport, which heads the group.
Article source: macauhub
---
The Stars are Bright in Africa
Several African students have won the DStv Eutelsat Star Awards.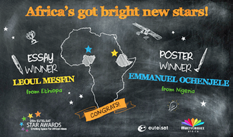 The awards were presented by Eutelsat in Nigeria where some very bright minds were revealed—students throughout this area of the world are eagerly studying space technology to enter this pan-African competition.
This is the sixth edition of DStv Eutelsat Star Awards that encourages young African students aged 14 to 19 to explore innovative thinking in science and space technology.
The enthusiasm continues to increase and this sixth edition shows sustained interest and attracted more than 1,000 entries from 20 countries.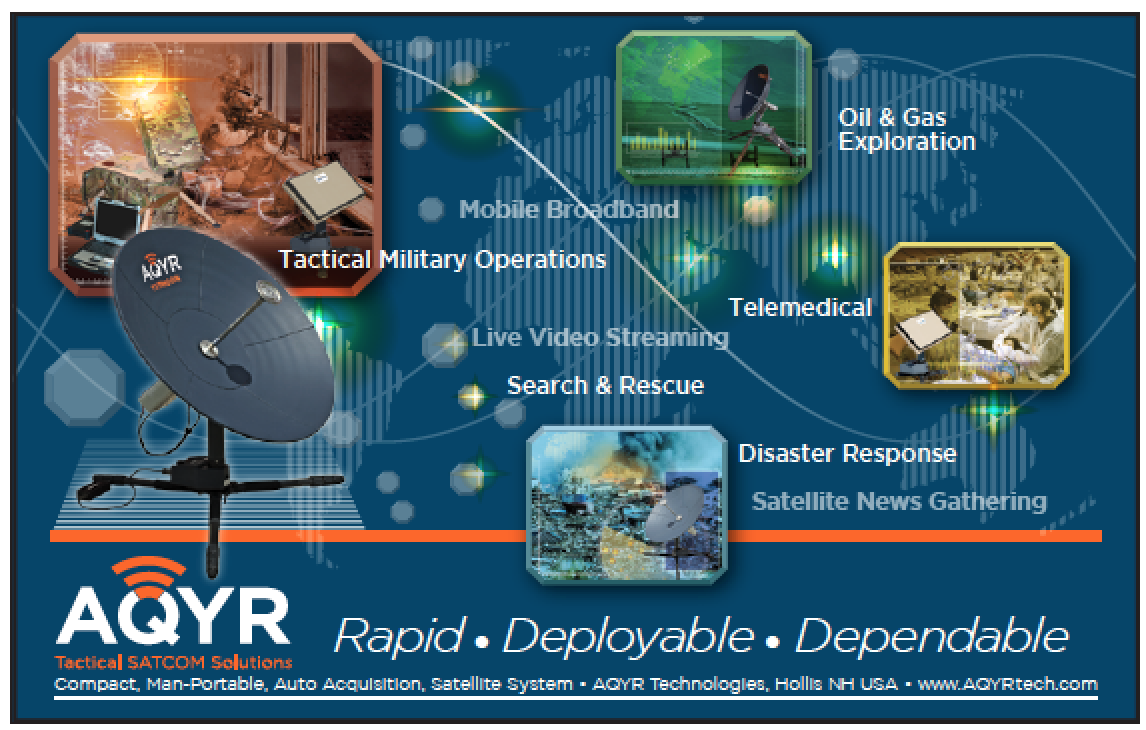 Levels of accuracy, creativity and originality were judged to be higher than ever before for this contest, in both the essay and poster categories.
Entrants to the essay category were inspired to envision the role played by satellite technology in Africa's future.
Essay Winner—Leoul Mesfin from Ethiopia, judges were impressed with his analysis of continental and country specific needs and for closely developing the topic. He wins a trip to Paris and a launch site to witness a rocket launch a satellite into orbit.
Essay Runner-Up—Davids Bwana from Tanzania
Poster Winner—Emmanuel Ochenjele from Nigeria, for his depiction of a constellation of diverse satellites all contributing towards the advancement of solutions to challenges such as global warming, conservation of biodiversity and stable energy supply. His award is a visit to Eutelsat in Paris and a satellite factory to see how satellites operate.
Poster Runner-up—Aobakwe Letamo from Botswana.
The four winning schools attended by the award winners and runners-up were also rewarded with a DStv installation, including dish, TV set, PVR decoder, as well as free access to the DStv Education Bouquet.
The winners were announced in the presence of the Hon. Permanent Secretary, his Excellency Sunny Echono, representing the Minister of Communication Technology. The next edition will open for entries later this year.
dstvstarawards.com
---
New Chief Strategy Officer at Thaicom
Thaicom Public Company Limited announces a new appointment of satellite industry veteran Dr. Supoj Chinveeraphan as its Chief Strategy Officer (CSO). Plans are to grow Thaicom as an Asian brand, inclusive of marketplace strategy, market positioning, partnerships, and operations.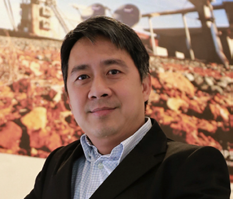 Supoj Chinveeraphan recently joined Thaicom after holding a number of high-ranking positions within the telecommunications industry, including the role of Director and General Manager of IPSTAR Australia and New Zealand from 2009 to 2015.
With more than 20 years of professional experience in operations, sales, marketing and business development, Dr. Chinveeraphan has an impressive track record of leading companies to increased productivity and developing satellite services for the telecommunications industry.
Paiboon Panuwattanawong, CEO Thaicom, commented on Dr. Chinveeraphan's appointment, "Dr. Chinveeraphan combines a wealth of experience in all areas of the satellite industry. As Thaicom continues to expand, Dr. Chinveeraphan's business savvy and industry experience driving business and brand strategy will only accelerate our momentum. He will help us push new strategic initiatives and pursue new business development opportunities. I am certain Dr. Chinveeraphan will be a great asset for Thaicom to stay ahead of the curve."
"I look forward to steering Thaicom's growth agenda and helping bring strategic initiatives to fruition," said Dr. Chinveeraphan. "The satellite industry is on the verge of change and so we have to develop our business and operations expertly to stay competitive. I could not be more excited to head Thaicom's strategic direction at this time as we aim to pursue new business development opportunities across Thaicom's markets," said the company's new CSO.
Dr. Supoj Chinveeraphan holds a Bachelor degree in Engineering from Chulalongkorn University, Thailand, and a Masters degree from Tokyo Institute of Technology ,where he also earned his PhD at the Department of Intelligence Science.
thaicom.net/en
---
Metered Maritime VSAT from Globecomm
With the focus of increased efficiency and flexibility for the maritime communications market, Globecomm is providing metered plans for its clients.
To create a truly customized plan, in addition to the typical 5GB core bundle for the ship's main business, customers can have one plan while the crew can access a separate bundle over a dedicated LAN, or use the VSAT service on a pay-as-you-go basis.
Because the data that each user group consumes is visible separately, management can keep costs and accounting separate for these groups and identify costs for additional services with split billing and exact allocation.
Globecomm Maritime has built this serivce so that the crew can access a separate bundle over a dedicated LAN or use the VOIP services are also provided OTT as standard with separate bandwidth for two simultaneous voice calls, so the bandwidth used for voice calling is not counted against the ship's core bundle.
A further OTT LAN could be established to provide automated M2M devices and services such as ECDIS updates or engine performance monitoring.
If users find they need additional bandwidth, this can quickly be added to any chosen network using Globecomm's fully-managed global VSAT network, based on iDirect Evolution hub modem technology.
Globecomm Maritime has introduced metered VSAT plans that include a range of data bundles as well as two Voice over IP (VoIP) lines, a Nimbus Smartbox and the option for Over-The-Top (OTT) provisioning of additional services.
Globecomm's metered plans include the Nimbus Smartbox service, with entry plans starting at 5GB for $595 per month giving access to the global coverage area. Users subscribing to these plans will be able to burst data up to 3Mbps of bandwidth as a download speed.
http://globecomm.com
---