Globalstar Europe Satellite Services + FindMyAnimal Have Wandering Cow Solution
Globalstar Europe Satellite Services Ltd., a wholly owned subsidiary of Globalstar Inc., are supporting their Value Added Re-seller, FindMyAnimal.
At the Global Forum for Innovations in Agriculture (GFIA), Abu Dhabi, held from March 9-10, the company demo'd their innovative animal tracking devices. These solutions are enabled via Globalstar's low-powered STX-3 Chipset and LEO Simplex network.
Globalstar and FindMyAnimal will exhibit a variety of solutions for the farming community as they explore new ways of using satellite technology to promote sustainability and business efficiencies.
One of the highlights at the show will be FindMyAnimal's satellite tracking animal collar, which are already being used to track more than 12,000 valuable sheep and cattle in Norway, monitor cattle in Brazil and endangered species in North Africa.
FindMyAnimal's collar uses Globalstar's satellite network to geo-fence livestock, helping farmers find animals that are close to the edge of a designated area or have escaped. It also gives farmers the opportunity to take a more informed and proactive approach to herding so that they lose fewer animals to predators.
When it is apparent that a sheep has not moved in some time, the farmer is now able to send herders to the exact location of the animal, saving valuable time and resources.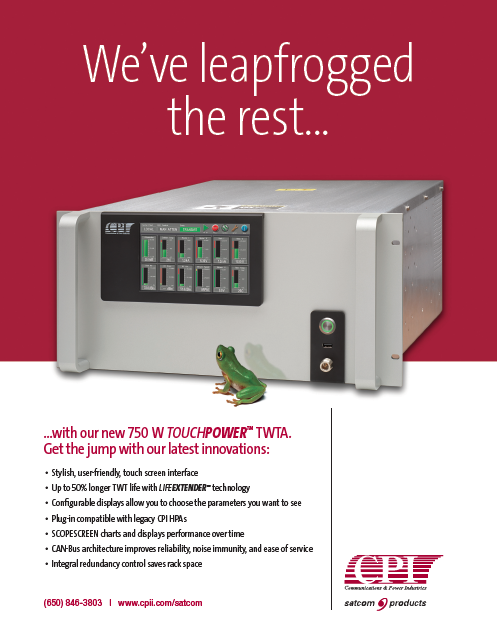 Farmers deploying the collars have already experienced a significant reduction in the number of animals lost to illness or predators, which has a direct impact on their income.
Over time, the FindMyAnimal system provides a data trail based on tracking and analysis of patterns of where the animals that produced the best quality meat were grazing. The result is invaluable information and insight which can be used to determine the best grazing areas for future seasons.
Globalstar has recently partnered with Broadband Botswana Internet on the launch of a gateway in Gaborone, Botswana, which dramatically increases Globalstar's coverage across sub-Saharan Africa. With the opening up of this new market, Globalstar and its reseller partners are eager to highlight their range of business-enhancing solutions for farming and the agriculture industry in the region.
Solutions well suited for this market also include Globalstar's simplex M2M technology which can, for instance, notify farmers about levels of water and feed supply, potentially saving long journeys to remote locations, and helping livestock stay healthy, however far they roam.
At GFIA, Globalstar will be on hand at the FindMyAnimal stand to demonstrate how their portfolio of products can help keep remote farming employees and assets in contact even when they are beyond reach of the mobile phone network. At GFIA, additional Globalstar demos include:
• SmartOne™: Designed for the intelligent management of powered and non-powered fixed and movable assets, SmartOne is a practical solution for engine runtime reporting and major fault monitoring for portable construction equipment as well as tracking intermediate bulk containers, vehicles and boats.
• STX3™: A low cost, OEM simplex module which sends one-way data messages via the Globalstar Simplex Network when integrated into a tracking or monitoring device. The STX3 is ideal for delivering remote sensing, tracking and monitoring applications.
• SPOT Gen3™: A rugged and affordable satellite communications device providing messaging, one-button emergency contact, and GPS tracking. Since 2007, SPOT products have been used to initiate over 3,500 rescues globally.
• SPOT Trace™: GPS tracking device using satellite technology to track farm vehicles and other valuable equipment.
"There are now many different ways that farmers can use technology to complement their traditional techniques, but without reliable communication links, these can be ineffective. Satellite can be the missing part of the jigsaw to ensure communications are reliable even in the most inhospitable environments. With the upcoming launch of our new Bostswana gateway boosting our presence in Sub-Saharan Africa, there are new opportunities for the farming industry in the region to use satellite communications to better manage its livestock, assets and employees," said Gavan Murphy, Director of Marketing at Globalstar.
The Globalstar infosite: www.globalstar.com/
---
Out & About With 5,000 Shipped By KVH For Their Mini-VSAT Broadband Offering
KVH Industries, Inc. recently shipped its 5,000th TracPhone satellite communications antenna system for the mini-VSAT Broadband network, adding more than 1,000 units in the past year and extending the company's market share lead in maritime VSAT service.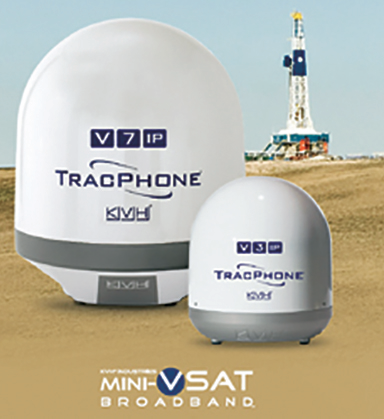 Together, the advanced TracPhone antenna systems and global mini-VSAT Broadband network constitute an end-to-end solution for maritime satellite communications, providing essential connectivity to tankers, containerships, fishing fleets, offshore supply vessels, government patrol cutters, and luxury yachts around the world. In 2012, just five years after being introduced, the mini-VSAT Broadband service became the maritime VSAT market share leader according to leading market research reports, a position that has been repeatedly re-confirmed in report updates.
KVH's advanced TracPhone antenna systems include the TracPhone V11-IP, a 1.1 meter diameter, dual-mode C/Ku-band antenna for global VSAT connectivity; the TracPhone V7-IP, a 60 cm diameter enterprise-grade antenna for Ku-band service worldwide; and the TracPhone V3-IP, a 37 cm diameter Ku-band antenna that is the world's most compact maritime VSAT antenna. All three TracPhone V-IP systems feature the Integrated CommBox Modem (ICM), a streamlined belowdecks unit that replaces the need for a rack full of components and integrates all antenna control, onboard network management, and modem functions in one small box. The compact antenna hardware makes installation faster and less expensive, and gives worldwide fleets the ability to efficiently install the KVH system with minimal idle time for their vessels.
Prior to launching the IP-MobileCast content delivery service last year, KVH developed not only the multicasting technology to make it feasible, but also acquired a company to produce, procure, and license content for the maritime market. KVH Media
Group produces daily digital newspapers under the NEWSlink brand; licenses award-winning new-release Hollywood movies and TV programs under the MOVIElink and TVlink brands; provides sports highlights and video clips from around the world under the SPORTSlink brand; and develops digital music channels under the MUSIClink brand. This content is available via IP-MobileCast subscription packages.
To help fleets operate more efficiently, KVH has collaborated with leading maritime navigation and weather content providers such as Jeppesen, Transas, and AWT to deliver electronic charts and high-resolution weather data via the IP-MobileCast content delivery service.
KVH: http://www.kvh.com/
---
SWOT's This All About? That's For Thales Alenia Space To Answer With New Satellite Build Contract
Thales Alenia Space has been selected by French space agency CNES (Centre National d'Etudes Spatiales) to build the oceanography satellite SWOT (Surface Water and Ocean Topography).
Produced in collaboration with U.S. space agency NASA's Jet Propulsion Laboratory (JPL) on behalf of the French and American space agencies, SWOT is an oceanography program that will demonstrate new applications, and is a follow-on to the Jason-1, 2 and 3 operational missions. It will incorporate unprecedented technological innovations in altimetry.
As the name indicates, the satellite is designed to study ocean topography and surface water on the continents. SWOT comprises both an oceanography and a hydrology mission.
For oceanography, the satellite will provide measurements of ocean surface and wave height with higher resolution than its predecessor Jason satellites. This data will be used to analyze and understand the effects of coastal circulation on marine life, ecosystems, water quality and energy transfers, resulting in more accurate models of the interactions between oceans and the atmosphere.
The hydrology mission will evaluate continental surface water, to study changes in water storage in humid zones, lakes and reservoirs, as well as flow rates in rivers.
Thales Alenia Space will develop a new-generation platform for the SWOT satellite, offering, for the first time, a controlled atmospheric reentry of the satellite at end-of-life, in line with the French Space Operations Act.

The company will also handle satellite assembly, integration and testing (AIT), delivery to the launch center, and operations for the launch campaign.
The SWOT payload comprises two subassemblies, KaRIn and NADIR. Built by JPL, KaRIn (Ka-band Radar INterferometer) comprises two Ka-band antennas, located 10 meters apart but precisely positioned in relation to each other.
SWOT offers two-dimensional observation capability over a 120-kilometer swath, with horizontal resolution of 50-100 meters, programmable on either side.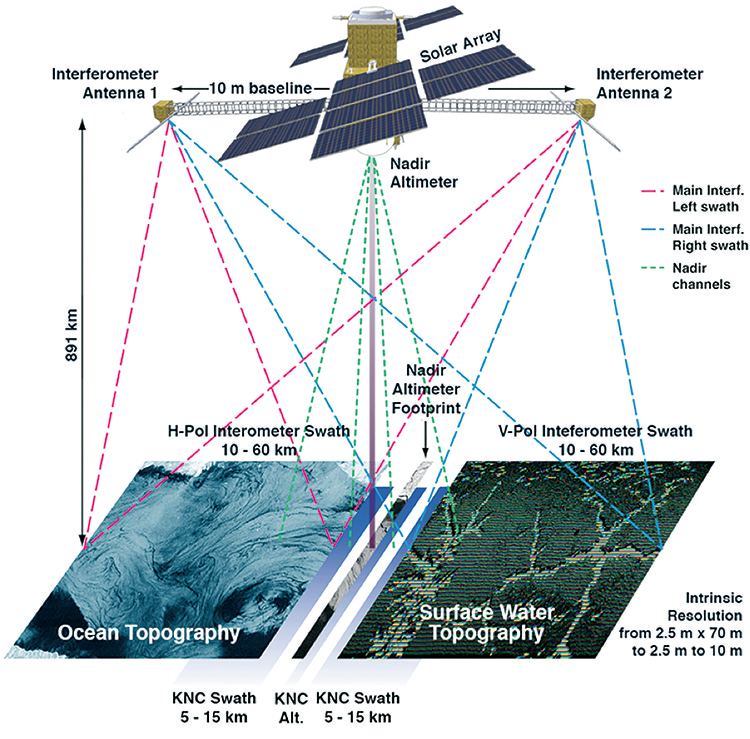 The interferometry type altimeter will provide coverage of lakes, rivers, reservoirs and oceans, at a repeat rate of twice every 21 days. Thales Alenia Space is also offering to supply the RFU (Radio Frequency Unit), which is at the heart of this instrument.
The NADIR module comprises the same instruments as on the Jason satellites, including the Poseidon dual-frequency altimeter made by Thales Alenia Space. It also includes the Thales-built Doris system for precision orbital determination, an AMR (Advanced Microwave Radiometer), the GPSP (GPS Payload) and the LRA (Laser Retro-reflector Array) built by JPL.
Weighing about 2 metric tons at launch, SWOT will be placed into orbit at an altitude of 890 km, with an inclination of 77.6 degrees. Compatible with the Antares, Falcon 9 and Atlas V launchers, it is expected to be launched in 2020 for a demonstration mission lasting about three years.
Hervé Hamy, Vice President for Observation and Sciences at Thales Alenia Space France, said, "SWOT will be the very first satellite to offer controlled reentry, and will also incorporate new-generation avionics that perfectly match CNES's new ISIS standard. Winning this new contract paves the way for our product policy to include swath altimetry, and bolsters Thales Alenia Space's world leadership in space altimetry."
Thales Alenia Space: www.thalesgroup.com/en/worldwide/space
---
A Plethora Of New Satellites For SES—Builds By Orbital ATK, Boeing + Airbus Defence & Space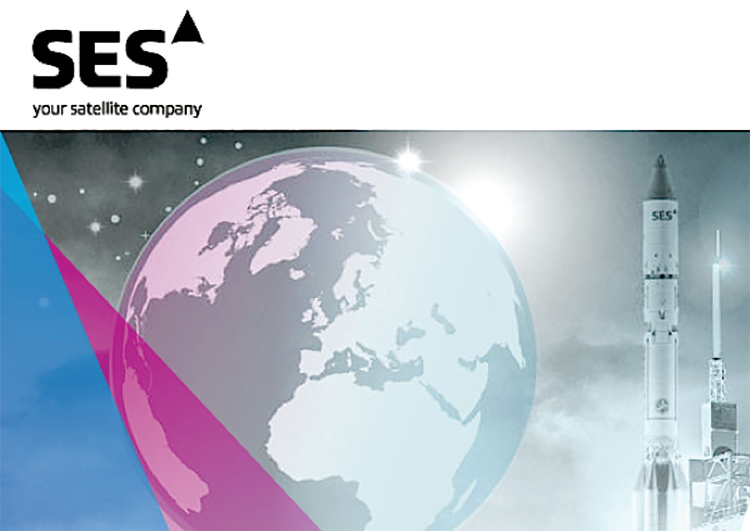 SES has announced plans to launch a dedicated satellite for governmental use in partnership with the Luxembourg Government in late 2017.
A Luxembourg-based company jointly held by SES and the Luxembourg Government is planned to own and operate the new SES-16 / GovSat spacecraft, which will be built by Orbital ATK.
The Luxembourg Government and SES would each invest 50 million euros into the new company, which, at the same time, would receive a 125 million euros bank loan from a consortium of Luxembourg banks to finance the satellite's procurement and launch.
This investment has been foreseen within SES's existing capital expenditure projections. The spacecraft would be positioned in the European arc, covering Europe, the Middle East, Africa and Asia-Pacific.
The capacity of the new satellite would satisfy Luxembourg's requirements for satellite communications in military frequencies. Capacity would also be made available to governmental and institutional customers for defense and governmental applications.
The multi-mission satellite will use dedicated military frequencies (known as X-band and military Ka-band), providing high-powered and fully steerable spot beams to support multiple operations.
"This new, ambitious public-private partnership demonstrates the importance of Luxembourg in the international space sector and the close and successful ties between SES and Luxembourg. SES fully acknowledges the importance of the Luxembourg Government's participation in this future enterprise," said Karim Michel Sabbagh, President and CEO of SES.
"Emerging from the national space sector, this project is not only an important contribution of Luxembourg to European defense, but it further supports the government's economic diversification policy in a key technology sector," said Etienne Schneider, Deputy Prime Minister, Minister of Defense and Minister of Economy.
Plus, SES has ordered their new SES-15 satellite to provide growth capacity in North America and capture business potential in vibrant market segments.
The new satellite is to be built by Boeing, due to be launched in Q2 2017, and will open up a new orbital location to serve North America. SES-15 will carry a hybrid payload, with additional Ku-band wide beams and Ku- as well as Ka-band High Throughput Satellite (HTS) capability. The satellite will be equipped with an electric propulsion system for orbit raising and in-orbit maneuvers.
SES-15 will solidify SES' positioning in the aeronautical mobility and government markets, providing fresh capacity and coverage over major airline routes across the continent.
SES-15 will enable SES to serve its leading aeronautical customers and serve other traffic intensive data applications such as government, VSAT networks and maritime.
Additionally, Airbus Defence and Space (Airbus D&S) has been awarded a contract by SES to design and develop the SES-14 satellite.
SES-14 is the first high-power satellite in the 4-ton class and will be based on Airbus Defence and Space's ultra-reliable Eurostar platform in its E3000e variant, which exclusively uses electric propulsion for orbit raising (EOR), taking advantage of the reduction in mass that this technology enables with an exceptionally large payload.
The satellite will have a double mission. The first will be a wide-beam payload of C- and Ku-band, covering the Americas as well as a link to Europe. The other payload, called High Throughput Satellite (HTS) with numerous user beams, will combine an on-board processor with multi-beam coverage of the Americas and the North Atlantic.
SES-14 will carry seven antennas. It will have a take-off weight of 4,200 kg and an electric power of 16 kW.
The satellite is scheduled for launch in late 2017 nominal operational position will be 47.5/48 degrees West. It has been designed to remain in service in orbit for more than 15 years.
SES-14 is the 12th Eurostar satellite and the second all-electric satellite ordered by SES from Airbus Defence and Space. Nine of these satellites are in operational service and two are under construction.
SES infosite: www.ses.com/
---