The Southern Atlantic area has, for too long, been the poor relation when it comes to fast, reliable, and cost effective broadband communications. But that's now changing, thanks to a new service provider in the region offering much faster communication.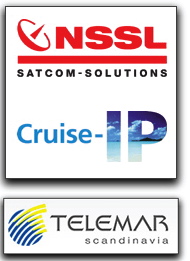 Satellite based communication is the obvious solution when it comes to communicating at sea. And the Southern Atlantic ocean is one of those areas in the world where the sheer size of the sea makes satellite communications certainly an attractive option as well as, often, the only option. The vast distances involved means radio based contact is often impractical and the distance from land renders cell based communication useless.
However, crews, owners, and passengers on cruise liners, yachts, tankers, ships, and aboard oil and gas platforms, have struggled with the poor rate of available broadband speed. Commercial communication between companies and their vessels is extremely restricted with all the problems this presents. Plus, slow speeds have also created headaches for maritime employers. Crew calling is very restricted when it comes to the use of video and other multi-media methods, being constrained due to the costs and speed of such transmissions. This has led to higher crew rotation rates as sailors have a real problem with a lack of family and friend contact. They, instead, opt to work those routes where keeping in touch isn't as difficult or expensive to enjoy.
Volume crew calling, downloading and uploading large files, using multimedia or even video conferencing has been the exception rather than the rule. Some experts believe the communications gap between the rest of the world and Southern Atlantic has led to this region's development as an increasingly significant maritime route, but with highly restrictive SATCOM capabilities.
Until now, SATCOM providers in the area had been unable to deliver connection speeds with a cost that makes commercial sense. Those high speed connections that have existed have been specialist, top dollar connections for bespoke users. Most users have had to struggle along with a paltry .5 MB connection speed (similar to the speed that most home users suffered with more than ten years ago.) Catching up with an increasingly connected world has to be a top priority for those with a vested interest in the maritime industry.
Sea farers should welcome the announcement by satellite communication provider
NSSL Ltd.
and
Telemar Scandinavia
that — thanks to the launch of the new T11 satellite — a new and substantially quicker 4 MB connection is now available across the Southern Atlantic (and into Southern African territories, as well.)
NSSL is known for its work in providing advice, equipment, and service contracts to a wide variety of mining, oil, media, military, maritime and governmental organizations. They recently made headlines when the Company was elevated to the status of being a
Tier 1 Distribution Partner
of
Inmarsat
which, in addition to their Tier 1 relationship with
Thuraya
and the operation of their own DVB-S2 network, means NSSL offers a wide range of mobile and fixed communications services. NSSL is one of the few satellite companies that can claim a long history, having launched in the 1960s. In fact, 2009 marks the Company's 40th anniversary.
Danielle Edwards
, Product Manager at NSSL, said: "Increasingly, people crossing the Southern Atlantic need instant communications wherever they find themselves. But, previously, the slow rate of connection and limited choice of bandwidth has made fast and reliable communication a scarce resource.
"NSSL, as a new provider in the region, is now offering organizations that operate across the Southern Atlantic a fast 4 MB connection that will help them to keep in touch. We have plans to keep increasing this speed as, and when, its technically possible. We note that while a lot of competitors advertise that they are going to increase their connection speed in the 'future,' NSSL is the only broadband provider that already has the service up and running already.
"And, we are not only offering the market greater speed, but also greater choice. We act as a convenient one-stop-shop for all SATCOM needs. Organizations can now use NSSL for all their voice, data and broadband communication requirements. NSSL provides upfront consultancy on the most suitable equipment, and can then provide that equipment from a broad selection of different types and models. NSSL then manages the service contract and provides ongoing maintenance support. We will be offering a wide range of communication services to this exciting market. We believe the opportunity is huge. In just the first month of trial operations we had dozens of enquiries from vessels keen to get connected."
The new service is already up and running and is starting to attract positive feedback.
Robert Bell
, First Officer of the worlds leading super sailing yacht '
The Maltese Falcon
,' outlined the benefits, "The guests were exceptionally happy when we were able to provide them with a fast internet connection in the Atlantic. Real time email is very important for our owner and guests; the crew were also over the moon when Skype worked in the Atlantic!"
The new NSSL coverage area extends across the Southern Atlantic Ocean and Southern Africa. The extension of this coverage zone is due to NSSL's support for the DVBS2 network and its ongoing partnership with Telemar Scandinavia. As part of the previous
Nera Regional Support Network
, the two companies provided mutual support for maritime customers in different ports. Both firms also have a long history of developing and supporting DVB-RCS services into their respective land and maritime markets.
The partnership for DVBS2-RCS started in early 2008 when Telemar was searching for a global maritime commercial Ku-band solution and approached NSSL, who was already covering the Caribbean, U.S., Medi,terranean and Pacific regions.
NSSL and Telemar begin working together with the goal of quickly launching a global maritime solution that could be realized far faster than if both parties developed such services separately. Initially DVBS2-RCS services covered the Middle East and Northern Europe — that was in August of 2008. Both parties also agreed Telemar would install a new Land Earth Station to service the Indian Ocean Region, and NSSL would support coverage in the Atlantic, South Africa, and South America, from its U.S. HUB.
Sally-Anne Ray
, Sales Director, NSSL, says: "We are committed to extending the reach of our service for the simple reason that it is what our customers demand. We are constantly investing in new service enhancements and coverage areas. We believe that the new DVBS2-RCS standard is the future 'best of breed' for broadband services."
For the maritime industry, maintaining communications while at sea is important for commercial, personal, and often safety reasons. Fast communications with cost similar to those when crossing other oceans is essential to creating a more level playing field upon which the maritime industry can compete and communicate in the interconnected global economy.