STEM Flix™ is a new, interactive video series provided by the Northrop Grumman Foundation and Science Bob that's all about having fun with STEM—that is, SCIENCE TECHNOLOGY ENGINEERING and MATHEMATICS.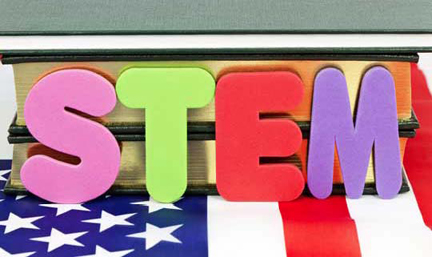 STEM makes nearly everything we enjoy in our daily lives possible—from the circuits that make computer tablets work, to the materials used to make snowboards that allow for cool tricks to be completed. What about some of things many would like to accomplish one day, such as travel through time?! Well, while you might not be able to end up back in the land of the dinosaurs just yet, the technology to make such possible may be far closer than many realize, all thanks to STEM!

STEM Involvement
Northrop Grumman Foundation presents STEM Flix™ because science, technology, engineering and mathematics make so many things possible. The Foundation is a charitable giving arm of a company that makes everything from robots to satellites, allows people to communicate with each other, helps to explore new horizons, protect citizens, and much, much more.

STEM is all about being creative and coming up with new ideas that test the limits—such as the aforementioned travel through time! Or, deriving workable solutions, such as those that help the environment. Mostly, it's about constantly looking for new ways to help keep up with changing needs. That's called innovation.

The Northrop Grumman Foundation has made it their mission to create and support programs such STEM Flix™ that get teachers and students excited about STEM. This results in a future that is never short of great ideas by tomorrow's scientists, technologists, engineers and mathematicians!

The Foundation provides unique educational experiences related to science, technology, engineering and mathematics (STEM) for students and teachers—a top priority. The Foundation supports diverse and sustainable national-level programs that enhance the education experience for students and provide teachers with the training and tools they need to be successful in the classroom.

There are two primary methods of helping with the costs of this worthwhile endeavor:

– The Northrop Grumman Foundation Matching Gifts For Education program is an avenue that allows employees to double their contributions to qualified educational institutions

– Through grants, the Foundation provides funding to national-level STEM programming

– To see what STEM Flix is all about, select this link to view a four minute video...

For Your Youngsters...
Courtesy of Northrop Grumman, here are some fun facts that help to generate student interest in enjoying the STEM Flix video programs...

Science
Did you know…Science refers to gaining knowledge through observation and experimentation? That means it's because of science that we know so much about animals, the oceans, the planets, even understanding where dust comes from. And the more we learn through science, the better we can understand the world we live in and how to make it better.

Technology
Did you know…Technology is the application of scientific knowledge for practical purposes? In other words, technology solves problems and creates new and easier ways of doing things, or the opportunity to do things we've never been able to do before! How exciting is that?! Think about these advancements in technology and what they might have been in their time, and how they influence our lives today.

Advancements in technology have, thankfully, occurred throughout our history. It was has allowed us to grow and evolve as a society. Technology helps save lives through medicine, makes communication easier thanks to cell phones, and is what will one day, take us to planets we've never been to before. If you like to create, solve problems and think you have the next great big idea, perhaps a career in the field of technology is for you?

There are lots of different types of jobs in the field of technology—you could be a Software Developer and construct, test and maintain software, or a Website Developer and design websites. Steve Jobs and Steve Wozniak are famous technicians who co-founded Apple Computer. Bill Gates and Mark Zuckerberg are two world-famous computer programmers—Bill Gates is one of the joint founders of Microsoft, and Mark Zuckerberg is one of the co-founders of Facebook!

Engineering
Did you know…Engineering is the application of science to designing things whether they're buildings, machines or anything that's manufactured or man-made? Ingenuity is usually involved, which means being clever, resourceful, creative and inventive. Engineering has so many different branches, with the most common being Civil Engineer, Mechanical Engineer, Industrial Engineer and Electrical Engineer. Engineers have really cool jobs like working on the International Space Station and creating 3D special effects in movies.

Mathematics
Decimals have a point…and so does studying math!!
Did you know... that it is believed that Ancient Egyptians used complex mathematics such as algebra, arithmetic, and geometry as far back as 3000 BC? Math has been around forever, and we wouldn't be where we are today without it! If no one thought math was cool, you wouldn't be able to sit in your favorite bean bag chair playing your favorite console or computer game...

Speaking of video games, did you know that video game designers use math every day? That's right, game designers need to have a good grasp of game theory—complex math that involves everything from trigonometry to physics!

Did you know...that you'll need all the math skills you can get if you want to be bigger than Facebook, and more popular than Google? To be a part of the latest generation of social media platforms, gadgets and apps, computer scientists use mathematics to create and develop the next big IDEA! These 'smarties' use math skills—such as the theoretical study of algorithms—to understand computing systems and develop hardware and software to create their products.

Did you know... that you can do all these things too? Whether it's coming up with the newest video game, creating the next box office hit, or developing the next great app, it all starts with a little math.

What's Happening Now?
Young people nationwide will get a fun-filled and entertaining lesson in STEM when they head to the theaters and online this summer, thanks to the STEM Flix video series featuring popular television show guest and school teacher "Science Bob" Pflugfelder.

Airing in select theaters across the country between June 8th and September 7th, and with its own dedicated website, STEM Flix is a four-part video series designed to show young people how fun STEM can be, while also teaching them how the disciplines of science, technology, engineering and mathematics are responsible for so many of the electronics, games, products and experiences people enjoy every day.

Sandra Evers-Manly, president, Northrop Grumman Foundation, said, "Many young people today don't realize how many of the things they take for granted every day are made possible because of the work of a scientist, engineer or mathematician. STEM Flix™ is our way of helping students, their parents and teachers get excited about STEM so that our future is never short of great ideas developed by tomorrow's engineers and scientists."


The STEM Flix series kicked off June 8th with an introduction to STEM and a first look at how fun science can be through a simple, yet colorful experiment known as the "Elephant's Toothpaste." The experiment creates an exothermic reaction when a few common household ingredients such as dish soap, yeast and water combine with oxygen. Each of the remaining video episodes will focus on a specific area of science and technology with outrageous demonstrations, graphics and experiments according to the following schedule:

– "Having Fun with STEM!" — June 8-July 5
– "Micro-Electronics: It's a Small (But Powerful) World!" —July 6-July 26
– "From Bike Helmets to Flying Cars — Composite Materials Make All Things Possible!" ­— July 27-August 16
– "Grab Your Telescope and Travel Through Time!" — August 17-September 7

The videos will appear during the on-screen movie trailers and announcements that air before this summer's G, PG and PG-13 rated feature films at the following theaters:

– Shore 8 — Huntington, New York
– Del Amo 18 with IMAX — Torrance, California
– Irving Cinemas 10 — Irving, Texas
– Fairfax 10 and Fairfax 14 — Fairfax, Virginia
– RGL1258 Movies at Wekiva 8 — Altamonte Springs, Florida
– Cinemark Egyptian 24 — Hanover, Maryland
– RGL1043 Mira Mesa 18 with IMAX — San Diego, California

Produced by PGFilm Entertainment, the video series will also be featured online at the aforementioned dedicated website so young people and their parents nationwide can learn about STEM. In addition to the movie theater shorts, the site will feature expanded versions of the videos, home versions of the experiments, fun facts about STEM, behind-the-scenes photos from the filming of the STEM Flix series, and more, to help young people get better acquainted with STEM.
Science Bob Who?
With help from Boston science teacher and frequent TV guest, Science Bob, topics can be learned through videos that include experiments that can be completed at home, as well as some crazy demonstrations that show just how STEM works.

"Science Bob" Pflugfelder joins the Northrop Grumman Foundation's STEM Flix™ program—an in-theater PSA campaign —as part of the Foundation's efforts to promote STEM education by reaching students and their parents with the message that science and math are fun—and that anyone can do it!

Science Bob is an award winning teacher that has shared his love for all things scientific with thousands of students. From working as a tutor on movie sets, to teaching elementary students outside of Boston, Bob knows what it takes to get students excited about science and technology. In addition to teaching in a classroom, Science Bob has shared his science wizardry with a national audience on "Jimmy Kimmel Live!, "The Dr. Oz Show," and "Live With Regis & Kelly." His experiments have also been featured in Popular Science Magazine, Disney's Family Fun Magazine, and People Magazine. Check out his website for access to great science experiments and activities.

The Technical Expertise Behind STEM Flix


Blake Bullock, Business Development and Science Advocacy, Northrop Grumman Corporation—Blake Bullock is a campaign lead for Northrop Grumman. In this role, she is responsible for supporting scientific and technical advocacy for astronomy and astrophysics. Prior to her current assignment, Ms. Bullock served as Risk Manager and Systems Engineer for the James Webb Space Telescope Program at Northrop Grumman. Ms. Bullock served as a Presidential Management Fellow at the National Aeronautics and Space Administration (NASA) and in the Pentagon for the Office of the Secretary of Defense, Strategic and Space Programs.

Prior to this, she lived and worked in New Mexico as a science journalist and Mass Media Fellow of the American Association for the Advancement of Science. She holds a Master's degree in Astronomy from Wesleyan University and a Bachelor's degree in Astrophysics from the University of California, Berkeley. She is a member of Women in Aerospace, the Association for Women in Science, and the American Astronomical Society.



Kelley Ristau, Manufacturing Engineer, Space Vehicle Structures & Antennas, Northrop Grumman Corporation—Kelley Ristau currently reviews spacecraft structure and antenna designs to ensure they can be built; identify tooling and processing needed to successfully build the spacecraft hardware; and help identify and implement solutions to challenges that arise during the manufacturing process. Since a young age, Ms. Ristau has been fascinated with space—what is out there, and how to get there.

Growing up, her favorite subjects in school were math and physical science. Ms. Ristau graduated from the University of California, San Diego in 2005 with a Bachelor of Science degree in Aerospace Engineering, and since then has worked for Northrop Grumman Aerospace Systems at their Space Park facility in Redondo Beach, California. In her several years at Aerospace Systems, Ms. Ristau has worked in a number of roles, including Civil Space Business Development, Tooling Design, Materials & Processes Engineering, and Manufacturing Engineering. Ms. Ristau really enjoys hands-on materials research and development, as well as the satisfaction of seeing paper designs come to life as tangible spacecraft structures and antennas in the manufacturing area.

She is proud that three of the satellites she has helped build are already on orbit around Earth. Ms. Ristau continues to take courses related to material science with the hope that advances in material technology will remove some of the restrictions that currently limit spacecraft capabilities and missions. In her non-working time, Ms. Ristau enjoys gardening, cooking, traveling, learning about sustainability, and participating in figure skating as both a skater and a judge.


Aaron K. Oki, Technical Fellow and HBT Technical Champion, Northrop Grumman Corporation—Aaron K. Oki was born in Honolulu, Hawaii. He received the Bachelor of Science in Electrical Engineering in 1983 from the University of Hawaii and the Master of Science in Electrical Engineering in 1985 from the University of California, Berkeley. Since joining Northrop Grumman as a member of technical staff in 1985, he has been working on the development, production, and insertion of advanced Gallium Arsenide (GaAs), Indium Phosphide (InP), Antimonide (Sb), Gallium Nitride (GaN), and Wafer Level Packaging (WLP) technologies into mission-critical U.S. government military and space systems. He is a Northrop Grumman Technical Fellow, Institute of Electrical and Electronics Engineers (IEEE) Fellow in the Northrop Grumman Microelectronics organization. He has been awarded 18 U.S. patents and has co-authored more than 250 technical publications on solid-state technology.



Christian T. Orlowski, Corporate Director, Engineering, Northrop Grumman Corporation—Chris Orlowski is Corporate Director for Engineering and provides leadership for corporate activities associated with engineering and technology. Mr. Orlowski has the responsibility for ensuring that engineering capabilities are utilized to the maximum extent possible and are aligned to satisfy current and future customer demands across the enterprise. Additional responsibilities include identification and development of state-of-the-art capabilities, best practices and technologies that ensure successful program execution and enable multi-sector growth. Mr. Orlowski chairs the Corporate Engineering Council. Mr. Orlowski joined Northrop Grumman in 1999 as a senior systems engineer. Since then, he has held a number of increasingly responsible positions, including program manager for various C4ISR programs in Baltimore, Maryland and head of the Systems Engineering department at the former Shipbuilding sector in Newport News, Virginia. Prior to joining NGC, Mr. Orlowski worked closely with the Navy's ship acquisition community in Arlington, Virginia, as a naval architect, systems engineer and project manager. Mr. Orlowski received his bachelor's degree in ocean engineering and a master's degree in systems engineering from Virginia Tech in Blacksburg, Virginia. He completed the Darden School of Business Executive Program at the University of Virginia. He is the company representative on the Aerospace Industries Association's Engineering Management Committee. He serves as a member of the TechAmerica Supplier Assurance Task Force, as well as on the Corporate Advisory Board of the International Council on Systems Engineering (INCOSE).