Tracking Disease Outbreaks
Satellite images of nighttime lights, which normally are used to detect population centers, also can help keep tabs on diseases in developing nations, according to new research. An international research team that includes Matthew Ferrari, an assistant professor of biology at Penn State, found that the new technique accurately indicates fluctuations in population density — and thus the corresponding risk of epidemic — that can elude current methods of monitoring outbreaks.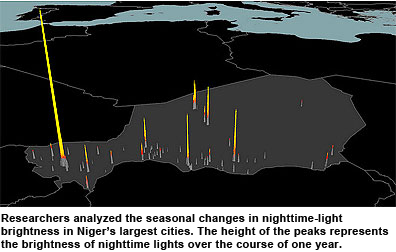 The research, reported in the current issue of the journal Science, is expected to help medical professionals to synchronize vaccination strategies with increases in population density. Ferrari and his team used nighttime images of the three largest cities in the West African nation of Niger to correlate seasonal population fluctuations with the onset of measles epidemics during the country's dry season, roughly from September to May. Because many pathogens that cause epidemics flourish in areas where the population density is the greatest, satellite imagery showing brighter areas — indicating greater numbers of people — then can be used to pinpoint disease hot spots. The images, taken between 2000 and 2004 by a U.S. Department of Defense satellite, were compared to records from Niger's Ministry of Health of weekly measles outbreaks during the same years in Maradi, Zinder, and Niger's capital, Niamey.

In many agriculturally dependent nations, such as Niger, people migrate from rural to urban areas after the growing season, explained Nita Bharti, a postdoctoral researcher at Princeton University and the first-listed author of the research paper. As people gather in cities during the dry-season months when agricultural work is unavailable, these urban centers frequently become hosts to outbreaks of crowd-dependent diseases such as measles. Because temporary and seasonal migrations are very hard to measure directly, the night lights are an important source of data for Africa and Asia, especially, where other sources of data are sometimes absent.



The team found that measles cases were most prevalent when a city's lighted area was largest and brightest. "We found that seasonal brightness for all three cities changed similarly," Ferrari said. "Brightness was below average for Maradi, Zinder, and Niamey during the agriculturally busy rainy season, then rose to above average as people moved to urban areas during the dry season. Measles transmission rates followed the same pattern — low in the rainy season, high in the dry season." The team members also found that the relationship between brightness and measles transmission appeared even clearer at the local level, as did the potential value of the researchers' technique in providing medical treatment.

For example, in Niamey, measles cases were recorded daily for three districts, or communes, during the 2003 to 2004 dry season. Both brightness and measles infection peaked early in the northern districts in February and March of 2004. A two-week mass-vaccination campaign was launched in March and April of 2004, but population density, as determined by light brightness, already had started to decline in the north of the city.

"Ultimately, the goal is to use this research to design better preventative-vaccination programs and more-efficient responsive vaccination strategies when outbreaks do occur," Ferrari said.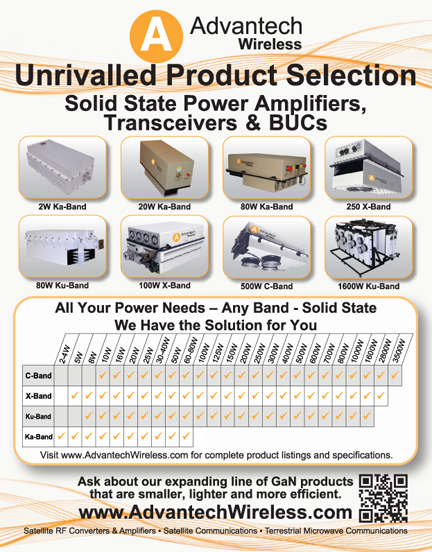 Bharti added that the team's new method is not limited to understanding measles.

"Think about malaria or meningitis," she said. "These diseases are geographically specific, for the most part, to areas where this would be a useful technique. These are places that are not so industrialized that they always will be saturated with brightness and where there may be some level of agricultural dependence so that there are detectable labor migrations."

The researchers also are exploring the use of nighttime lights with other large-scale population-tracking methods such as the monitoring of mobile-phone usage.

"When used alone, both population-tracking methods have their shortcomings," Bharti said. "Nighttime-lights imagery is susceptible to weather conditions, while mobile-phone usage data are biased in the portion of the population it can represent." Bharti and her co-authors hope that when nighttime imagery is combined with other techniques, the measures will be complementary.

In addition, the team members hope to explore uses for nighttime satellite data outside of epidemiology, such as tracking population displacement and mass migration during a war or following a natural disaster.

"We now have a technique that allows us to observe and measure changes in population density," Bharti said. "This short-term use of nighttime-lights data could apply to a number of different situations beyond seasonal migrations and infectious diseases, such as humanitarian and disaster aid. We're excited about the potential this method has for other important global-health issues."

In addition to Ferrari and Bharti, other authors of the study include Andrew Tatem of the University of Florida; Rebecca Grais of Epicentre, a non-profit research facility located in France; Ali Djibo of the Nigerian Ministry of Health; and Bryan Grenfell of Princeton University. The research was supported by the Bill and Melinda Gates Foundation.



For more information, contact Ferrari at 814-865-6080 or mferrari@psu.edu, or Barbara Kennedy, Penn State Science PIO, at 814-863-4682 or science@psu.edu.

Article is courtesy of Penn State Live, the University's Official News Source

* * * * * * * * *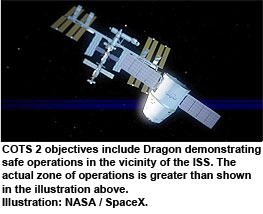 Dragon's COTS Demos
December 8, 2011, marked the one year anniversary of Dragon's first Commercial Orbital Transportation Services (COTS) demonstration flight. The flight made history as SpaceX became the only commercial company to successfully return a spacecraft from orbit. This feat had previously been accomplished only by five nations and the European Space Agency.

The Company is now preparing the Dragon spacecraft for yet another historic flight, becoming the first commercial vehicle in history to visit the International Space Station (ISS).NASA recently announced February 7, 2012, as the new target launch date for the upcoming mission. In addition, NASA officially confirmed that SpaceX will be allowed to complete the objectives of COTS 2 and COTS 3 in a single mission.


This means Dragon will perform all of the COTS 2 mission objectives which include numerous operations in the vicinity of the ISS, and will then perform the COTS 3 objectives. These include approach, berthing with the ISS, astronauts opening Dragon and unloading cargo, and finally, astronauts closing the spacecraft and sending it back to Earth for recovery from the Pacific Ocean off the coast of California.

This mission marks a major milestone in American spaceflight. While SpaceX's first missions to the ISS will be to transport cargo, both Falcon 9 and Dragon were designed to ultimately transport astronauts. Every trip made to the ISS from this point forward gets the Company closer to that goal.

Just as Dragon's first mission to orbit and back involved a level of effort equal to launching the first Falcon 9, preparing Dragon for two weeks of operation in space and for approach and berthing with the ISS poses new challenges. Meeting them requires a large amount of detailed planning and careful execution.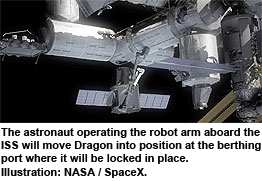 Each launch day will have just one narrow liftoff window — no more than a few minutes — in order to synchronize Dragon's flight with the orbit of the ISS. Catching up to the ISS will take from one to three days. Once there, Dragon will begin the COTS 2 demonstrations to show proper performance and control in the vicinity of the ISS, while remaining outside the Station's safe zone.

During the entire time Dragon is in the vicinity of the ISS, station astronauts will be in direct communication with Dragon and will be able to monitor the spacecraft as well as issue spacecraft commands.

After successfully completing the COTS 2 requirements, Dragon will receive approval to begin the COTS 3 activities, gradually approaching the ISS from the radial direction (toward the Earth), while under constant observation.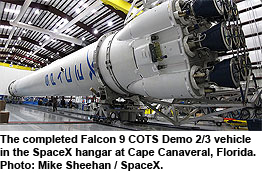 Dragon will approach to within a few meters of the ISS, allowing astronauts to reach out and grapple Dragon with the Station's robotic arm and then maneuver it carefully into place. The entire process will take a few hours.

Once in place, Station astronauts will equalize the pressure between the ISS and Dragon, open the hatches, enter the vehicle and begin unloading Dragon's cargo. After Dragon spends about a week berthed at the ISS, astronauts will reverse the process, loading Dragon with cargo for return to Earth, sealing the hatches, and un-berthing Dragon using the robotic arm.

Dragon will then depart from the ISS and return to Earth within a day or so, and the SpaceX recovery crew will meet it at splash down in the Pacific Ocean off the coast of California.

Both the Falcon 9 launch vehicle and the Dragon spacecraft that will fly in the COTS Demo 2/3 mission have been delivered to the SpaceX launch complex in Cape Canaveral, Florida. Falcon 9's first stage, second stage, and interstage were integrated and rolled out for two separate wet dress rehearsals, in which SpaceX engineers performed the entire countdown sequence up until the moment the engines would be fired.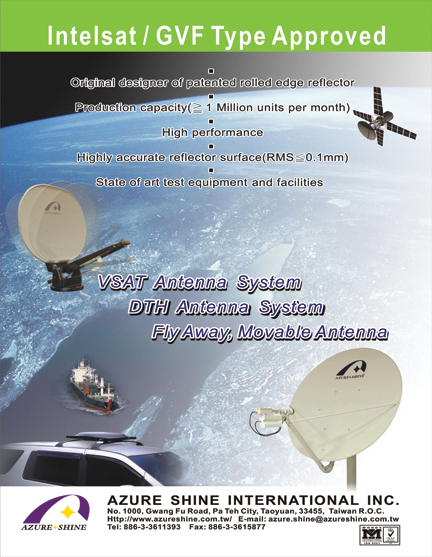 The Dragon COTS Demo 2/3 spacecraft and trunk have also been delivered to the launch pad and are undergoing final processing for flight.

* * * * * * * * *

Predictions Of The Spatial Sort
The new generation of weather and environmental satellites, GOES-15, officially became operational as GOES-West December 13, 2011. As a result, communities across the Western United States and Pacific region will begin to benefit from improved weather forecasts and environmental intelligence.

ITT Exelis Geospatial Systems, an operating division of ITT Exelis (NYSE: XLS), designed and built the imager and sounder instruments flying on board GOES-15 for the National Oceanic and Atmospheric Administration (NOAA) in cooperation with NASA's Goddard Space Flight Center, Greenbelt, Maryland. In addition to producing the familiar weather pictures on U.S. newscasts, these instruments will enable GOES-15 to provide early warnings of severe weather conditions like tornadoes, flash floods, hurricanes and hail storms.

"Providing timely access to environmental intelligence is critical to protecting lives, property and infrastructure," said Rob Mitrevski, vice president, Intelligence, Surveillance and Reconnaissance programs at ITT Exelis Geospatial Systems. "The satellite instruments built by ITT Exelis continue to be an integral part of our nation's weather forecast ability, enabling our country to see and solve some of the toughest environmental challenges."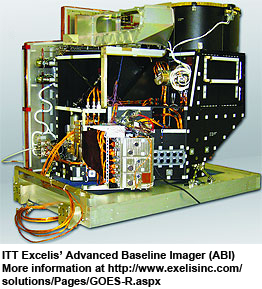 GOES satellites provide meteorologists with nearly continuous images as well as temperature and moisture data, enabling more accurate weather forecasts. GOES data is also used for climate-weather prediction models; ocean temperature; charting ice; snow and glacier mapping; land temperature measurement; and monitoring agricultural crop conditions.

GOES-15 was launched March 4, 2010. After reaching geostationary orbit 22,300 miles above the U.S. and prior to being activated, the satellite underwent six months of extensive post-launch testing before being parked in on-orbit storage. ITT Exelis has been designing and building space-borne meteorological instruments for nearly 50 years and is currently working with NOAA and NASA to build GOES-R. This next-generation environmental satellite will include the most advanced meteorological imaging instrument ever built for operational weather forecasting, the Advanced Baseline Imager (ABI).

Designed and built by ITT Exelis, ABI will monitor three times the number of atmospheric conditions currently measured and will produce images that can discern objects as small as one-half a kilometer. ABI is also much faster, updating data every 30 seconds versus the current rate of 7.5 minutes. At that speed, ABI can create a full-Earth image in five minutes versus 30 minutes for the current imagers. ABI also will zoom in and track a single storm while simultaneously collecting continent-wide data and imagery. All these improvements add up to faster and more accurate forecasts, improved hazardous weather tracking and increased capability to study and monitor climate change.

* * * * * * * * *


Six Pack Lift Off
A launch representing France, Chile and Russia has been successful...
Arianespace Flights VS02, ST24, VA205 and VV01 are aboard as Soyuz performs its second liftoff from the new French Guiana launch facility created for this medium-lift vehicle's operations in service with Arianespace. Arianespace confirmed Soyuz' mission flexibility in operations from the Spaceport with the successful launch that placed six satellite passengers into Sun-synchronous orbit.

Departing precisely at the planned liftoff time of 11:03:08 p.m. in French Guiana, the Soyuz performed a three-hour, 26-minute flight to deploy its payload of the French Pléiades 1 and Chilean SSOT satellites for civilian and defense image gathering, along with four French ELISA micro-satellite demonstrators for defense-related electronic intelligence gathering (ELINT).

This was Arianespace's second mission with the Russian-built medium-lift workhorse launcher performed at the Spaceport, and it occurred less than two months after Soyuz' historic maiden flight from French Guiana on October 21.

Designated Flight VS02 in the Arianespace launcher family numbering system, tonight's mission involved four burns of Soyuz' Fregat upper stage, which enabled the six satellites to be released for operations at altitudes ranging from 610 km. to 700 km. Using a new purpose-built payload dispenser developed for Arianespace's Soyuz missions, the deployment sequence began with the release of Pléiades 1. It was followed by the simultaneous separation of all four ELISA satellites, and the mission was complet-ed with the deployment of SSOT, which occurred three hours, 26 minutes after liftoff.


The Soyuz lift performance was an estimated 2,190 kg., which includes approximately 1,400 kg. for the Pléiades 1, ELISA and SSOT satellites, along with the weight of its payload dispenser and integration hardware. This was the 1,781st flight of the Soyuz launcher family, which ushered in the space age and continues to demonstrate its reliability and robustness in both unmanned and manned missions.

Pléiades 1 weighed in at 970 kg. at launch and will provide military and civilian users with very high resolution optical satellite imagery from a 700 km. orbit, offering 50cm. resolution imaging products at a coverage swath width of 20 km. Built by prime contractor Astrium for the French CNES space agency, Pléiades 1 is a compact, hexagonal-shaped spacecraft optimized for operational agility and image location accuracy. The Pleiades satellites offer a significant improvement in technology over previous generation satellites, based on their size, resolution, high degree of agility in orbit, and ground transmission capacity.

The four ELISA (Electronic Intelligence by Satellite) demonstrator satellites will enable French defense procurement agency DGA (Direction Générale de l'Armement) to test the space-based mapping of radar transmitters across the planet, while also determining the characteristics of these transmitters. The DGA and CNES are co-project authorities, and chose Astrium, with Thales Airborne Systems, to build the four satellites, each weighing about 120 kg., along with the user ground segment.

The Soyuz mission's four ELISA micro-satellites are part of a joint demonstrator program involving the French DGA defense procurement organization and the country's CNES space agency, with these spacecraft developed in a partnership of Astrium and Thales Airborne Systems. Weighing 120 kg. each, they have an operational design life of more than three years.


Chile's SSOT (Sistema satelital de Observación de la Tierra) is a dual-role military/civilian optical satellite that weighed 117 kg. at launch, and is designed for such missions as mapping, agricultural monitoring, and the management of natural resources, disasters and risks. Built by Astrium for the Chilean armed forces, SSOT is based on the same CNES-conceived spacecraft platform as the ELISA satellites.

Following this successful launch, Arianespace intends to continue its sustained launch cadence as another Soyuz mission is set for December 28 from Baikonur Cosmodrome in Kazakhstan, while preparations continue at the Spaceport in French Guiana for the new lightweight Vega's inaugural liftoff, as well as for the next heavy-lift Ariane 5 flight.

Looking ahead to Arianespace's 2012 mission activity... Operationally, Ariane 5 lofted eight large geostationary telecommunications satellites from French Guiana during the year — representing one-half of all such payloads orbited worldwide in 2011 — along with the no. 2 Automated Transfer Vehicle.

The initial Vega to be launched from French Guiana is taking shape at the Spaceport, with its solid propellant first, second and third stages now stacked on the launch pad.


Shortly, Vega's AVUM liquid-propellant upper stage will be moved to the pad and installed atop the launcher. Integration of the "upper composite," consisting of the launcher's payload and protective fairing, is planned for January, followed by final verifications of the fully integrated launcher and the countdown rehearsal.

Vega's solid-propellant third stage is installed on top of the launcher earlier this month in French Guiana as this new lightweight vehicle is readied for its maiden flight from the Spaceport in 2012.

This introductory Vega mission — designated VV01 — is anticipated to occur in the January-February timeframe and will carry Italy's LARES laser relativity satellite, along with the ALMASat-1 spacecraft from European universities and several small cubesat platforms.

Separately, the no. 3 Automated Transfer Vehicle (ATV) for servicing of the International Space Station is scheduled for a March 9th liftoff from French Guiana on an Ariane 5. This flight's launcher has now been declared ready for the Spaceport handover to Arianespace by industrial prime contractor Astrium. It will be the 205th mission with an Ariane family vehicle, and is designated VA205 in Arianespace's numbering sequence.

The ATV's two major components — its Integrated Cargo Carrier and the Service Module — have already been mated in the S5 payload preparation building at the Spaceport, marking a major milestone in preparations for the resupply spacecraft's liftoff.


With Ariane 5, Soyuz and Vega operating side-by-side from the Spaceport, Arianespace will have a complete launcher family that supports the company's goal of being able to launch "any payload, to any orbit…anytime."

Arianespace Chairman and CEO Jean-Yves Le Gall said the company's performance in 2011 once again validated its market leadership, with the "numbers speaking for themselves."

* * * * * * * * *

2G's Third Launch
Six new second-generation Globalstar satellites have been successfully launched from the Baikonur Cosmodrome in Kazakhstan.

The Globalstar satellites were launched on Wednesday, December 28, 2011, at 11:09:02 p.m. local Baikonur time (5:09 p.m. UTC and 12:09 p.m. EDT) using the Soyuz-Fregat version of the Soyuz launch vehicle. There have been more than 1,780 successful launches of the Soyuz family launch vehicle.

Launch services provider Arianespace confirmed that the upper stage accurately injected the six second-generation satellites into the targeted low Earth orbit of approximately 920 km. Globalstar reports that all six satellites have been successfully acquired following separation of the Fregat Upper Stage and release from the satellite dispenser. Globalstar has initiated satellite in-orbit testing and all six spacecraft are operating normally at this time.


"It is with great pleasure that we announce the successful third launch and continued deployment of our second-generation constellation," said Tony Navarra, President of Global Operations for Globalstar, Inc. "We are now only one launch away from completing our four second-generation satellite launches and we look forward to the future services our new constellation will support. With these six new satellites now safely in orbit, we once again congratulate and applaud all of our Globalstar employees world-wide and thank launch provider Arianespace as well as our satellite contractor Thales Alenia Space for this launch success."

Globalstar signed a contract with satellite manufacturer Thales Alenia Space in late 2006 for the design, manufacture and delivery of its second-generation constellation satellites. A total of four launches of six satellites each are being conducted by launch services provider Arianespace. The first launch was conducted in October 2010 and the second launch was completed in July of this year.



The Globalstar second-generation satellite constellation is designed to support the Company's current lineup of voice, Duplex and Simplex data products and services including its lineup of SPOT retail consumer products. The new satellites are designed to last for 15 years, twice the lifespan of Globalstar's first generation satellites.

Once the four launches are complete and the second-generation satellites are deployed, Globalstar expects to provide the world's finest quality mobile satellite voice and fastest mobile satellite handset data services to customers in more than 120 countries.

Combined with its affordable suite of consumer retail SPOT products, Globalstar expects to offer the world's most extensive lineup of high quality mobile satellite services to the broadest range of commercial and retail consumer customers around the globe.

* * * * * * * * *

Increased Activity

China will launch the Shenzhou-9 and Shenzhou-10 spacecraft and achieve space rendezvous and docking missions with the orbiting Tiangong-1 vehicle in 2012, a spokesman for the China National Space Administration has revealed.

Spokesman Zhang Wei made the announcement at a press conference held in Beijing for the release of a white paper titled "China's Space Activities in 2011." However, the spokesman did not unveil a detailed timetable for the launches.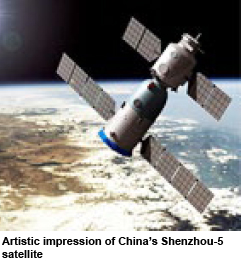 China issued the white paper on the development of the space industry since 2006 and the major tasks for the next five years. The white paper was the third white paper on the country's space activities issued by the State Council Information Office, following one in 2000 and another in 2006. The Chinese government has made the space industry an important part of the nation's overall development strategy and adhered to the exploration and utilization of outer space for peaceful purposes, the white paper said.

Over the past few years, China has ranked among the world's leading countries in certain major areas of space technology, it said, adding that in the next five years, there will be new opportunities for the country's space industry. At the same time, China will work together with the international community to maintain a peaceful and clean outer space environment and endeavor to promote world peace and development, the document said.

Major tasks listed in the white paper for the next five years include a space transportation system, Earth satellites, human spaceflights and deep-space exploration. China also plans to launch space laboratories, a manned spaceship and space freighters, and will start research on the preliminary plan for a human landing on the moon, the document said. As an important part of deep-space exploration, the country's lunar probe projects follow the idea of "three steps" — orbiting, landing and returning.

In next five years, the country plans to launch orbiters for lunar soft landing, roving and surveying to implement the second stage of lunar exploration.