Nano and microsatellite launches have increased at a 61 percent compound annual growth rate since 2010; the number of unique operators launching these satellites has increased at a 31 percent CAGR over the same period.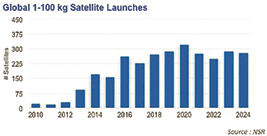 With these unprecedented growth rates, nano and microsatellites from 1 to 100 kg. have become a central talking point of the space sector. However, even if the size of the platforms may be smaller, their impact on the industry could be large.
Originally used as the world's first satellites in the 1950s and 1960s, government agencies, militaries, and, most recently, commercial players have once again begun to leverage these small platforms for operational missions. During the next decade, NSR forecasts the launch of more than 2,500 such satellites.
What does this high volume market signify for the satellite industry at large?
As explored in NSR's Nano and Microsatellite Markets, 2nd Edition report (http://www.nsr.com/research-reports/commercial-space/nano-and-microsatellite-markets-2nd-edition-/), operators are taking novel approaches at all stages across the satellite project value chain. The effects of these, from rapid design iterations to higher risk tolerance and the cultivation of new end-users, have already begun to be felt. The ultimate impact of nano and microsatellites will stem not only from the unique capabilities and processes associated with the form factor itself, but from the ecosystem of new players that are engaged in creating these satellites.
Reassessing Manufacturing + Launch Operations
More than 80 percent of nano and microsatellites launched since 2010 were manufactured in-house. Comparatively, only 5 percent of traditional, >100 kg. satellites launched over the same period were manufactured in-house (excluding Chinese and Indian state-run industries).
Inherent characteristics resulting from nano and microsatellites' small size, including; an often simpler design, short lifetime, use of COTS components/commercial software, and limited pre-launch testing, enable this in-house construction. When combined with the greater risk acceptance, CAPEX limitations, and rapid build cycle goals of new operators, in-house manufacturing in many cases becomes the most viable practice. Operators thereby enhance control of their system architecture and gain previously inconceivable agility in satellite redesign to adjust capabilities based on performance or evolving market demand.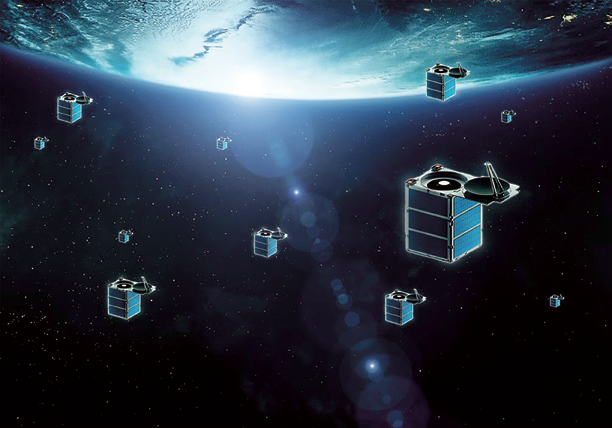 However, given the short on-orbit lifetimes and rapidly evolving state-of-the-art, this trend towards fast development time and incremental design improvements is characteristic of the nano/microsatellite market as a whole. Replacement on the order of years instead of decades means that nano/microsatellites consistently leverage more up-to-date technology than their larger counterparts.
The popularity of constellations and standardized platforms (CubeSats) within this mass range has prompted a shift towards volume manufacturing facilities and assembly line production that is more pronounced than what has emerged for constellations of larger satellites, such as Iridium, Orbcomm, and Globalstar. Again, the short lifetime and sustained replenishment demand compounds this trend.
Demand for launch services has stimulated the development of a new class of launch vehicle that is optimized for low mass satellites. For instance, Bessemer Venture Partners has explicitly linked its motivation for investing in Rocket Labs directly to the challenge of obtaining launch slots for the ~120 kg. Skybox satellites. A secondary, more immediate impact of rising nano/microsatellite launch demand is the emergence of third party launch brokerage services to coordinate rideshare capacity on traditional vehicles.
Expanding The Addressable Market
The low cost and short lifetime of small satellites, particularly when operated individually, significantly decrease the required scope of a sustainable business plan. This widens their applicable field of use from more traditional satellite applications like Earth imaging, data relay, or AIS signal detection to such areas as marketing or cultural enrichment—just search for images of the Hello Kitty figurine launched in 2014 on a Japanese microsatellite to stimulate national interest in space, or for opera broadcasts from an American CubeSat launched the same year, or the establishment of an artist-in-residence program at PlanetLabs to witness the more intangible stamp of the innovation behind this emerging market.
Even within traditional applications and services, the lower price points, simplified customer ease-of-use, and the improved coverage rates all enable commercial nano/microsatellite operators to cater to untouched markets and to expand the space services industry.
Entities previously priced out of the satellite market, or whose requirements were not fully addressed by existing capabilities, have become customers of nano/microsatellite projects—such as non-profits researching natural resource depletion, or energy companies requiring daily pipeline monitoring.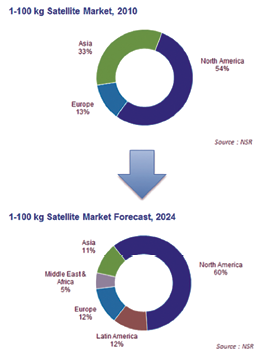 Alongside greater potential for diverse applications, low barriers to entry facilitate a broader operator base that has included players without prior space sector experience. This new community of operators brings creativity and, as has been notable with Silicon Valley space firms, can make the space sector more approachable to both new potential customers and investors. This effect is compounded by the short development times of these platforms that enable a new idea to be brought to market on the order of months rather than the requisite years for their larger counterparts.
Globalizing Access To Space
Small satellite projects are sufficiently limited in scope and risk to be particularly suited to the development of space capabilities. Not only a trend noted today, more than 15 leading space economies including the United States and Russia (as USSR) have leveraged this form factor for their first domestically built satellites.
This can be undertaken through government-led programs or support for university projects, both of which develop a workforce with hands-on space mission experience that forms the basis for domestic industry.
Developing space regions (Latin America, Middle East & Africa, and Southeast Asia) have successfully launched 22 nano/microsatellite missions since 2010, though not all have achieved nominal operations in orbit.
Ten developing space economies in these regions have utilized nano/microsatellites as their first domestically built platform. The rate at which this has increased since 2010 indicates that additional countries will pursue similar capacity building models moving forward. The Latin America and Middle East & Africa regions are expected to boost activity to 17 percent of the global market by 2024.
Whether the motivation for cultivating domestic space capabilities is institutional, economic, or strategic, the opportunities provided by nano/microsatellites are growing the number of countries that see space within their reach. Once the initial capabilities are established, these nations are expected to continue developing expertise and engaging in the space economy, potentially domesticating or regionalizing a satellite manufacturing and operations market currently dominated by few foreign players.
Bottom Line
The new players and processes tied to nano and microsatellites have already made a mark on today's space industry. New manufacturing practices, target markets, and regional skill development stemming from these small platforms have shown the potential for nano and microsatellites to affect space sector dynamics at a magnitude beyond their size.
Yet the duration and significance of their impact remain to be seen, and whether these will transition into industry norms or merely become a passing trend, depends on the success of current ventures and applicability to broader use.

In the meantime, interest in smallsats such as nanos and micros continues to develop as the community is challenged to establish their role in the space sector and the economy at large.
Ms. Belle joined NSR as an analyst with several years of experience in the space industry, ranging from atmospheric chemistry to education outreach and market research. Her main focus is satellite manufacturing and launch markets, and in particular the trends surrounding creation of diversified space architectures. She also contributes to research in government and military communications markets in addition to participating in the diverse tailored consulting projects undertaken at NSR.
---