Welcome to SatMagazine's annual YEAR IN REVIEW issue. Dozens of leading companies have offered their insights and an examination of their experiences regarding their operations during 2017.
Offered in alphabetical order, these major representatives of the SATCOM and related industries review the challenges and success many have had to face and deal with during the past year—all to the betterment and success of their companies.
We can certainly report that the commercial SATCOM industry, as a whole, appears to be experiencing some amazing technological advances and business success. The mergers and acquisitions of this year will certainly continue into 2018. Personnel and projects will transition from one company or organization to another, as business models flex to account for new projects, amazing discoveries and thrilling missions.
We earnestly wish the readers of SatMagazine a most prosperous and enjoyable 2018 and that the content presented here will be of interest to you and, most importantly, offer some insight into the world of SATCOM and the bright future ahead.
All our best — the editors.
---
The Aerospace Corporation—It's a Small World, After All
By Lisa Kuo, Commercial Programs, The Aerospace Corporation
Allow me to summarize 2017 in a single sentence: 'Small IS the new big.'
This year has been a non-stop dizzying colorful parade of exciting activities in the space industry that are fueled by 'Small'. This year has seen spectacularly high numbers of small satellites (smallsats) launched, innovative launchers testing their fires and ultra cool technologies densely packed into tiny units.
I'm also delighted to announce that the question of the year has been: "How should we play in the smallsat marketplace?" instead of the previously most asked: "Are these smallsats for real?"
Small is The New Big
The line is blurred: "Small" vs "Big" is not so clear-cut anymore. The companies that are crossing that line, or redefining it, have stirred up a great deal of excitement in the community.
One of the original smallsat startups, O3B (now owned by SES), is building the next generation constellation that boasts 10 terabit global capacity over a seven satellite MEO constellation. That's a whole lot more capacity than SES's big satellites all added together.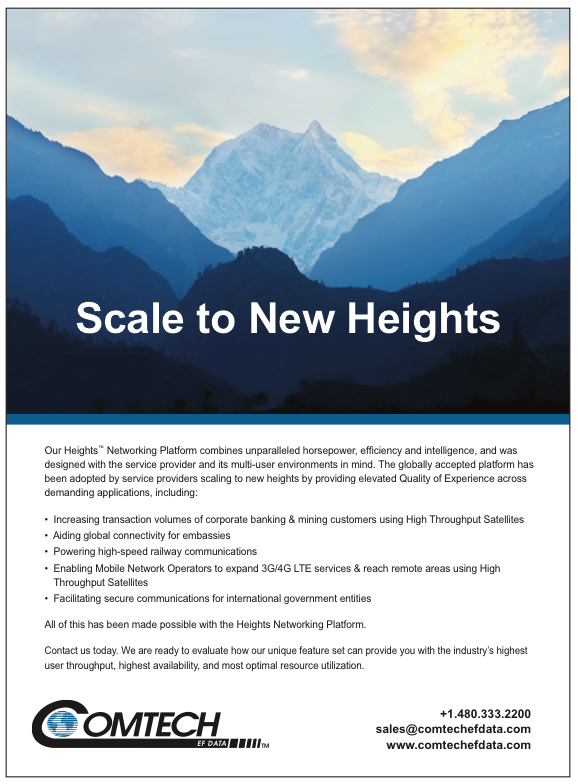 SoftBank tried the ultimate Small + Big satellite operator marriage by bringing Intelsat and OneWeb together. Although unsuccessful, this was a sneak preview of what the future may hold for communication companies.
Google's exit from Earth Observation (EO) satellite manufacturing business by selling Terra Bella to Planet was an interesting statement by that company. This maneuver further bolstered Planet's position within the EO smallsat communities, and to top it off, Planet launched 142 of their shoebox sized Doves this year, 102 of them via a single Polar Satellite Launch Vehicle (PSLV), which currently is the record holder for the most satellites launched per a single rocket launch.
Novawurks launched their "Satlets" in November, which challenged the paradigm of "Small" to a new height (or actually, size). The Satlets are essentially Lego blocks, designed to be snapped together to form larger structures. This could be an attractive alternative to shipping large scale structures to Mars. Swarming smallsat units challenging their giant counterparts is being witnessed on all fronts. However, this is just the beginning.
What Are In These Smallsats, Anyway?
Beyond the typical sensors and radios, a lot of interesting technologies and concepts have made it in to space this year.
Aerospace's Aerocube that launched on Orbital ATK's Cygnus has a laser communications terminal on board and uses water for propulsion
NASA just sent a cubesat, E. coli AntiMicrobial Satellite (EcAMSat) with live E.coli to test microgravity's effects on antibiotic resistance, to the International Space Station (ISS).
Plus, the hope is that all have signed up to become a citizen of Asgardia, the first space kingdom in a cubesat that also arrived in space this year.
If you happened to keep your childhood pet's cremated remains, Elysium just signed a slot on SpaceX to enable those valued remnants the experience of a space journey in a smallsat next year.
The boost of unconventional missions being launched into space is undoubtedly a result of the dropping price of smallsats as well as the launch vehicles.
Access to Space by the Way of Desert
Sending satellites to space has historically been a bottleneck. Elon Musk's bold move into the rocket industry with SpaceX definitely helped relieve the pain; however, launches for smallsats remain few and far between due to the launch industry support for mega constellation roll outs.
Fortunately there are numerous visionaries who foresaw this problem and their efforts to encourage smallsat support is blooming.
Rocket Lab just had their maiden launch in 2017. Blue Origin successfully fired their biggest methane-fueled rocket engine the company has ever built. Virgin Orbit is getting ready for their first launch next year.
An interesting side benefit of a vibrant launch industry is the ecosystem they bring to isolated regions, such as the Mojave Desert. Along with Joshua trees and rock lizards, Mojave Desert is also seeing an explosion of startups (literally). There are a lot of spaceport development proposals that are being evaluated all over the world in 2017 using the Mojave Desert as a model to get their foot in the door in the space industry, all the while stimulating an otherwise deserted landscape.
The Politics and Business of Cleaning Up
The flock of small Lego blocks and smallsats planned for launch are both the instigators and the victims of space debris.
Smallsats make refreshing and upgrading mega constellations easy — simply launch a new batch. However, more and more satellites results in likely collisions with space debris which, in turn, generates even more space debris.
Large constellations proposed by SpaceX, OneWeb, Telesat, and so on, are racing to production. The affordability of developing and launching smallsats has enabled more private companies, universities, labs and countries to rush into this exploding market segment.
At this point in the smallsat rush, there are more companies planning to launch additional satellites than planning how to mitigate the collateral, orbiting damage.
The good news is that a few companies are attempting to make the waste management of space a profitable business.
LeoLabs will be tracking LEO objects, whether such is smallsats or debris.
Astroscale is planning on launching a debris cleanup service platform next year.
NASA just awarded Aerospace Corporation a contract for developing "Branecraft," a lightweight debris-wrapper-incinerator.
However there will always be more organizations creating space debris than cleaning them up, therefore, the politics of space debris will need to soon be sorted out to everyone's benefit.
Can self-regulation be trusted within the community, or is there a need for international government enforcement? Should international regulatory bodies subsidize debris removal services? Who, actually, owns the debris and who is responsible for the cleanup process? These challenging questions, and others will, no doubt, continue for the foreseeable future.
Looking Forward to 2018
No doubt there will be additional new startups presenting new miniature technologies as well as more mergers and acquisitions in 2018.
The biggest trend that I personally am excited about is the increased affordability of heading into space and the renewed excitement that is gaining momentum around the globe—space is sexy once again.
However, this is also the perfect time to start asking the difficult questions on debris mitigation and the collaboration among the communities as to the best path forward.
There is enormous anticipation for a year full of curious objects being launched into space, the final frontier, and the advancements that shall change humankind forever.
www.aerospace.org
---
Bridge Technologies—A Pivotal Year
By Simen Frostad, Chairman, Bridge Technologies
For Bridge Technologies, 2017 will prove to have been a pretty pivotal year.

For as long as the company has been in business — and that stretches back for more than a decade — Bridge Technologies has been talking about how IP will transform the industry, and developing those technologies, products and solutions that would facilitate that transition has been the firm's main goal.
That message wasn't one that everyone wanted to hear — after all, broadcast and media organizations were doing just fine with the technology they already possessed — why would anyone wish to change what was already successful? Plus, companies made significant investments in those staid technologies.
Bridge could clearly see how the industry would change — and the underlying technology would need to change with that change.
The big stumbling block was always SDI (Serial Digital Interface). As an interface, SDI has served the broadcast industry extremely well in terms of speed, reliability and predictability. However, SDI is not without limitations.
Challenges Worth Addressing
Of course, IP over satellite has not been without challenges. However, those challenges are certainly worth addressing, due to the benefits satIP can deliver.
Quite interesting to see, in an announcement in September, is that BBC News is using the technology. The attraction is that, in certain situations, IP satellite may be the only connectivity option left to field crews when terrestrial networks are not available, become contended over time or suffer from too much jitter.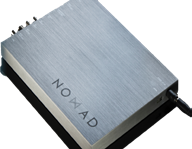 In the competitive world of remote newsgathering, the guaranteed ability to get the story back to base is vital.
This year as always, IBC was all about the possibilities and opportunities that are ahead. Previous, recent IBCs had seen resistance to satIP, followed by grudging acceptance of the idea that IP actually represented the future.
By IBC 2016, that had turned into a great deal of confusion as to where the industry was headed in terms of the adoption of IP, with AIMS, ASPEN, Sony and NewTek all proclaiming different visions and versions of what the future would look like.
At IBC 2017, however, everything pretty much came together.
Perhaps most notably, during the show, SMPTE formally announced that IP standards ST-2110, parts 10, 20 and 30, are now approved. That's a significant step forward, although there's still plenty to be done.
ST-2110, according to SMPTE, radically alters the way professional media streams can be handled, processed, and transmitted, and goes beyond merely replacing SDI with IP to support the creation of an entirely new set of applications that leverage what's going on in the IT world. With SMPTE's announcement, AIMS 'won' — although the real winner was the industry.
Bigger and Better
A feature of the IBC show this year was the IP Showcase. This was not the first time the event had been organized by AIMS, but this year's offering was much bigger and better than before, with more than 50 vendors — including Bridge Technologies — demonstrating real world IP interoperability based on what were, until September 18, ST-2110 final draft standards.
Bridge demonstrated the levels of interoperability that are now possible. At the firm's IBC stand, the VB440-SW dual 40 Gigabit Ethernet probe was showcased using live streams that enabled visitors to view network performance in real-time and showing how the SMPTE ST-2110 standard is a practical way forward.
IBC was an excellent event from the company's point of view. Not only did Bridge Technologies have the biggest stand than ever before, but a radically new user interface was presented, one that the firm has been working on this year, and that will be announced next year.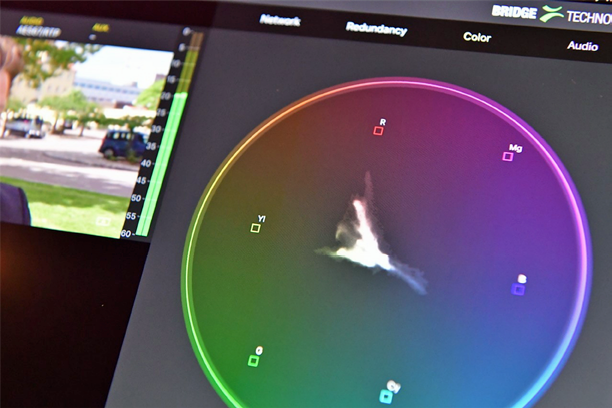 This technology will provide an entirely new way of viewing network behavior, enabling media professionals and others to obtain a highly intuitive view of data activity on the network with unprecedented accuracy and speed.
The technology is also designed to make it clear, in an ST-2110 and ST-2022 world, which packets are audio, which are video, which are control and so on — something that has not previously been achieved.
This is an outstanding tool for those in media production who must deal with high bitrate video as characterized by ST-2110 and ST-2022.6, those who need to have real-time, highly accurate knowledge of the behavior of networked packets and precise information about the content being carried.
The new user interface is also an excellent example of something else Bridge has been talking about for a long time which is the declining importance of hardware and the growing significance of software. That, too, was quite apparent at IBC 2017.
Many vendors extolled the virtues of software's ability to more easily adapt to a changing media and broadcast environment. Certainly, software such as Bridge's new user interface still requires capable hardware on which to run. However, it's the software that provides the solution and, increasingly at Bridge Technologies, you'll see the company focusing on such solutions.
New Solutions See Success
In the same vein — software — 2017 has been a good year for Remote Data Wall, an award-winning software solution the company launched toward the end of 2016.
Customers have responded positively as Remote Data Wall allows them to simply specify which of the rich data available from the Bridge Technologies digital media monitoring system is most significant for their specific requirements, and to display that data. The product enables users with no special skills to create displays that extend over multiple screens in a videowall format, significantly easing the monitoring, analysis and troubleshooting of media networks, which can be viewed from any location either in its entirety, or in part, as specified by the user.
This has also been a good year for NOMAD, a compact, rugged, portable network probe the firm introduced late last year and that is now achieving sales worldwide.
NOMAD is popular because a solution is provided to two key challenges in the industry. The first is the increasingly peripatetic nature of the network engineer's job as networks become more dispersed, with trouble-shooting often required at remote locations. The second is that many of those engineers are not yet fully proficient in how IP networks operate — and NOMAD is designed to make it simple for them to understand what's going on in the network and how to optimize it.
Last year, in my YEAR IN REVIEW article, I stated that "2017 promises to be the year when everything we've worked for becomes an industry reality." I believe that prediction has proven true.
I also said that I expected 2017 to be the year when the broadcast industry would move from 'talk' to 'walk,' and I think that is what has actually happened: the debate about IP is no longer "if" — but about "how?"
Thus far, IP has shown to be capable of adapting to almost any application and environment — and its impact has been transformative in the way we work, rest and play.
There is no doubt in my mind that IP will be equally transformative for the broadcast industry.
Author Simen Frostad is the Chairman of Bridge Technologies. Additional company information may be obtained at www.bridgetechtv.com
---
C-COM Satellite Systems—From Lumpy and Unpredictable to Ending with a Bang
By Drew Klein, Director of International Business Development, C-COM Satellite Systems
The past year started with a whimper and ended with a bang — this was how 2017 fared, at least from the perspective of C-COM Satellite Systems, a leading designer and manufacturer of the iNetVu®® mobile satellite antenna system.

"2017 sales started slowly, perhaps due to the uncertainty involved with the transition of power in the U.S.," said Dr. Leslie Klein, President and CEO of C-COM. "But then, orders started to flow from both new and existing customers, plans for large projects began to firm up, and additional vertical markets began to show some life."
The satellite business tends to have ups and downs, especially for niche players such as C-COM, where revenues can be lumpy and unpredictable. Such cycles can create feast or famine scenarios in the marketplace; when sales are slow, and projects are limited, companies should be focusing on innovation and business development. Those who fail to do so can suffer the effects of a lean winter, and going hungry is a challenging course. Fortunately for C-COM, focus was maintained by the company on what the firm does best: modernizing and producing the highest quality mobile auto-acquire antennas, while keeping a close eye on developing for the future.
"C-COM is not only focused on improving what we feel is already the Best-in-Class mobile VSAT solution, but we are working on cutting edge products that have the potential to revolutionize the antenna business," said Drew Klein, Director of International Business Development. "The year is finishing with a flurry and we are excited about the prospects for 2018."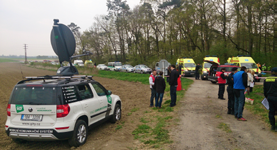 In January, C-COM announced that the company, along with the Natural Sciences and Engineering Research Council of Canada (NSERC), had co-funded the development of a CESPA (Conformal, Electronically Steerable, Phased Array) antenna solution. A significant sum of money is being invested in this development, half of which is coming from C-COM. The primary goal is the development of a modular, low cost, intelligent product for next-generation mobile satellite communications. This new type of antenna technology has the potential to significantly disrupt the existing market.
The Industrial Research Chair is held by Professor Safieddin (Ali) Safavi-Naeini, who leads a team of researchers at the University of Waterloo Centre for Intelligent Antenna and Radio Systems (CIARS).
"Our progress this year has been beyond our expectations," said Professor Safavi-Naeini. "We completed the 4X4 intelligent transmitter and receiver module design, simulation, and optimization. In parallel to the development and design of active MMIC chips, we have also made great strides in our research on passive array systems based on the patented BLT phase-shifting technology."
C-COM is also making major progress in the
Comms-on-the-Move (COTM) segment of the market, as it nears the end of the development of it's first 'iNmotion' mechanically steered Ka-band antenna. The first Beta unit was demonstrated at several international shows in North America and Europe throughout the year. Currently, the system is undergoing further testing on multiple live Ka-band services.
"Creating a new commercial grade technology, which uses low-cost mechanically steerable flat panel antennas, that operates on multiple commercial Ka services, has been very tricky," said Bilal Awada, Chief Technology Officer for C-COM. "We remain focused on delivering a high quality, reliable and affordable solution that will compliment our top of the line Comm-on-the-Pause (COTP) product," Awada continued.
This year, C-COM added ten new products to their growing iNetVu® lineup to meet the advanced needs of today's markets. "This has been challenging for C-COM's production, logistics, integration and support teams to keep pace with the ever-changing demands of the market place," said Gadi Sela, Director of Operations and Customer Support.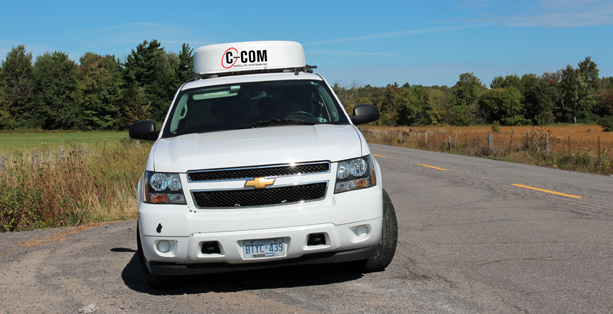 "The new generation products have not only dramatically improved system performance and increased reliability, but have also significantly simplified maintenance requirements, reducing them to practically zero levels. Although our Legacy iNetVu® product line is extremely reliable and field serviceable, I'm very pleased to see an even greater reduction in service calls and spare part failures on the new generation products. This is a testament to our improved engineering design, solid production operation and first class technical support."
In late May, the company was ranked #197 on the Branham300 Top 250 Canadian Technology companies for 2016, a drop of 22 spots from the previous year, but still strong enough to maintain a presence on the prestigious list. Despite disappointing first quarter results, revenues in the 2nd and 3rd quarters of 2017 increased year over year.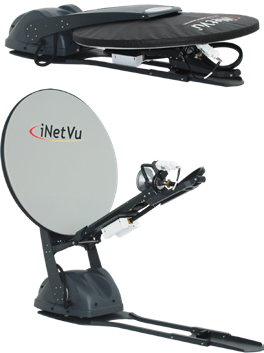 The company has paid out 22 consecutive quarterly dividends and has a tremendously strong balance sheet, with nearly $20,000,000 in working capital and no debt.
Traded on the TSX Venture Exchange under the symbol CMI, C-COM is a unique publicly traded company as the company is the only pure, mobile antenna play in the market. The future demand for antennas, with massive constellations expected to be built and launched, holds excellent promise for the company.
"C-COM maintains a significant cash position and an extensive inventory of products which can meet next day delivery for most orders," said Jim Fowles, C-COM's Chief Financial Officer. "The company has the ability to invest in new projects that fit the mold for it's long-term path."
To the success of this industry — and a Happy New Year to all!
Author Drew Klein is the Director of International Business Development at C-COM Satellite Systems. To learn more about the company, please visit www.c-comsat.com.
---
Cobham SATCOM—Enabling Digital Transformation in Diverse Industries
By Casper Jensen, Senior Vice President, Head of Cobham SATCOM
As new High Throughput Satellite (HTS) services really start to penetrate the markets, 2017 has become a transformative year for the SATCOM industry.
Inmarsat Global Xpress, Telenor Thor 7 and EpicNG have all added new capacity to serve the ever-growing demand for connectivity on land and at sea. At Cobham SATCOM, the company's R&D and manufacturing has evolved to service the needs of diverse end-users. The result is a number of new cutting edge terminals that are helping satellite service providers to optimize their customers' use of new generation services.
Maritime
A range of SAILOR and Sea Tel antenna solutions are readily available from the company to meet all requirements of the new generation of High Throughput Satellites (HTS) services; however, perhaps the biggest impact of HTS is that smaller antennas can now be used on board ships across the entirety of a satellite's footprint.
On a standard wide beam configuration, antenna reflectors of at least one meter are needed to secure a stable link as you move toward the edge of coverage — the HTS spot beam configuration makes 60 centimeter antennas a viable option across the globe.
Spot beam allows for reduction in the size and weight of the firm's antennas, making them suitable for more vessels. Based on an advanced lightweight carbon fiber
composites / aluminum design, and weighing in at just 37 kg., SAILOR 60 cm VSAT antennas for Ku- and Ka-band can be carried on board and installed by hand, negating the cost of hiring a crane and forklift in port.
These antennas are less expensive than one meter antennas to purchase and transport costs are also lower. These savings can ultimately be passed on to the end-user by service providers in what is a highly competitive market, all the while still providing the performance for reliable, high speed connectivity on a global basis. This helps to open VSAT up to more users, for instance, fishing vessels
and yachts.

Spot beam first arrived on the Ka-band networks Global Xpress and Thor 7; however, Intelsat's EpicNG network is now applying the technology to their Ku-band VSAT.
To enable EpicNG in the maritime sector, in March of this year Cobham SATCOM announced the newest
60 centimeter antenna, the SAILOR 600 VSAT Ku-. With an unprecedented G/T of 15.9 dB/K, this is the most powerful 60 centimeter class antenna ever built and can provide a stable, high throughput link on Intelsat's new network as well as for use on standard Ku-band networks.
Looking forward, small antennas stay in focus for the company. At the Nor-Shipping exhibition in May, the firm unveiled the SAILOR 4300 for Iridium CertusSM. The SAILOR 4300 is a Broadband Core Transceiver (BCX) type terminal, offering a highly reliable link over the Iridium® NEXT satellite network with speeds suitable for data-heavy applications that include video conferencing, multi-user Internet/VPN, IoT and telemedicine, as well as regular usage for email, electronic forms/reporting and crew communication.
While delivering high-speed, global connectivity as a standalone terminal, SAILOR 4300 has also been designed for seamless integration with onboard communication networks, making the product an ideal solution for VSAT service providers to provide a cost-effective, high-speed secondary/back-up communications channel. SAILOR 4300 provides this capability using a specially designed, easy to configure VSAT integrator 'smart box.' Integrating L-band with VSAT services helps to provide redundancy at sea.
Land
HTS has also been in the spotlight this year for the company's land mobile users, especially during November when the firm received Inmarsat Type Approval for the newest EXPLORER antenna.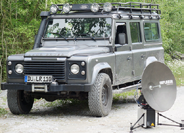 As the first Auto-Acquire, Drive-Away Antenna System for Global Xpress to employ unique Cobham SATCOM developed stabilization technology, Inmarsat Type Approval means that EXPLORER 8100GX is now ready to ensure high link availability and reliability for a variety of users in diverse sectors from broadcasting to defence.
EXPLORER 8100GX differs from other antennas through the unit's ability to maintain a link to the Global Xpress network in any conditions, even during violent storms with winds up to 112 km/h.
The antenna's unique Dynamic Pointing Correction (stabilization) technology instantly reacts to any movement of the vehicle it is installed on, caused by such conditions as high winds or people getting in or out of the vehicle.
Without stabilization, this movement can severely degrade the connection or result in complete loss of link — with EXPLORER 8100GX, the user experiences continuous high-speed connectivity.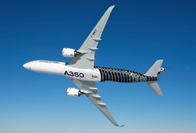 Stabilization is even more important on the HTS Ka-band frequencies used by Global Xpress, which require better pointing accuracy than Ku-band services to maintain a stable, high-bandwidth link to the satellite.
Announced in September of 2017 and available before the end of the year, the new EXPLORER 8100GX expands Cobham SATCOM's EXPLORER 8000 series, which already includes 1 and 1.2 meter antennas for global Ku-band satellite services as well as Eutelsat's Ka-band NewsSpotter, in addition to a generic Ka-band version that is compatible with Telenor Thor 7, which uses the same feed package as EXPLORER 8100GX.
Understanding their need for flexibility and modularity in our portfolio, they have also developed field conversion kits, allowing EXPLORER 8000 series antennas to be converted to GX and Ku-band variants to be converted to generic Ka-band operation.
Aviation
Much has occurred within HTS VSAT services for land and maritime applications, but the company is still committed to maximizing the potential of L-band for the aviation sector, including the new Inmarsat SwiftBroadband-Safety for aircraft.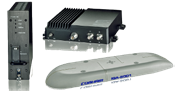 This next generation solution enables Inmarsat's new SwiftBroadband-Safety (SB-S) IP data service, which includes the encapsulation of ACARS messages (CPDLC and ADS-C) as well as safety voice, secure and plain IP data.
During 2017, the company announced that major airframers have selected the new Cobham SATCOM systems, with Cobham providing AVIATOR 200S and 700S for the Airbus A320 and A330 fleets. Also recently announced is that the 200S will be certified on the
Airbus A350 XWB.
Further supporting Cobham's development of technologies to meet the future needs of the aviation community, Cobham's AVIATOR 300D system is to be used by United Airlines for participation in the evaluation of
SB-S. Hawaiian Airlines has selected the AVIATOR 350D and SB-S for their new Airbus A321neo fleet.
Also for aviation this year, the company launched the world's smallest and lightest Inmarsat UAV SATCOM solution — the 1.45 kg. AVIATOR UAV 200. The system redefines UAV SATCOM connectivity by integrating all components into one compact lightweight unit.

This solution delivers Inmarsat Class 4 SwiftBroadband services in a low-SWAP package which is 76 percent lighter than existing comparable products on the market. The system was launched in February and, by May, Cobham SATCOM was able to report on successful live video transmission trials, which was a key milestone for this innovative new product.
More than Tech
Cobham SATCOM's established and new products are providing the technical reliability needed by service providers and end-users, while also focusing on the financial challenges in the market. OPEX is key and, by producing equipment that is easy and low-cost to maintain, and that lasts regardless of how tough the environment is, the company can help partners to be more profitable and, in turn, provide value to the end-user.
Another key area is ensuring that the company can deliver on customers' terms and on their deadlines. While Cobham SATCOM has always been focused on this goal, going forward our partners and their end-users will see the company become an even stronger force within the global logistics chain.
Additional company information may be obtained at www.combham.com.
---