Kim Gram has held the position of Vice President of the Aeronautical Business Unit at Cobham SATCOM (previously Thrane & Thrane A/S) since 2009. Kim has commercial responsibility for the global aeronautical business of Cobham SATCOM. He has been an integral part of the company for more than 12 years, having joined Thrane & Thrane A/S in 2001 as Sales Director, Global Maritime Sales. He held this post for two years, during which time he oversaw the introduction of the first data product of the company.
From 2003 until 2009, Gram was responsible for the development of a regional presence in Asia for the total business within Mobile Satellite Services (land and marine) as Director of Sales Asia Pacific and Global OEM Accounts.
SatMagazine (SM)
Good day, Kim. First, let's introduce you to our readers—how did you become involved in the satellite communications industry?
Kim Gram
After graduating with a master's degree in business sciences, I have worked with technology companies for most of my career. I have found it very challenging and exciting to apply the methodologies of strategy development, sales and marketing in a broad sense to the international development of technology firms. When Thrane & Thrane [now part of Cobham SATCOM] approached me and asked if I was interested in heading up their global maritime business within satellite communication, it was a very easy decision to say yes.
SM
What training did you receive in order to participate in this dynamic environment? What would you advise students to study today in order to acquire a satisfying career in SATCOM?
Kim Gram
It is a good question. It depends very much on which area of the business they want to engage in – whether it is in a commercial role, a product development role or in the manufacturing of the equipment. It is quite clear that the industry can always use excellent engineers within the fields of SW, Radio Frequency Electronics and mechanical design. However, looking at my own 11-year history in the business, arriving as a business graduate into the industry has been great fun. It is really all about passion for the technology. Thinking about it, I have seen colleagues with very different backgrounds, and not necessarily with master's degrees in anything, have very impactful roles in the industry.
SM
Would you tell us about your move from maritime into the aeronautical side of the business?
Kim Gram
First of all, I like changing roles in two to five year intervals. Variety is the spice of life. In Thrane & Thrane, and now Cobham SATCOM following the acquisition, I have really had three different jobs. My first role was the global commercial responsibility for the maritime business. Then I had the responsibility for our Asia organisation across our land mobile and maritime businesses, involving establishing our local organisation in the region while also running the day-to-day business. My trade is international business development and, in that way, I apply the same methods independently of which technology or market I am in. When I was asked if I would take over the Aero business, I was very excited to take on the challenge because there is a huge opportunity to make a difference in aircraft SATCOM.
SM
What differences do you see between your original firm, Thrane and Thrane A/S, and its acquisition by Cobham? Do you retain the independence necessary for a successful business unit?
Kim Gram
In terms of the aero business, Cobham SATCOM in Cape Town and Thrane & Thrane A/S have always been both competitors and business partners at the same time. The opportunity to join these two businesses creates the engineering platform to really make a leap in the kind of satellite systems available to the airline industry.
SM
What does the Global Aeronautical Satellite Communications business encompass for Cobham?
Kim Gram
As well as the push for broadband in the cabin, the flight deck is increasingly looking at its use of streaming data for tasks such as air traffic control and aircraft operation. We are actively engaged in the ARINC committees working on future SATCOM systems that will provide the connectivity to make aircraft a business domain where people can be connected with the rest of the organisation. While doing this, we need to be sensitive to the security issues and need for versatility of the future SATCOM communication systems.
SM
What is Cobham's vision for aircraft SATCOM moving forward and what is the parent company's role in these technologies as far as support and implementation are concerned?
Kim Gram
To me, it is an opportunity to change the airline industry from an environment where an aircraft to a large extent remains the only workplace without an IP data link for professional communications. Aircraft are the only remaining workplace where the people working there are not connected with the rest of the organisation, be it maintenance, operation or flight planning with an IP Pipe.
Being the largest provider of mobile satellite systems, I believe that Cobham has an obligation to contribute to changing this situation. Our aim is to provide technologies and systems that, in a cost effective way, will ensure that the operation and maintenance department of the airlines will have the option of being connected to the aircraft continuously for all aspects of the work. That is what we have achieved in the maritime industry during the last decade.
We are talking about developing a new generation of technologies which will handle the specific requirements in the airline industry. I have felt a strong encouragement from Cobham to pursue this vision.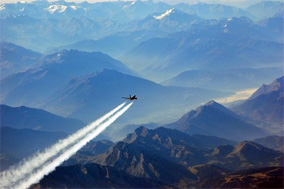 SM
What are your thoughts regarding aircraft SATCOM for the commercial, and the MAG, side of the industry? How fierce will the competition become and what advantages will your business offer to potential customers?
Kim Gram
The demand for connectivity will continue to grow and we can really tap into this potentially huge market thanks to the integration of Cobham and Thrane & Thrane's broad-based portfolio antenna systems. Our AVIATOR portfolio offers wireless communications to a very broad range of aircraft, including turboprops, light jets, air transport aircraft, military aircraft and unmanned aircraft vehicles. There are a range of systems which are compact and lightweight, offering simple and cost-effective installation.
SM
For the growing demands of militaries and governments within the airborne SATCOM environs, how will you create the paths necessary to inform acquisition agencies regarding your products and services?
Kim Gram
Cobham has a huge presence in defence and armed forces for land, sea and air applications, with our radar products, specialist antennas and microwave subsystems playing vital roles throughout the world, so the platform is already in place for the SATCOM channel.
SM
What is your experience in approaching commercial airline industries?
Kim Gram
We have lots of commercial customers using Cobham antenna systems and with almost every segment, from high end to low cost airlines, planning to add the capability of supporting internet connectivity, there are lots of opportunities for us. We will be at the forefront of crucial issues such as differentiating passenger connectivity from the in-flight connectivity for EFBs.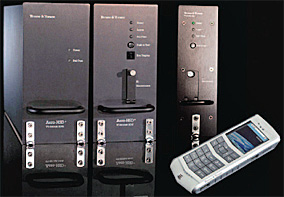 SM
Where do you see airborne SATCOM and MILSATCOM extending itself over the next few years?
Kim Gram
The SwiftBroadband service that our AVIATOR terminals are made for has already proven popular in the business aviation market, supporting an extensive range of communications applications for passengers in the cabin by offering built-in Wi-Fi, enabling entertainment services and 'office in the sky' applications such as voice and email. Wireless connectivity can support a host of applications in the cockpit, from enabling on-line use of modern EFBs to accessing real-time weather reports, flight planning and chart information. The AVIATOR systems and connectivity will continue to support current and future advances in cockpit technology. We are also committed to providing a new, smaller, less expensive terminal that will provide the capability for forthcoming safety services, which will be a very big focus in the coming years.
SM
Given your experiences in this industry over a broad array of business units, what project or projects truly brings a smile to your face?
Kim Gram
Well, it was always satisfying to ensure that Lars Thrane, the co-founder of Thrane & Thrane, had the best communication systems on his private jet, made by the company he started in 1984. But we are now into the next phase of the story and as Cobham SATCOM I'm sure that there will be many successful projects that will put a smile on my face. And using our skills and experience to develop new technology and provide reliable, cost-effective communication systems for the broadest range of aircraft will definitely keep me smiling.