NewSat Limited—For Careers, The Sky's The Limit
NewSat Limited is proudly supporting the future space workforce in Australia by sponsoring the Southern Hemisphere Summer Space Program (SHSSP).
Held annually, the SHSSP is run by the University of South Australia in partnership with the International Space University (ISU).
Australia's only space program of its kind, SHSSP is a unique, five week live-in experience which focuses on a variety of space topics including policy and regulatory issues, systems engineering and technology, as well as space business and management.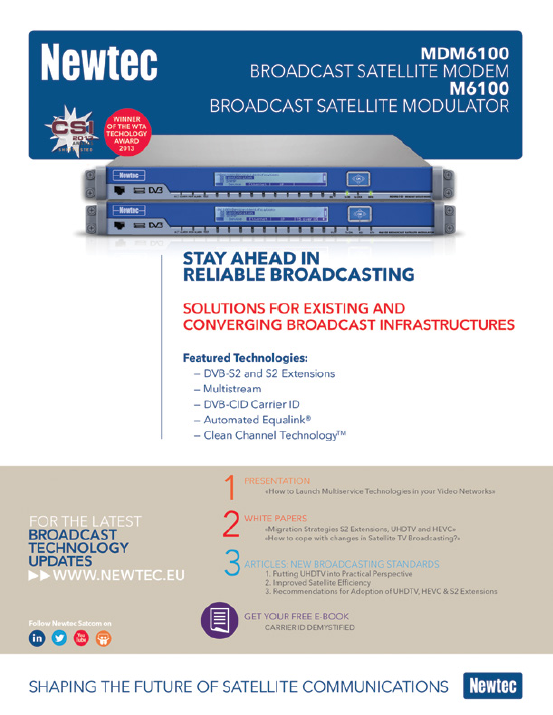 Adelia and Eren, along with the other participants, have been attending lectures and workshops and visiting local sites of interest in Adelaide.
On Monday, January 20th, the lectures featured satellite communications and Earth stations followed by a commercial satellites workshop, involving NewSat Chief Technology Officer, David Ball.
Students and program coordinators also attended a tour of NewSat's Adelaide teleport, hosted by VP Engineering and Operations, Len McGoldrick, Spacecraft Systems Engineer, Mark Ramsey, SA Operations Manager, Bruce Mayberry and Implementation Engineer, Mark Wallace.
Scholarship winners Adelia and Eren were grateful for the support from NewSat and have been finding the course beneficial to their career goals.
Fascinated by all aspects of space, 26 year-old Adelia said "the best part of the experience has been bringing together different disciplines, and seeing how they are integrated to create a space mission."
Eren, 22, said "programs like SHSSP are important for Australia, as they put the country on the map in the world of space and provides a place for students to network and develop new skills."
This is the fourth time this international space education program has been held in Adelaide.
Proudly supporting the future space workforce, Adrian Ballintine, NewSat Founder and CEO said, "We are excited to support the SHSSP program again in 2014. This is a fantastic platform for young professionals to launch their space careers, applying their knowledge in a practical sense and a great opportunity to share what NewSat is doing in the industry, particularly featuring our world-renowned Adelaide teleport facility. We are proud to support Adelia and Eren, and look forward to watching them progress in the space industry."
For more information, please visit http://www.newsat.com
* * * * * * * * *
MEASAT + Telered—Philippine Persuasion
MEASAT Satellite Systems Sdn. Bhd. ("MEASAT") and Telered Technologies & Services Corp. ("Telered") has an agreement for capacity on the MEASAT-3a satellite.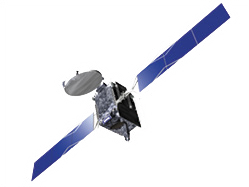 Under the terms of the agreement, Telered will use MEASAT-3a for the distribution of the Viva TV and Pinoy Box Office (PBO) channels across the Philippines.
The agreement also contains on option for additional capacity to support Telered's planned future expansion of video distribution services in the Philippines market.
"Telered is excited to embark upon the next stage of its growth plans," said Redentor Laset, President, Telered. "With this capacity, we will be able to serve local and regional programmers for their local distribution requirements.
"Our decision to enter into partnership with MEASAT was also on account of their ability to provide a flexible working approach customized to our requirements," he added.
"MEASAT is pleased to support Telered's plans to provide new distribution channels and playout services to the Philippines market," said Raj Malik, Senior Vice President – Sales & Marketing, MEASAT. "We look forward to continue supporting Telered's expansion plans to carry exciting new content to audiences across the Philippines."
The Telered infosite is located at: http://www.telered.com.ph/
* * * * * * * * *
Ericcson + Dialog Axiata—M2M Mechanics
Sri Lanka's largest mobile operator by subscribers Dialog Axiata has selected Sweden's Ericsson for the provision of its Device Connection Platform to develop existing machine-to-machine (M2M) products and services aimed at enterprise customers in diverse sectors such as utilities, finance, telematics and transport.

Ericsson's M2M platform enables enterprise users to monitor devices, access information, and integrate devices into existing systems, while the solution promises Dialog new opportunities to increase revenue while cutting both operational costs and time-to-market.
In addition to supplying the Device Connection Platform, Ericsson has been recruited for consulting and systems integration to accelerate Dialog's M2M go-to-market plans, according to the vendor's release.
Jeremy Huxtable, head of Dialog's enterprise division, said, "M2M allows for simplified and improved processes, and this brings us a step forward in capitalizing on existing assets to drive market leadership of M2M in Sri Lanka."
For more information on this Ericsson offering: http://www.ericsson.com/ourportfolio/products/device-connection-platform
For additional information regarding MEASAT, access: http://www.measat.com/
* * * * * * * * *
Euroconsult—India, In-Depth
The newly released report, "India Satcom Markets 2014", India's satellite communication sector has experienced significant growth over the past five years driven by explosive demand from DTH payTV platforms and growing telecommunication needs in the country.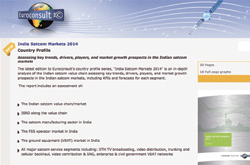 The SATCOM value chain is strongly influenced by the Indian Space and Research Organization (ISRO) that is present all along the SATCOM value chain including for satellite manufacturing, launch, satellite operations, regulations and partially for services. On the manufacturing level, roughly half of the country's satellite manufacturing sector spending is currently dedicated to developing communications satellites.
"While ISRO dominates the satcom manufacturing landscape, outsourcing to foreign and national companies will continue to provide growth opportunities for a number of players with hundreds of millions of dollars to be outsourced from 2013-2021," said Deepu Krishnan, Senior Consultant at Euroconsult.
Satellite capacity demand from DTH broadcasting grew at a CAGR of over 7 percent from 2008-2013, now representing 32 percent of the country's total commercial satellite capacity usage. TV distribution services to cable operators and VSAT enterprise networks have equally seen growing demand in recent years, leading to an increasing number of players now operating in the country's teleport and VSAT service market. In particular the cellular backhaul market has begun to see strong take-up in India with the arrival of HTS systems such as IpStar, but also government backed networks connecting schools, remote villages, etc., are currently growing with increasing capacity needs. Alongside satellite services, the annual satellite ground equipment market has also seen growth, generating $40 million in equipment revenue in 2012, dominated by international ground terminal manufacturers.
While domestic operator ISRO/Antrix enjoys significant regulatory advantages in the market, only a proportion of the commercial demand for satellite capacity is being met by domestic capacity today, with the majority being provided by foreign satellite operators. Regulatory barriers and capacity supply constraints still challenge market growth.
In total, demand for regular C- and Ku-band capacity is expected to grow at 6 percent p.a. between 2013 and 2023 in addition to new demand for SATCOM services using HTS systems that should see strong take up towards the end of the decade.
Additional report information: http://www.euroconsult-ec.com/research-reports/satcom-reports/india-satcom-markets-2014-39-54.html
* * * * * * * * *
NSR Analysis: Long Live C-Band For Maritime­
With many new HTS systems launching within the next 12 – 24 months, it is easy for classical FSS C-band capacity to get lost in the mix.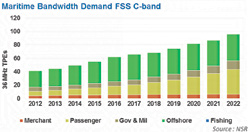 Yet, as NSR projects in its Maritime Satellite Markets report, FSS C-band is not going anywhere—adding another 55 TPEs of capacity over the next ten years.
Maritime service providers continue to expand their FSS C-band capacity, as more end-users continue to increase their bandwidth demands. Even KVH recently announced a doubling of the capacity for two of the three global C-band beams of its mini-VSAT Broadband network.
Given C-band's near ubiquitous coverage for maritime markets (minus the polar regions), high tolerance for rain-fade, and almost 8,000 In-service units by 2022, FSS C-band still has a lot of momentum within the marketplace. However, the real question remains: could there be an end in-sight for FSS C-band for maritime markets?
In short, it is unlikely within even the next 15 years. Even as GEO-HTS C-band based systems come online, their limited coverage outside of major areas of maritime concentration (such as Atlantic shipping routes or centers of Oil & Gas concentration) continues to bolster support for the traditional FSS C-band networks.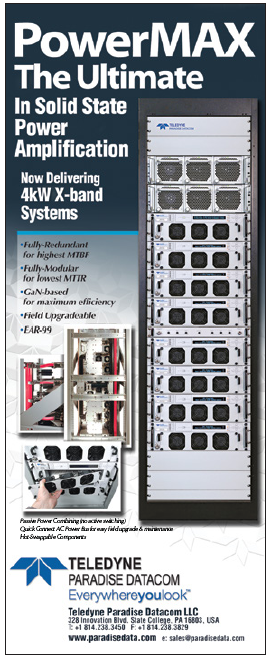 Although merchant maritime traffic will follow highly predictable routes between the major land-masses, other maritime markets continue to roam the oceans—from cruise ship routes opening up within the Pacific, new areas of O&G activity, to ongoing military activities throughout the high seas. These are all heavy users of FSS C-band capacity and even with the introduction of GEO-HTS and MEO-HTS, they will continue to rely on FSS C-band.
Even merchant shipping—the largest market for maritime satellite-based connectivity—will continue to lean on FSS C-band capacity to enable highly robust network availability at higher throughputs and better price-points than MSS-based offerings can strictly provide.
Additionally, robust network design continues to be the significant factor in FSS C-band's appeal. However, some steady migration of FSS C-band from primary to co-primary or secondary roles will impact the per-unit revenue growth prospects for service providers going forward.
As more traffic shifts towards FSS Ku-band, GEO-HTS or MEO-HTS solutions, ARPU will likewise decline. Instead, revenues will be driven by new vessels coming online with hybrid systems installed where FSS C-band will remain a critical component for service providers to enable high network availability regardless of vessel location.
Taking the lead, offshore maritime markets and passenger vessels will be the largest consumers of FSS C-band capacity due in part for their need for high availability (both in frequency and in coverage), and larger bandwidth demands compared to other maritime markets such as fishing or merchant shipping.
With frequent travels outside of major maritime shipping routes, including trans-oceanic transit of vessels between regional hot-spots, FSS C-band will remain a critical component of their connectivity solutions. In short, hybrid solutions with a combination of FSS C-band and GEO-HTS will be a leading network design going forward within the offshore and passenger vessel market.
Not to be forgotten, FSS Ku-band will remain a critical piece of the connectivity puzzle for maritime end-users, with demand spread almost equally across the maritime market. But, for the higher-end verticals, and higher-end maritime customers, FSS C-band prospects still remain strong.
With many other satellite markets shifting away from FSS C-band, the maritime market remains a strong market with ongoing bandwidth growth prospects.
Driven by the higher-end segments of the market—larger passenger vessels, offshore end-users—FSS C-band will remain a key ingredient for maritime service providers looking to capture high-end customers... alongside investments into GEO-HTS architectures.
About the author
Brad Grady is a Senior Analyst, NSR, USA
Maritime Satellite Markets info: http://www.nsr.com/research-reports/satellite-communications/maritime-satcom-markets/
* * * * * * * * *
PCI Geomatics... HAP Update System Makes For Happy Clients
PCI Geomatics has updated its Historical Airphoto Processing (HAP) workflow.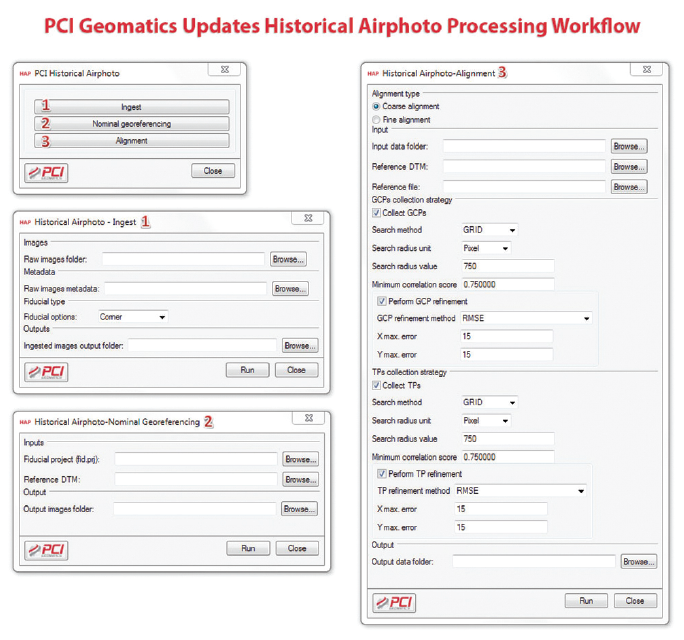 The HAP workflow, released to the public in March of 2013, provides a semi-automated means to align, orthorectify, and mosaic digitally scanned airphotos.
The system can greatly reduce manual labor, increase throughput, and achieve high accuracy.
This update adds a functional and intuitive Graphical User Interface (GUI) to the workflow.
"The strong demand for historical airphoto processing drove the decision to add a user-friendly interface to the HAP system," said David Piekny, Product Marketing Manager at PCI Geomatics. "The GUI further simplifies the process, allowing more users to take advantage of this technology and unlock their historical archives."
The HAP workflow uses multi-pass processing and automated ground control and tie point collection.
This produces an accurate math model that can be used to generate individual orthos or seamless ortho-mosaics from hundreds or thousands of airphotos without camera calibration files.
The system is built with PCI's proven Geomatica technology and can be scaled to meet all requirements for historical airphoto correction.
The HAP workflow corrects imagery to make it usable in GIS and image processing software environments so users can benefit from multi-year image analysis, tracking changes that have occurred across the landscape.
"For decades, access to historical imagery was typically restricted to archives and difficult to access – requiring onsite consultations that consume valuable time and resources," explained Piekny. "Even in cases where the photos were scanned and cataloged digitally, use in GIS applications was severely limited due to misalignment and scale. HAP changes that, and the update makes it even easier to modernize a complete collection."
PCI Geomatics is a developer of software and systems for remote sensing, imagery processing, and photogrammetry. With more than 30 years of experience in the geospatial industry, PCI is recognized for accurately and rapidly processing both satellite and aerial imagery.
PCI has installed more than 30 thousand licenses, in more than 150 countries worldwide.
More info at: http://www.pcigeomatics.com/pressnews/photos/PCI-HAP-GUI.jpg
* * * * * * * * *
SNC + NASA: Facility Prep For Launch
In the latest example of NASA Kennedy Space Center's transformation into a multi-user spaceport, Sierra Nevada Corporation (SNC) of Louisville, Colo., has announced the steps it will take to prepare for a November 2016 orbital flight of its Dream Chaser spacecraft from Florida's Space Coast.
The announcement included the purchase of an Atlas V rocket from United Launch Alliance (ULA) for the launch, sharing the Operations and Checkout (O&C) development and testing facility with Lockheed Martin Space Systems, establishing an operation center at Kennedy Space Center and using the former Shuttle Landing Facility (SLF) runway at Kennedy.
The steps are considered substantial for SNC and important to plans by NASA and Space Florida for Kennedy's new availability to both commercial and government customers.
SNC said it plans to work with ULA to launch the company's winged Dream Chaser spacecraft into orbit from Space Launch Complex 41 at Cape Canaveral Air Force Station.
The Dream Chaser spacecraft is designed to carry crew and critical cargo to destinations, as well as perform servicing and science in low-Earth orbit. SNC intends to complete Dream Chaser missions with a landing on the 3.5-mile runway at the SLF. Space Florida, which will operate the SLF in the future, will negotiate the terms and conditions for the runway's use with SNC.
The company said it plans to prepare the Dream Chaser spacecraft in the high bay of the O&C building at Kennedy, with Lockheed Martin performing the work.
The facility also is used for the development, assembly and testing of NASA's deep space Orion spacecraft. Dream Chaser testing will take place without disrupting Orion, NASA's flagship human exploration vehicle. SNC also plans to lease office space at Exploration Park, located just outside Kennedy's gates.

The Dream Chaser spacecraft is deep into development of flight hardware and specific plans ranging from ground support equipment to what to include in a mission operations center.
For more information about Sierra Nevada Corporation's Dream Chaser, visit: http://www.SNCDreamChaser.com
For more information about NASA's Kennedy Space Center, visit: http://www.nasa.gov/kennedy
* * * * * * * * *
Virgin Galactic—You're Fired, And For Good Reason
Virgin Galactic has announced the company has reached a significant milestone in the testing of a new family of liquid rocket engines for LauncherOne, the company's small satellite launch vehicle.
As part of a rapid development program, Virgin Galactic has now hot-fired both a 3,500 lbf thrust rocket engine and a 47,500 lbf thrust rocket engine, called the "NewtonOne" and "NewtonTwo" respectively.
Further, the NewtonOne engine has successfully completed a full-mission duty cycle on the test stand, firing for the five-minute duration expected of the upper stage engine on a typical flight to orbit.
These tests are being conducted on two new state-of-the-art test stands that the team designed, assembled and installed internally.
The new rocket engines were designed and assembled in-house by Virgin Galactic engineers and technicians, and mark the first firings of engines designed and built by the privately-funded company, owned by Sir Richard Branson's Virgin Group and Abu Dhabi's aabar Investments PJS.
As part of the ongoing test program, the NewtonOne engine has now been fired dozens of times, achieving the target thrust during a full-duration test.
The test team has successfully completed as many as six distinct test firings in a single day, as a demonstration of the rapid test-retest capability critical to the liquid engine program.
The larger NewtonTwo engine has also been fired multiple times at short duration, with longer duration firings scheduled to occur in the coming months.
Additionally, Virgin Galactic engineers and technicians successfully completed a quick turnaround test in which engines were swapped out and fired within 12 hours, an important early demonstration of LauncherOne's responsive, quick call-up capability and of the versatility of both the engines and the test stand.
Both engines were custom-designed by Virgin Galactic to serve as the propulsion system for the LauncherOne satellite launch vehicle, which uses a single NewtonOne on the upper stage and a single NewtonTwo on the main stage.
Both engines are simple, pressure-fed LOX/RP-1 systems built with a low part-count design. The NewtonTwo engine is a scaled-up version of the NewtonOne, sized to serve as the first stage engine for LauncherOne, with a nozzle optimized for air-launched performance.
Powered by those two engines, LauncherOne will carry small satellites to low-Earth orbit affordably and responsively, enabling a new generation of private and government missions.
Further info: http://www.virgingalactic.com/