Inspired Ideas Begin with Inspired Conversation.
Discover the Legal Future of Space.
Satnews, in collaboration with Mansat and Jones Day, is presenting an informative one-day Space and Satellite Regulatory Colloquium, October 24th 2013, focused on emerging space law and regulatory issues facing the U.S. Administration and International governments. The colloquium will be held at Jones Day Conference Facilities overlooking the U.S. Capitol Building.
We invite you to attend. We have a strong lineup of speakers, and believe the themes discussed will be most interesting and relevant to you. The colloquium is scheduled to begin at 8:00 a.m. and conclude at 6:00 p.m. Breakfast and lunch will be provided and a reception will be held on the patio overlooking the Capitol Building at the conclusion of the event.
Continuing Legal Education Credit is Included
Includes Breakfast, Lunch and Wine Tasting Cocktail Hour
* * * * * * * * *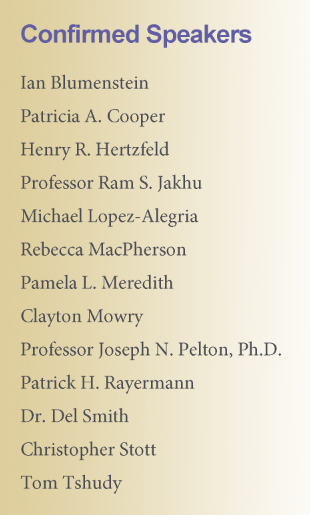 AGENDA
7:30-8:00 a.m.
REGISTRATION AND COFFEE
______________________________
8:30-8:50 a.m.
WELCOME AND OPENING DIALOGUE
Welcome: Gregory Shumaker, Jones Day
Dialogue on "The Law in Space in the 21st Century" : Christopher Stott, Chairman and CEO, Spacelsle and ManSat and Del Smith, Jones Day.
​______________________________
8:50-9:40 a.m.
LEGAL AND REGULATORY ISSUES AFFECTING SATCOM SPECTRUM AVAILABILITY
MODERATOR: John P. Janka, Partner, Latham & Watkins
Panelist: J. Armand Musey, Summit Ridge Group, N.Y.
Other panelists to be announced.
______________________________
9:40-10:30 a.m.
OPPORTUNITIES FOR SPACE SECTOR FINANCING AND HOSTED PAYLOADS
MODERATOR: Elizabeth Evans, Partner, Jones Day
Panelist: Don Thoma, CEO, Aireon Satellite LLC
Panelist: Stephen Daoust, Senior Counsel, Iridium Satellite LLV
Panelist: Ian Blumenstein, Partner, Jones Day
Panelist: Stefan Lopatkiewicz, General Counsel, Eutelsat America
______________________________
10:30-10:45 a.m.
COFFEE AND NETWORKING
______________________________
10:45-11:45 a.m.
IS THERE SYNERGY OR OPEN WARFARE AHEAD FOR SATELLITE AND WIRELESS - WHAT'S AT STAKE COMMERCIALLY?
MODERATOR: David Hartshorn, Secretary General Global VSAT Forum (confirmed)
Panelist: TBD
______________________________
11:45-12:45 p.m.
BE CAREFUL WHAT YOU ASK FOR; ITAR AND EAR REQUIREMENTS POST EXPORT REFORM
MODERATOR: Giovanna Cinelli, Partner, Jones Day
Panelists Include The Director of Export Enforcement at the Commerce, The Director of the new Commerce Munitions Division, and The Director of License at DTSA.
______________________________
12:45-1:45 p.m.
KEYNOTE LUNCHEON SPEAKER
______________________________
1:45-2:25 p.m.
BUILDING A FRAMEWORK FOR SPACE LAW AND POLICY IN THE COMING DECADE; DO WE NEED TO START OVER?
MODERATOR: Del Smith, Senior Telecommunications Counsel, Jones Day
Panelist: Dr. Ulrich Goebel, Managing Partner, Bird & Bird, Munch, Germany
Panelist: Patrick Rayermann, Col., U.S. Army (Ret) Senior Manager, Business Development Astrium Services Government, Inc.
Panelist: Eddi Kato, CEO, Thales Alenia Space North America, Inc.
Panelist: Ric de Bastos, Ret./President, Orbital Communications, International, and Ret/Executive Vice President, Lockheed Martin
Panelist: Pamela L. Meredith, Chair, Space Law Practice Group, Zuckert Scoutt Rasenberger
______________________________
2:25-3:15 p.m.
LEGAL STAR WARS: ORBITAL DEBRIS, SPACE TRAFFIC MANAGEMENT, AND THE NEED TO REGULATE THE "PROTOZONE"
MODERATOR: Dr. Joseph Pelton, Executive Board, International Association for the Advancement of Space Safety
Panelist: Dr. Henry Hertzfeld, George Washington University, Space Policy Institute
Panelist: Dr. Ram Jaku, Associate Director, Institute of Air and Space Law, McGill University
Panelist: Rebecca MacPherson, Jones Day
______________________________
4:00-4:45 p.m.
WHAT LIES AHEAD FOR THE SPACE LAUNCH INDUSTRY: REGULATION, CONSOLIDATION, OR FRAGMENTATION?
MODERATOR: Christopher Stott, Chairman and CEO, Spacelsle and ManSat
Panelist: Tom Tshudy, Vice President and General Counsel, International Launch Services, Reston, Virginia
Panelist: Clayton Mowry, President, Arianespace, Inc., Washington, D.C.
Panelist: Patricia Cooper, President of Satellite Industries Association
Panelist: Mr. Jeff Foust, one of Senior Program Managers at Futron SpaceX
______________________________
4:45-5:30 p.m.
FREE FOR ALL
A non-structured roundtable discussion, with observations on the day by the Colloquium Moderators to be followed by attendee commentary and debate.
______________________________
5:30-7:00 p.m.
RECEPTION ON THE TERRACE for all attendees.
Programs, topics, speakers and/or times may be subject to change without any prior notice.
For more information: http://www.satnews.com/space13