Due to the emergence of High Throughput Satellites (HTS), the satellite market has significantly changed. Ten years on and HTS have proven their worth—they are here to stay—however, have the systems reached their full potential, or is there yet more to come?

Making History
First launched ten years ago, the impact of HTS tends to be summed up by a few frequently-seen phrases; more throughput, lower cost per bit, multiple narrowly focused spot beam technology, all of which enables frequency re-use, increased efficiency, admirable payback and a threat to conventional satellite operators. Of course, describing them in this arguably limited way does not do justice to the game-changing innovation HTS have proved themselves to be. With the launch of the first system—Thaicom's IPSTAR—in August of 2005, a massive shift in our industry and in satellites' capabilities was kick-started.
Designed for high-speed, two-way broadband communication over an IP platform, IPSTAR provides coverage over most of South East Asia via multiple, narrowly focused, spot beams. As is typical of HTS, IPSTAR is capable of maximizing the available frequency for transmission and increases bandwidth by a factor of 20 when compared to traditional Ku-band satellites, which results in more efficient operations.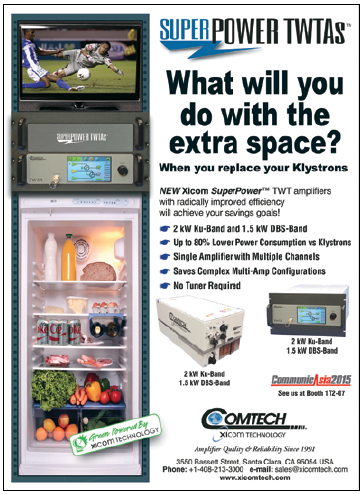 With the advent of this new technology came new capabilities, revolutionizing service providers' respective offerings. The provision of broadband is a prime example—whereas, before, connectivity could only be provided to urban areas, HTS have enabled previously underserved and unserved areas to receive the same sort of high-speed broadband as urban areas. Meanwhile, the satellite manufacturing landscape has been transformed, with traditional equipment manufacturers competing with their previous customers by becoming satellite operators and satellite service providers.
The Rise + Rise Of HTS
Fast-forward to 2015 and HTS have proven their staying-power with widespread use in consumer broadband applications. As the systems grew in popularity, the debate over the effectiveness of the so-called 'closed' and 'open' business models has continued, with the industry yet to agree a defined architecture for HTS. This is not a bad thing, with constant discussion often spurring innovation.
Currently, systems take the form of either 'closed' or 'open' architecture, with the former giving satellite operators complete control over the entire chain of service to sell almost directly to the end customer, and the latter providing a greater degree of personalization and flexibility for the end customer, with VSAT providers being able to package the space segment with the terminal hub and equipment of their choice. In the future, we believe we will see even more variation on infrastructure as different technologies continue to emerge.
The different variations of HTS architecture has seen the range of applications it is used for begin to expand. Traditionally, broadband via HTS was targeted at consumers in rural and remote areas. While this remains a key area, the last few years have brought about an increasing trend of HTS being used to provide connectivity in schools, on trains and buses and even for maritime crews and airline passengers.
With HTS having grown so popular, then, the question industry experts' express is: Have these satellites now reached their full potential, or will the satellite market continue to be influenced further by the technology?
New Horizons
In short, the latter seems more likely. According to a 2014 Euroconsult report, High Throughput Satellites: On Course for New Horizons, use of HTS will continue to increase, with global capacity usage on HTS systems expected to grow from 107 Gbps in 2014 to more than 1,300 Gbps in 2023. This is, in part, due to the satellite operators' continued quest to reduce OPEX. This means that a satellite being used to deliver just one service is being seen far less frequently. For HTS, an even greater broadening of horizons to move beyond consumer broadband and into new applications will be experienced.
According to Euroconsult's report, additional applications which offer the most potential for HTS use include Civil Government and Enterprise Networks, Cellular Backhaul and Trunking, MILSATCOM and Video Services. The opportunity for satellite operators to move into the Cellular Backhaul market, for example, has come as a result of increased use of 3G and 4G cellular technologies, which require higher bandwidth backhaul channels to support traffic.
When providing this kind of coverage in ex-urban and rural areas, the distance between cellular base stations makes it cost-prohibitive to pursue terrestrial means. This opens up the prospect for satellite backhaul to be used, instead. While 4G services will be limited to urban centers, where fiber is readily available, for the foreseeable future, mobile operators will continue to extend 3G services to ever more remote areas, making HTS ideally positioned to support the backhaul of 3G data services. Even markets such as the oil and gas industry, which requires high capacity as well as highly reliable services, can benefit from HTS' lower bandwidth costs when combined with high capacity but smaller terminals.
Even after ten years, HTS continues to represent the next generation of satellite services, providing cost-effective models and higher service levels. In the future, demand for these qualities will only increase, with service providers increasingly looking to run more than one service with the same capacity and new technologies continuing to emerge to support this and HTS.
Thaicom is pleased to have made such a significant contribution to this new era of satellite communications and the company remains committed to supporting what appears to be a bright future for HTS—for the next ten years... and beyond.
www.thaicom.net/
---