iDirect
By Mary Cotton, Chief Executive Officer
For the past several years in this annual article, the focus has been on the emergence of High Throughput Satellites (HTS).

I have written about the opportunity for satellite communications to break out from niche technology status to play a larger role in the end-to-end network as global demand for bandwidth explodes.
Well, that opportunity is decidedly here. HTS capacity is filling the skies and opening markets on the ground. As with any type of opportunity, though, meeting demand means raising your game.
In 2016, iDirect made significant progress powering our customers' innovations and enabling the company's ground infrastructure platform to capitalize on the immense opportunities within the industry.
Milestones In Delivering Mobility Service
iDirect's mobility partners made headline news this year as several highly anticipated HTS services built on iDirect became commercially available.

Inmarsat GX went live with tremendous success, and Inmarsat immediately realized customer wins across maritime, government, and aviation markets.
In 2016, the first Intelsat EPICNG satellites went into service, making HTS capacity available for commercial shipping vessels and tankers operating in the North Atlantic, as well as for cruise ships and other leisure vessels in the Caribbean.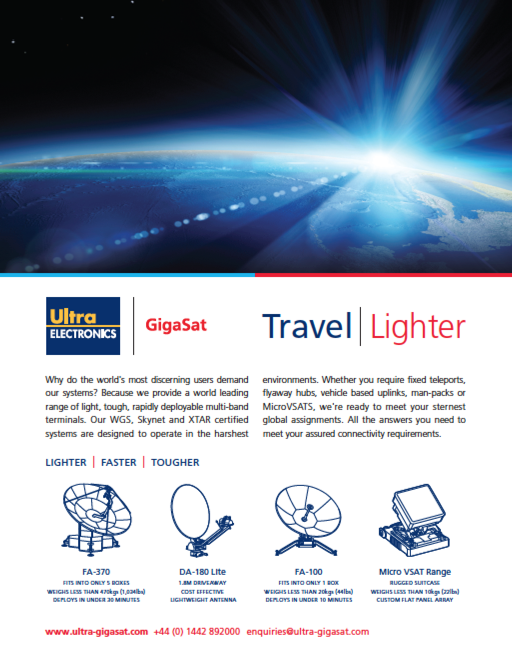 2016 also noted the successful launch and adoption of Telenor's THOR 7 satellite, which provides HTS coverage over European shipping lanes.
iDirect supported several more partners in launching and expanding their mobility networks this year. Marlink signed up for capacity with both Inmarsat and Intelsat, making its move into HTS-based services.
iDirect partnered with SES to launch their Maritime+ service, which represents their first Ka-band maritime offering. Speedcast expanded their global maritime network on the iDirect platform and Globecomm launched a high-capacity satellite service for fixed and mobile assets on a global basis.
iDirect continues to see innovation in the mobility market, especially in the antenna industry, where flat panel solutions are opening new opportunities.
This year, iDirect supported VSAT antenna manufacturer Kymeta in launching a ground-breaking "no dome" antenna for the superyacht market. Kymeta's mTenna represents an entirely new class of VSAT technology that can be hand-carried onboard and self-installed on commercial shipping vessels, fishing fleets, and even leisure vessels, creating additional market opportunities.
Advances In Defense & Enterprise
iDirect Government had a very strong year, powered by the launch of the firm's nexgen 9-Series portfolio of remotes, defense line cards, and Evolution 3.4.1 software.
With the Evolution platform, the entire 9-Series line of remotes is capable of nearly double the in-route Msps of its predecessor with almost 10 times the packets per second capability. Evolution 3.4.1 delivers enhanced features in security, performance, and efficiency to the 9-Series product line to support airborne, maritime, and land-based communications.
In the enterprise markets, iDirect made significant progress in bridging the gap between satellite and terrestrial networks with the rapid adoption of Layer 2 over Satellite (L2oS).
L2oS uses switching to pass Ethernet packets end-to-end over the network, enabling a satellite network to behave like a mainstream access network. L2oS also enables new satellite service delivery models based on carrier-grade Ethernet, and it facilitates converged services.
Telecom providers such as Verizon and BT have demonstrated how iDirect's technology is helping them create true end-to-end networks that deliver superb performance for their own businesses as well as for their customers.
For instance, BT is leveraging satellite to extend coverage to remote locations, provide business continuity, and deliver cellular backhaul. Verizon has always made satellite an integral part of its MPLS network and works closely with iDirect to make the technology a transparent part of their service.
This year, there was also a resurgence of interest and renewed energy from the enterprise market in Africa and continued interest in cell backhaul, rural connectivity, banking, and education across the Latin America and Asian markets—all positive growth signs for our industry.
The Next Wave
Industry migration toward the DVB-S2X satellite transmission standard was one of the most significant trends in 2016. DVB-S2X represents a major opportunity for network operators to gain greater performance and efficiency to meet escalating user demands and realize lower business costs.
At iDirect, the transformational nature that DVB-S2X provides to partners and the industry is well understood. The company entered into a partnership with SatixFy over two years ago to co-develop state-of-the art technology.
iDirect worked with SatixFy to deliver a new ASIC chipset that was customized to exploit the full capabilities of the DVB-S2X standard and optimized for the iDirect Waveform. This nexgen of technology will allow the company to leverage the benefits of today's HTS satellites as well as the capabilities of the nexgen HTS that unlock the additional features of the DVB-S2X standard.
Currently being performed are over-the-air tests of a new DVB-S2X chipset and the results are demonstrating 500 Mbps aggregate throughput. This technology will allow iDirect to offer exponentially higher performance to exceed 1 Gbps of throughput as pace is maintained with future satellite developments.
iDirect's DVB-S2X technology is the foundation for a new iQ family of remotes targeted for broadband, enterprise, and mobility applications and packaged in desktop, rack-mount, and embedded compute form factors.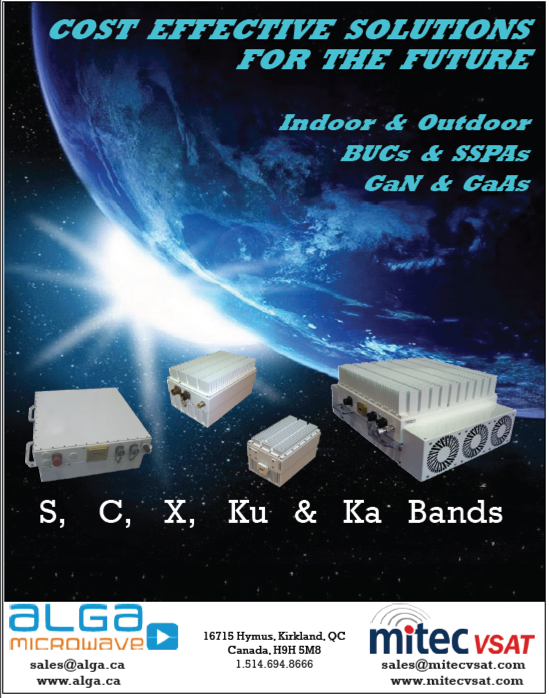 The iQ Series establishes a new model for satellite remote performance providing a future-proof strategy to deliver successive gains in performance and efficiency as network operators strive to keep pace with the launch of increasingly higher frequency satellites. Remotes can be continually reprogrammed over the air to increase network capabilities and throughput levels, driving a massive expansion of applications and setting new service level standards.
The first iQ remote available to market will be a desktop version that features dual GigE VLAN aware networking ports.
With the introduction of DVB-S2X, iDirect is also releasing the Intelligent Gateway, which leverages blade-based compute and virtualization techniques to support very high throughput and processing required for DVB-S2X operations in a high-density virtualized appliance. The Intelligent Gateway results in massive footprint reduction while exponentially increasing our processing capabilities, enabling iDirect's clients' gateway infrastructure to scale for growth.
The iQ Series remote portfolio and Intelligent Gateway will operate over iDirect's recently released Universal Line Card, which supports both DVB-S2 and DVB-S2X networks and operates in iDirect's existing Universal Hub chassis.
An Intelligent Path Forward
As iDirect pursues an ambitious technology strategy, the company is building on a solid foundation. The fundamental philosophy has always been to provide an open, flexible, feature-rich platform that enables partners to capture the broadest market opportunities in high growth markets.
In 2016, the iDirect team expanded efforts to bring numerous opportunities within greater reach, and at a lower cost, in order for the company's partners to expand their value and scale their businesses to new heights of success.
idirect.net
Mary Cotton joined VT iDirect in September 2007, bringing more than 18 years of technology leadership creating and driving successful growth strategies in CEO, COO and CFO roles.
Prior to joining VT iDirect, Ms. Cotton served as Senior Vice President with SAP Industry Solutions, the world's largest business application software company. She joined SAP in 2005 after managing the acquisition and sale of Frictionless Commerce, a provider of supplier relationship management software, where she served as Chief Executive Officer.
Prior to SAP, Ms. Cotton held several top management positions including Chief Operating Office and Chief Financial Officer at Aspen Technology Inc., a provider of software and services that help companies improve their manufacturing processes. There she executed an aggressive growth strategy that took AspenTech from a $6M private company to a $330M publicly traded international solutions provider.
Ms. Cotton holds a Bachelor of Science degree from Boston College.
---
Imagine Communications
By Yuval Fisher, Chief Technical Officer, MVPD
Satellite distribution is difficult to beat when low latency, resilience, flexibility and global, ubiquitous coverage for satellite TV operators is required when looking to reach consumers with new services and more channels.

Locating a cost-efficient, highly available backup to support the providers' mission-critical services, however, remains a significant challenge.
As 2017 approaches, exciting new technologies are emerging that will allow content providers to leverage a single ecosystem to distribute both a primary stream over satellite and a highly resilient backup stream terrestrially using HTTP-based networks and adaptive bitrate (ABR) technologies. This hybrid distribution approach solves the backup conundrum as well as opens the door to delivering new services for revenue generation.
Traditionally, only a few backup options have existed —redundant satellite operations running in parallel or traditional terrestrial backup over private networks.
Both of those options can suffer from high cost, complex delivery networks and can be prone to errors in the delivery of streamed content. This is where HTTP-based delivery excels—providing cheap, reliable backup with the flexibility to expand into new services down the line.

However, setting up and maintaining separate transcode and packaging silos to take advantage of HTTP-based distribution has previously been operationally complex and cost prohibitive.
Based on new innovations recently launched by Imagine Communications, satellite TV providers are now able to deploy a cost-effective, highly resilient unified architecture that capitalizes on the benefits of satellite and HTTP-based terrestrial for primary and backup feeds.
Instead of using traditional transport stream (TS) video delivery for backup, the unified distribution architecture fragments video into files and distributes it terrestrially using HTTP, which is cheap and reliable.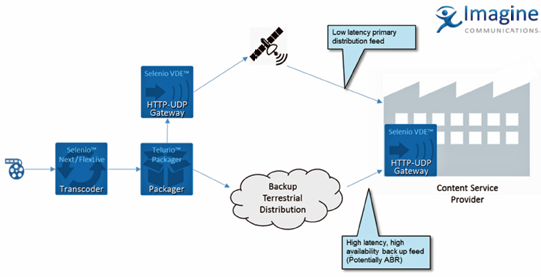 HTTP CDNs are well understood, are resilient to packet drop errors, do not require the overhead of forward error correction (FEC), and can function well over the public Internet.
Moreover, the use of fragmented streams as a source to both the satellite and terrestrial distribution systems aligns the end-to-end system latency, so that broadcast and unicast clients do not suffer from significant differences in playback time.
The centerpiece of this unified architecture is a gateway device which Imagine Communications calls the Selenio Video Delivery Edge (VDE). VDE converts HTTP-based ABR streams into UDP-based transport streams.
Positioned at the edge of the satellite provider's network, the software-based gateway functions as a fragmented video client, consuming video fragments via HTTP and then converting them to UDP packets that are delivered to subscribers using legacy MPEG-2 transport stream distribution. This enables satellite TV providers to begin to reduce the number of transcode operations in the network, significantly reducing operational cost while increasing network efficiency and resiliency.
While the primary distribution feed is delivered via satellite, the fragmented video can be delivered terrestrially over HTTP. These fragmented streams can use an adaptive bitrate protocol, allowing them to be used for unicast distribution at the Content Service Provider (CSP). If necessary, the ABR streams can be converted back to multicast UDP at the CSP using another instance of the Selenio VDE.

Simultaneously, video consumption patterns of satellite customers are rapidly changing. Consumers are migrating away from linear TV services in search of a more personalized experience with greater control of when, where and on what devices they view video entertainment and information.
These shifts in video consumption are altering the dynamics of the industry, creating challenges for existing satellite television providers but also opening up opportunities to retain and capture subscribers with a unique and unified video experience.
These new industry dynamics position satellite TV providers to augment existing services and improve their overall competitive standing in the video distribution ecosystem.
Large subscriber bases, established billing and service infrastructures and existing linear and multichannel video services naturally position satellite operators to deliver a new, personalized and flexible video-consumption experience that enable subscribers to manage and access to all video content from any screen or any location.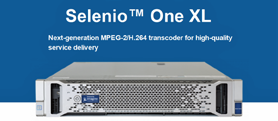 Using the same HTTP-based delivery system, satellite operators are able to expand and enhance their video distribution capabilities.
Imagine Communications' cloud-based video aggregation and distribution solutions, along with advanced advertising management capabilities, allow satellite operators to explore new monetization opportunities via over-the-top access.
By moving video recording functionality and storage into the cloud, Imagine Communications can drastically reduce capital, operational and service expenses associated with on-premises solutions, enabling satellite operators to offer subscribers access to all of their video content from inside or outside the home.
The company's market-leading and standards-based compression technologies and video head-end solutions enable satellite operators to improve bandwidth efficiency and realize dramatic reductions in operational overhead.
Find out more about how the Selenio VDE can help you reduce the cost and complexity of your backup networks today, while seamlessly bridging to nexgen services: imaginecommunications.com/products/distribution/unified-distribution
---
Intellian
This 2016 has been a year of growth and milestones for Intellian Technologies.

Through commitment to innovation and intelligent design, within the stabilized antenna market, the company has become a world leader. A great deal has happened over the last 12 months and there are a number of highlights that stand out.
On October 18, 2016, Intellian announced an Initial Public Offering (IPO) of shares on the South Korean KOSDAQ. The proceeds from this offering will facilitate Intellian's continued innovation and delivery of scalable solutions to the wider mobility communications sector. This is an exciting time for the company—the next phase of growth is set to take the firm into other verticals such as aviation, land-mobile and military communications.
Intellian is on track for growth next year, as well. This is a positive turn of events, considering the recent downturn the maritime industry has been experiencing. The company has welcomed new members to the Intellian team. A new office has opened in Singapore and there is an additional office planned for Shanghai, as well, to be closer to our Asian customers.
A significant investment in quality management was made during 2016 and this will be used on our production lines, enabling more efficient and effective manufacturing and testing processes—this an element the firm is extremely proud of accomplishing.
Intellian applauded the launch of Inmarsat's high speed, global Fleet Xpress service in March. Shortly thereafter, the company was selected by Inmarsat to participate in the full building, testing and installation of the FX solution aboard vessels. The market is truly ready for these services.
The 'Intellian Fleet Xpress Solution Global Delivery Program' will allow Inmarsat Value Added Resellers (VARs) to source all Fleet Xpress-related shipboard equipment directly from Intellian, pre-integrated, pre-tested, and pre-commissioned, simplifying the entire transition to FX services in a highly significant way.
The first ever military grade GX maritime system was also launched by Intellian. The new 1 meter Ka-band GX maritime terminal is type approved by Inmarsat. The system provides reliable, robust and resilient performance while leveraging the cost savings of a commercially produced, end-to-end platform.
Another highlight of the year was Intellian's appointment to South Korea's prestigious World Class 300 list of the country's most promising technology companies. This is a superb achievement for Intellian and confirms a commanding lead in the mobile SATCOM terminal sector.

The company also received exciting news from the cruise market—Intellian's v240 multiband auto switching 2.4 meter antenna system has been selected for installation by the world's leading cruise line. This represents a key partnership for Intellian within the cruise market.
Market Challenges
The biggest challenge facing our entire industry—not just Intellian—is one of scale. In the coming years, as service providers make plans to connect the next 15 to 20,000 ships, the question is how quickly such installations can be accomplished, especially as the demand for meaningful broadband connectivity continues to increase.
Intellian is invested in building scalable solutions. In the years since entering the VSAT market, the firm has made antennas more accessible from a technological and price standpoint. Terminals now install far more easily and quickly, which means vessels no longer have to invest the downtime once required to receive a new system aboard the ship.
The recent economic climate of many maritime segments, particularly commercial shipping, has been such that the opportunity cost of spending time out of service, merely for a new SATCOM system, would so negatively impact a vessel's profit and loss that this was simply not a viable business option. Intellian has succeeded in solving this challenge and that capability has had a clear, positive impact on adoption of VSAT over traditional MSS solutions.
The next challenge will be to innovate in the area of ongoing maintenance and support. Waiting for a system to experience a failure of some kind to then dispatch a technician to some far corner of the world is definitely not a scalable solution. Companies must be more proactive, more predictive in their ability to determine when a terminal requires a part replacement or regular service. Problems must be solved before they occur—and that is the challenge. Beyond that, the next test will be to build flexible solutions that can keep pace with the wave of new satellites going into space. Intellian is preparing to deal with single apertures that can operate on multiple frequencies and multiple orbits as well.
This presents a significant technological challenge, particularly with the underlying downward trend in unit price expectation. The more an antenna does, the more that antenna costs to build. This is where Intellian's expertise in manufacturing technology will give the firm a clear advantage.
The Future Of SATCOM In Maritime
SATCOM adoption is really a bright market segment within maritime. New builds are coming into the market at between 2 to 4 percent per year, while older ships are scrapped at a rate of around 3 percent per year, which equates to a market that is not growing in size.

However, adoption of SATCOM as a key enabling technology is skyrocketing. Depending on which of the various industry reports you read, there are roughly 25,000 ships connected by VSAT today. This does not include the 50,000+ connected by L-band services such as Inmarsat's FleetBroadband. Projections for the next five to ten years are to more than double those numbers. Bearing in mind that more than two decades were required to reach 25,000 in number, this is quite significant.
Another trend to watch is that of frequency and network agnostic hardware. As more and more High Throughput Satellites (HTS) are launched, the industry continues to discuss how to draw new subscribers onto these networks as quickly as possible.
What is often neglected for consideration is that as traffic shifts from legacy assets to newer ones, the legacy assets will still be available for use, undoubtedly offering a new value proposition. This will give service providers the ability to really throw out the book in terms of how services are provisioned. Systems that can leverage whatever the best available bandwidth is available at any given location or time will be the way of the future.
The Future
2017 will be a transformative year for Intellian. With the company's new anchor customer in the cruise industry representing a large share of the market, the firm's attention will focus on delivering some exciting new capabilities to them that will enable their ships to increase connectivity speeds by well over an order of magnitude.
Intellian will also release the first land mobile product, an auto acquiring, portable VSAT terminal operating initially in Ku-band, with a path toward Ka-band. This will strengthen the company's presence in the MILSATCOM market, where the company is already engaged with multiple MODs around the world on a number of key projects that crossover to land and maritime.
Finally, Intellian will initiate development of an aviation product with the focus across on multiple frequencies in order to offer the market highly flexible solutions. Aviation is an area where tightly integrated solutions have carried the day. Intellian will borrow from our maritime heritage to deliver solutions which can be configured for use on nearly any network.
intelliantech.com
Since 2004, Intellian's focus on research and development has produced a series of market enabling innovations. Today, the world's leading shipping lines, cruise operators, offshore energy firms, and governments choose Intellian to deliver critical connectivity when it matters most. Intellian operates in more than 10 offices around the world, including global logistics centers in Asia-Pacific (APAC), the Americas and EMEA, backed by a network of over 450 partners worldwide. The company is listed on the Korean Stock Exchange, KOSDAQ (189300:KS).
---
IRG (Satellite Interference Reduction Group)
By Martin Coleman, Executive Director
2016 has been another busy year for the Satellite Interference Reduction Group (IRG) and for interference reduction
in general.

As always, IRG's directors and I have been around the globe speaking and hosting IRG networking events this year, including CabSat, Satellite Show, NAB, Defence Satellites, CommunicAsia, IBC and APSCC, with a total mix of audiences and topics to whom, and within which, to cover resolving interference.
New members have joined this year: Airbus, ETL, NovelSat, and TeamCast. Naturally, this is great news for IRG and the organization is always looking to increase that further as well as to add value for all of our members.
Workshops
Workshops are a really important IRG function and enable engineers to get in a room together and discuss the real life challenges they face. IRG has also had the manufacturers in the room and they are able to explain to the satellite operators what new tools they have developed to assist with interference as well as to learn about the current challenges being faced so they can derive the next set of innovations. Many great ideas have been born through workshops and member attendance.
This year, ArabSat hosted a workshop for IRG ahead of CABSAT that covered a number of important topics that included the Carrier ID (CID) roadmap, how to achieve widespread implementation as well as the latest geolocation technology and efforts to mitigate intentional jamming.

The IRG conducted the organization's usual workshop at Satellite 2016, which was hosted by Intelsat and followed on from the discussions at CABSAT as well as looking at new issues, such as drones, that are now becoming a normal part of the workload to solve.
The next workshop was held in May and hosted in Oslo by Telenor Satellite. This workshop was very much about technical resolutions and procedures to technical problems, with case studies showing real-live examples of interference and included a live CID demo by TeamCast. This workshop was well attended and included a visit to one of our member's premises, VeriSat, to see their latest innovations.
Touring Technology
Following the success of last year's interference mitigation tour at CommunicAsia, we repeated this feature again there this year. This was a really good way to show interested parties exactly what technology is available to help mitigate interference and to introduce them to the correct people to garner additional information.
This year has seen even more innovations from the industry to combat interference. CommunicAsia and IBC are just two examples of the many announcements made by IRG members.
These announcements included the Satmotion SNG tool from Integrasys, which enables SNG broadcasters to regain control and ensures a simplified setup process. This takes the headache out of setup for SNG broadcasters and has a massive positive impact on errors.
NovelSat launched their NS4 Satellite Waveform solution, which has anti-jamming handling technology to mitigate the effects of intentional interference. At IBC, NovelSat was demonstrating how this technology works and this was really impressive to attend.
Newtec launched their MCX7000 Multi-Carrier Satellite Gateway for efficient distribution and contribution broadcast applications which, of course, includes CID.
TeamCast and Work Microwave demonstrated a complete end-to-end solution to meet the new requirements for Carrier Identification and showed a live DVB-CID extraction at the DVB booth at CommunicAsia and TeamCast had their own demonstration at IBC.
VeriSat made important strides in the production and launch of SatGuard. This development is a game-changer in fixing interference from VSAT burst mode networks. This, along with their GSM Retransmission Detection capability, is now being rolled out this year and next to many satellite operators.
There were numerous members exhibiting around the globe this year, which truly reveals all of the positive steps being offered for interference resolution—more and more solutions being launched all the time, which is something that just didn't happen five years ago.
Topics
Using all of the tools in the box is important to resolving satellite interference as well as the continuing development of additional means to assist in this regard. IRG's aim is to ensure several threads of dialogue remain open.
Carrier ID technology is the one environment IRG is most often associated with—I'm proud of that fact. Although some push back this year was necessary to allow more time to implement Carrier ID, deadlines, such as those from the FCC, are fast approaching, with pressure on broadcasters to get CID-ready before September of 2017.
Don't forget, of course, that the World Broadcasting Union's International Media Connectivity Group's (IMCG) deadlines require all SCPC and MCPC transmissions to include ETSI standard CID by the end of next year. Yet to be seen is a major push from the broadcasters; however, broadcasters really do need to ensure they have the technology, systems, and processes in place to handle this necessity.
To help this along and to meet demands from users in the near future, IRG is actively looking to develop other cost effective solutions to add to any type of SCPC or MCPC system which would allow users more choice when implementing CID. Remember, having ID within VSAT burst mode networks has already helped satellite operators to speed up resolution of this long standing problem—now we must apply the same implementation for all other transmissions.
Geolocation remains at the top of the list. The technology continues to progress, with faster and improved accuracy, with successful and reliable techniques that allow single satellite scenarios to be added to the toolbox. Putting better geolocation processes in place remains an area where more effort is required. The more we standardize our approach and build scenarios more effectively, the quicker the ultimate resolution.
Of course, not all operators have the means to perform geolocation. IRG needs to push for all operators to possess these tools, either by joining the SDA or by obtaining this capability in house.
A new area for us right now is "BIG" data. At Satellite 2016, I joined a panel to discuss whether big data could solve interference. The more data we gather, the more intelligence we will possess and, ultimately, will be able to predict, and even resolve, interference before it happens.
However, to use that data, the principles of deep learning algorithms, cognitive processing and the use of augmented intelligence need to be learned. The hardware required is also in the mix and quantum processing is the lead technology for this type of data handling. IRG needs to assess use cases for using such data and what techniques may be applied to speed up interference resolution.
The array of monitoring tools available currently is impressive from firm such as Crystal, Kratos, Siemens and Zodiac—their tools already allow satellite operators to remain ahead of the game in resolving issues.
Add to this list the ever increasing use of Software Defined Radio (SDR) techniques and that opens up more technology possibilities, both on the ground and in space, and that will make a difference.
The Future
The close of the year is always a chance to reflect on what has and hasn't worked and what areas IRG needs to next address. One obvious focus area for 2017 will be the progression of Carrier ID.
In addition, the group will be looking at the ever increasing advancement of technology and interference resolution. I look forward to IRG feeding more ideas to the group and to assist in furthering innovations from the industry, the use of data, SDR and the array of products and applications that have interference mitigation at their heart.
Martin Coleman is Executive Director, the Satellite Interference Reduction Group (IRG). Martin is responsible for spearheading a number of significant initiatives and is committed to introducing new technology and processes to mitigate all types of satellite interference: VSAT TDMA Systems, BIG Data; a reference guide to Interference; sorting out those Difficult Cases including new standards and processes within the Geolocation industry; assisting the ITU in dealing with Harmful Interference; and implementing Carrier ID (CID). Martin regularly addresses the industry on the subject of satellite interference, at global industry events, on an individual basis, and at IRG-led conferences and webinars.
satirg.org/
---