The fastest spacecraft ever...
The successful launch of ULA's Delta IV Heavy rocket occurred on Sunday, August 12 at 3:31 a.m. ET, launching NASA's Parker Solar Probe — so far, all has proceeded on schedule.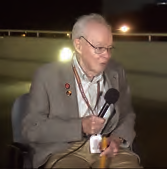 The renowned Dr. Parker at the ULA
launch event. Image courtesy of
NASA LIVE.
NASA's Parker Solar Probe will be the first-ever mission to "touch" the Sun. The spacecraft, about the size of a small car, will travel directly into the Sun's atmosphere about 4 million miles from our star's surface. Among the many at this special event was the renowned Dr. Eugene Parker, for whom the Parker Solar Probe was named.
This is one of the most remarkable space missions to date and includes the fastest spacecraft in history. At its closest approach, Parker Solar Probe will reach a top speed of 430,000 miles per hour — that's 120 miles per second. The incredible velocity is necessary in order for the spacecraft to not be drawn into the sun during close approaches.
Temperatures will climb to 2,500 degrees Fahrenheit; however, the science instruments will remain at room temperature protected behind a 4.5-inch-thick carbon composite shield.
NASA selected ULA's Delta IV Heavy for its unique ability to deliver the necessary energy to begin the Parker Solar Probe's journey to the sun. After launch, the spacecraft will orbit directly through the solar atmosphere — the corona — closer to the surface than any human-made object has ever gone.

The Delta IV Heavy is the nation's proven heavy lifter, delivering high-priority missions for the U.S. Air Force, National Reconnaissance Office and NASA. With its advanced upper stage, Delta IV Heavy can take more than 14,500 pounds directly to geosynchronous orbit, as well as a wide variety of complex interplanetary trajectories.
This Delta IV Heavy is comprised of three common core boosters each powered by an Aerojet Rocketdyne (AR) RS-68A liquid hydrogen/liquid oxygen engine, producing a combined total of more than 2.1 million pounds of thrust. The second stage is powered by an AR RL10B-2 liquid hydrogen/liquid oxygen engine. Due to the extremely high energy required for this mission, the Delta IV Heavy's capability will be augmented by a powerful third stage provided by Northrop Grumman.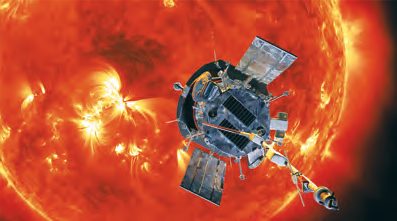 An artistic rendition of NASA's Parker Solar Probe in
front of the Sun. Image is courtesy of NASA/Johns
Hopkins APL/Steve Gribben.
This will be the 37th launch of the Delta IV rocket, and the 10th in the Heavy configuration. To date ULA has a track record of 100 percent mission success with 128 successful launches.
With more than a century of combined heritage, United Launch Alliance reports it is the nation's most experienced and reliable launch service provider. ULA has successfully delivered more than 125 satellites to orbit that aid meteorologists in tracking severe weather, unlock the mysteries of our solar system, provide critical capabilities for troops in the field and enable personal device-based
GPS navigation.
The Parker Solar Probe will make repeated journeys into the sun's corona and trace the flow of energy to answer fundamental questions such as why the solar atmosphere is dramatically hotter than the sun's surface, what accelerates the solar wind that blows outward through the solar system and what is the source of high-energy solar particles.
Parker Solar Probe will make 24 elliptical orbits of the sun and use seven flybys of Venus to shrink the orbit closer to the sun during the seven-year mission.
The probe will fly seven times closer to the sun than any spacecraft before, a mere 3.9 million miles above the surface which is about four percent the distance from the sun to the Earth.
---
SSTL hires ISRO's PSLV for launch
The small satellite parade continues with the announcement coming from Surrey Satellite Technology Ltd. (SSTL) that the company has signed an agreement with Antrix Corporation Limited, the commercial arm of the Indian Space Research Organisation (ISRO), for the launch into a 580 km. Sun-synchronous orbit (SSO) of NovaSAR-1.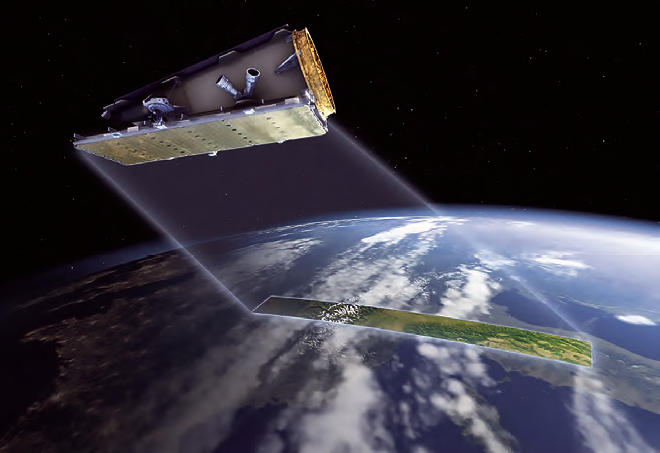 Artistic rendition of the NovaSAR-1 on orbit.
Image is courtesy of SSTL.
NovaSAR-1 is a small Synthetic Aperture Radar (SAR) satellite, and SSTL S1-4, a high resolution Earth observation satellite.
The two satellites will launch on PSLV-C42, due to lift-off in September 2018.
NovaSAR-1 is a technology demonstration satellite mission designed to test the capabilities of a new low cost S-Band SAR platform. The spacecraft was designed and manufactured by SSTL, with an S-band SAR payload developed by Airbus Defence and Space in Portsmouth, UK, and an Automatic Identification Receiver (AIS) receiver supplied by COM DEV to track ships at sea.
NovaSAR-1 will be operated from SSTL's Spacecraft Operations Centre in Guildford, UK.
The UK Space Agency has invested £21M in the development of NovaSAR-1 and will benefit from access to data from the spacecraft, significantly boosting the UK's sovereign Earth Observation (EO) capabilities and leveraging additional inward investment to the UK by creating highly skilled jobs in the UK space industry, and stimulating the growth of data analysis services.
Also aboard the PSLV-C42 launch will be the SSTL S1-4, a sub-one meter resolution EO satellite with a mass of 440 kg. that will further enhance SSTL's existing in-orbit observation capabilities.
www.sstl.co.uk/
www.isro.gov.in/
---
RUAG's 'brains' support Aeolus
A special upcoming launch in late August is set for the European Space Agency's (ESA) wind satellite, Aeolus which will use a special laser to observe air currents and winds. RUAG Space created the central computer (or "brain") that is powering the satellite.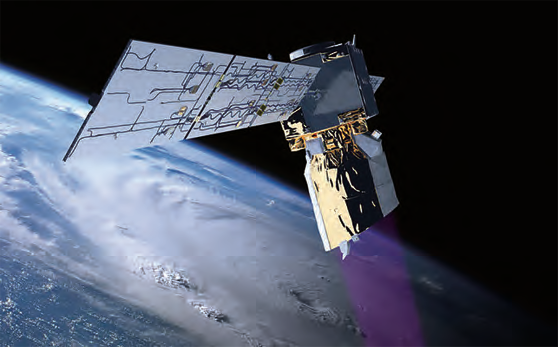 The brain of the wind satellite Aeolus was
developed by RUAG Space. Image is courtesy
of © ESA/ATG medialab.
The RUAG Space site in Sweden designed and produced the Satellite Management Unit, which is the central computer for the Aeolus satellite. Peter Guggenbach, CEO, RUAG Space said they are proud to be creating the 'brains' behind numerous satellites currently in orbit. More than 350 of their On-Board Computers have been successfully launched into space, and they look forward to continuing to work with partners such as ESA for these important missions.
Aeolus is the first space mission to acquire profiles of the wind on a global scale. These near-realtime observations will improve the accuracy of numerical weather and climate prediction and advance the understanding of tropical dynamics and processes relevant to climate variability.
RUAG Space also delivered structures and mechanisms for the satellite as well as the thermal insulation, which protects the Aeolus satellite from extreme heat and cold in space. RUAG Space is Europe's market leader in thermal insulation for satellites. The products have been delivered to the satellite builder and prime contractor Airbus Defence and Space.
Aeolus will be launched on a Vega rocket. The rocket will be equipped with a payload fairing produced by RUAG Space and — like the satellite — with a central computer or "brain" from RUAG Space.
www.ruag.com/en
---
Inmarsat mines Auxilium partnership
Inmarsat and Auxilium, a leading Australian mining technology solutions company, have established a formal partnership to deliver the most effective Industrial Internet of Things (IIoT) and communications solutions for Australian mining companies.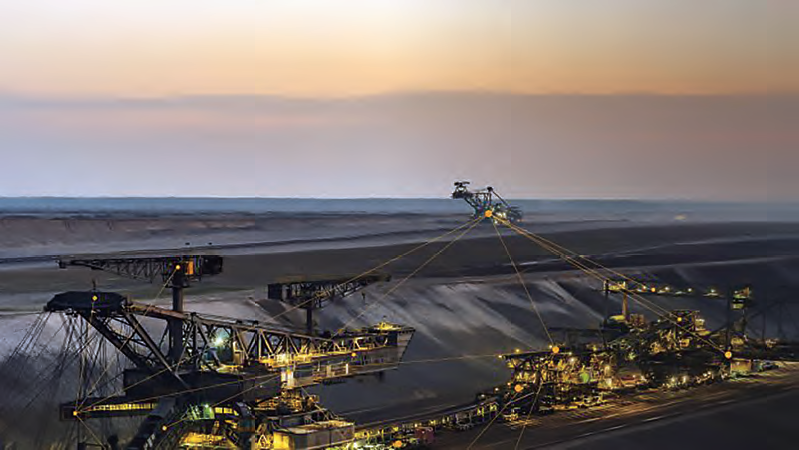 The partnership will see Auxilium deploying satellite connectivity from Inmarsat in its IIoT solutions. This will ensure that mining companies can access IIoT and communications services regardless of how remote their location, and without the need to invest significant sums in building a terrestrial communications infrastructure in order to connect their mining operations.
Auxilium designs and manufactures technically advanced mining equipment, technology and services to support high-value mining and construction assets. It deploys satellite connectivity to enable the seamless transition of data from mine site to the control center, which can be thousands of kilometers apart.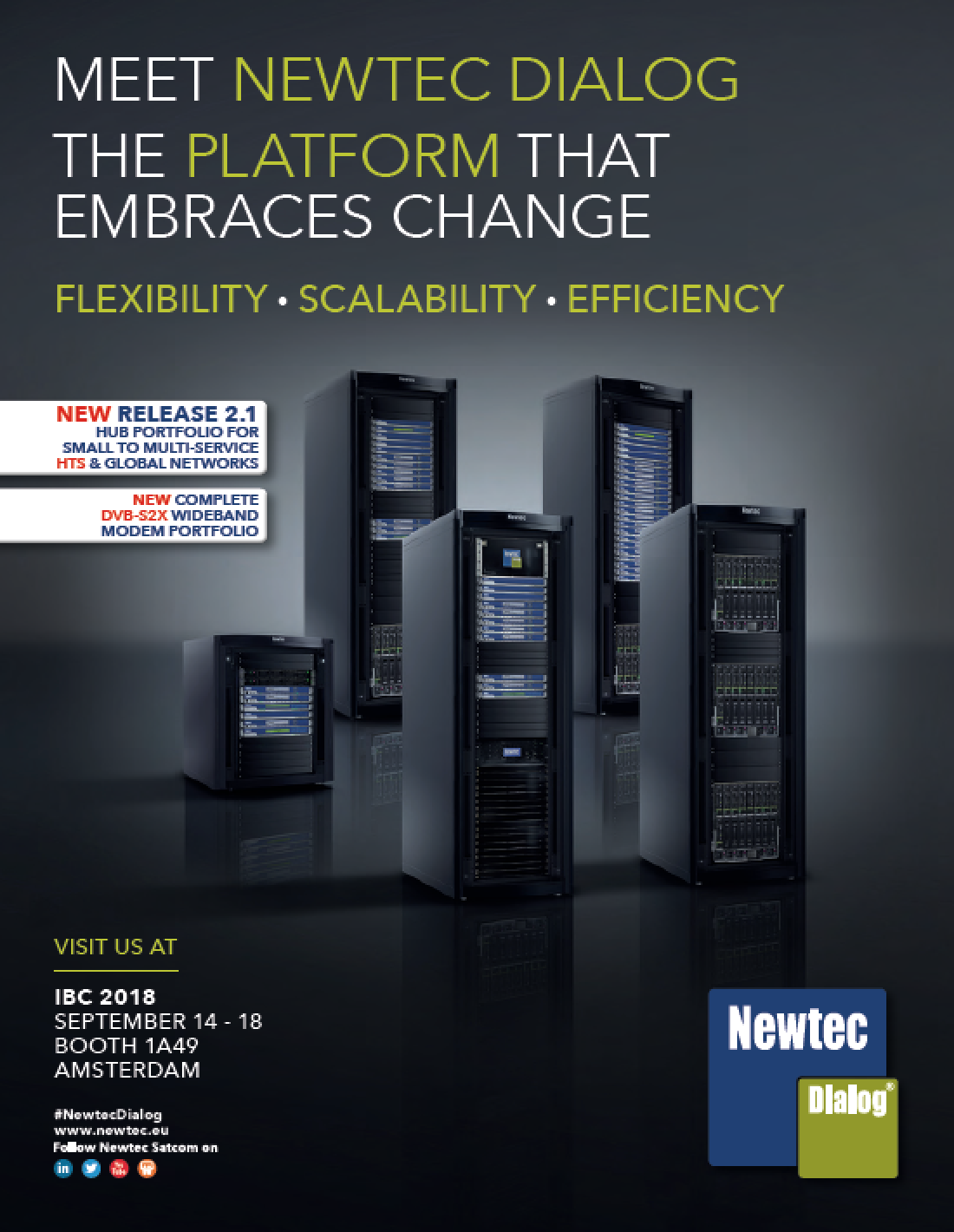 Inmarsat's L-band satellite network offers the most reliable, secure connectivity for IIoT applications globally. With satellite availability up to 99.9 percent, rugged and energy efficient terminals, and low latency data transmission, it is the ideal solution for remote monitoring and automation applications.
By combining Inmarsat's network and Auxilium's innovative solutions, mining businesses will be able to benefit from operational efficiencies and enhanced profitability regardless of how far they are from their head office.
Previously, organizations, particularly those of medium- or junior-size have struggled to justify the cost of installing terrestrial connectivity networks in remote locations, or have suffered with unreliable satellite connectivity.
This partnership will give Auxilium's customers access to the world's broadest and most reliable portfolio of satellite services, and will
enable the provision of solutions at a lower cost, with no requirement on the part of mining companies to make significant investments in terrestrial infrastructure.
Wayne Panther, Founder of Auxilium, said that IIoT is changing the mining industry and is fast leading to the emergence of safer, more efficient and more profitable ways of working. However, many mining companies struggle to obtain the requisite connectivity for IIoT data transfer or on-site communications and are often faced with making huge investments in terrestrial infrastructure.
He noted that with Inmarsat's satellite capability, the company can eliminate the need for this investment and deliver robust and reliable connectivity that works wherever the mine is located. They reviewed several providers of satellite communications, even taking terminals and phones into the pit, and Inmarsat was the only provider whose connectivity worked wherever they were located.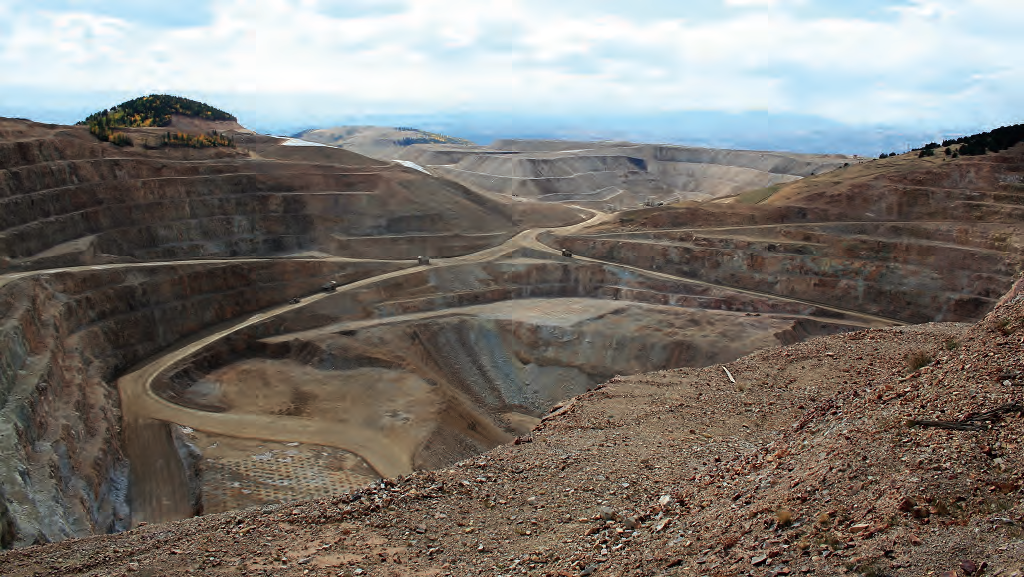 Chairman of Auxilium Systems Nathan Mitchell noted that this partnership between Inmarsat and Auxilium Systems brings the ability to improve the firm's capabilities in delivering real-time, mine-based communications and automation to Australian mining companies and other sectors. This will lead to further improvements in efficiencies and real-time decision making that will continue to see Australian mining at the forefront of technological advances and further demonstrates Auxilium Systems' ability to provide industry-leading solutions to their current and future clients.
Joe Carr, Director of Mining at Inmarsat Enterprise, commented that mining companies are under huge pressure to extract products at a profitable margin. Working with Auxilium is going to enable Inmarsat to deliver solutions on a managed services model, reducing up-front investment and strain on capital expenditure budgets. Auxilium's expertise in creating technical solutions that solve key business challenges for mining companies
is unparalleled.
He added that by combined with Inmarsat's broad portfolio of connectivity services and the world's most reliable satellite connectivity experience, the company believes that, together, the companies can provide the mining sector with a really compelling proposition.
www.inmarsat.com/
www.auxiliumsystems.com/
---
Ecliptic + Rocket Lab agreement
Rocket Lab USA and Ecliptic Enterprises Corporation have entered into an agreement to support Rocket Labs launch of Ecliptic-managed hosted payloads on the kick stage of Rocket Lab's Electron rockets.
An MoU between the two California-based firms was signed on August 1. Under the framework of this agreement, hosted payloads supplied by Ecliptic and their customers will constitute any payload launched, but not separated from, the kick stage once reaching orbit.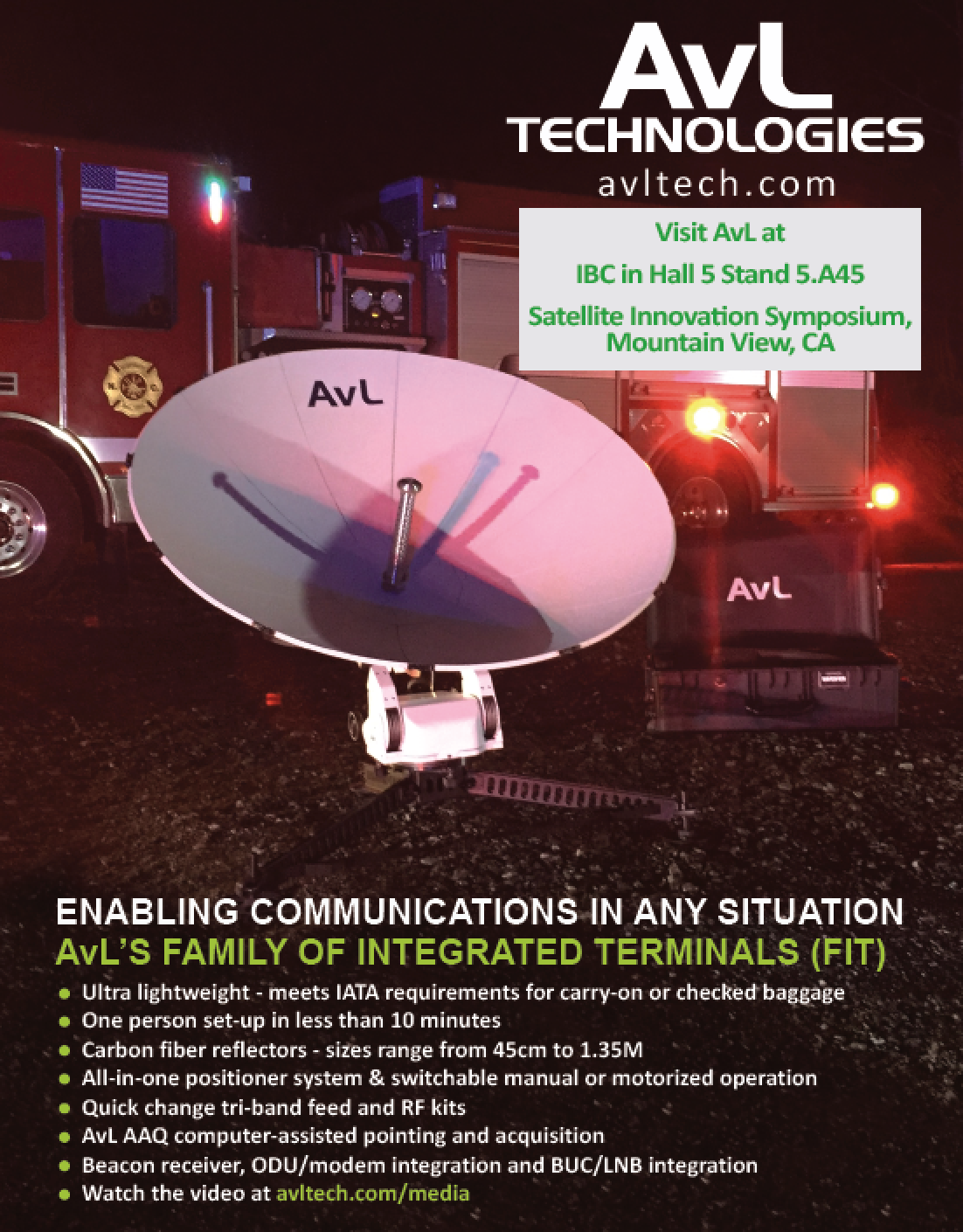 Such payloads typically involve focused advanced technology and proof-of-concept demonstrations, accomplishment of selected risk-reduction objectives and/or accomplishment of focused science or business mission objectives. These payloads will be operated after the Electron's primary mission — deploying satellites into LEO — is complete.
For those missions designated by Rocket Lab to accommodate hosted payloads, Electron's capable kick stage, proven on the Electron's first successful launch to orbit in January this year ("Still Testing"), will serve as the platform for one to several hosted payloads per mission, providing a structure for payload mounting, power, command and telemetry functions and attitude control.
Ecliptic will deliver fully integrated hosted payloads to Rocket Lab for final integration onto Electron's kick stage.
Once on orbit, Ecliptic avionics will control all hosted payload operations and related data handling; Ecliptic will also manage the end-to-end mission service and experience for its customers.
Ecliptic's U.S. domestic and international customers will be from commercial and government sectors, as well as from academia, media and non-profit arenas.
Hosted payload missions can be tailored to meet the orbital inclination and lifespan requirements of customers as required.
Electron will launch the hosted payloads into a wide range of Low Earth Orbits, with inclinations ranging from approximately 39 degrees to near-polar, Sun-Synchronous Orbit (SSO — ~90 degrees).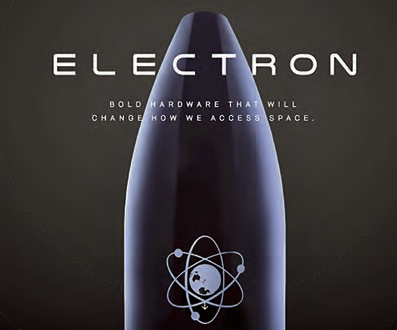 A payload serving as a pathfinder for this hosted payload program, NABEO, a drag sail technology demonstrator designed and built by High Performance Space Structure Systems GmbH (Munich, Germany), is integrated and ready for launch on the next Electron mission ("It's Business Time").
The first official mission of Ecliptic's hosted payload program is scheduled for 1Q 2019 and will include a 2 kg. hosted payload provided by Ecliptic and Beyond Sensors LLC (also Pasadena, California). Three additional missions are planned during 2019, each with up to 25 kg. of hosted payload mass.
Ecliptic is exploring additional payloads to be launched on a quarterly cadence in 2020-2022, with each mission accommodating up to 50 kg of hosted payload mass.
www.rocketlabusa.com/
eclipticenterprises.com/
---