Particularly in the current global economic climate, but always a topic of concern, satellite service providers are seeking to get more out of what they already have, or to do the same, with less. In competition with terrestrial markets, it is important for satellite service providers to always offer the best possible value to customers. Advances in technology are making this goal possible. Research and development departments are working overtime to come up with new and innovative solutions to achieve this goal.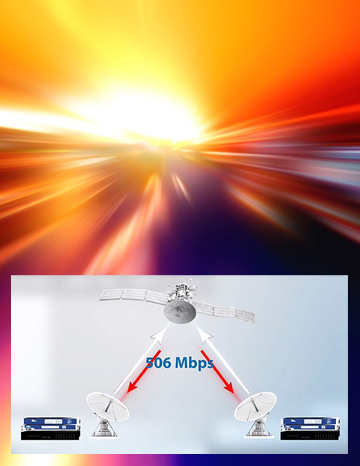 One of my roles at
Newtec
is to perform measurements and field trials with customers to demonstrate new products. Working together with our customers and the satellite operators, the object is to obtain endorsements for the new technology Newtec is bringing to the market. Currently, one of the newest technologies that is being tested—
Clean Channel Technology
™ (
CCT
), is a potential S2 extension candidate. Three elements comprise the technology; a reduction of Roll-Off factors, significantly reduced RF sideband noise, and a much cleaner carrier.
Record Breaking Technology
CCT works by applying a smaller
Roll-Off
(
RO
) percentage than is currently used in the
DVB-S2
standard. Roll-Off percentages of 20, 25 and 35 percent are common. The bigger the Roll-Off, the more satellite bandwidth is needed in order for a certain carrier rate to be accommodated.
Implementing low Roll-Off factors allows for carriers to be spaced more closely to one another. Of course, the slidelobes of these carriers will then create interference into the neighboring carriers. Therefore, reducing the Roll-Off alone is not enough—the slidelobes need to be suppressed even more. This is where CCT comes into play. With CCT, one can reduce the Roll-Off to as low as 5 percent, increase the carrier rate in the same bandwidth, and place carriers closer to each other without any degradation.
In order for new technologies to be accepted by the market, we work closely with satellite operators. With this in mind, we visited
Eutelsat
and
Intelsat
—two of the most important providers in the market. Without this strong relationship, testing of the equipment in live, real-world conditions would not have been possible, and operators would not benefit from improved service to their customers.
The testing process was initiated by a brainstorm between the technicians. An exhaustive number of test cases were defined and then performed in the Newtec labs. Once completed, the first target was one of Intelsat's largest teleport bases in Fuchsstadt, Germany. The capabilities of these latest developments were theoretically known, but real-world proof was needed.
The Seal Of Approval
As a game changing organization in terms of its influence in the worldwide satellite industry, Intelsat requires the highest performance, quality and reliability. During tests, three equally sized DVB-S2 carriers were used with and without CCT carriers at equal or unbalanced power to simulate fading conditions. These tests were completed with several modulation and coding configurations from QPSK up to 32APSK.
The goal was to reach the never before achieved rate of 500Mbps on a 72MHz transponder. Initial results, transmitting at 8PSK-5/6 over 68Mbaud with bandwidth cancellation were promising—a little more than 320Mbps was realized. With a few tweaks to the configuration, the headline transfer figure began to move in the correct direction.
Two carriers of 64.68Mbaud, 32APSK-4/5 were live on air. Ways to improve this headline figure even further were identified and the Forward Error Correction was lowered to 3/4. This allowed the symbol rate to be upped to 67Mbaud.
With this success, existing records were surpassed and 485Mbps was transmitted on the 72MHz transponder. Not quite enough to hit that important landmark of 500Mbps, but still an impressive achievement. A great deal was learned as to what could be done to improve the tests.
Breaking The Half-A-Gig Barrier
With an extremely high throughput rating achieved at Fuchsstadt, it was time for the next testing appointment. With masses of real-world data in hand, the opportunity to break the world throughput record again was present, this time at Eutelsat's teleport in Rambouillet to break the psychological important half-a-gigabit barrier.
This is the satellite transmission equivalent of handing the keys of a Bugatti Veyron to
Sebastian Vettel
for him to complete an unimpeded circuit of the Nurburgring. Instead of the
Nurburgring
, it was the Rambouillet teleport, Newtec's CCT, automatic non-linear
Equalink
(our new wideband modem), Bandwidth Cancellation and Eutelsat's transponder.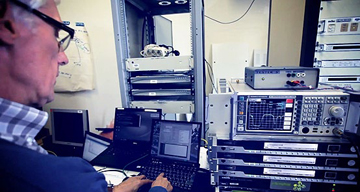 With all in hand, nothing could impede the test and the 500Mbps barrier was broken through at Eutelsat's teleport. A similar set-up during a two-way high speed backbone test was used and we combined our Bandwidth Canceller and nexgen modem Newtec
MDM6000
series to achieve the staggering 506Mbps (2 x 253Mbps)—this ushers in a new era of bandwidth efficiency.
What Does This Mean?
While terrestrial services are often achievable at a lower cost, they are not always available, nor are they the best option. Being able to offer a lower price per Megabit is crucial to the satellite industry's continued prosperity. The demand for IP backhaul is increasing year on year with smartphones driving a relentless surge in the use of data services. The vast majority of mobile phone traffic now is IP-based.
In Asia and Africa, where terrestrial networks are unreliable and prone to failure, satellite is being used as a backup. The customers are still experiencing higher and higher service level agreements (SLAs)—satellite, as a backup, must be able to step in and bridge the gap at the same customer-expected levels. Being able to offer speeds of up to half-a-gigabit per second are no-longer nice-to-have—they are a requirement.

When breaking a barrier, though, another one comes into sight. With the upcoming extensions to the DVB standard, which will enable even higher modulation modes and symbol rates, as well as the new and more powerful satellites scheduled for launch, Newtec's aim is at the 1 Gbps barrier. Our recently launched new platform certainly has the power under the bonnet to accomplish much,
so stay tuned!
About the author
Dave Suffys is Newtec's Sales Support Manager since 2000 where he manages the team of Technical Sales Support engineers that forms an integral part of the Customer Solutions department of Newtec. His personal expertise lies within DVB-S2 and IP networks over satellite.