Cobham SATCOM: Brazil OK's Connectivity For King Air
U.K. firm Cobham SATCOM has announced that its AVIATOR 200 SwiftBroadband solution has received Administración Nacional de Avianción Civil (ANAC) Brazil Supplemental Type Certificate (STC) approval for installation by King Air operators.

The new certification was developed in cooperation with Cobham SATCOM partner Pro Star Aviation and includes the activation of the AVIATOR 200's built-in Wi-Fi option, offering access to an extensive range of communication capabilities aboard King Air models B200, B200C and B300 (Super King Air 350).
The approval of the STC for use of the innovative Cobham system on Brazilian-registered aircraft adds to the FAA (Federal Aviation Authority) and EASA (European Aviation Safety Agency) STCs already confirmed for King Air aircraft, which were also developed with Pro Star.
Cobham's AVIATOR 200 is an exceptionally compact, lightweight system that offers reliable, affordable connectivity to provide users with a range of services including data, video and voice. With built-in Wi-Fi capability, the AVIATOR 200 allows aircraft operators to offer wireless connectivity on board, supporting the use of Wi-Fi-enabled devices such as laptops, tablets and smartphones.
The AVIATOR 200 is the smallest and lightest system in Cobham SATCOM's cutting-edge SwiftBroadband product portfolio and utilizes Inmarsat's SwiftBroadband 200 service. AVIATOR 200 simultaneously provides data speeds of up to 200 kbps and a single AMBE 2 channel for voice calls, providing a complete airborne communications solution previously unavailable to aircraft below a certain size.
The AVIATOR 200 certification for its King Air line is the latest certification developed by Pro Star Aviation, which holds various STCs for retrofit upgrades on all types of business aircraft.
Pro Star also has an STC for the AVIATOR 200 on the Pilatus PC-12 aircraft. The full Cobham SATCOM AVIATOR range includes the revolutionary AVIATOR S series, AVIATOR 700 and 700D, AVIATOR 350 with High Gain Antenna (HGA), AVIATOR 300 with Intermediate Gain Antenna as well as the AVIATOR 200 with LGA.
Kevin Harriman, Pro Star Aviation General Manager, said, "The AVIATOR 200 is the perfect choice for King Air operators as it offers the ideal broadband and voice solution and is small and lighter than other solutions. It is practical and affordable, and, with reduced hardware and installation costs, the AVIATOR 200 is everything you need to stay connected."
Kim Gram, Vice President Aeronautical Business Unit, Cobham SATCOM said, "The AVIATOR 200 offers in-flight broadband communication to aircraft of virtually any size as it utilizes a low gain antenna. We are particularly pleased to add the Brazilian approval to the FAA and EASA STCs already developed with Pro Star for King Air. This is a world-wide solution which can now benefit many more people. It represents another key step forward in enabling more users to take advantage of modern in-flight communications in the South America region."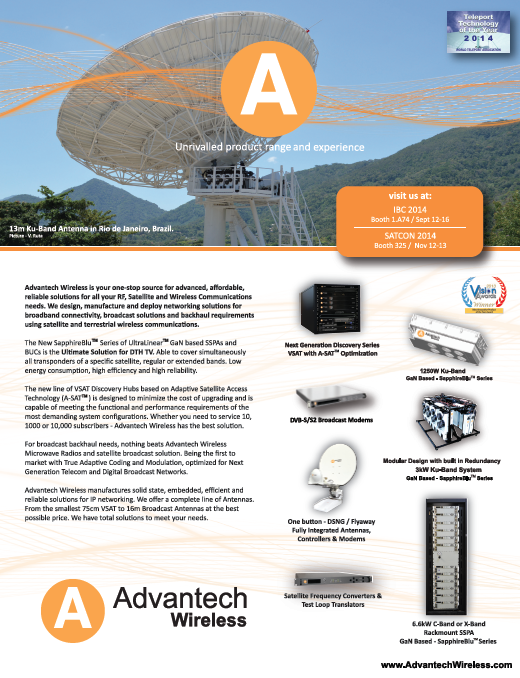 For further information about Cobham SATCOM's AVIATOR portfolio, please visit http://www.cobham.com/satcom
---
Signalhorn—A Stronger Executive Team
Signalhorn has strengthened its Executive Team with the appointments of Andy Frost as Chief Commercial Officer and Tom Wright as Vice President of Sales for North America.
Frost has been with Signalhorn since 2003, initially as Account Director and subsequently Vice President, Marketing and Business Development. He was promoted to Vice President Strategic Business Development in 2012, applying a wide range of skills to a number of complex business and government negotiations and customer issues. He also retooled the company's sales department and built a strong administrative structure. Before joining Signalhorn, Frost served in a number of executive marketing and product management positions at leading telecommunications firms, Tiscali SpA in Italy, and BT in the UK.
Wright's previous executive positions include Vice President for NewSat of Australia; Vice President of United Networks in Kuwait; and Sales Director for Comstream of San Diego, CA. He has spent 38 years in the satellite communications industry, experience that includes designing and selling satellite systems in 69 countries. At NewSat, Wright closed over $200 million in new business and was named Sales Person of the Year. He will be based in Dallas, Texas.
Signalhorn is a global provider of network services and communications solutions using terrestrial, satellite, and wireless technologies, with a 40-year history of continuous operations.
Signalhorn infosite: http://www.signalhorn.com/
---
Tyvak + Kongsberg Satellite Services (KSAT): A One-Stop, All Encompassing Shop
Tyvak, a producer of nanosatellites and turnkey smallsat solutions, has formed a strategic alliance with Kongsberg Satellite Services (KSAT), a leading provider of polar orbiting satellite ground station services.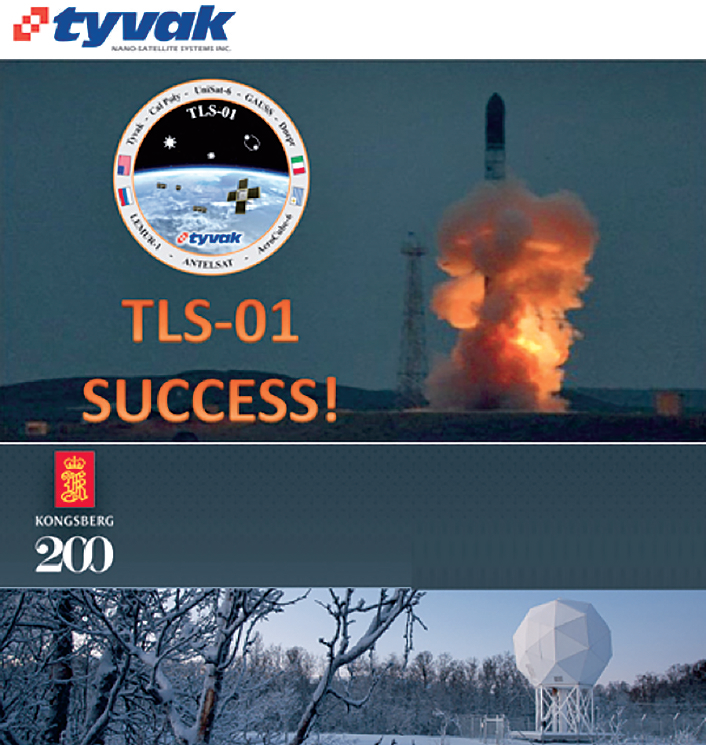 This alliance, finalized during the 2014 Small Satellite conference in Logan, Utah, leverages KSAT's recently announced KSAT Light Network of ground stations with Tyvak's technical capabilities and innovative approaches to satisfy the entire service chain required by satellite operators: satellite design, production, launch support, and ground station and operations services.
"This alliance with KSAT continues Tyvak's efforts toward providing a one-stop shop for customers looking for complete end-to-end smallsat services," said Marco Villa, Tyvak's President and Chief Operating Officer.
"An extensive network of cost-effective ground stations to send and receive data to and from satellites is, without doubt, one of the key pieces to maximizing the capabilities of the new generation of small satellites." Villa added.
Rolf Skatteboe, KSAT's Chief Executive Officer, said, "Tyvak offers innovative designs and out-of-the-box service solutions for this rapidly evolving market. Partnering with Tyvak allows KSAT unparalleled access to this market for our ground station network services, particularly the recently launched KSAT Light, low cost network."
KSAT networks can handle and support X- and Ka-, and as well as S-band and
UHF frequencies.
For further information regarding Tyvak, please visit http://tyvak.com/
For more iKongsberg Satellite Services, view http://www.ksat.no/
---
C-COM Satellite Systems: Aims For Maximum Coverage @ IBC2014
Ramped up for IBC2014, C-COM Satellite Systems will be demo'ing new satellite antennas as well as offering free classes to ensure those investing in the company's equipment are obtaining the best service and reception.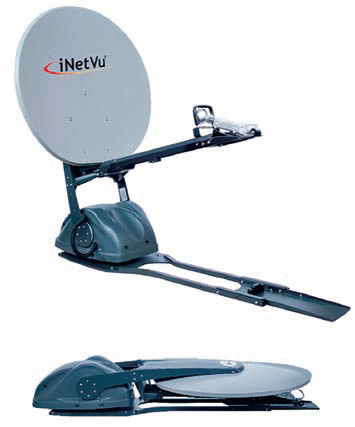 C-COM Satellite Systems will be displaying the nexgen, one-button auto-acquire antennas at IBC 2014. C-COM engineers have been busy developing smaller, lighter, more robust products that are built to endure in the most challenging environments. Preview the Next Gen iNetVu® FLY-98 and the 981 antennas and controllers at their booth, #4.C55.
The iNetVu® FLY-98G Flyaway Antenna is a 98cm satellite antenna system, which is a highly portable, self-pointing, auto-acquire unit that is configurable with the iNetVu® 7710 Controller. This antenna provides fast satellite acquisition within minutes, anytime, anywhere. The antenna can be assembled in 10 minutes by one person. The antenna is convertible from Ka- to Ku-band, and vice versa.
• Yahsat and Avanti Approved
• ViaSat and Eutelsat Approved
• Generic (Avanti Approved, using Gilat and iDirect modems)
• Fits into 3 rugged cases under 32kg each
• 10-minute tool-less assembly
• Hot Swappable between Ka- and Ku-bands
• Ideal for applications such as Broadcasting, Emergency Response and many others.
The versatile and compact iNetVu® 981 Driveaway Antenna is built either in Ku- or Ka- and is upgradeable and swappable to either band.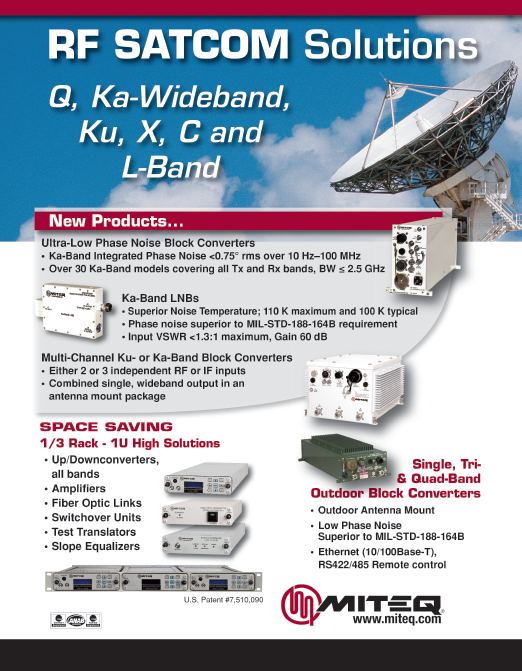 This 98cm Ku-band auto-acquire system can be mounted on the roof of a vehicle for direct broadband access over any configured satellite and works seamlessly with the iNetVu®7024C Controller and provides fast satellite acquisition within minutes, anytime anywhere.
The C-COM training at IBC will occur on September 15 and 16th. Seats are limited and are available on a first come first paid basis. The 2 day training session includes a catered lunch on both days as well as a iNetVu® Official Integrator Certificate following wcompletion of the class.
Further information at http://www.c-comsat.com/
---
SES—Capacity + Slots Cemented Into Place
SES will be delivering DTH broadcast television across French-speaking countries in Sub-Saharan Africa for the Lomé-based consortium of West African broadcasters led by Africable and Media Plus.
The multi-year contract for two transponders will allow the new platform to deliver DTH television from its Bamako Teleport to member countries of the West African Economic and Monetary Union (also known by its French acronym UEMOA). The roll-out start is on October 1, 2014, across Mali, Burkina Faso, Ivory Coast and Niger. SES will provide the satellite capacity on its SES-4 satellite located at 22 degrees West, the company's prime orbital slot for Francophone sub-Saharan Africa, providing 100 percent audience reach from urban to non-urban areas.
The service will offer a bouquet of 80 channels, free-to-air (FTA) and encrypted, and will allow member countries to meet the global digital migration deadline of June 2015. Audiences will be able to connect to the existing national Digital Terrestrial Television (DTT) networks and to receive content via satellite using a Dual Tuner receiver (MPEG4 and DVBS2/T2) included in the offer.
Additionally, SES has announced that its subsidiary SES DTH do Brasil has signed with Anatel (the Brazilian National Telecommunications Agency) for the Satellite Exploitation rights terms for two Brazilian orbital positions (48 degrees West and 64 degrees West).
The Anatel auction occurred in May of this year and the execution plan documents were under review and were the driver, for the time being, for the auction and the signature. SES will have four years to make definitive capacity available at 48 degrees West and six years to make definitive capacity available at 64 degrees. At the 48 degrees West orbital position, SES will focus on multiple uses (FSS model, Fixed Satellite Services) and will operate in C-, Ku- and Ka-bands. The 64 degrees West orbital position will be exclusive for DTH use (BSS, Broadcasting Satellite Services). The exploitation rights are valid for 15 years, renewable once during the same period. SES invested a total of R$ 59.8 million (approximately EUR 19.65 million) for these positions.
SES infosite: http://www.ses.com
---
Arianespace, Optus + MEASAT—The Return Of MEASAT-3b
The return of Optus 10 to French Guiana has set the stage for a new phase of payload preparations at the Spaceport with Arianespace's next Ariane 5 mission, which is scheduled for a September liftoff carrying this multi-mission satellite and its MEASAT-3b co-passenger.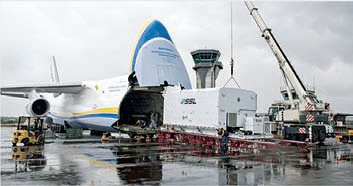 Optus 10's delivery occurred as the Space Systems/Loral-built spacecraft landed at Félix Eboué Airport near the capital city of Cayenne, where it was unloaded from a chartered Antonov An-124 cargo jetliner for transfer by road to the Spaceport.
To be operated by Australia's Optus telecommunications service provider, Optus 10 is outfitted for direct TV broadcast, Internet connectivity, telephone and data transmission services across Australia and New Zealand.
Joining it on Arianespace's Ariane 5 mission in September is the Airbus Defence and Space-built MEASAT-3b relay platform, designed to expand Malaysian-based MEASAT's direct-to-home broadcasting as well as VSAT services to small terminals across Malaysia, India, Indonesia and Australia.
MEASAT-3b was placed into storage at the Spaceport awaiting the availability of Optus 10 for the upcoming dual-passenger launch—designated Flight VA218 in Arianespace's launcher family numbering system.
The mission's Ariane 5 was moved earlier in August into the Final Assembly Building at the Spaceport, where it is being readied for the integration of Optus 10 and MEASAT-3b.
Follow Arianespace's launch activity at http://www.arianespace.com/
---
LiveWire Digital Technology—Bringing M-Link Live X + Newscaster To IBC2014
LiveWire Digital is showcasing enhanced versions of M-Link Live X for live video transmission, and Newscaster, the professional solution for the delivery of HD and SD store and forward video at IBC2014 in Amsterdam at stand 4.C83.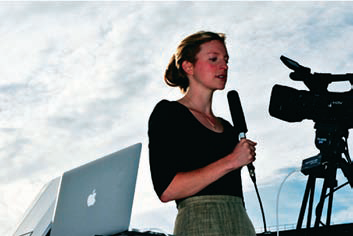 LiveWire Digital will be sharing the stand with its global reseller, Network Innovations, a satellite communications integrator, who is focused on the provision and support of solutions that enable customers to communicate anytime, anywhere on the planet.

Also featured at this event is a new, smaller footprint M-Link Exchange video receiver that is designed to help broadcasters better use space in their server rooms. Ideal for reporters on the move, M-Link Live X and Newscaster now come complete with fully integrated BGAN HDR Control enabling users to control their Cobham Explorer 710 satellite streaming terminal directly from their laptops and to choose from a range of guaranteed Streaming IP rates to meet all their data, voice and video needs.
M-Link Live X automatically brings up and tears down the connection, enabling users faced with high call charges to make the most effective use of budgets. Live video is encoded at the maximum bit rate possible, making the best use of the variable bandwidth provided by BGAN HDR and maximizing the quality of the video delivered regardless of the link conditions. Dynamic feedback from the network provides real time information on the available bandwidth and is used to manage the Adaptive Bit Rate encoder. M-Link Live-X will work equally well with Ka-band satellite technology, 4G, 3G, DSL, other broadband connections. Full frame profiles are also available for use with the Inmarsat HDR connections; offering enhanced video quality and making the best use of the service.
Reporters using M-Link Newscaster, the professional solution for the delivery of HD and SD store and forward video, can make use of the new background encoding feature. Files saved into the watch folder are automatically encoded, helping reporters pressed for time to work more efficiently.
A quarter of the size of its predecessor, the M-Link Exchange Server is designed to operate on the Windows Server 2012 platform and occupies just one unit of rack space, helping broadcasters better use space within their server rooms. With considerably more processing power, the new 1U Exchange server will provide the backbone of future M-Link receiver systems utilizing HEVC encoding and handling multiple live calls.
The new M-Link Exchange server allows users to simultaneously ingest live video streams and to play out files on the same piece of equipment.
For further information, visit http://www.livewire.co.uk/
---
DigitalGlobe, United Launch Alliance, ATK + Ball Aerospace—All Fired Up + Somewhere To Go
A United Launch Alliance (ULA) Atlas V rocket carrying the WorldView-3 satellite for DigitalGlobe launched at 11:30 a.m. PDT on August 13th from Space Launch Complex-3. Lockheed Martin Commercial Launch Services procured the Atlas V for this mission.
This was the fourth successful launch in six weeks and the 87th successful mission since ULA was formed in December 2006.
This mission was launched aboard an Atlas V 401 configuration vehicle, which includes a 4-meter-diameter payload fairing. The Atlas booster for this mission was powered by the RD AMROSS RD-180 engine, and the Centaur upper stage was powered by a single Aerojet Rocketdyne RL10A engine.
WorldView-3 is the first multi-payload super-spectral, high resolution commercial satellite for earth observations and advanced geospatial solutions. This high spatial resolution multispectral satellite imagery is used for civil government mapping, land use planning, disaster relief, exploration, defense, intelligence, visualization and simulation environments.
"Congratulations to our commercial mission partners Lockheed Martin Commercial Launch Services and Digital Globe for today's spectacular launch of the Atlas V carrying the WorldView-3 satellite," said Jim Sponnick, ULA vice president, Atlas and Delta Programs. "The team's dedication to mission success, one launch at a time, brought us to today's successful launch, delivering WorldView-3 to provide the next generation in earth imaging capabilities for DigitalGlobe.
"This launch marks ULA's tenth successful launch of fifteen planned this year," added Sponnick. "The ULA team remains focused mission success and on-time deliveries for our customer's most valuable payloads."
ULA's next launch is the Atlas V CLIO mission for the U.S. Government from Space Launch Complex-41 at Cape Canaveral Air Force Station, Florida. ULA has successfully delivered more than 80 satellites to orbit that provide critical capabilities for troops in the field, aid meteorologists in tracking severe weather, enable personal device-based GPS navigation and unlock the mysteries of our solar system.
ATK provided critical launch vehicle and payload hardware for the Lockheed Martin Commercial Launch Services launch of DigitalGlobe's WorldView-3 satellite aboard an Atlas V.
Operating at an expected altitude of 617km, the WorldView-3 satellite will capture data-rich imagery that will enable customers to search for new sources of minerals and fuels, manage forests and farms and accelerate DigitalGlobe's living digital inventory of the surface of the earth. Ball Aerospace designed and built the WorldView-3 satellite for DigitalGlobe.
"The highly engineered ATK products supporting both the Atlas V rocket and the WorldView-3 satellite are a testament to our portfolio of products and their integration capability," said Blake Larson, president of ATK's Aerospace Group. "They demonstrate not only ATK's continued affordable innovation and execution excellence, but our leadership in the aerospace market."
ATK's contributions to the Atlas V and WorldView satellite include cutting-edge technologies from across the company. Contributions include a large composite faring and retro motors for the rocket, and critical components on the satellite.
For the Atlas V rocket, ATK produced the 10-foot diameter composite heat shield, which provides higher performance with lower weight, and essential protection for the first stage of the launch vehicle from engine exhaust temperatures in excess of 4,000 degrees Fahrenheit. The assembly was fabricated using advanced fiber placement manufacturing techniques at ATK's Iuka, Mississippi facility. This is the 46th Atlas V launch using ATK-built composite structures.
This launch also marked the 13th successful flight of ATK produced retro motors. Eight of these solid motors supported separation of the spent first stage. The Atlas retrorocket is built at ATK's Missile Defense and Controls facility in Elkton, Maryland.
For the WorldView satellite, ATK's Beltsville, Maryland facility provided the heat pipe and thermal strap assembly to provide temperature control. As a leader in space thermal control technology, ATK has delivered over 50,000 heat pipes to the space industry with 100 percent on-orbit mission success.
Lockheed Martin Commercial Launch Services (LMCLS) is the exclusive provider of Atlas rockets to all non-U.S. government customers.
Lockheed Martin: http://www.lockheedmartin.com/
With dedicated launch sites, unparalleled orbital insertion accuracy, and 116 consecutive successful launches to date, Atlas is unmatched for performance, reliability and schedule assurance.
Ball Aerospace provided the spacecraft and an atmospheric correction instrument, integrated the remote sensing instrument and tested the entire system.
The Ball Commercial Platform (BCP) 5000 spacecraft bus accommodates next-generation optical and Synthetic Aperture Radar (SAR) remote sensing payloads, and is designed to be a flexible, stable, and highly accurate Earth remote sensing platform.
WorldView-3 builds upon WorldView-2 and WorldView-1 technology by carrying forward the satellites' advanced Control Moment Gyroscopes (CMGs). CMGs reorient a satellite over a desired collection area in 4-5 seconds, compared to 30-45 seconds needed for traditional reaction wheels.
WorldView-3 also features the first atmospheric sounder DigitalGlobe will fly in space. The Ball-built Cloud, Aerosol, Water Vapor, Ice, Snow (CAVIS) atmospheric instrument will enable WorldView-3 to collect scientific data based on ground reflection by correcting images for atmospheric interference.
Ball was able to provide the CAVIS instrument at substantial cost savings by using the electronics design, focal plane detectors and spectral filter manufacturing methods developed for its Operational Land Imager (OLI) instrument on NASA's Landsat 8 mission. The Ball team was also able to reuse OLI's ground support equipment for the CAVIS instrument.
WorldView-3's direct tasking capability allows select DigitalGlobe customers around the world to load imaging profiles directly up to the spacecraft and execute delivery of the data directly down to their own ground stations.
Additional information: http://www.digitalglobe.com/about-us/content-collection#worldview-2
---