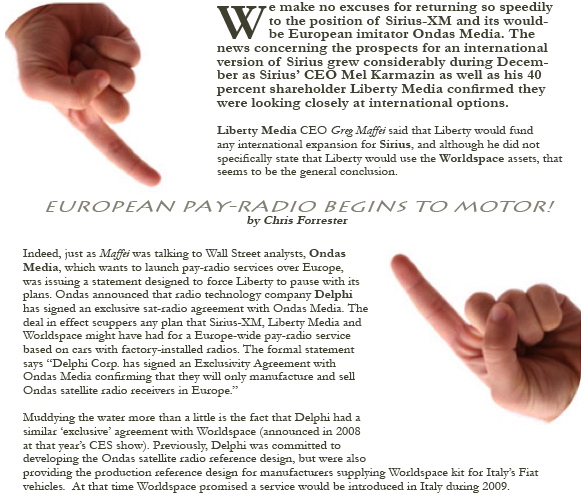 Despite Worldspace's Chapter 11 bankruptcy, the Fiat/Worldspace agreement remains in force (although is the subject of separate legal squabbles), although now not with a Delphi supply package included.
"This new arrangement ensures that Delphi, the leading satellite radio supplier to car companies in the U.S., will only supply Ondas radios in the European market. Delphi will still supply the reference technology of Ondas reception systems to all Ondas OEM radio manufacturers as per the original agreement," the statement continues.
Delphi's now exclusive focus on Ondas is a significant indicator of the credibility Ondas is establishing based on their achievements with OEM customers, radio broadcasters, regulators, and infrastructure partners. "Delphi was and still is the 'first-to-market' leader in all types of satellite reception systems, and have integrated their radios into 200 different models of automobiles for both Sirius and XM technologies. This commitment gives Ondas a significant operational advantage over competitors," said their statement.
What this deal means is that Worldspace (either as a revived company, or with Liberty and/or Sirius-XM as active participants) cannot use Delphi-supplied or patented components in Europe. There are certain other suppliers of satellite radios (notably Kenwood). Another company, New Jersey-based '
Consumer Satellite Radio LLC
' (CSL), filed certain patent infringement claims earlier this year against Sirius, XM, and U.S. retailers such as
Radio Shack
alleging that CSL's patents within the technology had been used without permission.
However, as far as the Delphi/Ondas contract is concerned, this is a major step forward for Ondas. Building a car is itself a hugely complex process, and the supply of radio units into upscale and mass-market vehicles is a major undertaking especially when one considers the 'behind the fascia trim' options available to buyers. The Delphi agreement means it will be even more challenging for Worldspace (or its associates) to now get factory-installed sat-radios into European vehicles. It isn't impossible, of course, and listeners might be happy to have a separate Worldspace receiver bolted onto a dashboard somewhere. But it won't be pretty!
Indeed, it is a widely-held misunderstanding to consider that Sirius-XM "integrate" their own satellite reception technology into a vehicle. This is always done with certified suppliers. Delphi was the first and most successful Tier 1 automobile supplier for both Sirius and XM in the early days, and were often called upon to get other manufacturers technology working. Delphi was instrumental in the early success of XM in time to market, and also aided Sirius during its many challenges to get to service launch (recall that early Sirius CEO
David Margolese
was let go for failing to hit service launch dates and during his tenure experienced up to 30 months of technology integration delays. Delphi were brought in to rescue that schedule). Therefore while Sirius XM can offer Worldspace lots of advice based on the many mistakes they made (but survived), the fact is that to get this sort of technology into a car requires quite a bit more than a simple cheat sheet of tick-box options. Without Delphi, many believe it is inconceivable that Italy's Fiat cars will have factory installed radios anytime in the near future. Sirius XM certainly can't do it themselves from their New York offices in the Avenue of Americas.
Meanwhile the satellite technology that Ondas will probably use is coming back to life.
Solaris Mobile
is the joint-venture between
Eutelsat
and
SES Astra
that had hoped by now to be transmitting S-band signals from a giant
Harris
-supplied transmitter fixed to the Eutelsat
W2A
satellite. The antenna suffered an 'anomaly' and isn't working as specified. However, this hasn't stopped Solaris Mobile from announcing a technical trial with
Alcatel-Lucent
and French transmission company
TowerCast
to test DVB-SH radio to demonstration vehicles in and around Paris.
We can also confirm that the Solaris Mobile satellite-to-terrestrial trial, which uses the special S-band payload on Eutelsat's W2A orbiting satellite, is very definitely targeting Ondas as a customer, despite Solaris having to dramatically amend its business plan. However, the S-band payload is the subject of a major insurance claim, and Solaris CEO
Steve Maine
says the craft's insurers have agreed to pay 100 percent of the claim. It is known that the Solaris Mobile payload's problems are one of capacity and scale and not operability. Maine has said that Solaris can offer all its planned services, although not necessarily in the scale that would make a fully-fledged business.
The upcoming trial/test is designed to demonstrate the commercial possibilities still available from W2A's S-band cargo. Any revenues received on a future commercial deployment would be shared with the craft's insurers. Maine says that a potential service to cars — of the type being planned by Ondas — could be deployed to Paris "and another territory". A third service could be offered on a much wider basis, but would need to consume less capacity.

It is known that Ondas Media is looking closely at France and Germany. It has carmaker deals in place with Renault, BMW, and Nissan. It is already a matter of record that Solaris Mobile and its shareholders are weighing the options of how to replace the damaged S-band payload. Solaris is under certain EU obligations to 'use the capacity, or lose it'. The bandwidth is required to be in use by May 2011. Inmarsat has a similar obligation on its 30 MHz of S-Band licence.
Maine admits that a radio deployment is now unlikely this coming year (2010). When Solaris Mobile was first mooted there was considerable (apparent) enthusiasm for DVB-SH services to mobile phones and similar devices in cars. Those schemes have all but evaporated. However, Maine remains optimistic saying that while the pure DVB-H/DVB-SH telco-market may have vanished there remained more, not less, opportunities for the S-band payload and video in general.
However, here's a strange thing. Despite the very public support from Sirius and Liberty Media for their international pay-radio plans, their stockholding investors seem not to be that impressed. As this is written, the Sirius share price is flat. Sirius CEO
Mel Karmazin
(speaking at a recent
Reuters Global Media Forum
) stated that Liberty and Sirius XM are indeed in talks about the Worldspace. This could mean that coverage in Europe, India, and other foreign markets might now be opened to Sirius XM's satellite coverage possibilities, as well as technology sharing, and content distribution deals. As Liberty is seemingly putting up all the costs, Sirius XM can receive cash directly to their bottom line, which is already going to show profits in Q4 of 2009, from their domestic endeavors solely. This — one would think — is good news for Sirius.
Sirius (SIRI) has traded at around 60 to 70 cents since September, and while every one cent moves up or down makes a meaningful difference to the pay-radio broadcaster's market capitalization (currently US$2.4bn, and with trading at 62 to 63c), it would seem fair to say that Sirius' shareholders seem not to be that impressed by any thoughts of an international roll-out for Sirius. Karmazin has fairly stated that he didn't see any international investment plans for Sirius other than there could be opportunities on the revenue side of the balance sheet.
Meanwhile, there's the question of wrapping up Worldspace's Chapter 11 bankruptcy, which is ongoing. A meeting that was originally scheduled to take place at the Delaware Bankruptcy Court on December 2 was scrubbed. Worldspace now has until January 31st to file a restructuring plan and has until April 1st to — hopefully — wrap its bankruptcy protection up although it is worth stressing that these dates can be extended.

However, it would seem from a reading of the various Court filings by the assorted lawyers to Worldspace that Liberty is firmly in the driving seat for the failed radio broadcaster and in effect controls the two somewhat tired Worldspace satellites (
AfriStar
and
AsiaStar
), both now nearing the end of their working lives. Afristar was launched in October 1998 and has solar-panel problems, and with an operational design life of just 12 years — which is close — although it could stay on station (+/- 1 deg) for a further 3 years or so.
Asiastar
was launched in March 2000, again with a 12-year lifespan, so this craft has a slightly longer "use by" date.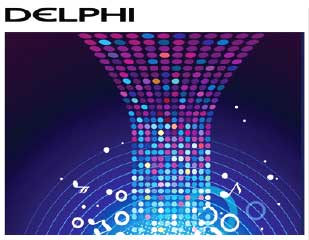 Worldspace also has an 'asset' in the shape of Worldspace 3, a craft that's sitting in a satellite warehouse in Toulouse. It would be unfair to call it
DustSat
, given that it is carefully stored in a temperature and humidity-controlled clean environment, but by any measure the satellite now has some tired components that would need replacement.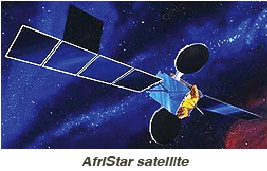 This third Worldspace satellite will also need technical modification to permit it to more aggressively target Europe. Finally, a new owner needs to stump up the launch and insurance costs for WS3 — and this means real money measured in the tens of millions of dollars. Liberty Media's satellite arm is going to have to fund this if it hopes to launch a real L-band service across greater Europe.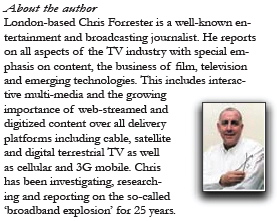 To summarise, Worldspace has to emerge from Chapter 11, staff hired, and battered relationships rebuilt. Cash must then be paid to fund the modifications of
Worldspace 3
, then a launch slot booked (and this is not easy) and insurance taken out. This summarized list is but the tip of an iceberg of challenges, and is by no means a pushover even for Dr.
John Malone
.