NewCom International
by Ingrid Ricks, Communications
At NewCom International, we've always viewed today's communications technology as a means to make life better for people living in remote regions throughout the developing world.
Using our integrated satellite, WiFi and fiber infrastructure as the foundation, we spent 2011 focusing in on the development and delivery of bundled communications solutions that could advance education, improve health care, ensure public safety and promote economic growth in the critical regions of Latin America and Africa Here's a look at some of our initiatives in 2011.
Health Care: Using our satellite-based high-speed Internet service and collaborative VideoMeetings™ application, we made it possible for a Haiti hospital to conduct instant, face-to-face consultations with top medical experts around the world and transmit critical medical documents for review — saving numerous lives in the process. We also helped 14 medical clinics located in remote villages throughout Colombia connect with top doctors in the nation's capital through dedicated, real-time voice and video services.
Education: To help governments, foundations and NGOs working to address the critical education needs throughout Latin America and Africa, we developed our Rural Education Integrated Solution (REIS™), an affordable, turnkey package that combines satellite-based Internet connectivity, virtual teaching applications and Internet safeguards with rich educational content from Houghton Mifflin Harcourt, the world leader in online educational content. Throughout 2011, we were instrumental in bringing Internet connectivity to remote schools scattered throughout Latin America and Africa. We are currently teaming with USAID and a consortium of other organizations on a pilot program that will provide high-speed Internet access and computers to 26 schools located in the most remote, volatile regions of Colombia. We also helped universities to reach students around the globe through virtual, interactive classrooms and online collaboration tools.
Research: In July, we teamed with engineers from universities throughout the world to relay their historic Inka Engineering Andes Mountain expedition to visitors at the Smithsonian's National Museum of the American Indian in Washington D.C. This was managed through a powerful, interactive videocast. We also provided our collaborative, interactive VideoMeetings™ service, which allowed thousands of museum visitors to interact live with researchers as they uncovered engineering secrets behind the ancient Inka road and bridge system that stretches over Peru's most rugged terrain.
Public Safety: To ensure government, military and law enforcement personnel have anytime, anywhere access to critical voice, video and data communications, we developed our Emergency Communications Response Network (ECRN™). ECRN is a compact, self-contained communication system that serves as an emergency backup solution and as a portable communications center for mobile military and public safety corps units. Applications include humanitarian assistance, disaster relief, counter-insurgency, counter-terrorism response, stability operations and peace keeping. We also helped facilitate critical elections in several developing countries by providing government officials with the turnkey solutions necessary to connect with voters and ensure democracy. With our mobile streaming service, we made it easy and cost-effective for candidates to instantly stream live video on a specified web site from the most remote corners of the world. We also provided turnkey, short-term VoIP and Internet solutions during elections that ensured secure, high-quality voice and email communications service between remote voting locations and central voting headquarters for transparent, real-time reporting.
Infrastructure: To assist Germany-based NGO Welthungerhlife in its work to provide clean water, sanitation, roads, and agriculture for refugee camps in war-torn Liberia, we recently donated a year's worth of Internet connectivity to three remote field offices scattered throughout the country.

In 2012, NewCom International will continue to foster education and advance health care throughout Latin America and Africa through public-private partnerships. We will also continue to partner with governments to secure public safety and will continue to bundle communications solutions to promote economic growth in these critical, developing regions.
* * * * * * * * *
NewSat

by Adrian Ballintine, CEO
This has been another successful year for NewSat. While the FY11 period was challenging for many companies across diverse industries and sectors, NewSat proved resilient to wider market factors and delivered record revenue growth.
NewSat is Australia's largest specialist satellite communications company, delivering Internet, voice, data and video communications via satellite. The Company owns and operates two world acclaimed Teleports based in Adelaide, South Australia and Perth, Western Australia. These Teleports provide a full range of C- and Ku-band services and satellite connectivity to more than 75 percent of the globe. With NewSat's two Teleports covering two thirds of the world, the Teleport business delivered monthly recurring revenues, growing monthly profits and fixed cost leverage throughout FY11. NewSat's customer base continued to grow and the Company experienced an increased demand across oil, gas, mining, construction, government and military sectors. In the past 12 months alone, NewSat has signed 175 high-grade enterprise and government contracts across these sectors.
In the past 12 months, NewSat has extended its growth into the satellite arena. The Company has achieved major milestones as it transforms from a reseller of satellite capacity into a satellite operator with the Jabiru Satellite Program, which will launch a fleet of next generation geostationary satellites, delivering high-powered global coverage for high demand markets such as military, resources, media, government and carrier-grade telecommunications. The Jabiru satellites will offer high throughput Ka-band capacity, enabling faster speeds, smaller end-user antennas and more cost-effective solutions, along with more available bandwidth.
In the past 12 months alone, NewSat has acquired seven premium orbital slots from KyproSat, which have received Cypriot regulatory approval. In addition, NewSat signed US$279 million in binding pre-launch contracts on the Jabiru-1 satellite with TrustComm, 3A Technology and Quicklink Communications. NewSat also signed non-binding customer term sheets on Jabiru-1 for more than $50 million per annum.
The Jabiru Satellite Program's fleet of geostationary satellites will deliver high-powered Ka-band coverage to high demand regions. Jabiru-1 will deliver more than 7.6 GHz of capacity, providing high throughput, secure capacity and high-powered Ka-band coverage, to meet the growing demands from military and enterprise sectors across the Middle East, Asia and Africa. With the completion of the technical design for Jabiru-1, negotiations with manufacturers, launchers and financial institutions well progressed and the signing of a number of cornerstone customer contracts on Jabiru-1, NewSat is on schedule to launch Australia's first independently owned commercial satellite.
The Jabiru-2 satellite will provide highly targeted Ku-band coverage over Australia, Timor-Leste and PNG and satisfy the growing demand from oil, gas, mining and government markets for cost-effective communication solutions in and around Australia. Similar to Jabiru-1, Jabiru-3 will also provide high-powered Ka-band coverage over Africa, The Middle East and Asia, as well as Europe, due to the high demand for Ka-band coverage over these regions.
As NewSat prepares to enter a new phase of growth, the Company has added two experienced satellite executives to an already cohesive management team. David Ball was appointed Chief Technology Officer and Michael Hewins joined NewSat as Chief Operating Officer. Combined, David and Michael have 50+ years of global satellite experience and will play a pivotal role in the realization of NewSat's vision to become a leading global satellite operator. Earlier this year, NewSat Founder and CEO, Adrian Ballintine, received international recognition when he was appointed to the Board of Directors for the World Teleport Association (WTA). Mr. Ballintine was one of three new Directors joining this prestigious board. Earlier in the year, Mr. Ballintine was also announced Teleport Executive of the year by the WTA.
With record revenue growth, NewSat is looking forward to an exciting FY12. The next 12 months will see further progress of the Jabiru Satellite Program. As the satellite industry continues to grow, NewSat is well positioned to capture this growth.
Mr. Ballintine said, "We are well positioned to capture this growth. As our Jabiru Satellite Program continues to progress and the Jabiru-1 satellite enters its final stages of planning, we are all set to grow Australia's satellite company from a Teleport operator into a leading global satellite company."
* * * * * * * * *
Newtec

by Serge Van Herck, CEO
This year has been a particularly successful one for the satellite industry. Whilst the global markets in 2011 have been steady but lack lustre in many regions, they have been particularly strong in rapidly developing parts of the world. The satellite industry has been buoyant with connectivity, increasing TV transmissions, IP broadband traffic, a growing requirement for mobile backhaul and also implementation of technological innovations such as Ka-band pushing it forward.
Newtec has been planning and implementing new strategies in 2011 to align itself and reap the potential rewards. In 2011 Newtec unveiled a new strategy that will ensure partners can access the Company's comprehensive and unique range of products quickly and easily across the globe. After a successful unveiling of the new bePART® Business Program in Asia in June, Newtec launched it globally at IBC 2011 show in September.
In the past Newtec had sold its products to end-users directly or through business partners, depending on the region or the specific relationship with the end-user. Today, Newtec's strategic goal is to fulfil more of its business through key partnerships that will bring added value to end-users locally and reinforce the Newtec brand and sales strengths.
One of the reasons for Newtec's success in 2011 has been major contract wins with three of the largest satellite service providers in the world. SES ASTRA, Eutelsat and Intelsat are providing the satellite capacity in three separate deals that have proven to be a landmark moment for not only Newtec, but also the industry. At the start of 2011, Newtec passed the 100,000 terminal milestone for its award-winning Sat3Play® IP broadband terminals. Now, new Newtec Ka-band Sat3Play terminals are soon to be shipped in what is the first network of its kind in Europe.
Newtec also expanded the Arab States Broadcasting Union (ASBU) MENOS® network and implemented several TV and radio exchange systems throughout the Middle East with the largest in Saudi Arabia and supported the launch of the private Radio FM distribution. Together with its partner Arabsat, Newtec and ASBU are now offering extended services and products for Fast News Gathering (FNG) and High-Definition TV (HDTV) contribution as well as exchange on its Multimedia Exchange Network Over Satellite (MENOS) platform for existing and new customers.
After a decade of activity in the Asian region, Newtec has built a considerable reseller base and an impressive reputation for its products and services and marked the tenth anniversary in 2011 by joining the Asia Pacific Satellite Communications Council (APSCC) as a member. In addition to joining APSCC, Newtec's team in Asia has also undergone reorganisation and expansion. Anver Anderson joined as Senior VP for Asia bringing more than 25 years' experience in the telecommunications and satellite sector, previously working for British Telecom, Inmarsat and Europe*Star.
Newtec has also expanded its operation in the rapidly growing Latin American market. Senior staff additions at the regional headquarters in São Paulo have taken place alongside the roll-out of the new partner-driven business program 'bePART' in Brazil and a number of neighbouring countries.
Newtec's existing partners and customers have also shared some outstanding success stories during 2011. A completed morale, welfare and recreation project in Afghanistan has connected 40,000 with their family and friends back home. There have been efficiency savings on Sky Italia's DTH platforms, and Red Bull Media House upgrades have been successfully implemented. These are among the many reports that are coming in with other customers including Aljazeera and Congolese service provider Microcom also confirming successful installations.
Newtec recently completed its yearly customer satisfaction survey with impressive results. A significant and positive shift can be noted during 2011 with a move from "satisfied" to "extremely satisfied."
The year 2011 has been a very successful one for Newtec in which it has won major contracts and aligned itself successfully with a buoyant industry. In 2012 Newtec will increase its efforts across the globe, with particular attention to Africa and Russia, where market penetration will be boosted as new partners will combine with new and innovative solutions and products.

Newtec is committed to its position in the market as an independent technology provider of choice. Its core belief is to ensure customers and partners succeed through innovation and cutting edge technology. With a finely-tuned strategy, there is every confidence that 2012 can be an equally successful year for Newtec.
* * * * * * * * *
O3b Networks

by Steve Collar, CEO
Global IP traffic is set to increase four-fold over the next five years and a huge proportion of that growth will occur throughout the emerging markets. O3b Networks is on the verge of launching a unique constellation capable of delivering more bandwidth at lower latencies and costs than ever before. Our next generation platform combines the reach of satellite with the speed of fiber at a price aimed at making the Internet a truly global experience.
We're capping off an intensive year of ground and space system development with the factory shipment of our first set of gateway antennas to Nemea, Greece, the first of seven strategic teleport sites to be installed around the world. At the same time, O3b's first satellite is taking shape in France.
It's been a year of firsts and major milestones at O3b. Telecom operators and ISPs everywhere from the Pacific islands to Latin America, Africa, the Middle East and Asia have secured a stake of O3b bandwidth. We've already sold more than one-third of the capacity across our initial fleet of eight Medium Earth Orbit (MEO) satellites, scheduled to launch in early 2013.
O3b raised $137 million to add four more spacecraft to our growing constellation. Our ability to boost our fleet from eight to twelve satellites at a time of global market uncertainly truly reflects the confidence that our investors have in O3b's vision and unique value proposition. Google's Larry Alder put it this way, "For relatively modest incremental investments, O3b can add meaningful quantities of high quality, low latency bandwidth and deliver it into the emerging world at sustainable and affordable prices."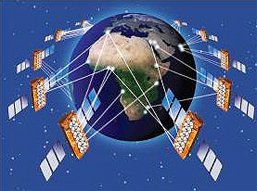 Google is among an impressive list of O3b investors who understand how O3b is set to solve the tough connectivity challenges in remote, underserved regions, countries and communities across the globe. A key component of the O3b system is our new IP Trunking solution, O3b Trunk. The scalable, bundled offering is designed to deliver affordable, fiber-like capacity anywhere within 45 degrees of the equator. It enables providers to connect their broadband, 3G, WiMAX and fixed-line networks to the rest of the world at speeds from 100Mbps to 1.2Gbps. That kind of connectivity can change everything in developing nations.
O3b continues to sign on high-caliber providers. We added some of our most innovative customers in 2011. Ozonio will be utilizing O3b bandwidth to help businesses and people in the remote state of Amazonas catch up with the broadband boom across much of Brazil. Mavoni Technologies is set to connect more than 2,000 rural schools in the underserved South African provinces of Limpopo and the Northern Cape. Sky Fiber became our first customer in Asia, ready to serve ISPs and telcos in Indonesia and The Philippines. And Etisalat became our first global telco to sign a global frame agreement to provide tailored regional services in Africa, the Middle East and Asia.
We have passed many a mission-critical milestone this year. And we will achieve major milestones on a weekly basis in 2012, beginning in January with the installation of our first global gateway in Greece and factory tests of our tier one antennas at ViaSat in Atlanta. These 4.5m dishes will be installed at customer locations around the world throughout the year, poised to deliver our O3b Trunk solutions and sure to play a key role in transforming the emerging world.
The first O3b satellite will come together in February as the platform and payload are integrated at Thales in Cannes, France. Equipment installation at our Network Operations Center in Manassas, Virginia, will be in full swing by spring. Our technical team is fanned out across three continents orchestrating the development and delivery of the global O3b system.
Our ability to empower whole countries and regions to discover a brighter, connected future is a big reason some of the most talented people in the industry want to work at O3b. It's also why some of the biggest and most innovative communications services providers are inking deals for O3b bandwidth.

Certainly 2011 has been a year to remember. And there's no doubt that 2012 is the year we enter the final phases of preparations for the historic launch of O3b. By the end of 2012 we will be poised to turn our vision of connecting the underserved regions of the world into a powerful reality. The outlook for a connected future is bright. Stay tuned.
* * * * * * * * *
Pactel International
by Andrew Taylor, CEO
2011 has been a year of profound growth for Pactel International. The booming resource sector in PNG allowed us to capitalise on our strengths in this market by establishing a new hub in Port Moresby, providing connectivity to the most remote provinces of New Guinea. With the advent of bandwidth demanding applications and costs remaining high, 2011 was the year when WAN optimization technologies became a critical factor in satellite communications. Pactel International saw this as an opportunity to add more value for our customers by embedding various bandwidth efficient technologies into our service offerings.
Using its new PNG hub, Pactel International is equipping multiple remote oil rigs for an Australian exploration company, operating in PNG, with VSAT terminals. These platforms facilitate effective, low latency, and high availability connectivity to support our customer's industry-specific applications. The new hub has also allowed Pactel to design and install a complete turnkey solution to another Oil Exploration company for their two new camps in PNG. The supplied communication system, a combination of satellite, WiFi distribution, acceleration and VoIP services, now enables the site crew to communicate effectively — locally and internationally — and to share large volumes of mission-critical information with their head office. Designed, engineered and installed in a matter of weeks, the solution was provided in record time. Shortly after the installation, the site crew informed Pactel they were delighted to find the quality of voice calls and Internet services in PNG consistently superior to that of their Australian locations.
In April, Pactel International has been awarded a multiyear contract for the management of SamoaTel's (Telco operator in American Samoa) International Telephony business, making Pactel responsible for every international call made from and to the island. The services provided will assist SamoaTel in achieving industry best practice and profitability in their international voice services. At Pactel International, we are very pleased to be able to combine our existing expertise and cutting-edge network management capabilities in order to add significant value to the existing practices and processes within SamoaTel.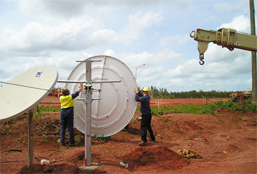 The advent of new applications on the Internet has significantly increased the bandwidth demand, with YouTube and file sharing being the major contributors to this increase. As a result, WAN optimization technologies have become a critical need to support these applications. Our R&D team developed technologies that now enables the Company to offer a range of bandwidth saving and optimization techniques as a value-adds to our offerings, with these improvements consisting of WAN optimization, caching and protocol control.
During 2011, Pactel International had also been holding a series of satellite communication seminars across Australia. Their aim was to demonstrate industry-specific applications over satellite and to educate companies on how to obtain the most benefit for their remote communications using our bandwidth optimization techniques.
Finally, 2011 experienced some remarkable connectivity growth in the public education sector. Access to the Internet has become vital in supporting today's education facilities. Pactel is proud to be providing students of the Pacific Adventist University and the University of Hawaii with the resources needed to facilitate an effective learning process. Using its value-added services, Pactel has applied latest QoS technology to filter bandwidth consuming protocols, giving more priority to student critical services, such as HTTP browsing and student forums. The result is a more efficient, reliable, and predictable system for delivering learning-specific solutions over the network.
In the year to come, Pactel is planning to continue growing its market share in the resources sector as well as expand vertically into the corporate and government sectors of the Asia-Pacific region. This will be achieved by an increase in sales staff throughout the region and capitalizing on our core strengths and value propositions in these markets.

Pactel is currently working on increasing services, such as satellite TV, for existing customers in the Pacific. Our existing services will be maintained by continuous optimization of current networks using the aforementioned technology advances. We thank our customers for their continuous support during 2011, and look forward to embracing new connectivity challenges together in the year to come.