HughesNet Going To The Dogs
The judges, staff, volunteers and veterinarians who run the 1,000-mile Yukon Quest International Sled Dog race will stay in touch with each other and the outside world over HughesNet high-speed satellite service from Hughes Network Systems, LLC (Hughes.

HughesNet, which services more than one million active users, is the Official Communications Sponsor for the U.S. portion of the race.
High-speed Internet access and voice (VoIP) service are essential to quickly and efficiently communicate weather updates, course warnings and other information to make the race safer. It also enables officials to update results on the website and steadily feed information to fans and media around the world.
With nationwide coverage, HughesNet brings the many benefits of high-speed Internet to people and businesses no matter where they live or work—even in ex-urban and rural areas with limited terrestrial broadband, such as Alaska.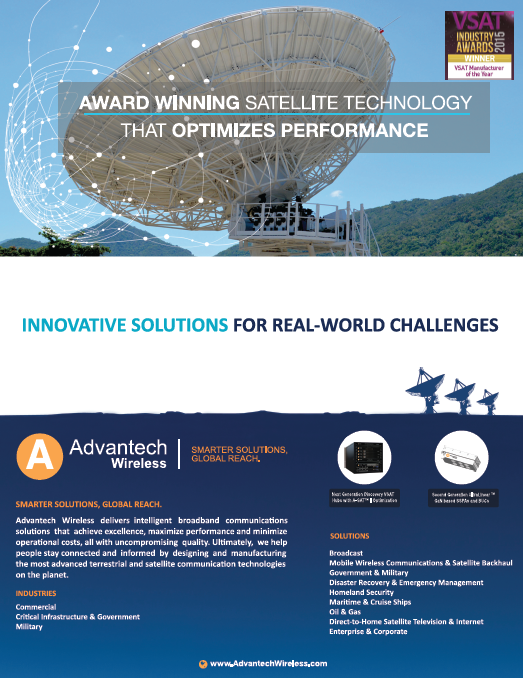 Hughes partner Will Johnson, owner of Alaska Satellite Internet, installs the satellite terminals on the U.S. half of the Yukon Quest trail. Johnson flies the systems to the six U.S. checkpoints—landing on roads when no landing strip is available—sets them up, and manages network operations throughout the race.
The Yukon Quest officials responsible for major operations during the race—Marshal Doug Grilliot, Manager Alex Olesen, and Head Veterinarian Dr. Nina Hansen—rely on the satellite VoIP (Voice over Internet Protocol) service to coordinate operations up and down the course.
Telephone access between checkpoints enables them to speak directly to each other and their team members to keep the dogs, mushers, support crews and Yukon Quest staff safe as they cross the Arctic terrain.
The 33rd Yukon Quest 1,000 Mile International Sled Dog Race started on February 6, 2016, in Fairbanks, Alaska and ended in Whitehorse, Yukon, Canada.
"So much of executing the Yukon Quest hinges on being able to talk to each other up and down the trail," said Marti Steury, Yukon Quest Executive Director—Alaska. "Months of preparation go into the race, but with so many people moving around at once, it's impossible to anticipate everything that can happen. The high quality of HughesNet service enables our race staff to talk instantly and resolve situations quickly and accurately."
"The Yukon Quest is the ultimate challenge for our technology—a challenge we've met twice before and are looking forward to succeeding against again," said Peter Gulla, senior vice president, marketing, Hughes North America.
"Our satellite units have worked in extreme cold over vast distances in all kinds of weather to provide the Yukon Quest with voice and data service for managing the race and keeping the world up to date on each development in real time. We're glad that we can help the race run as safely and smoothly as possible. We don't have time for committee meetings. We have to decide and go. The Hughes HX system helps us knock hours off the decision-making process. That increases safety levels and our team's productivity."
hughes.com/
---
Digging Into ORBCOMM
ORBCOMM Inc. has announced that Terex Materials Processing, a business segment of Terex Corporation (Terex), has selected ORBCOMM to deliver a customized end-to-end telematics solution to track and monitor Powerscreen® and Terex® Finlay machines.
ORBCOMM's comprehensive dual-mode solution will provide global satellite data service combined with cellular connectivity through ORBCOMM's wireless partner, AT&T, along with state-of-the-art hardware and a robust web-based platform for asset management.
Terex is a diversified global equipment manufacturer for a variety of industries, including construction, infrastructure, quarrying, recycling, surface mining, shipping, transportation, refining, utilities and maintenance.
ORBCOMM's heavy equipment telematics solution will provide Terex Materials Processing and their customers with critical asset data such as the location, engine hours, utilization, fuel levels, and urea levels as well as monitor engine fault codes or other alerts that are generated during the machine's usage.
ORBCOMM will also provide a powerful web portal for data analytics and reporting that has been tailored for Terex by ORBCOMM's team of engineers.
Terex Materials Processing has officially begun offering the factory installed deployment of ORBCOMM's telematics system on its machinery and expects to standardize the solution across several different models that ship from its primary factory in Ireland.
orbcomm.com/en/solutions/fleetedge
---
More Than $5 Billion Expected For Passenger Connectivity Services By 2025
According to Euroconsult's newly released report, Prospects for In-Flight Entertainment & Connectivity, total revenues from passenger connectivity services are expected to grow from $700 million in 2015 to nearly $5.4 billion by 2025, a 23 percent CAGR over the 10-year period.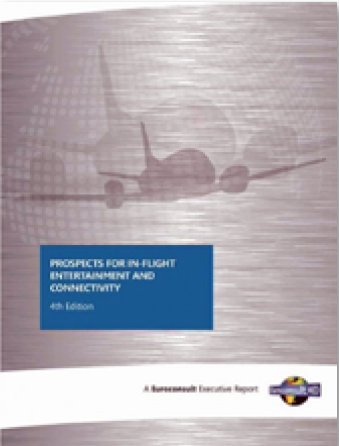 "At the end of 2015, 72 airlines had already installed or announced plans to install passenger connectivity systems on board, and the number of connected commercial aircraft had increased by 21 percent compared to the end of 2014," said Geoffroy Stern, Senior Consultant at Euroconsult and editor of the report.
"The launch of High Throughput Satellites (HTS) in both Ku-band and Ka-band is expected to be a game-changer for the in-flight connectivity market," Mr. Stern continued. "Total Ka-band HTS supply will increase threefold to reach 1,500 Gbps by 2018, while Ku-band HTS supply will increase fivefold to reach 285 Gbps in 2018. Beyond 2018, an even larger volume of capacity, targeting the in-flight connectivity market, is expected. HTS systems will not only tremendously increase data speeds to the plane compared to regular satellite systems, but will also significantly lower costs, thereby further driving the adoption of IFC services. With more airlines opting for cabin connectivity, companies that have not yet made a decision will be increasingly pressured to offer such services to match their competitors."
The number of connected commercial aircraft is expected to grow from 5,300 to 23,100 over the 2015-2025 period, accounting for 62 percent of the global fleet.
The significant upward revision compared to our previous forecasts is mostly driven by the expected faster adoption of VSAT-based solutions (for both Ku and Ka-bands).
In the business aviation market, the share of VSAT solutions is also seen increasing dramatically, as the largest service providers on the commercial aviation market, such as Panasonic and GEE, announced plans at the end of 2015 to address this market. Overall, Euroconsult estimates that VSAT bandwidth will grow from 2.0 Gbps in 2015 to 120 Gbps in 2025.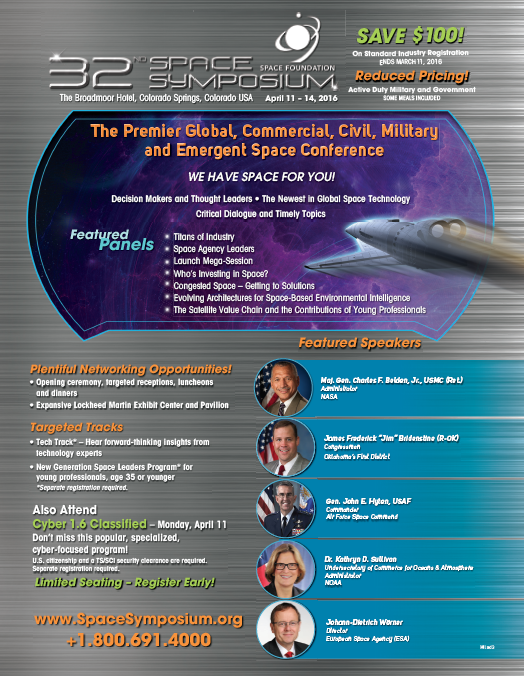 Beyond cabin connectivity, the smart plane concept is taking shape. Thanks to the growing implementation of connectivity on board aircraft and to technological innovations in various aspects of avionics, airlines today have a major opportunity not only to offer new services to passengers but also to optimize flight operations.
Connected aircraft or smart planes are a new generation of aircraft that are considered to be nodes in a very wide network of interconnected systems. While currently in its infancy, the smart plane concept is expected to develop further in the near future, and this should create untapped new opportunities for a wide range of players.
Tremendous changes are expected in the service provider landscape. Six players currently offer cabin connectivity services for commercial airlines, namely Gogo, Panasonic, GEE, Thales, SITA OnAir, and ViaSat.
However, competition is set to intensify with some equipment manufacturers and satellite operators moving down the value chain and new entrants set to penetrate the market by 2017. Service providers are currently facing high operational costs and are struggling to be profitable.
Connectivity services require significant upfront commitment and investment in satellite capacity and ground infrastructure. Given this operating leverage, an increase in the installed base and a better utilization of satellite capacity commitment are crucial for service providers hoping to increase their gross margins.
In 2015, the average annual revenue per commercial aircraft (ARPA) ranged from $125,000 to $135,000 for both Gogo and GEE. Key industry players have already indicated that the ARPA could reach $250,000 to $300,000 in the next three to five years, mainly driven by higher take rates and increased bandwidth delivered to planes, enabling passengers to significantly increase their data consumption. When adding the potential stemming from operational services, the ARPA could even surpass $300,000.
The IFC hardware market for the commercial aviation segment is primarily driven by the success of individual service providers who generally act as equipment solution integrators and the primary link between end-users such as airlines.
While the space segment (capacity) is unquestionably an important facet of IFC services, service providers are increasingly relying upon equipment, notably antenna technology, to differentiate their offerings.
From only four players active in 2015 (Panasonic, ViaSat, Aerosat, and Tecom), the antenna manufacturer market is poised for fragmentation as no fewer than a dozen players are seeking to position themselves in the commercial aero segment.
---
Harris CapRock Takes Five
For the fifth consecutive year, Harris CapRock Communications has been ranked number one one in the listing by the World Teleport Association (WTA).

The company also ranked sixth on The Global Top Twenty in 2015 based on total revenue.
Harris CapRock's teleports consistently meet the highest requirements for National Institute of Standards and Technology compliance for confidentiality, integrity and availability.
All of its teleports are designed with fully automatic 1:1 redundancy to achieve maximum availability and are managed 24 hours a day, seven days a week.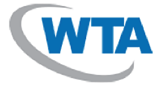 "Harris CapRock offers the most advanced tools and technologies and our global infrastructure enables us to deliver reliable, quality communications services to our customer anytime, anywhere," said Tracey Haslam, president, Harris CapRock Communications.
"Our position on the WTA's Top Teleport Operator Rankings reflects our commitment to our customers that no matter how remote or variable their environments may be, their communications will be second to none."
A comprehensive listing of The Independent Top Twenty, The Global Top Twenty and The Fast Twenty of 2015, as well as all of the years since the rankings debuted in 2004, are available at this direct link.
---
It's Gold For CPI ASC Signal Division
The ASC Signal Division of Communications & Power Industries LLC (CPI) has won a contract for eight multi-band antennas to be installed by Brazilian integrator Seal Broadcast & Content to provide coverage of the 2016 Rio Olympic Games and other regional sporting broadcasts for a major Latin American broadcast network.
The contract includes one 7.6-meter dual C- and Ku-band transmit/receive antenna and seven 4.5-meter antennas configured with a mix of C-and K-band receive-only and Ku-band transmit/receive capabilities.
All of the antennas are equipped with the Next-Generation Controller (NGC) from CPI ASC Signal Division.
The NGC gives the operator a single, simplified, central device to control and operate multiple antenna systems.
The NGC's advanced features include remote access and tracking capabilities built into the system, an internal spectrum analyzer, redundancy control systems, and many other high-performance controller features.
The 31st Summer Olympic Games kick off in Rio on August 5, 2016 and will vault Latin America into Olympic annals for the first time in history.
The city has invested more than 100 billion dollars in infrastructure and transportation to support the Games as well as the World Cup played in Rio in 2015.
"The Olympic Games are the ultimate test for broadcasters in terms of performance, reliability and flexibility," said Keith Buckley, president of CPI ASC Signal Division.
"In selecting our antennas, Seal and its customers were mindful of our reputation for delivering the highest possible performance, a dedication to engineering quality and our low total cost of ownership."
ascsignal.com/
---
The IRG's Newest Member
The Satellite Interference Reduction Group (IRG) has announced that NovelSat has become the latest member to be welcomed to the group.
NovelSat is a technology company dedicated to providing the next-generation standard for satellite communications. 
NovelSat develops and delivers bandwidth efficient satellite transmission solutions comprising advanced modems, modulators and demodulators. Its products are DVB Carrier ID compatible.
"We are delighted to have NovelSat join our growing list of members," Commented Martin Coleman, Executive Director, IRG. "It's the support from companies such as NovelSat, which has already embraced our initiatives, such as Carrier ID, that helps us in our quest to reduce satellite interference."
Dan Peleg, CTO, NovelSat said, "An important part of the NovelSat strategy is to improve spectral efficiency while introducing advance satellite interference mitigation algorithms. Joining IRG was a logical step for us, and we look forward to being more involved in the group's global activities."
satirg.org/membership/
novelsat.com/
---
Better Beaming With NSSLGlobal
NSSLGlobal announces a significant upgrade to its fully-owned and operated VSAT network with the activation of two new beams.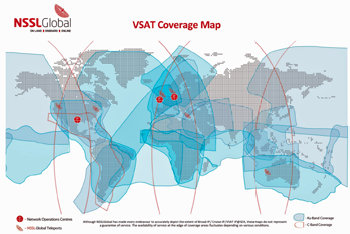 Launched in response to specific market needs, these two beams significantly extend the reach of NSSLGlobal's global VSAT network, providing its maritime customers with wider and more robust connectivity at sea, while also boosting coverage on land.
The company's VSAT network already covers 95 percent of the Earth's surface, including all of the world's major commercial shipping routes, mining areas, offshore oil rigs and fishing domains.
These additional beams will not only extend the network, but also provide greater availability through overlapping coverage in key areas of these markets.
The new Ku-band beam went live at the beginning of January 2016 and runs on the Yamal-402 satellite (55 degrees East) covering Sub-Saharan Africa and waters around Madagascar and the Indian Ocean.
This will further extend NSSLGlobal's coverage into the Indian Ocean, further improving user experience for vessels cruising in the Indian Ocean and using NSSLGlobal's VSAT service.
In addition, this beam will further strengthen the coverage over the African continent, which is also a strategically important area.
NSSLGlobal also added new, global C-band coverage in January 2016. Running on the Intelsat IS-23 (53 degrees West), the new beam is specifically targeted to give increased capacity and alternative look angles for vessels in the Gulf of Mexico.
The beam also covers most of the North and South American mainland, coastal waters to the West of Mexico, and significant coastline around the South Americas.
In September 2015, NSSLGlobal won the 'VSAT Service Provider of the Year' award at the prestigious VSAT Industry Awards. The award recognized the scope and quality of the services and coverage NSSLGlobal provides, as well as its customer-centric approach and leading support services for both sea and land-based satellite communications.
Sally-Anne Ray, Managing Director of NSSLGlobal, said, "The addition of these new beams highlights NSSLGlobal's ongoing commitment to investing in our fully owned and controlled VSAT infrastructure and giving our customers the industry's best service.
"Owning our infrastructure gives us the flexibility to cater for every potential client's need, whether that's with off-the-shelf or fully-bespoke products and packages. This differentiates NSSLGlobal from most other providers, allowing the company to deliver world-leading coverage, service and support, and create fully-bespoke VSAT packages for its customers.
"Our new Gulf of Mexico beam will offer vessels a better, more robust service in one of the most crowded shipping areas in the world. The new Ku- beam helps maritime companies to take advantage of faster shipping routes in the Indian Ocean, while maximizing satellite coverage uptime. Ultimately we want NSSLGlobal to be known for offering the best, widest and most robust coverage in these strategically important regions."
nsslglobal.com/
---