SatMagazine (SM)
Please tell our readers about your Company's business focus, and history, within the various European market segments.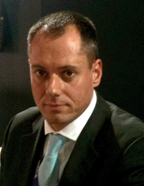 Dimitrios Papaharalabos
EMP (Europe Media Port) is a global service provider that distributes the highest quality of video, Internet and data connectivity solutions for the media, ISPs, as well as governmental markets, all via the Nemea teleport that is located in Greece. From our strategic position, EMP offers high quality access to all satellites in the 45 degrees West to 90 degrees East range, blanketing Europe, the Middle East, Africa, the Americas and Asia. EMP is a leading global service provider in the new and fast growing Ka-band satellite high-speed data market.
EMP was the first announced provider of Gateway Teleport services for O3b's global network. O3b, a subsidiary of SES, Google, and other investors, is building a satellite-based, fiber-quality Internet backbone for telecommunications and Internet service providers that will link its reliable Gigabit IP network connectivity and bandwidth services to clients located in Asia, Africa, Europe, and the Middle East.
SM
What European SATCOM sectors do you believe offer the most potential for Company growth and why?
Dimitrios Papaharalabos
The most exciting developments at EMP are the recent movements in Ka-band hi-speed data communications market and its vast growth potential in the years to come. We are currently working alongside O3b on providing these solutions throughout Europe and into Africa. This is potentially a huge market and we are prepared to take the lead with many of our clients. We also provide iDirect VNO services for large enterprises and satellite operators.
SM
How is your Company coping with the euro fluctuations?
Dimitrios Papaharalabos
As we are registered in Cyprus, we operate within the eurozone. Management has put into place a full range of risk management practices to deal with monetary and payment issues, especially when some revenue base is calculated in U.S. dollars, depending on customer location. Though the euro's fluctuations are making business more challenging, we are able to continue our growth and are quite proud of our abilities. The situation is a challenge but we are well prepared for these eventualities by taking a conservative approach in dealing with economic turmoil, its attendant issues, and its risks.
SM
How will the European markets impact global, as well as your Company's business opportunities?
Dimitrios Papaharalabos
EMP's business is based in Europe and, because we connect the continent to the rest of the world, what happens here is always a part of our business plan. For instance, we are pressing forward with plans to support and spearhead Ka-band technology to address the broadband Internet market. We see EMP taking an important role in enabling this new, ground-breaking solution to provide fast Internet connectivity to billions of citizens, businesses and organizations in previously poorly connected regions around the world.
In another instance, we are linking reliable Gigabit IP network connectivity through our fiber network that reaches Africa, Europe, the Middle East and all around Asia. European communications firms are basing their connections and redundancy features on our capabilities and we will continue with our expertise into the future for our clients.
SM
What obstacles face your Company in the European market? How do you plan on overcoming such challenges?
Dimitrios Papaharalabos
The European theater presents almost identical challenges to those that exist around the world. Certainly, the economic turmoil tormenting the continent is different, and though it does affect the remainder of the globe, Europe is similar to other markets.
There is competition from local players, disruptive technologies, a shaky monetary landscape, and government regulations that seem to change frequently. We are also looking into developing new connections and creating partnerships to generate new business.
SM
What new technologies/products will your Company be working on and/or releasing over the next few months that will drive additional business in Europe?
Dimitrios Papaharalabos
Over the next year, EMP will be examining how to expand our Ka-band service offerings. We are looking at promising prospects because this market is moving towards greater acceptance in the consumer market and we can enable improved pricing for service providers.
In addition, EMP will be continuously working towards providing a full scope of services improving international satellite operators' capabilities to reach European, African and Middle Eastern markets.
About the author
Dimitrios has more than 14 years of SATCOM experience and has developed business relationships with multinational companies, international clients, military and corporate organizations throughout Europe, the Middle East, South Africa, and North America. He currently heads up the marketing and sales division for EMP, a leading, Cyprus-based satellite service provider.