Several issues ago in SatMagazine, we wrote that Ultra-HDTV (U-HDTV) is coming... "and fast"... were the precise words used in that column. Well, it seems we were wrong. Ultra-HDTV (U-HDTV), at least in its 4K version is, in terms of satellite time, now just around the corner.
At the giant IBC broadcasting technology show in September, news emerged that News Corp.-backed payTV operator Sky Germany has a team working on Ultra HDTV technology. While Sky Germany CEO Brian Sullivan didn't give a precise start-date, it was clear that his target for the introduction of 4K transmissions is three or so years from now.
Sullivan was quite clear. "We already have an Ultra-HDTV project working here. It's all early days but I am a great enthusiast and a big and positive supporter of Ultra High Def. I first saw a demo about six years ago when the camera was about the size of a small car but even when I saw that almost static picture, I was totally—totally captivated— and when it happens, I can promise you we will be one of the first. It makes sense for payTV to showcase this technology in the first instance."
His comments confirm the widespread industry gossip that suggests other parts of the News Corp. payTV broadcasting arms could also be looking at U-HDTV for an early introduction. Sullivan's experience included many years working at BSkyB on technology aspects of the business, notably the introduction of the Sky+ set-top box (STB), HDTV and then 3DTV. He has been running Sky Deutschland now for three years.
Sullivan is not alone in planning for U-HDTV. Satellite operator
SES
, already carrying Sky's UK and German signals, as well those of pay-box
Canal Plus
, is also ready.
Ferdinand Kayser
is CCO at SES. "It's been at the heart of SES since its early days to deliver a large choice of linear TV in the highest possible quality. With Ultra-HD we now see our customers, some of the largest broadcasters in the world, embracing an even higher picture quality. It will be the next big thing in broadcasting taking the consumer experience to the next level. It will make linear TV even stronger and more compelling, and ensure satellite will remain the most powerful TV infrastructure in the future."
Kayser
added SES would go the 'extra mile' for U-HDTV, and is "contributing to the development of the necessary ecosystem, both operationally and technically, in order to make Ultra-HD happen."
Indeed, SES carried superb test-4K transmissions at IBC (displayed on giant 84-inch Sony sets) and had a permanent crowd of enthusiasts examining every pixel of detail.
It is the same at SPS, the SES-owned Munich play-out centre used by Sky Deutschland, whose CEO is Wilfred Urner. "For me, the question is not so much as when we might start to play it out, for we could do this tomorrow. To make U-HD a success for our clients, today's flat screens will have to be Ultra-HD ready. It wasn't so many years ago that we had the same problem with high-definition (HD)."
STB specialist Pace is also busy on the reception end of the equation. Mike Pulli is Pace's CEO. "HEVC (High Efficiency Video Coding) is undoubtedly the base line for the next major steps in Digital TV both in 2D, 3D and especially 4K Ultra-HD where we expect a booming market around 2017."
Dr. Giles Wilson, head of TV Compression Business at Ericsson, says his team is well ahead with HEVC/2H.265's development, which will be standardized this coming winter. At IBC, Ericsson unveiled its SVP 5500 HEVC encoders. "We have been looking at 4K transmission, because we are firm believers in it. We believe HEVC will have a pivotal role in its deployment. New decoders, when properly designed for H.265, will deliver a very good 4K experience." Dr. Wilson expects these encoders to gain early acceptance by the cellular community. "Indeed, moving towards 4K was one of the key aspects of the technical development work carried out by the technical teams and standards bodies. They, in particular, wanted to achieve extra-high resolutions so there are some special tools within the specification to help achieve this."
Dr. Wilson says that the final video result in terms of received quality depends on the bit-rate employed by the broadcaster. "I expect that on premium TV services the broadcasters will not push the compression bit-rate too far, but I also expect that new decoders, when properly designed for H.265, will deliver a very good 4K experience. They should work better than H.264 because more attention has been paid to these aspects. We at Ericsson have had a considerable input on the 'In-Loop Filtering' aspects of the technology, for example."
Setting aside for a moment the challenges still to be overcome in the adoption of 4K for TV (baseband standards, basic connectivity, and such, none of which are covered by the H.265 'standard') the German scheme seems sensible. For example, it is not a huge country (138,000 square miles. Texas is almost twice the size at 268,000 square miles), but its population of 82 million is significant. Moreover, the nation is crisscrossed with good highways and it is thought that an initial OB truck, equipped for 4K, could easily manage two or three major sports events each week.
This, plus movies, could kick-start a payTV service similar to those already being transmitted in 3D, where sport, movies and some documentary footage comprise a 'channel' for many broadcasters.
However, Pierre Larbier, CTO at compression specialists Ateme, also speaking at IBC, urged some caution. Larbier, who was showcasing Ateme's own 4K encoders at the show, said, "some network broadcasters might not want to make an investment in a technology such as 4K transmission which they can see being overtaken in a few years. NHK in Japan for example, is going straight into 8K-line transmission. Also, it takes time for standardization, especially in baseband and core connectivity. Therefore, we still have a time before 4K transmission gets real. Only the future holds the answer as to whether 4K or not will be bypassed, or becomes the standard."
It is 'standards' that broadcasters need, which prompted another far-seeing debate at IBC.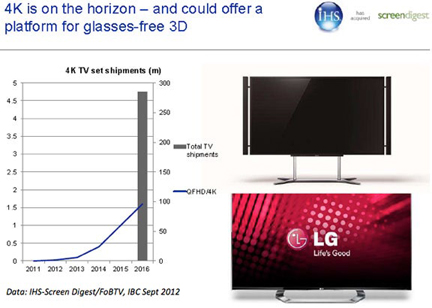 Hosted by many of the leading names in standards development and coordination, the Future of Broadcast Television (FoBTV) initiative, held an extremely well-attended meeting at IBC. They stated they were looking to the shape of terrestrial television broadcasting globally 10 years from now, and even beyond. Given that anything that happens in terrestrial TV has to be fed/matched by satellite, the session was quite revealing.
Phil Laven
(chair/DVB) posed a couple of questions to delegates, asking them whether there should be a global TV standard. This query elicited a 95 percent 'yes' response from the (mostly) European delegates present. When asked whether the project could be successful, considerable doubt was initially expressed.
Mark Richer
, president/ATSC, outlined the thrust of the task ahead, saying that terrestrial broadcast would continue to stay extremely important as the cheapest and most effective way of achieving mass distribution of signals. "But the industry should show, through this project, its commitment to a standard which could be in place for the next 50 years and would be a win-win-win for broadcasters, manufacturers and governments."
Richer
stressed that FoBTV was NOT, in itself, intending to be a standards body or development organization. It now has 43 members and he said the IBC meeting might be seen as a "defining moment for DTT" following on from similar sessions at NAB and a special 'Summit' in Shanghai, China.
IHS/Screen Digest
's chief analyst
Ben Keen
said the FoBTV project had to take on board some tough questions, not the least of which was the role of the primary TV set in the home. "Increasingly, this primary display is not connected to a terrestrial signal and depends, instead, on cable or satellite. Fewer and fewer people are watching a terrestrial signal. While viewing time per day continued to rise, so does non-linear consumption."
Keen
told delegates that any talk of web or Internet-based mass-market TV viewing could be ignored as the costs on a per-home basis were simply too high. However, he asked that thought must also be given to the role of 3D, of 4K transmission and beyond, and of mobile TV, which remained an important option for some markets. "We must also remember connected TVs which are an increasingly important feature in many homes and will only grow in numbers."

About the author
Senior Contributing Editor Chris Forrester is a well-known broadcasting journalist and industry consultant. He reports on all aspects of broadcasting with special emphasis on content, the business of television and emerging applications. He founded Rapid TV News and has edited Interspace and its successor Inside Satellite TV since 1996. He also files for Advanced-Television.com. In November 1998 he was appointed an Associate (professor) of the prestigious Adham Center for Television Journalism, part of the American University in Cairo (AUC), in recognition of his extensive coverage of the Arab media market.