Momentus' Vigoride OTV integrated with SpaceX Falcon 9 for December Launch
Momentus Inc. (NASDAQ: MNTS) has completed the integration of the Vigoride Orbital Service Vehicle (OSV) on the SpaceX Falcon 9 launch vehicle that will be used for the Transporter-6 mission that is targeted for launch in December.
This flight will mark Momentus' second demonstration mission of its Vigoride OSV.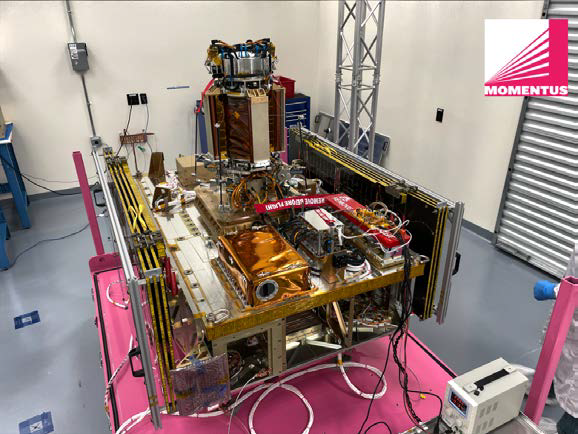 Photo of the Momentus Vigoride OSV prior to shipment to Cape
Canaveral for launch. Photo is courtesy of the company.
Mission priorities include hosting Caltech's Space-based Solar Power Project payload, deploying Qosmosys' Zeus-1 payload, and testing Vigoride's performance in space.
Both the Vigoride OSV and its Microwave Electrothermal Thruster (MET) are next- generation systems that are enhanced from the previous versions that flew on the Company's first demonstration mission earlier this year.
"We aim to provide the infrastructure services to advance how humanity uses and explores space," said Momentus Chief Executive Officer, John Rood. "Like the early railroads, highways, and commercial air travel connected people and ideas and enabled movement and growth, space infrastructure will enable the same. Our second demonstration mission is the next step of many to come as we work toward bringing reliable space infrastructure services to market to support energy needs on Earth and in space, communications, remote sensing, and sustainability initiatives like debris removal."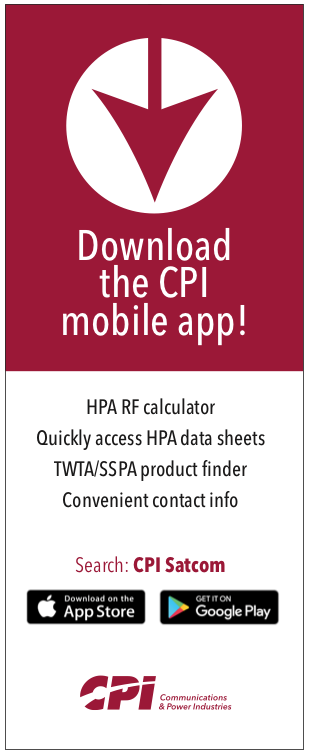 "We made improvements to our systems following continued ground testing, and after applying the lessons we learned from our first mission," Rood added. "Our goal is to put our latest Orbital Service Vehicle through its paces in space, test its capabilities, and add more experience with how our technology performs in space so we can continue to improve our systems to meet the future needs of our customers."
momentus.space/
---
SES-21 now operational to serve CONUS
The new SES-21 satellite for SES is now operational at the orbital position of 131 degrees West, after launching on October 4, 2022.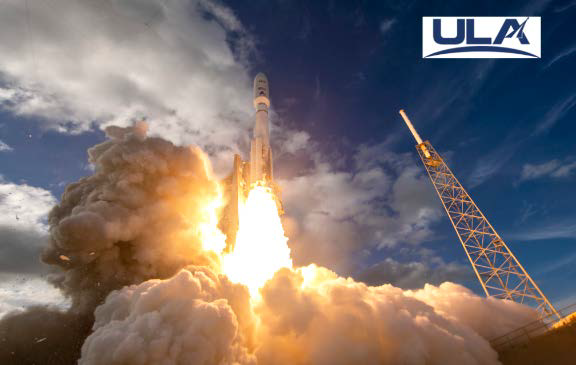 Photo of ULA's Atlas V launching the SES-20
and SES-21 from Cape Canaveral.
Image is courtesy of ULA.
After reaching its final fixed position and completing testing, SES will begin transitioning customers to the new satellite.
SES-21 will enable SES to continue delivering C-band broadcast and radio services to millions of Americanhomes, as well as provide other critical network communications services to the United States. SES-21 was successfully launched by United Launch Alliance (ULA) in tandem with SES-20 from Cape Canaveral, Florida.
SES-20 and SES-21 are highly efficient, all-electric, 702SP satellites manufactured and assembled in Los Angeles by Boeing.
SES is launching five satellites as part of a broader Federal Communications Commission (FCC) program to clear a portion of C-band spectrum to enable wireless operators to deploy 5G services across the contiguous U.S. (CONUS).
Satellite operators, including SES, have been tasked by the FCC to clear the lower 300MHz of C-band spectrum throughout the CONUS by December of 2023.
SES-21 is critical to that effort, enabling SES to transition existing services to the upper C-band frequencies while maintaining uninterrupted services for customers.
SES-20, the other C-band SES satellite launched by ULA in October, is scheduled to go into service before the end of the year.
www.ses.com
www.boeing.com/space
---
Maxar acquires Wovenware for Machine Learning and 3D data production expertise
In November of 2022, Maxar Technologies completed the acquisition of AI and software development company Wovenware — this acquisition significantly adds to Maxar's software engineering and AI capabilities and talent.
Founded in Puerto Rico in 2003, Wovenware has roughly 150 employees specializing in software development, service design, artificial intelligence and geospatial production.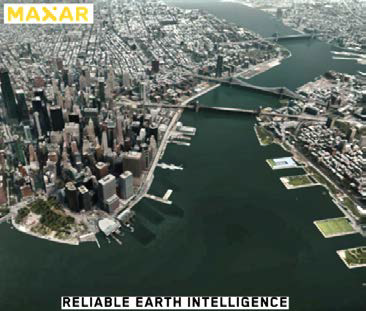 The company will become one of Maxar 's software development and ar tificial intelligence and Machine Learning (AI / ML) centers of excellence, with its software deliver y exper ts par tnering closely with other Maxar teams to develop new solutions for customers.
Since 2017, Wovenware has worked closely with Maxar on numerous customer delivery and internal software engineering initiatives, including for Maxar's global imagery basemaps, Precision3D applications and more.
Specifically, Wovenware's AI/ML and Data Production talent has supported Maxar projects ranging from UI design to full-stack delivery, producing new 3D terrain analytics tools, thousands of ML training data sets and dozens of automated object detection models.
Wovenware's co-founders, Christian González and Carlos Meléndez, will continue to oversee day-to-day operations of the company.
Wovenware will operate as a wholly owned subsidiary of Maxar, which will continue to invest in Wovenware's growth in Puerto Rico. Maxar will provide additional resources to help the company draw from the best engineering talent across the island as well as to support its efforts to bring more talent from the mainland and elsewhere back to the island.
"In today's ever changing world, our customers are continuously looking for ways to access our industry- leading products faster and more efficiently—AI and machine learning is critical to accelerating growth," said Dan Jablonsky, Maxar President and Chief Executive Officer. "Wovenware's incredibly talented team of software engineers complements Maxar's product development and delivery talent. Our teams already have a track record of working together to deliver customer solutions, and we are excited to work even more closely together to grow and expand our installed customer base."
"Wovenware is excited to join the Maxar team. Having worked together for five years, we've experienced first-hand the synergies between our companies and the shared commitment to technology innovation and customer and employee success," said Christian González, co-founder of Wovenware.
"Becoming one of Maxar's software development and AI/ML centers of excellence enables us to accelerate our commitment to expand our employee footprint and bring the most exciting innovation and technology projects to Puerto Rico," added Carlos Meléndez, co- founder of Wovenware.
www.maxar.com
---
Arianespace Ariane 6 to launch Intelsat satellites
Arianespace has signed a contract with longtime customer Intelsat to launch two satellite payloads — IS- 41 and IS-44 — using the heavy-lift Ariane 64 from Europe's Spaceport in French Guiana in 2025 — this agreement re-purposes a previous launch contract and adds one additional satellite.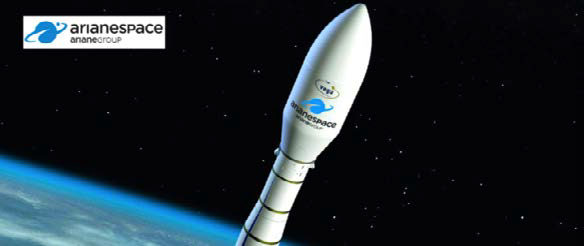 Thales Alenia Space is manufacturing the IS-41 and IS-44 satellites, which are based on the innovative and flexible Space Inspire product line.
The two software-defined satellites, fully reconfigurable on-orbit, will collectively weigh close to 8000kg at launch and will be placed into the requested geostationary transfer orbit.
Ariane 6 has been designed from the outset to be scalable and able to integrate, during its life and on a regular basis, new technologies.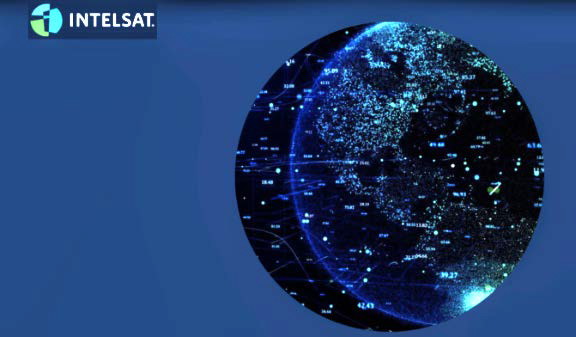 Ariane 6's incremental development is intended to regularly improve the performance of the launch solutions offered by Arianespace and always better fulfill the needs of institutional and commercial customers. These developments are funded and managed by the European Space Agency (ESA) and implemented by Ariane 6's launcher system prime contractor ArianeGroup.
Stéphane Israël, CEO of Arianespace. "Intelsat is entrusting us with two highly sophisticated payloads for flight aboard our next generation heavy lift vehicle, the Ariane 64. What a tremendous vote of confidence in our team and our launcher! This special relationship goes back four decades and spans the entire Ariane line."
"Launched with the Ariane 6, these innovative satellites will extend Intelsat's 5G global reach and Media neighborhoods with high-speed, dynamically-allocated connectivity across Africa, Europe, the Middle East and Asia for commercial and government mobility customers, as well as cellular network backhaul," said David C. Wajsgras, CEO of Intelsat."
---
Spacecom + Orbit Communication Systems establish record-breaking performance tests of airborne terminals on the AMOS-17 satellite
Spacecom (TASE: SCC), owner- operator of the AMOS satellite fleet, and Orbit Communication Systems Ltd. (TASE: ORBI), have completed a series of record- breaking performance tests of Orbit's MPT30 and MPT46, multi- purpose, airborne satellite terminals.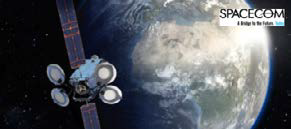 The systems successfully completed the trials via Spacecom's AMOS-17 digital satellite's Ka-band.
Orbit's MPT30 terminal delivered a 140 Mbps+ forward link and a 40 Mbps+ return link and their MPT46 terminal was delivered with a 50 Mbps+ return link with ample fade margins.
The MPT terminals maintained uninterrupted connectivity to the network during all flight simulation phases tested.
The achieved data rates enable high- speed, high-resolution video and data in real time from multiple onboard sensors.
Orbit's modular, multi-role MPT30 and MPT46 terminals operate in commercial and military Ka-band using compact 30cm or 46cm antennas.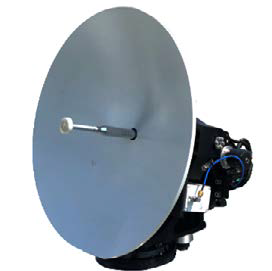 The fully integrated, three Line Replaceable Units (LRUs) terminal consists of a RF antenna assembly (including all RF components), a Ka- band Power Supply Unit (KPSU) and a Modem Unit, making them among the easiest to install and service while located at the avionics bay, on the fuselage or tail-mounted, supporting a variety of mission-critical platforms, which includes Mission Aircraft, Unmanned Airborne Vehicles (UAVs) and Rotary Wing platforms.
On-The-Move requirements have been an integral part of the AMOS-17's specific satellite's design.
The satellite's powerful, steerable Ka- band spot beams provide 'coverage-on-demand,' offering users a 'center of the beam' connectivity via manual or automated beam steering. keeping the designated platform in the beam's center enables the customer to receive the highest possible radiated power by using compact terminals, on top of the powerful 1 to 1,000MHz bi-directional, spot beam capacity. This capability is extremely useful when high-capacity data and video connectivity are needed during the fast deployment of airborne terminals.
According to the company, AMOS-17 is the most advanced digital HTS satellite over Africa and the Middle East. The satellite's cross-beam and cross-band capabilities deliver a new level of operational flexibility enabling multiple configurations of hub and remotes across continents.
The satellite's extensive C- and Ka-band HTS capabilities and Ku-band, maximize throughput and spectral efficiency. These unique steerable Ka- beams enable customers to direct its required service anywhere in Africa, the Middle East, Europe and Central Asia.
Ofer Asif, SVP of business development, Strategy and Marketing at Spacecom, said, "With the takeoff of exciting and sophisticated airborne connectivity, Spacecom's advanced AMOS-17 satellite meets our customers' needs for top performance, uninterrupted and extensive on-demand coverage. Working with the Orbit teams expands even further Spacecom On-The-Move offering, paving the way for innovation and cutting-edge solutions to enable greater value to the industry."
Daniel Eshchar, CEO of Orbit, said, "This cooperation with Spacecom is yet another milestone in Orbit's strategy to further extend its collaborations with leading organizations around the world. We are proud to pass the recent trials successfully, and to have another proof for Orbit's technological advancement by achieving high data rates with our compact and powerful terminals."
---
Viasat contracts Intellian for maritime Ka-band user terminals
Viasat Inc., has issued a contract to Intellian for that firm to design and supply an exclusive, bespoke range of Ka-band user terminals Viasat's Maritime connectivity solution.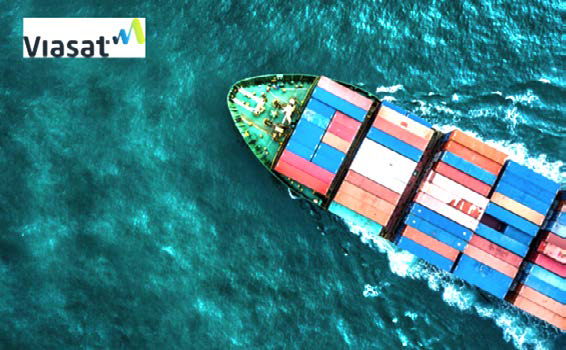 In addition to the bespoke new terminals, Intellian will also develop a 100cm upgrade kit for Intellian's popular NX Series. The NX Series conversion kit will enable thousands of vessels the opportunity to connect to Viasat services.
The new 60cm and 100cm bespoke user terminals leverage Intellian's innovative satellite terminal technology and Geostationary Satellite Orbit (GEO) modem integration expertise.
With many world-firsts and industry leading innovations, Intellian has quickly garnered the reputation for engineering excellence through their customer- centric approach.
With the new range of Viasat products, customers will benefit from highly reliable access to Viasat's satellite network, including the upcoming ViaSat-3 constellation.
The launch of the first of the trio of ViaSat-3 satellites is scheduled for the first quarter of 2023, and is expected to be in service for the maritime market in 2023.
From streaming to video conferencing, Intellian and Viasat will empower a true at-home and in-office experience for superyacht, energy, and commercial customers, so everybody onboard can do anything online.
Viasat offers customers access to on- demand, 24/7 personalized support to keep up and running, fixed pricing for a high quality experience, and flexibility to meet seasonal demands.
Eric Sung, CEO of Intellian, said, "This is a great opportunity for Intellian to collaborate with one of the leading global communications companies, combining our individual excellence to form a long-lasting and fruitful relationship. The contract win is yet another tangible example of our placement as a market leader, using our unparalleled engineering and supply chain capabilities to deliver exceptional value to the market."
Shameem Hashmi, VP and GM, Maritime at Viasat, said, "With the upcoming launch of ViaSat-3, our relationship with Intellian has come at a critical time, enabling us to deliver the connectivity that our leisure and commercial customers require. We're excited about broader access to the Intellian customer base on a global scale, and for the continued collaboration and development of terminal technology that supports our network. We believe Intellian aligns with our innovative and forward-thinking approach to satellite connectivity."
www.viasat.com
www.intelliantech.com/home
---