Spacecom
by David Pollack, President and CEO
Spacecom is cementing its place in the industry as a multi-regional satellite operator with the December launch of AMOS-5 to 17 degrees East, where it will provide Africa with capacity to further drive the continent's telecom and broadcast growth. AMOS-5 enables the Company to reach its vision of becoming a multi-regional satellite operator. Africa, with its growing economy and its ability to capture more infrastructure investments, has led to the modernization of communications platforms and its overall attractiveness for business — this is a market segment that represents an important element of Spacecom's business strategy.
During the past 12 months, we have significantly added personnel to our staff — not only sales, but also engineering, operations, and customer service in order to serve our new customers in Africa. We have been making excellent inroads into Africa and can report more than 50 percent of capacity on AMOS-5 is pre-sold. A job well done. I would report that 2011 has been an excellent year for Spacecom, and it will lead to a great 2012 with the operation of AMOS-5.
Fill rates of capacity on the AMOS hotspot at 4 degrees West over Central and Eastern Europe remain over 90 percent. Here, we added a new DTH platform in the Ukraine, XtraTV, and our other DTH platform partners are gearing up for more HD, as well as 3D broadcasts. We are also moving forward on development of AMOS-4, which is scheduled to commence operations in 2013 at the 65 degrees East orbital position above the Indian Ocean to reach Asia, Russia, and the Middle East.
In a new note, we have just issued the RFP for the AMOS-6 satellite program that we plan to launch during 2014. This satellite will extend our reach further into Europe with its pan-European coverage as well as add more capacity over CEE and the Middle East. AMOS-6 will introduce our first Ka- spot beam coverage for broadband services over Africa and CEE.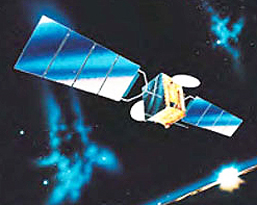 In 2011, as in the years before, we have been successful because we listen to our customers and provide them with the solutions they need. Our team takes the time and invests efforts to establish beneficial relationships with business partners to generate success for all. Simply put, Spacecom is always ready to take the necessary steps to keep our and our partners' businesses moving forward.
It is an exciting time to be a part of Spacecom and as we move into the future. We are looking at the start of AMOS-5's commercial operations in 2012, completing the last mile towards the AMOS-4 launch, and reaching more milestones with AMOS-6. Next year, our focus will remain Africa for the AMOS-5 and meeting our customers' needs at AMOS' 4 degrees West hotspot.
Spacecom continues to be bullish on the marketplace. In a more connected world, satellite operators will continue to be the choice for wide area broadcast, video contribution, data services, and backhaul as well as strong contenders for providing emerging broadband services due to new spot beam technologies.

Overall, the communications and entertainment industries are moving forward with new digital services. Satellites, including the AMOS fleet, will continue playing a major role in ensuring that governments, enterprises and consumers receive these services in high quality as they are needed.
* * * * * * * * *
Space Foundation
by Janet Stevens, Vice President, Marketing and Communications

In 2011, the Space Foundation took a big step — one that is setting the tone for the next decade and beyond.


In July, we moved into a new headquarters, which was procured with support from the Colorado Springs Regional Economic Development Corporation and funding from El Pomar Foundation, the Anna Keesling Ackerman Fund and Colorado Economic Development Commission.
The premier gathering of the global space industry, the 27th National Space Symposium, held April 11-14 in Colorado Springs, had the best participation, the most expansive exhibits and the greatest diversity of events in the Symposium's history. The agenda covered globalization and commercialization of space, the end of the Space Shuttle program and the resulting U.S. human spaceflight gap, budget challenges, procurement and acquisition strategies, cyber threats and strategies and the need for better, more effective science, technology, engineering and mathematics (STEM) education. Space Foundation awards presented at the Symposium included:
– General James E. Hill Lifetime Space Achievement Award to Charles Elachi, Ph.D., Jet Propulsion Lab director and vice president of the California Institute of Technology

– Douglas S. Morrow Public Outreach Award to journalists Jay Barbree, NBC News; Marcia Dunn, The Associated Press; and William Harwood, CBS News

– Space Achievement Awards to SpaceX and Télécoms Sans Frontières

– Alan Shepard Technology in Education Award to Charles County Public Schools Superintendent James E. Richmond
A major milestone was the opening of the Mars Yard at our Space Foundation Discovery Institute (SFDI) in Colorado Springs. The simulated Martian terrain and robotics laboratory is one of just a few in the world and the only one that routinely offers programs for students and teachers. Approximately 3,000 people, including students, educators and community leaders, visited the Mars Yard in 2011.
Among other educational programs, we celebrated the fifth anniversary of our relationship with Charles County (Maryland) Public Schools (CCPS), where we now offer a full New Horizons community program that in 2011 included Space Across the Curriculum courses, a luncheon featuring the White House National Security Council director, an Audience with an Astronaut program and workshops for teachers and more than 1,300 students.
We signed an agreement with Colorado State University-Pueblo to provide Space Across the Curriculum courses for teachers; internships for students; a space studies emphasis in Master of Education and continuing education programs; teacher workshops; public outreach programs; and cooperative research projects.
Since its release, The Space Report 2011: The Authoritative Guide to Global Space Activity has been widely referenced at policy hearings, media reports and government agency reports. Space Foundation white papers provided an overviews of congressional committees with space policy jurisdiction; current NASA budget data; the Department of Defense (DoD) budget allocation; the political history of the International Space Station; and the value of the James Webb Space Telescope. We also updated Introduction to Space Activities, which covers basic space information and terminology.
Space Foundation Chief Executive Officer Elliot Pulham testified on the importance of a robust space program before the U.S. Senate Committee on Commerce, Science and Transportation. During 2011, we continued to build global connections. We co-hosted, with the Ambassador of Japan to the United States and the Japan Aerospace Exploration Agency, a reception in Washington, D.C., for space policy makers and industry executives that celebrated the rich history of U.S.-Japan cooperation in space. We participated in the 15th Annual International Space University International Symposium, the 54th Session of the United Nations Committee on the Peaceful Uses of Outer Space and the 62nd International Astronautical Congress. We finished the year with a delegation that took U.S. space industry executives to visit key organizations involved in China's burgeoning space program.
* * * * * * * * *
Space Systems/Loral
by Arnold Friedman, Senior Vice President, Marketing and Sales
Video continues to be the great driver of new satellite capacity. This demand for direct-to-home (DTH) television continues to grow around the world, in almost every market from Latin America to Europe, North America and Asia. In 2011, more than half of the 14 new satellite construction contracts awarded through October 2011 will be used for DTH television.
Internet content continues to proliferate and high speed access has become another must have service ubiquitously around the world — to meet these demands economically, new satellites using advanced high frequency reuse spot beam solutions are the norm. Multi-mission satellites continue to drive down costs for satellite operators and their customers as they combine different missions, which may require use of different frequency band payloads, and/or different services such as broadcast and spot beam Internet, or a commercial mission with a government hosted payload.
DTH television demand is driving the need for higher power satellites to expand geographical service coverage, add HDTV programming, and/or maximize the number of television channels to be transmitted per transponder over previous generation satellites. In supporting this market, SSL built QuetzSat-1, a 20-kilowatt, all Ku-band communications satellite for SES, providing high-power DTH services to Mexico, North America, and Central America, which was successfully launched in September 2011. SS/L announced a contract with Intelsat for two high-power satellites for DIRECTV to provide DTH television service in Latin America. SS/L was also selected to provide SingTel Optus with the Optus 10 satellite, which will augment the existing SingTel Optus satellite fleet offer ongoing satellite service to Australia and New Zealand. The new spacecraft is scheduled for launch in 2013.
In 2011, the next generation of broadband satellites became a reality, with the launch of KaSat for service in Europe and ViaSat-1 for service in North America. Space Systems/Loral built its first Ka-band satellite for the Japanese government (NASDA), which was launched in 1977. Since that time, SS/L has built on its experience with the launch of 29 satellites with Ka-band payloads, including ViaSat-1, launched in October. Currently, another seven satellites with broadband payloads are under construction at SS/L, including a dedicated broadband satellite for Hughes.
A growing number of satellite operators and owners are discovering the economic benefit of putting multiple payloads on a single spacecraft. In the case when it is a government payload integrated onto a commercial multi-mission satellite it is typically termed a "hosted payload." At SS/L the size and power of our satellite platform is particularly well-suited to this type of satellite, providing satellites that are delivered within two to three years. 2011 might also be considered the year of the hosted payload as much attention has been drawn to the concept in order to reduce the cost of getting government missions into space. The Hosted Payload Alliance was formed in 2011 to increase the awareness and benefits of hosted payloads and SS/L is one of the seven original steering committee members.
In June 2011, SS/L was awarded a contract to build THOR 7, a multi-mission satellite for Telenor that is scheduled to begin service in early 2014. The satellite has a Ku-band payload for expanded broadcast capacity in Central and Eastern Europe, as well as Telenor's first Ka-band payload — including spot beams over the North Sea, the Baltic Sea, and the Mediterranean — which will be used for maritime broadband services.
Another multi-mission satellite in production at SS/L is EUROBIRD™ 2A/Es'Hail, which is being built for joint ownership by Eutelsat Communications and ictQATAR. This high-performance Ku-band satellite also has Ka-band capability, which will enable both organizations to provide high bandwidth Internet connectivity by satellite. The spacecraft's multi-mission architecture will enable ictQATAR and Eutelsat to respond to demand for the fastest-growing applications in the Middle East, North Africa, and Central Asia regions, including video broadcasting, enterprise communications, and government services.
SS/L is also building a multi-mission satellite for Telesat. Anik G1 will support a variety of applications including DTH television broadcasting in Canada; government requirements over the Americas and the Pacific Ocean; and broadband, voice, data, and video services in South America. The SS/L platform has enabled Telesat to build on the commitment of its customer, Shaw Direct, to expand its video service offerings across Canada, as well as cost effectively combining other service missions on one satellite.
SES-5 is a multi-mission satellite that is more typical of a hosted payload arrangement. Currently completing testing in our Palo Alto, California, satellite test and assembly facility, it is scheduled to launch in early 2012 and will carry a navigation payload for the European Commission that will be used as part of the European Geostationary Navigation Overlay Service (EGNOS).
SS/L has more commercial transponder capacity on orbit than any other manufacturer. We also continue to have the industry's largest number of GEO commercial satellites in backlog and numerous upcoming launches. For SS/L, 2011 has been a very good year. With ongoing demand in the global marketplace for advanced video services such as HDTV, hosted government payloads and broadband Internet, the future looks bright.
* * * * * * * * *
Stratos Global

by Jim Parm, President and CEO
For Stratos Global, 2011 provided the opportunity to focus even more closely on our core markets of Maritime, Enterprise and Government, thereby strengthening our position as the world's leading provider of mobile and fixed-site remote communications solutions. We restructured our business to more tightly align it with those core markets. The restructuring included the development of new, comprehensive solutions that meet the unique requirements of each of those major markets. Now, each of our three distinct Business Units has global responsibility for sales, marketing and solutions development that is specific to the market it serves.

As an independent subsidiary of Inmarsat, we continued to demonstrate our commitment to being a multi-technology service provider, helping meet our clients' complex networking requirements with solutions from Inmarsat, Iridium and other leading companies. Our earnest efforts resulted in the establishment of new, substantial sales relationships with many of the world's leading maritime, energy, mining, government and defense organizations.
We introduced several innovative broadband solutions, including FBB Flat Fee, FBBPlus and — in partnership with our sister company Ship Equip — XpressLink. These solutions provide shipping companies with a flexible pathway to Inmarsat's Global Xpress Ka-band service. Global Xpress, which is expected to be commercially available in 2013, will deliver speeds of up to 50Mbps.
As the world's leading FleetBroadband distributor, we understand the demand for higher volumes of data to support critical applications and business communications onboard — along with the increasing need to support crew with Internet-based services. In October, we expanded our maritime service-delivery capabilities by opening Global Installation & Service Centers (GIS Centers) in Rotterdam, Hong Kong, Singapore and Louisiana to provide complete managed-communications services for ship owners and ship-management companies worldwide. The GIS Centers are staffed with fully trained Stratos Field Engineers.
In 2011, Stratos led all Inmarsat Distribution Partners in FleetBroadband activations, including important deployments for Hapag-Lloyd, CP Offen, Harren & Partner and Shipping Corp. of India. We recently reached a milestone of 10,000 FleetBroadband activations. The penetration of the powerful BGAN service in the land-mobile sector continued to meet our expectations, with key deployments in the media and energy markets. This year, BGAN from Stratos reached the milestone of 20,000 activations, with the most notable media-market deployment again coming from the BBC.
This year, Stratos provided the global broadcaster with Inmarsat BGAN X-Stream mobile broadband satellite service to broadcast live coverage of the political crises in Egypt, Libya and throughout the Middle East. BGAN enabled the BBC and other media organizations to continue newsgathering from the region and transmit live reports to their studios, without interruption — even after governments shut down all terrestrial Internet connectivity and mobile phone service.
In February, we were selected by R&M Energy Systems (R&M) to deploy a global SCADA network based on BGAN. The custom-designed network reliably transmits operational data from oil pumps and other mission-critical equipment in remote areas not accessible by R&M's traditional monitoring infrastructure. The BGAN SCADA network is fully integrated with R&M's control and monitoring platform. It provides IP connectivity to field equipment via the Internet or a private VPN network. We also continued the buildout of our StratosMAX II broadband WiMAX service across the Gulf of Mexico (GoM) region, including 29 sites for W&T Offshore, a Houston-based independent oil and gas company. StratosMAX II provides last-mile radio connectivity accessing Stratos' industry-leading digital microwave network. In October, we introduced our StratosMAX II Nomadic service, which enables companies to expand their corporate networks to their mobile operations throughout the GoM.
In the defense market, Stratos Government Services Inc. (SGSI) continued to supply the U.S. Dept. of Defense, federal and state government agencies with the most advanced, mobile satellite services (MSS) for integrated voice and high-speed data connectivity. SGSI also partnered with its sister company, Segovia, to meet the complex networking requirements of top government organizations — in July, DITCO awarded the two companies a $315 million contract for Military Sealift Command's next-generation wideband COMSATCOM infrastructure. What makes SGSI different is the secure, highly advanced network we call the Stratos Government Network that is compliant with Information Assurance (IA) requirements and designed to minimize operational security (OPSEC) exposure. These attributes are absolutely critical for military users deploying MSS via COMSATCOM.

Looking ahead to 2012, we expect to continue our market leadership by helping our customers achieve optimal performance and cost efficiency from all varieties of remote-communications services. When companies evaluate those services, they seek a strong, experienced provider that offers optimal product selection, value-added services and expert support. Stratos will continue to provide that ideal combination.
* * * * * * * * *
Thrane & Thrane

by Walther Thygesen, CEO
Thrane & Thrane started the year as the clear leader in the world of FleetBroadband and, by the end of September 2011, we were delighted to have shipped our 20,000th terminal, which went to Thrane & Thrane's German certified partner European Satellite Link (ESL) GmbH. We announced the news of our 20,000th terminal the day after the Company's 30th birthday, so it was a double celebration for us at the end of September.
As 2011 closes out on a successful milestone for our L-band activity, we have launched an exciting new system in the Ku-band arena — SAILOR 900 — which became commercially available in October and is already very well received in the market. This is a powerful, quick, and easy-to-install, four-axis, stabilized Ku-band VSAT antenna, featuring a low-profile and high performance RF design. It can be easily integrated with all leading VSAT modem units and the sophisticated Antenna Control Unit (ACU) features multiple LAN and diagnostics ports, and Built-in Test Equipment (BITE). To ensure reliability of the SAILOR 900 VSAT aboard any vessel type, we built a unique antenna testing and simulation facility at our HQ. The facility features a multi-axis hydraulic motion testing and simulation platform that uses real-life vessel motion and conditions, to test the SAILOR 900 VSAT and other stabilized antennas whilst it is connected to a live satellite. This extra testing ensures that the SAILOR 900 VSAT system is ready for installation aboard vessels of all sizes and type. One of key things about the SAILOR 900 VSAT system, is that it comes ready to go from the factory, so it drastically simplifies the complex maritime VSAT procurement and installation process.
Also well received this year is the SAILOR 6000 GMDSS Series, which consists of brand new GMDSS equipment within the areas of VHF, MF/HF and for the satellite part, our new Inmarsat mini-C terminal. In our maritime business, the GMDSS (Global Maritime Distress Safety System) market is very important, so releasing a whole new series and redesigning our existing mini-C was a big step for us.
We have observed growth in the aeronautical market. Our newest aeronautical terminal, AVIATOR 200, was designed to widen the possibilities of the type and size of aircraft using SwiftBroadband. Its compact design and low weight means that much smaller aircraft can now install SwiftBroadband, opening up a number of opportunities for us. It was the first SwiftBroadband 200 terminal to receive a Supplemental Type Certificate (STC), which means AVIATOR 200 was the first SwiftBroadband 200 terminal to fly. As well as providing 'office-in-the-sky' capabilities for passengers, we have seen that wireless connectivity is increasingly aiding pilots and crew in the cockpit. By providing WiFi aboard, Thrane & Thrane's AVIATOR solutions support the connection of iPads and other WiFi enabled devices to offer a multitude of capabilities for pilots and crew to manage their workload on the flight deck by providing real-time access to the most current weather, flight planning and chart information at any time anywhere in the world.
On land, our EXPLORER terminal sales hit an all-time high during 2010/11 securing an extraordinary 18 percent growth. We continue to support humanitarian organizations throughout the world in times of crisis.
The quest for portability combined with increased data throughput is expected to drive future needs. Simultaneously, we see an increasing need for lower speed IP based terminals to be used in machine-to-machine applications. Both trends match Thrane & Thrane's technology roadmap very well.
In order to address the needs for more throughput while mobile, we recently introduced a major upgrade for our EXPLORER 727 vehicular BGAN terminal. We have added BGAN X-Stream capabilities enabling the use of Inmarsat's highest quality streaming service when the terminal is stationary. This free upgrade places the EXPLORER 727 in a league of its own and is proving popular, especially by users in need of transferring live video.
From a business perspective, Thrane & Thrane has had a good year. The current climate throws up certain challenges the entire industry has to face, but through considered development and investment, we are holding strong. Maritime customers are experiencing an unstable and unpredictable market with fluctuating freight rates. At the same time, fewer aircraft are being built and on land, defence customers, especially, are experiencing budget cuts. On the other hand, new application areas are driving demand for bandwidth. The growing use of iPads and smartphones sees increased use on business aircraft and in the development of applications sophisticated systems that maritime engine and electronics manufacturers are developing for remote monitoring and maintenance. All of these new applications for enhancing safety and efficiency require bandwidth and we provide the systems to meet this need.

Looking forward to 2012, we expect strong competition on SATCOM products as well as an increase in demand. We are confident that our position as key player in the L-band markets will remain — I am certain we will rapidly increase our share of the Ku-band maritime market with SAILOR 900 VSAT. Looking past 2012, Ka-band is also set to become a vital area for growth, especially after we were chosen to become a launch manufacturer for terminals for Inmarsat's forthcoming Global Xpress service, which should go live in 2013.