The success of Norsat International's satellite division started out when the company designed a custom small form factor satellite terminal for an offshore government in 2002. Norsat built upon the success of that delivery and founded the Satellite Division in 2004, where the portable terminals started selling into various militaries worldwide. These terminals were designed in consultation with the customer to achieve higher performance in a smaller form factor than was available on the market at the time.

Norsat's products and services have evolved since then and have become known globally for industry-leading ruggedness and reliability and have been used to provide critical communications for many international events. In Europe, the company is a leading provider of components for militaries and government organizations.
Mission Specific Capabilities
Norsat offers an entire family of fly-away, vehicle mounted and maritime VSATs that range in size from .45m up to 3.8m in C-, X-, Ku- and Ka-bands. Some examples of products and capabilities offered to military organizations include:
• The GLOBETrekker 2.0 is an auto-acquire terminal, which was engineered with the critical communications needed by various organizations to operate reliably within the world's harshest environments. This terminal has been upgraded with modular architecture for easy field customization and maintenance, a simple one-touch interface for rapid deployment and upgraded LinkControl™ software for easy, automatic, satellite acquisition and remote operation capabilities. The lightweight carbon fiber antenna and compact packaging allow the GLOBETrekker 2.0 to be easily transportable and airline checkable.
• NewsLink and Rover terminals are field proven, rugged and reliable. These units have been continuously operating for more than ten years in locations that include Afghanistan, Iraq and Haiti, to provide broadcast quality transmission during critical events.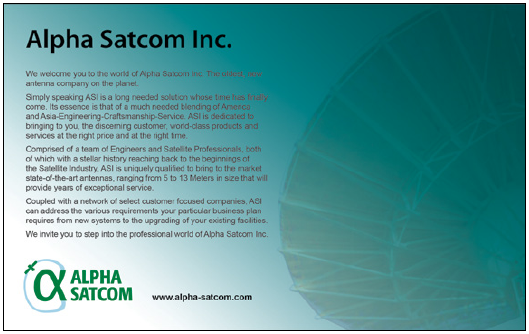 The Newbies
• ATOM BUCs and SSPAs: Just released are the ATOM series BUCs and SSPAs, which are up to 80 percent smaller, 68 percent lighter, and 60 percent more energy efficient than their alternatives, enabling a wide range of military applications that include portable VSAT, TWTA replacement , and UAV connectivity.
• SATCOM Baseband Kits: Norsat has recently introduced a series of SATCOM Baseband Kits that are specifically tailored for military customers. The kits support a wide variety of applications, and each kit includes the tools required to maintain satellite connectivity in remote locations or extreme environments. The CFK 100E Compact Flyaway Kit is designed to support voice, video and data communications over classified and unclassified networks and includes a custom integrated power supply for diverse powering options. Several of these kits are used by National Guards, FEMA, US State Department locations and other military and government agencies for reliable, emergency communications worldwide.
Strategy + Development For Europe
While VSAT technology is not new, the challenge is to make all work in the harshest conditions imaginable. Norsat's extensive experience with harsh environment applications has given the firm a substantial piece of market share in this growing market. All of the products and systems are designed in-house and built to MIL STD 810 and WGS/DSCS certification.
NORSAT 's major European customers, which have been served for more than eight years, include:
• NATO (has been a customer since 2008 and has just signed a new contract for the refit of five terminals)
• The French Army
• Portuguese MoD
• Finish MoD
• Irish MoD
Norsat's strategy is to continue to develop a strong partnership with key integrators, such as Orange, Airbus Defence, Ineo Defence and more. The company takes pride in being flexible and offering quick response times for specific customer needs, as well as customized designs which fit the unique requirements of each of our partners and customers. The aim is to continue to leverage the company's extensive experience in product development and manufacturing to ensure customers' long term product and service needs and met and exceeded.
About the author
Brian Donnelly is the VP Sales and Marketing at Norsat International Inc. Mr. Donnelly is an experienced sales leader with a technical background, managing sales and marketing teams for high technology companies for over 20 years. He holds an honors degree in Electrical Engineering from Simon Fraser University in British Columbia, Canada.
About Norsat International Inc.
Founded in 1977, Norsat International Inc. is a leading provider of communication solutions that enable the transmission of data, audio and video for remote and challenging applications. Norsat's products and services include leading-edge product design and development, production, distribution and infield support and service of fly-away satellite terminals, microwave components, M2M Solutions, antennas, Radio Frequency (RF) conditioning products, maritime based satellite terminals and remote network connectivity solutions. More information is available at http://www.norsat.com.
---