Suppose you want to start a business to provide online access for offshore oil rig platforms off the coast of Nigeria. Initially you want to provide interactive tutorials on how to safely extract the most oil and gas from the undersea well without endangering the environment along with training on worker safety.
You would also like to provide video monitoring of the offshore assets to protect them against pirate attacks. Eventually you want to provide email, voice calls and video chats for the workers to talk to their families back home, as well as Internet access and video on-demand movies for worker education and entertainment. It is very difficult and expensive to provide all of these services today in that region of the world.
Much of the developed world is linked by high capacity fiber optic cables providing voice, video and high speed Internet services. The developing world (Latin America, Africa, Middle East, South Asia, and Southeast Asia) has limited fiber connectivity around the periphery of its continents. There is also very limited fiber connectivity to a few of the Pacific Island countries. The interior regions of these continents are dependent on very expensive, limited capacity from geosynchronous orbit satellites.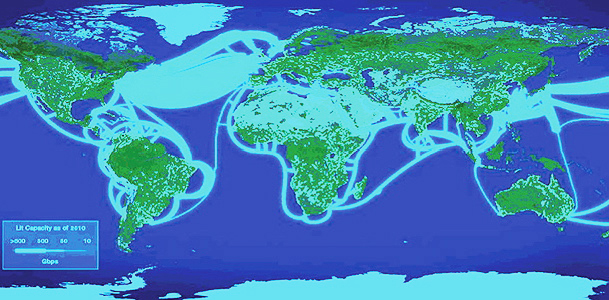 In addition to the high costs (due to limited available capacity on the satellites that are over these regions), the services offered by these satellites have very high round trip latencies (> .5 sec.) due to the distance to the satellites of 35,786 kilometers. The limited available bandwidth, high costs, and long latencies combine to deliver a poor experience especially for interactive services, such as voice calls, video conferencing, or web site downloads. The map on the previous page reveals the current global fiber connectivity and the underserved populations in all key markets addressed and covered by the company. The nexgen satellite network will reach more than three billion consumers, businesses, and organizations in more than 150 countries across Asia, Latin America, and the Middle East.
The organization will launch and operate a new constellation of communication satellites operating in a medium earth orbit (MEO) in the equatorial plane at an altitude of 8062 kilometers. By bringing the satellites closer to Earth, the latency aspects are lowered by a factor of 4.4. The amount of signal power required is also reduced by 13 dB (a factor of 1/20th), which reduces the satellite's size and weight, multiple satellites can be launched into orbit with a single launch vehicle, dramatically lowering the capital required to build and launch the constellation. Lower capital expenditure means the service pricing can also be significantly lower.
The first set of eight satellites are being built by
Thales Alenia Space
in Cannes and will be launched by
Arianespace
using a
Soyuz 2
rocket from French Guiana. As each satellite will weigh on the order of 600-700 kg, four satellites can be launched simultaneously using a single Soyuz 2 launch vehicle.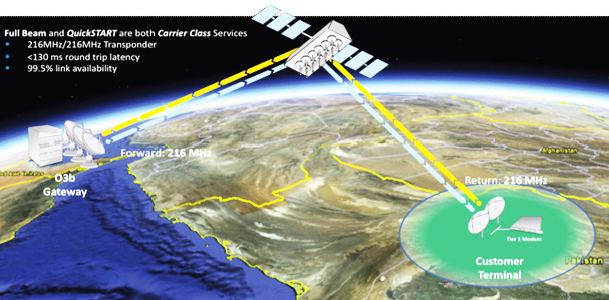 The O3b constellation is highly scalable. With successive launches, new satellites can be added to the orbit, which brings additional capacity as well as in-orbit satellite redundancy. Plans are to operate a constellation of 20 satellites by 2015. O3b's groundbreaking concept is endoresed by investments from SES, Google, Liberty Global, HSBC Bank, Allen and Company and North Bridge Venture Partners.
Satellite Capabilities
Each satellite will have 12 steerable antennas that can focus a 600 km diameter spot beam on any point of the Earth between +/- 45 degrees N/S latitude. In one configuration, two of these steerable beams will be dedicated to a Gateway site and the other 10 beams used for customer locations in each region. RF circuitry in the satellite communications payload multiplexes these 10 customer beams into the two Gateway beams. Each customer beam operates in the Ka-band and has an available bandwidth of 216 MHz.
Once launched, the satellites will be equally spaced around the equator. Earth has been divided up into seven regions for the initial eight satellites. Within each region, there will be one satellite passing overhead. Each region will be anchored by a Gateway site (a point of interconnection to the fiber Internet) and a simple handover method has been designed to allow each satellite to transition from one region to the next at the end of its pass. Onboard computers and navigation systems keep each steerable tracking antenna locked on a specific location on the Earth (either a Gateway or a customer site) as the satellite moves through a pass over each region.
Network Services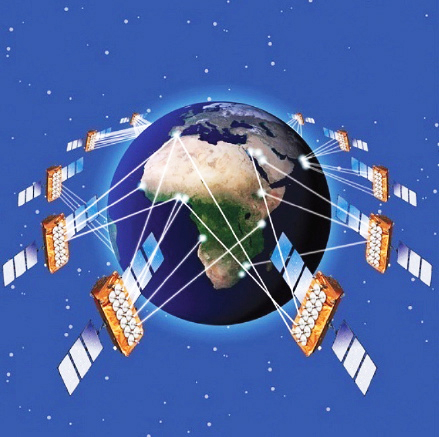 The firm makes its services available to customers via wholesale beam purchases, in which the customer has access to the full beam's 216 MHz of bandwidth in each direction and can choose to purchase any O3b compatible ground equipment from the suppliers. Alternatively, customers can purchase a fully managed service that includes a portion of the beam's bandwidth, the customer terminal equipment, and delivers 155 Mb/s in each direction with an availability guarantee of 99.5 percent.
Initially, the plans are to offer ground equipment to support two types of services: high speed IP trunking (
Tier 1
) and lower speed remote site access (
Tier 2
). Tier 1 service will use a new high speed modem being developed by
ViaSat
to provide dedicated point-to-point links at data rates starting at 155 Mb/s (STM-1 or OC-3 data rates) up a top data rate of between 600 and 800 Mb/s, depending on local conditions. Tier 1 services will be used primarily by carriers for high speed access to core Internet exchange points. They can also be used to bring back aggregated voice and data traffic from remote regions to a central network hub facility.
The plans are to have equipment available to provide lower speed Tier 2 services. Tier 2 services will be used for remote backhaul for 2G/3G/4G mobile or WiMAX wireless towers, business Internet or VPN services, along with access for government facilities, schools, libraries, and health centers. Tier 2 services will be configured as point-to-multipoint networks and operate at data rates between 1 to 50 Mb/s. These services will be similar to traditional enterprise-class VSAT services using a hub system that is located at an O3b Gateway or a customer owned central gateway site with the remote terminals spread out within a single customer beam or across several O3b beams.
Ground Network Components
The Earth has been divided into seven regions based on longitude — each region is anchored at a Gateway that provides interconnection to the fiber Internet and access to the major Internet exchange points in that region of the world. Additional Gateways can be added over time.
O3b recently announced a contract with ViaSat to provide the initial suite of ground equipment for the Gateway terminals and the Tier 1 customer terminals. In addition, as indicated earlier, ViaSat will develop a new high speed modem based on the DVB-S2 standard to provide data rates up to 800 Mb/s. O3b compatible Tier 2 hub and remote VSAT terminals will be produced by a number of VSAT vendors.
Gateways
Initially O3b will build seven gateways to provide connectivity to the Internet in each of the seven Earth regions. The figure below shows these regions and Gateway sites.
Gateways will be located at sites that have high speed Internet connectivity and are also in locations with very low average and peak rainfall to minimize any Ka-band interference. Each site will have three 7.3m tracking antennas and associated modems and RF electronics.
Two antennas are required to track the satellite overhead and to be available for handover to the next rising satellite. The third antenna will serve as a hot standby spare to provide high site availability. An IF-band non-blocking switch matrix under control of the network management system is at the core of the Gateway. It assists with handover and will permit any modem to be connected to any antenna in the event of a hardware failure. Each of these Gateway sites will have redundant fiber paths to the core regional Internet exchange points. In addition to caching servers, high speed routers and LAN infrastructure, the Gateway sites will provide collocation space for customer owned equipment, such as other servers, routers, or VSAT hubs.
The Tier 1 terminals are designed for high speed point-to-point IP trunking. The basic configuration consists of two 4.5m Ka-band tracking antennas, associated RF electronics including a 500W high power amplifier (HPA) and a very high speed modem. A third hot standby antenna can be added for a fault tolerant configuration.
The high speed modems can handle data rates from 155 Mb/s up to over 800 Mb/s using standard DVB-S2 modulation and coding rates. The Tier 1 modems support real-time
Adaptive Coding and Modulation
(
ACM
) which allows them to cope with any channel interference that may arise, and to operate at the optimal data rates that are supported by the link conditions. The Tier 1 terminals work in conjunction with the Gateways to implement handover from one satellite to the next at the end of each pass. Initially the Tier 1 terminals will be supplied by ViaSat, though over time there will be other suppliers.
Tier 2 Customer Terminals
A wide range of services can be offered with the Tier 2 terminal equipment, such as access to the Internet for a business, school, government office, hospital or library, a multi-site private network for an enterprise or another institution, or remote cell tower to base station controller (BSC) or WiMAX tower backhaul. Tier 2 terminals will operate over medium data rates at speeds between 1 Mb/s up to 50 Mb/s. These services will be implemented using a VSAT point-to-multipoint hub and spoke network. The VSAT hub equipment can be located at an O3b Gateway or at a customer owned Gateway.
The remote terminals can all be located within a single customer beam or spread across several beams that all go back to the same Gateway. A set of requirements for the Tier 2 terminals has been published and suppliedo the VSAT vendors to allow them to create an O3b compatible version of their current products. O3b is planning to qualify a number of VSAT systems to work with the constellation. The main requirements are to have the remote terminals track the satellites across the sky, to handle the small amount of Doppler shift in the signals from the satellites, and to implement handover from one satellite to the next.
For efficiency within each beam, most of the configurations access the remote terminals via a flexible time division multiplexed forward link (outbound from the hub to the remote terminals). Depending on the nature of the application, the required data rates, and the number of remote terminals, different schemes such as
single channel per carrier
(
SCPC
),
time division multiple access
(
TDMA
),
frequency division multiple access
(
FDMA
) or
code division multiple access
(
CDMA
) can be used for the return path from the remote terminals back to the hub system. O3b expects to have Tier 2 terminals from several vendors available to customers prior to the launch of the satellites.
Bandwidth Bonanza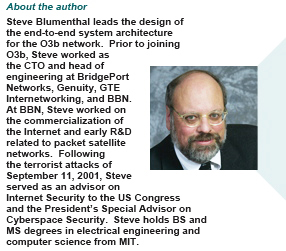 The company is poised to be a disruptive influence in the satellite industry by making a copious amount of new bandwidth available to the developing world at a moderate cost. The wideband beams will significantly increase the data rates delivered to end users in the regions that are served. In addition, the significantly lower latency will enable new more natural real-time applications and provide access the developing with access to the latest Web 2.0 applications such as cloud computing, software as a service, social networks, financial market tools, and emerging Ushahidi collaborative event reporting wikis (that have been used to track the violence following the recent elections in Kenya and to assist in finding survivors of the Haitian earthquake by allowing individuals to update online databases from their mobile phones).