A member of the World Teleport Association, Europe Media Port (EMP) was ranked first in revenue growth globally by the World Teleport Association during 2009 and 2010 and is a global provider of transmission services via satellite, fiber and transit IP. EMP delivers the highest quality transmissions of video, data and Internet to broadcasters, enterprises, ISP providers, teleports, satellite operators and governments.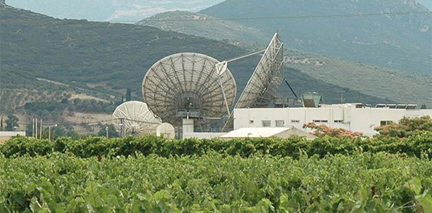 MEA Resource
EMP teleport solutions enjoy an ideal geographical location in SE Europe with 45 degrees West to 90 degrees East satellite access, ideal weather conditions for Ka-band data services and diverse fiber connectivity. This makes us an extremely valuable resource for broadcast and data Internet services especially to Africa and the Middle East regions.
EMP has a long-term partnership with
OTE S.A.
, the
Hellenic Telecommunications Organization
, and we are focused on providing satellite teleport services around the globe in partnership with other teleports in the region, as well as with various satellite operators.
EMP's vision is to be a leading provider in the global satellite service industry with a value proposition based upon competitive pricing, service flexibility, and the passion to deliver solutions in the most demanding markets.
Providing Ka-band hosting solutions with high speed Internet access to the
O3b Global Network
via the
Nemea
teleport in Greece, EMP provides Gateway Teleport services and was specifically selected by O3b Networks (a subsidiary of SES) for the Middle East and African (MEA) markets. The new satellite-based, fibre-quality Internet backbone for telecommunications and Internet service providers will link O3b's Gigabit IP network connectivity and bandwidth services to MEA, Asian, and European clients. This long-term agreement will allow for the provision of a broad range of services from the Nemea teleport in Greece.
Nemea Know-How
The Nemea teleport is the first of several worldwide teleport sites that enable O3b to provide global network and connectivity services. The teleport assists O3b in rolling out new, ground-breaking solutions that will provide fast Internet connectivity to African citizens, businesses, and organizations in what were previously poorly connected regions. As the Ka-band high speed data communications market continues to develop, especially as reflected within the African and Middle East communities, there is vast growth potential for many years to come.
For the video and data markets, EMP is one of the first European teleport service providers to dedicate a large dish for newly launched satellites that blankets the entire African continent with high powered C-band footprints. Services for video distribution and data hub services to various countries in Africa have already been established and deliver a large amount of traffic from Europe to Africa, and vice versa.
For the broadcast industry, EMP provides solutions that include playout services, uplink, turnaround, space segment leasing and occasional use services. In example, offered is a customized DTH solution to the new channel
Kahkeshan TV
, broadcasting on
HOT BIRD
directly throughout Europe and the Middle East to reach a wide audience on satellite.
Kahkeshan Digisat TV
channel (
http://www.kahkeshantv.com
) is a new satellite channel whose aim is to inform and entertain Iranian and Persian-speaking viewers scattered across Europe and the Middle East with a wide variety of programs. The channel broadcasts 24 hours a day and deals with issues related to social life in Iran as well as in the world at large. Documentaries, interviews, concerts, theatre, cinema and literature are offered to viewers, among other selections.
EMP also has a new agreement to expand the Kahkeshan TV household reach to the
EUTELSAT
W3A
satellite, the new DTH neighborhood for European and Middle Eastern viewers that has experienced fast growth over the last few months. Kahkeshan TV is using the EMP facilities for playout services as well as for added value monitoring/storing systems and content management, with live insertions and partner channels content re-broadcasting.
The Company's platform on the
ATLANTIC BIRD 4
satellite, located at
7 degrees West
, enables the creation of a powerful and popular neighborhood for TV channels seeking to reach MENA (Middle East and North Africa). The connections to fiber networks are also useful for clients in the Mediterranean Basin. High Speed and secure, these connections enable governments, international groups, and security agencies and others to quickly and reliably send their data between centers.
New Options
Constant assessment of market opportunities, analysis of service requests and client demands within this region, as well as close contacts with satellite operators, enable new services and uplink options to be instituted for MENA. When new satellites such as
AMOS-5
(for C-band pan-African coverage) and YAHSAT (for the Middle East region) are launched, the opportunities, such as presented, for EMP are extremely exciting.
EMP is also an established provider of
iDirect
VNO
services specifically targeted to the Middle East, with uplink capabilities on various
Intelsat
and
AMOS
satellites in C- and Ku-bands. Current data traffic is estimated to be in excess of 1 Gbps for secure communications in the Middle East — this is definitely a growing market and EMP's teleport services are, therefore, positioned as a strategic solution for Internet access to the MENA markets.