GlobeCast Australia Setting Records Down Under


GlobeCast Australia has started 2011 with a record level of live global transmissions. The records being set range across sport, entertainment and news events. From global delivery of dramatic floods footage to more than 20 key broadcasters, to an enormous slate of live sport and entertainment, it is the Broadcast Services provider's biggest ever start to a year.

Apart from Occasional Use, the growth is also due to the committed global carriage of full time channels: Direct to Home (DTH), Free To Air (FTA) Broadcast and Subscription Television channels. There is increased interest in both HD and 16:9 requirements for full-time channels; and as Australia's leading DTH operator, the Company is impressed by the dedication of global operators to continue discussing expansion of their offerings in this region.

Growth in multi-channelling including specialty channels and their spin offs, along with new methods of reaching and entertaining audiences are all pushing demand for bandwidth. Audiences with sophisticated home entertainment systems now expect live coverage in high quality audio and video.

Technological advances such as HD and 3D, combined with growth in areas such as Mobile TV and Cinema Live Broadcasting, along with the globalization of live sport, are all contributing to a wave of new demand for GlobeCast Australia.

One of the channels new in 2011 on the Company's global fibre network is the Tennis Channel, and discussions are indicating the launch of at least half a dozen new broadcast channels in to the region in the first half of 2011. Also new to the global delivery list is an HD channel for MTV from London to FOXTEL in Australia and also MTV channels across the Tasman Sea to New Zealand.

To cope with the demand, the company has increased its satellite leases capacity domestically and on AsiaSat 5 from 2011 onwards, and is successfully operating a new fibre network it commissioned last year to quadruple its global delivery capability from London, through the U.S., to Australia and New Zealand. AsiaSat has welcomed the capacity expansion.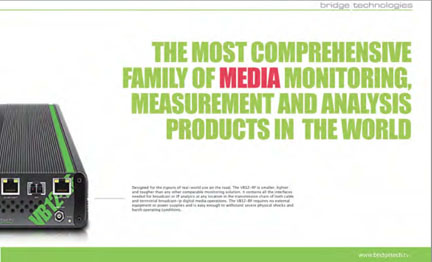 "We are proud that AsiaSat 5 has been taking a key role in delivering major sports and news content within Asia and between Asia and the rest of the world. In collaboration with GlobeCast Australia, AsiaSat is pleased to have provided once again flawless delivery of such important events, including flood coverage, Australian Open Tennis and the recent Asian Cup. By doubling the capacity it uses on AsiaSat 5 in the new lease, GlobeCast Australia is enabling major broadcasters in the world to receive more comprehensive HD and SD coverage, wherever they are based," said Sabrina Cubbon, Vice President, Sales and Marketing of AsiaSat.

Apart from the records being set in broadcast hours, there are significant firsts being achieved by GlobeCast Australia:

– The Australian Open Tennis was broadcast globally in HD for the first time in January 2011.
– Across January, a record more than 35 days of live tennis coverage was delivered by GlobeCast Australia to domestic networks including FOX Sports and the Seven Network, and to global rights holders.
– Germany's version of the Granada reality show, "I'm a Celebrity, Get Me Out of Here" ("Ich Bin Ein Star") achieved ratings records in January 2011; after the UK version was broadcast in HD for the first time.
– SKY Sport News committed to unilateral coverage of the Tour Down Under Cycling, featuring Lance Armstrong, a first to supplement its BSkyB main broadcast in January 2011.
– A full Summer of Ashes Test Cricket and One Day Internationals between Australia and the UK was broadcast globally in HD for the first time through February 2011.
– A doubling of capacity leased on AsiaSat5 for 2011.
– A new permanent 9Mhz domestic lease added to the Company's capacity to provision additional live news requirements for Network TEN Australia in 2011.


GlobeCast Australia is proud of the reach it has earned, due to the trust placed in its team by broadcasters around the globe. For the flood coverage, broadcasters across Europe, Asia, the U.S. and, of course, Australia, were booking via GlobeCast Australia's domestic and AsiaSat satellite leases and on its global fibre, to cover the mounting death toll from the worst flooding in the Australian state of Queensland in almost 40 years.

For example, flood disaster coverage from ABC-TV was being delivered live to RTL Germany and coverage from the Nine Network to BSkyB News London. APTN London has taken fibre feeds from both the ABC and Seven Network. Other global networks booking with GlobeCast Australia included CNN, Fox News New York, CCTV China, ARD and ZDF Germany, Orf Vienna Turkey, Channel 2 Israel, TV Asahi Japan, ITN and Reuters.

For domestic broadcasts, Network TEN was drawing on its GlobeCast Australia provisioned satellite lease and supplementing its extensive coverage with ad hoc bookings; while ABC News 24 was being transmitted live in HD to FOXTEL and Austar on GlobeCast Australia's owned and operated capacity.

SKY News Australia also deployed its satellite vehicle to the flood zone and was taking regular live satellite slots with GlobeCast Australia. And the Nine Network was booking space as well.

An impressive and varied global reach was also achieved with the Australian Open Tennis, with GlobeCast using its expanded AsiaSat 5 leases, and also taking a Summer-long lease on Intelsat 5 to cope with demand for sport and entertainment television. Australian Open World Feed Takers included ESPN Star Sports, Supersport (MNet), SKY New Zealand, Fiji TV, Abu Dhabi Media Co, Al Jazeera and a suite of Asia broadcasters via IMG China including CCTV, Shanghai TV, Beijing TV, Guangdong TV and CN Sports. Highlights and play-outs were also booked by various companies, including the Perform Group UK, BT and Fuji TV — for a Japan pool.

With 2011 off to such a strong start, the Company is well into planning its involvement in delivery of major global events from the region throughout the year. In particular, the Rugby World Cup to be held in New Zealand in September and October, will have GlobeCast Australia involvement at various levels in the region and globally.

GlobeCast Australia is a leading provider of services for International Broadcasters in Australia, New Zealand and the Pacific Islands, operating facilities and links that span the World — specializing in live digital delivery, SD and HD, and also at the cutting edge of 3D in 2011.

About the author


John Graham joined GlobeCast Australia in mid 2008. He has worked for several major Australasian broadcasters in key News, Programming and Production roles, including the Australian Broadcasting Corporation, Optus Television, Television New Zealand and Network Ten.

For more information on GlobeCast Australia, please select this direct link




* * * * * * * * * * * * * * * * *
SENCORE @ NAB 2011 With...

SENCORE will be displaying and demonstrating a number of products of interest to satellite broadcasters during the upcoming NAB 2011 in Las Vegas, Nevada. Some of the products on display include...
– SMD 989 DVB-S2 Modulator, which is packaged in a two-channel 1RU chassis, offers unprecedented efficiency and flexibility for modulating two independent DVB-S2 RF transmissions. The platform is capable of VCM multi-stream satellite video delivery as well as advanced modulation such as 16APSK and 32APSK, minimizing overall transponder usage and reducing operating expenses. The SMD 989 comes standard with ASI and IP inputs.

– Integrated Receivers Decoders — The IRD 3000 series of receivers/decoders are cost-effective solutions for distributing video services on IP, satellite, and ASI networks for terrestrial, satellite, cable, and IPTV broadcast environments. SENCORE's line of integrated receiver decoders (IRD) is designed to support SD applications, allowing operations to leverage their existing SD infrastructures while ensuring an easy software upgrade to HD for future expansion. The IRD 3000 family supports satellite, MPEGoIP and ASI inputs, and SDI and composite outputs, and comes standard with BISS and DVB-CI based decryption.




Also to be highlighted at NAB 2011 is SENCORE's VideoBRIDGE family monitors transport packets on IP, ASI, and RF interfaces for continuous quality assurance of streaming media in a variety of compression schemes, including MPEG-2 and MPEG-4.

The VideoBRIDGE product line includes advanced core monitoring systems for national networks, edge-specific, and even customer-premises applications.

More info at SENCORE's website... http://www.sencore.com

* * * * * * * * * * * * * * * * *
Euroconsult Examines Video Transmissions Via Satellite

In its recently released report, Euroconsult, the leading international consulting and analyst firm in the satellite sector, forecasts that the market value for video transmission services over satellite including video distribution services for TV channels and contribution services for permanent and occasional use is expected to reach $27 billion in 2020, up from $15.8 billion in 2010.

"The anticipated revenue growth for video transmission services in the coming years is based on strong market drivers such as the multiplication of channels, the launch of new formats and the takeoff of digital TV in emerging regions," said Pacôme Revillon, CEO of Euroconsult. "Furthermore, demand for increasingly complex video transmission solutions will push service providers to create end-to-end solutions with satellite remaining a key part of the delivery network."


TV channel distribution: A core market, new standards and emerging regions driving growth
The video transmission market is mainly supported by the distribution of video content on pay-TV platforms, with TV signals delivered to viewers either directly by satellite or through the head-ends of terrestrial networks.

According to the Euroconsult's just-released Video Transmission Services over Satellite, Global Market Analysis & Forecasts to 2020, an estimated 25,000 TV signals were transmitted by satellite by year-end 2010. While the North American and European markets remain the largest markets, the takeoff of digital TV in emerging regions, such as India, Russia and Brazil, could make those markets the most important growth engines over the next 10 years.

Technological improvements are profoundly transforming the market for video transmission, with more complex and diverse requirements offering new revenue opportunities to market players. The migration to HD and 3D transmission formats, the roll-out of fiber and 3G/4G networks, the development of linear and non linear usage and the multiplication of video screens all play a critical role in this phenomenon.

Innovation Boosters

Meanwhile, video contribution services, with the transmission of raw video material, are also growing with a 24 percent CAGR in terminals deployed in the last five years. The need to broadcast live programming and cover global and local events is fueling TV-channel demand for occasional video services. Innovation is playing a major role in the current market growth in satellite newsgathering (SNG) for sports, news and other programming. The introduction of cheaper and lighter and more portable terminals is, for example, a key driver for the multiplication of content captured and transmitted. Innovation here includes the recent introduction of MSS terminals, the current use/roll-out of 3G or 4G network terminals and the likely introduction of terminals using Ka-band satellite systems in the near term.

According to the Euroconsult report, global traffic on occasional use terminals was estimated at close to 5 million hours in 2010 for around 22,000 terminals deployed. The increase in terminals per channel and technical improvements are expected to drive growth in this market in the coming decade, with Ka-band transmission being seen as a real opportunity to increase both traffic and terminals, due to a potential decrease in transmission costs.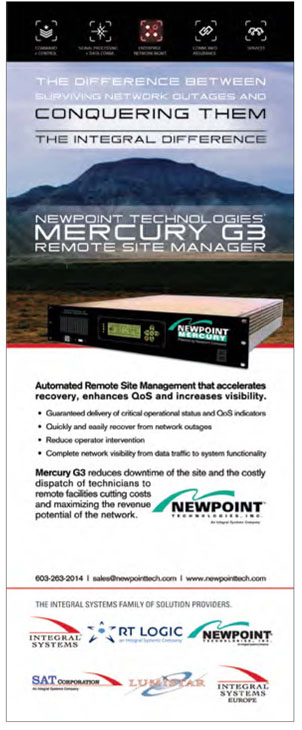 Changes expected in the value chain: broadcasters increase outsourcing, consolidation among service providers
The video transmission market is highly fragmented with specialized service providers, satellite operators, telecommunication companies and broadcasters each managing a part of the transmission. Broadcasters still currently capture the bulk of the estimated market value of video transmission, as they continue to perform a large part of the transmission activity in-house. However, with growing demand for end-to-end services and increasingly demanding viewers, the management and transmission of video content is becoming increasingly complex. Some in-house broadcasting units and smaller providers may find it difficult to maintain a position in the market, due to resource and network limitations. This may lead to more vertical integration, and outsourcing to specialized companies will also become more commonplace. The continuing negative economic climate may accelerate this trend by pushing broadcasters to optimize their costs and investments.

Likewise, industry consolidation is likely to increase due to the increased complexity of the solutions. While the leading specialized service providers (Globecast, Arqiva and RRSat) currently capture around 6 percent of the total market value of video transmission services, new players are expected to emerge alongside the market consolidation and reorganization of historical market players. Recent transactions, such as the acquisitions of Ascent Media activities and Crawford Communications by Encompass, may be followed by further M&A activities in the next few years. This will be required to take advantage of growth opportunities and reach the critical size needed to manage more complex content management and transmission requirements.

For further information, select the following URL for a direct link to the report's infopage at... http://www.euroconsult-ec.com/research-reports/digital-broadcasting-reports/video-transmission-services-over-satellite-40-43.html

* * * * * * * * * * * * * * * * *
A Dive Into Watermarking With A Difference

Irdeto, a global software security and media technology company, has announced its head-end-based watermarking technology for set-top boxes (STBs) was awarded three patents from the United States Patent and Trademark Office, officially making it the only interoperable, backward-compatible watermarking solution available on the U.S. market.

Eight additional patents are pending on the company's watermarking technology, positioning Irdeto as the ideal security partner to satisfy the requirements of Hollywood studios and enable early-release premium entertainment.

According to a study by Adams Media Research, DVD revenues have plummeted 27 percent since their 2004 peak of $12 billion. In an effort to build new revenue streams, studios are exploring on-demand delivery of theatre movies direct to consumers' homes, confident that the service will not impact traditional theatre and DVD releases — that is, unless the business model is disrupted by piracy. As such, studios are requiring additional security measures to mitigate potential threats of piracy and new software must be deployed to every STB offering early-release entertainment, at a minimum.


The only fully server-based solution of its kind, Irdeto's watermarking technology allows content owners to trace illegally distributed content to individual users. Uniquely watermarked content can be prepared centrally, enabling ease of deployment and scalability without requiring integration with the VOD server or STB.



"As content owners and operators continue to explore possibilities to deliver premium content services into the home to drive new revenue and growth, the technology needed to manage digital piracy becomes a critical part of the equation," said Andrew Wajs, chief technology officer for Irdeto. "The more valuable the content, the more rigorous the security measures applied to it must be. Irdeto's watermarking technology is unique in that it can be applied to any broadcast receiver or set-top box currently in use as well as work with all legacy and already deployed conditional access systems, meaning content owners can almost instantaneously identify illegally distributed content, effectively police offenders and ensure the premium content business model remains viable."

Irdeto's solution can detect pirated content on peer-to-peer sharing networks by applying an invisible "watermark" that ties redistributed content back to any set-top box from which it originated: From there, content owners can identify and shut down illegal distribution networks. In the event of an attack, the solution can be renewed from the head-end almost instantly without requiring updates to the box itself, enabling unparalleled renewability, scalability and ease of deployment. For operators, these benefits translate into head-end implementation cost savings, a faster time to market and better overall security in the long term.

For additional information, head over to the Irdeto infopage at http://www.irdeto.com/en/irdeto-in-motion.html

* * * * * * * * * * * * * * * * *
More Mobility


Coming from C-COM Satellite Systems... you'll be able to get online with the simple touch of a button. The Company's new iNetVu 1200 Airline Checkable Antenna System...

– Includes the 'Auto-pointing' iNetVu 7000B controller
– Ideal for applications that require a quick, simple setup and reliable connection
– Simple one touch, 'stand-alone' operation to find satellite
– Features...
– Set up time less than 10 minutes, can be accomplished by one person
– Motorized 3 axis motion
– One case solution
– 1.2m 6-piece carbon fibre reflector
– Optimal, high-precision antenna pointing
– No tools required for assembly/disassembly
– Airline checkable
– Supports Ku band
– Includes jog controller functions
– Remote access and operation via network, web and other interfaces

The iNetVu® mobile self-pointing antenna systems have been deployed around the globe supporting mobile operations that require broadband connectivity in remote locations.

The iNetVu® provides 2-way high-speed connectivity to a wide variety of users including the Military, Police, Fire, Homeland Security, Disaster Management, Oil & Gas Exploration, Mobile Medical Services, Emergency Services, News Gathering, Mining, Construction, Bookmobiles, Mobile Offices, Recreation Vehicles and many more.

More info at C-COM's website: http://www.c-comsat.com
* * * * * * * * * * * * * * * * *
THORsome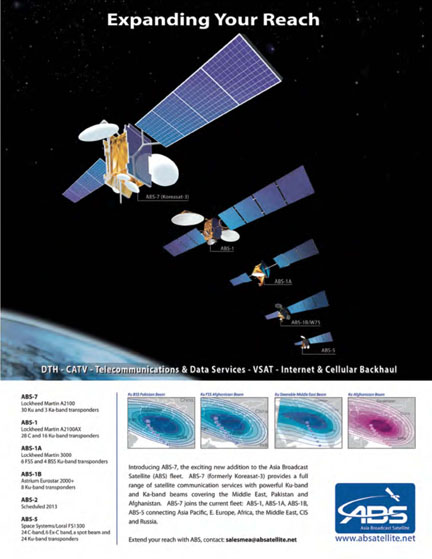 The Telenor ASA Board has approved investment in a new expansion satellite to be named THOR 7 and is expected to be ready for launch towards the end of 2013, with a lifespan of 15-20 years.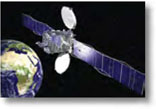 The satellite is intended to provide capacity for broadcasting requirements within Central and Eastern Europe and additional capacity for maritime services. THOR 7 will join the established THOR fleet at the orbital position of 1 degree West, which already serves nearly 17 million cable and satellite households throughout Europe. It will provide much-needed growth capacity for TV services, specifically in Central and Eastern Europe. The new satellite will also be equipped with additional capacity that allows Telenor Satellite Broadcasting (TSBc) to strengthen its maritime service proposition, providing data communication services in areas including the North Sea, the Baltic Sea and the Mediterranean.

Additional information regarding Telenor Satellite Broadcasting http://www.telenorsbc.com/

* * * * * * * * * * * * * * * * *
India's Welcome Mats Are Out For Dish TV DTH

Asia Satellite Telecommunications Co. Ltd. (AsiaSat) is making India's households happier. Asia Satellite announces that Dish TV India Limited, part of the Zee Group, will be utilizing four 54 MHz Ku-band transponders on AsiaSat 5 to enhance its HD and SD Direct-to-Home (DTH) offerings in India.

Dish TV is the largest DTH operator in India and serves more than 9.5 million subscribers with an expanding bouquet of some 270 channels and services. Additional transponder capacity on AsiaSat 5 will enable Dish TV to significantly increase its DTH offerings to more than 30 HD and 320 SD channels.

Further details at AsiaSat's website: http://www.asiasat.com/asiasat/index.php


* * * * * * * * * * * * * * * * *
Eyeing Market Potentials

Globecomm Systems Inc. has entered into a strategic teaming agreement with Fujitsu Frontech North America Inc. (FFNA).

The agreement will be to provide a wide range of advanced technology digital media solutions for commercial and government markets. The teaming of Globecomm and FFNA includes a strategically focused co-marketing and sales effort between the two companies. It provides potential customers with a new level of capability in solutions and services, based on Globecomm's managed service platforms and system design expertise and the extensive advanced technology in FFNA's digital media hardware and software products. Fujitsu products are recognized by leading media organizations for technical superiority, quality and value. Among these are the field proven IP series of H.264/AVC encoders and decoders, servers and advanced video recognition technologies. This Globecomm-Fujitsu agreement further expands Globecomm's continuous goal of increasing our range in "best of breed" advanced technology solutions, while adding to our suite of hosted managed service offerings.

More info at Globecomm's website: http://www.globecommsystems.com/index.shtml

* * * * * * * * * * * * * * * * *
More For NSS-6

SES WORLD SKIES, a division of SES S.A. has signed an agreement with Supernet Limited, Pakistan's leading satellite service provider, for high powered Ku-band transponder capacity on the NSS-6 satellite at the orbital location of 95 degrees East.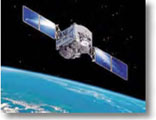 This capacity will support a large VSAT network for corporate customers in Pakistan. Supernet is already a customer of SES WORLD SKIES for 52 MHz of C-band transponder capacity on the NSS-12 satellite, which supports a 60 site GSM backhaul network for one of the leading GSM operators in Pakistan. With more than 16 years of experience, Supernet has deployed a number of satellite-based networks including four large GSM backhaul networks operating in Pakistan. Supernet also operates multiple VSAT hubs on different satellites to support corporate customers.

SES WORLD SKIES information http://www.ses-worldskies.com/worldskies/

* * * * * * * * * * * * * * * * *
Educational Enhancements

Delivering a world-class education to children at thousands of schools located in remote communities throughout Guatemala is attainable and affordable – thanks to the power of the Internet and the global reach of satellite communications.


This was the central theme of the January 25th Bringing Education to Rural Communities through Internet summit hosted at Campus TEC in Guatemala City by Guateconnects, a project being driven by the education-focused non-profit FunSEPA to improve education throughout Guatemala.

It was also the message delivered by Jaime Dickinson, President of NewCom International, a U.S.-based global satellite communications firm committed to fostering education and economic growth throughout Latin America and Africa.

NewCom, which specializes in bringing connectivity to rural developing communities around the globe from its world-class teleport in Miami, Florida, recently teamed with private contractors and government officials in Colombia to bring high-speed Internet access to nearly 2,000 rural schools, hospitals, government offices and businesses scattered throughout the country.

Further InfoCom details at... http://www.newcom-intl.com/